How to Spray Paint Wood for a Professional Finish [2023]
Do you need spray painting tips? Are you looking for the best spray paint for wood? Today, you will learn how to spray paint wood with these tried and true best practices.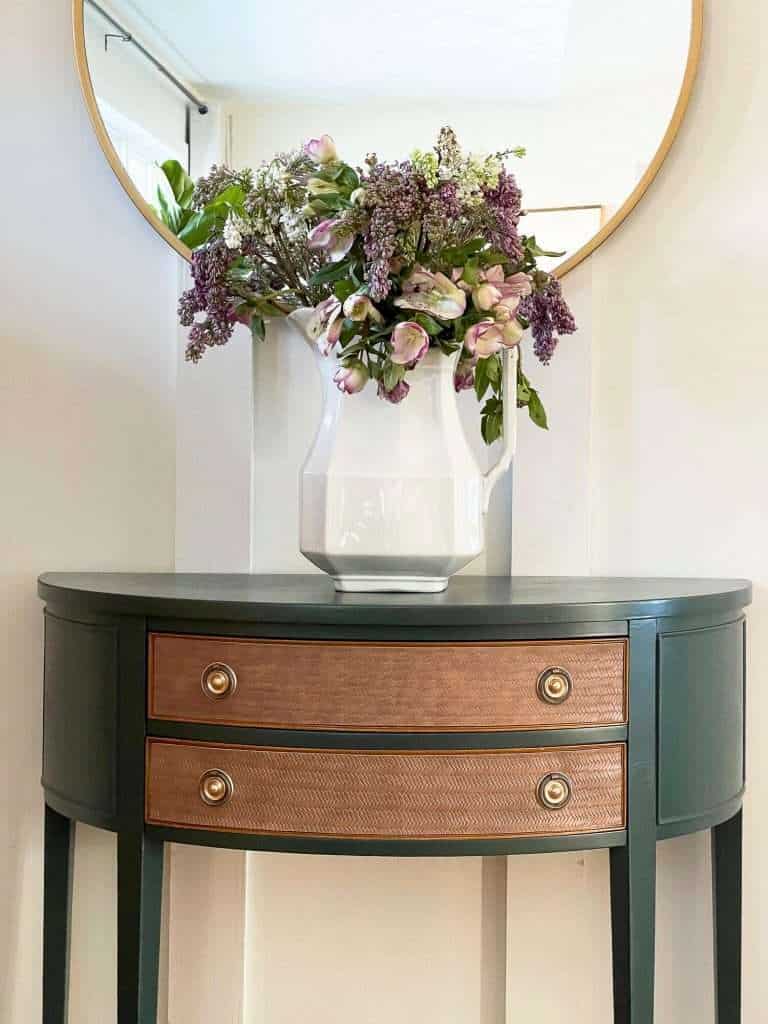 Take it from someone who has revitalized dozens of cast aside pieces of furniture. You can bring new life to wood furniture with spray paint!
This post may contain affiliate links for your shopping convenience.
Flipping Vintage Furniture
Whether you are flipping vintage furniture, or spray painting wood for another reason, I'm excited to share these spray painting tips with you!
First, let me give you some examples of my past furniture flips and offer some furniture flip spray painting tips along the way.
When looking for furniture to flip, make sure to focus on these elements:
Solid construction
Wood veneer that either isn't peeling, or can be fully removed.
Look past color to the shape and style of the piece. Color can always be changed with paint!
Right size for your space.
Will serve a purpose and function for you, even if it's not the original purpose of the piece of furniture.
To see some of the pieces I've flipped, check out the ideas below!
How to Spray Paint Wood for a Professional Finish
Now, let's get to today's project and tutorial for spraying furniture to get a professional finish!
Painting furniture with spray paint is fairly straight forward. It is definitely a beginner friendly DIY project. However, there are several spray painting tips that will give you the best finish for a high-end result.
This is my project piece for today. I found it at an antique store and knew it would be the perfect entry table for our cottage.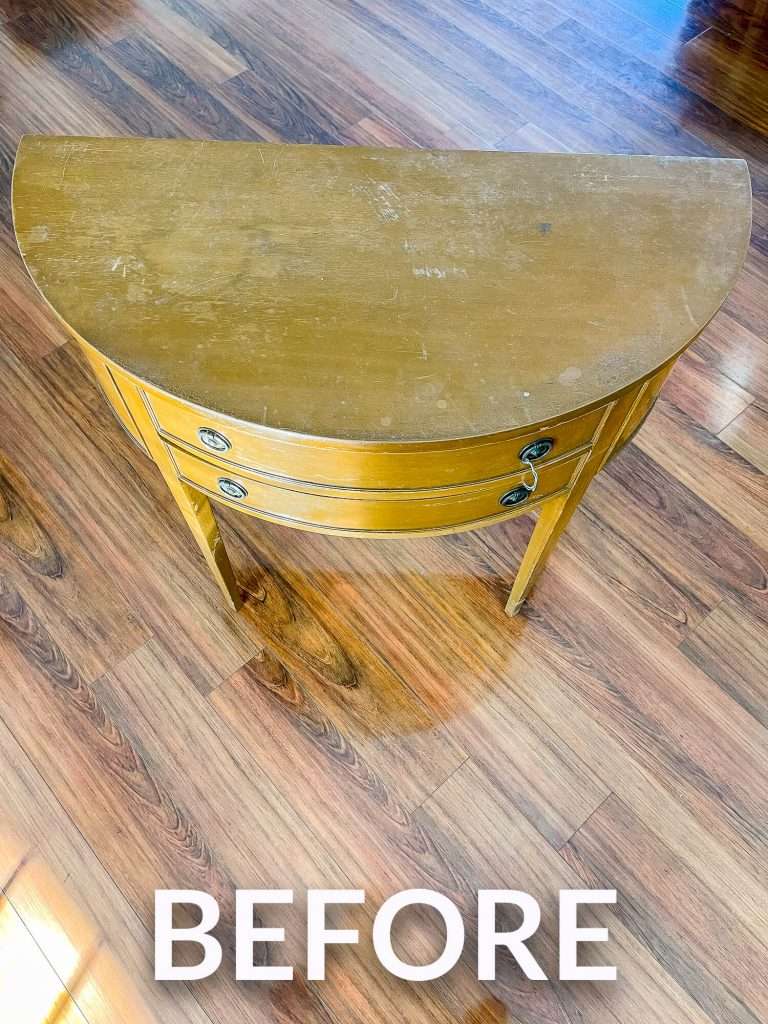 Let's dive in!
Is it better to paint or spray paint wood?
First, let's tackle the big question. Is it better to paint or spray paint wood?
Both methods are reliable, affordable, and can result in a beautiful finish. There are several factors that go into your method of painting wood furniture. Here is the breakdown.
Spray Painting Furniture
Pros

Perfect for smaller pieces
Excellent durability
Eliminates brush strokes
Good coverage
Faster drying times
Easy to use for tight areas
Usable on many materials
Quick cleanup
May not require sanding

Cons

Must be properly ventilated
May have to deal with clogged nozzles
Expensive for larger pieces
Painting Furniture
Pros

Better for larger furniture pieces
More paint color choices
Most affordable option for larger pieces
Latex paint is less toxic than spray paints where ventilation and fumes are a concern

Cons

Longer drying times
Multiple coats needed for best coverage
More time consuming and tedious
Usually requires sanding for a smooth finish
With that said, can you spray paint wood and get as good results as hand painting? Absolutely!
However, I'd stick to smaller furniture pieces for spray painting v. hand painting wood for the ease and convenience. For larger pieces, I'd go with hand painting or using a paint sprayer for a more affordable paint option.
How much spray paint do I need?
If you decide to use spray paint for your project, you will need to determine how much spray paint to buy. It's never fun to be mid-project and run out of paint!
For my small table, I used one and a half cans of spray paint.
Each can of paint will include how much coverage it will provide on the back of the can. Make sure to measure your piece and buy accordingly!
Best spray paint for wood furniture
One of the most common questions I receive from my readers is, "What is the best spray paint?"
If you're looking for the best spray paint for wood, I would recommend Rust-Oleum brand. Rust-Oleum has been a tried and true spray paint for years.
It results in an amazing finish, has quality coverage, short drying times, and long lasting durability.
It is also easy to find at almost any hardware or grocery store.
I love their vast color selection, as well as speciality metal, stone and other interesting finishes.
Additionally, most of their spray paints are usable on hard-to-paint surfaces like glass, metal, and plastic.
You can see some of the projects I've done with various mediums of Rust-Oleum products below.
How to Prepare Furniture for Spray Paint
Next, let's talk about prep steps.
Properly preparing furniture for paint is essentially the most important step in painting wood furniture.
If you do not properly prepare your furniture, you will experience:
Poor durability
Improper adhesion
Bumpy surface
Imperfect finish
Mediocre results
1. Clean
The first step to proper preparation for spray paint is to clean the wood.
Most furniture pieces just need some elbow grease, soapy water and a soft cloth.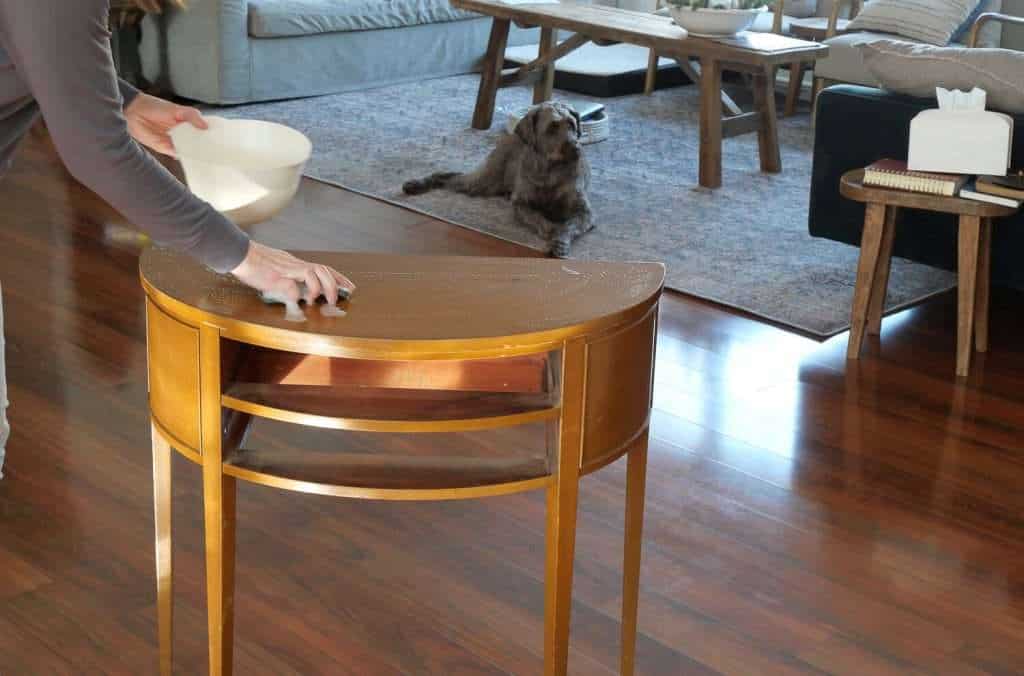 If your furniture piece is especially grimy, try using a more heavy duty cleaner like TSP.
2. Sand or Degloss
If your piece of furniture has a very glossy surface, it is best to lightly sand it. This will allow the paint to get more grip and have better adhesion.
Using a 220 sand paper, lightly hand sand your furniture. If you need to get into small grooves, consider using some of these sanding tools.
Alternatively, you can also use a deglosser for less mess.
3. Fill Imperfections
Once you've sanded, go back and fill in any imperfections in the wood. This is especially important if you have a chipping veneer.
You can use wood filler or wood Bondo for more serious imperfections.
After you've filled any dents or cracks, allow the filler to dry and then sand smooth.
4. Do a Final Clean Up
Once everything is sanded smooth, filled, cleaned, dried and debris-free, you are ready to paint!
How to Spray Paint Wood
First, prepare your work area.
Spray paint is best used outdoors. However, for those of us who live in climates that aren't always warm enough for paint to cure, spray painting indoors is doable. Just ensure you have the area properly protected from overspray, with good ventilation, and you wear a respirator.
I used this spray painting tent to paint this piece indoors and it was helpful to catch the overspray! It worked for my smaller piece, however if you have anything bigger you will want to upgrade to a paint booth like this one.
Additionally, I like to use a spray painting comfort grip like this one. It is especially helpful for larger pieces where your finger can get tired. It also helps avoid nozzle clogs.
How do I get a smooth finish with spray paint on wood?
Here are pro tips on how to get a smooth finish when spray painting wood.
Properly prep your wood by cleaning, sanding and fixing any defects.
Prime the wood, if necessary. Most spray painting projects won't require this.
Always start spraying off the furniture piece and then slowly bring the paint onto the surface.
Never stop moving your can of spray paint. Consistent strokes are key. If you stop the stream of paint on the surface, it will cause pools and drips.
Slightly overlap each paint stroke as you move up and down the surface.
Hold the can 10-12 inches from the top. Any closer and you will be applying too heavy of a coat to dry properly. Holding the can too close can also cause drips.
Apply 2-3 light coats a few minutes apart (as described on your specific paint can).
Pay special attention to only applying light coats on corners and other areas where paint can pool easily.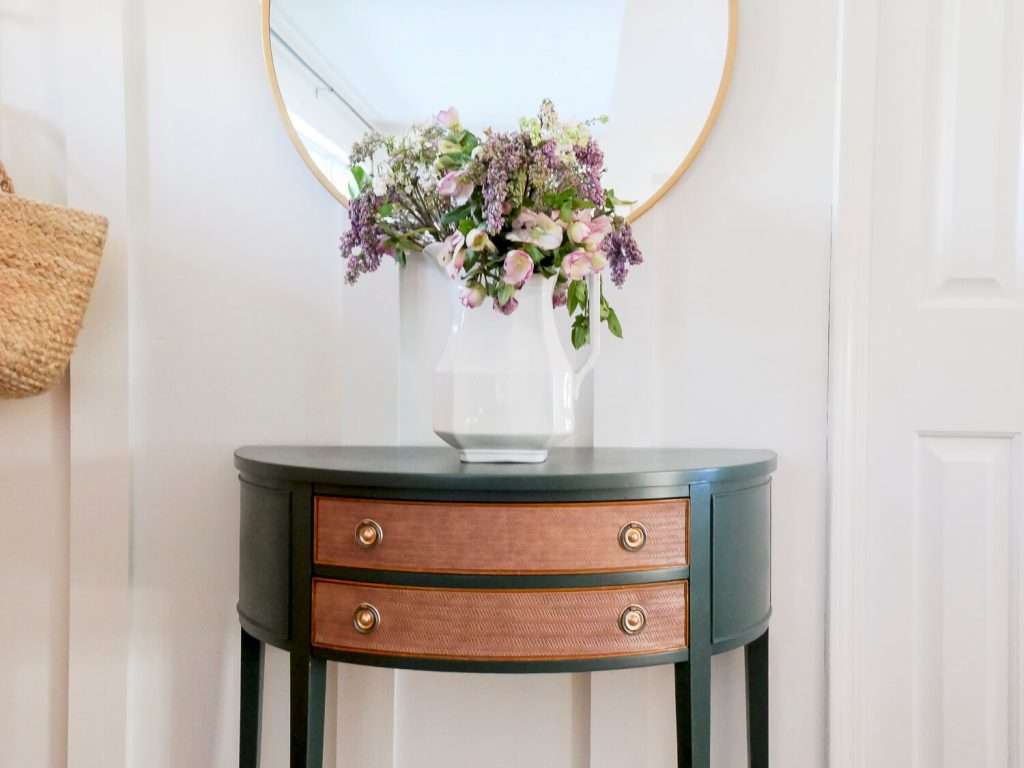 Troubleshooting: How to fix uneven spray paint
If you make a mistake and have an uneven surface or drips after spray painting, never fear! It's fixable!
However, you will have to wait for the paint that is on your furniture to fully cure before moving towards a solution.
By letting your existing spray paint cure fully (according to the can's directions) you are giving yourself the best surface to work with the second time around.
After the paint has cured, sand down the imperfections. Once the issues are smoothed out and you've cleaned the piece again, apply another coat of your spray paint using the tips above.
Let the piece fully dry and assess whether you need an additional coat after the allotted dry time is up.
My Furniture Flip
I hope that these tips have been helpful as you plan out your own spray painting project!
Here are a few more details on my furniture flip. You can watch me DIY this entry table in my recent YouTube video if you're a visual learner.
---
For my DIY furniture flip, I wanted to keep the original hardware for the extra charm it adds.
I simply cleaned the brass hardware with Bar Keeper's Friend. Then, I wanted those drawers to stand out from the rest of the piece.
I used faux leather that I cut down to size for some extra detail. Then, I glued it on with super glue and reinstalled the hardware.
I love how the extra detail on the drawers makes it feel so much more polished and high end.
I used Rust-Oleum's color, Hunt Club Green, and it is SUCH a beautiful moody green.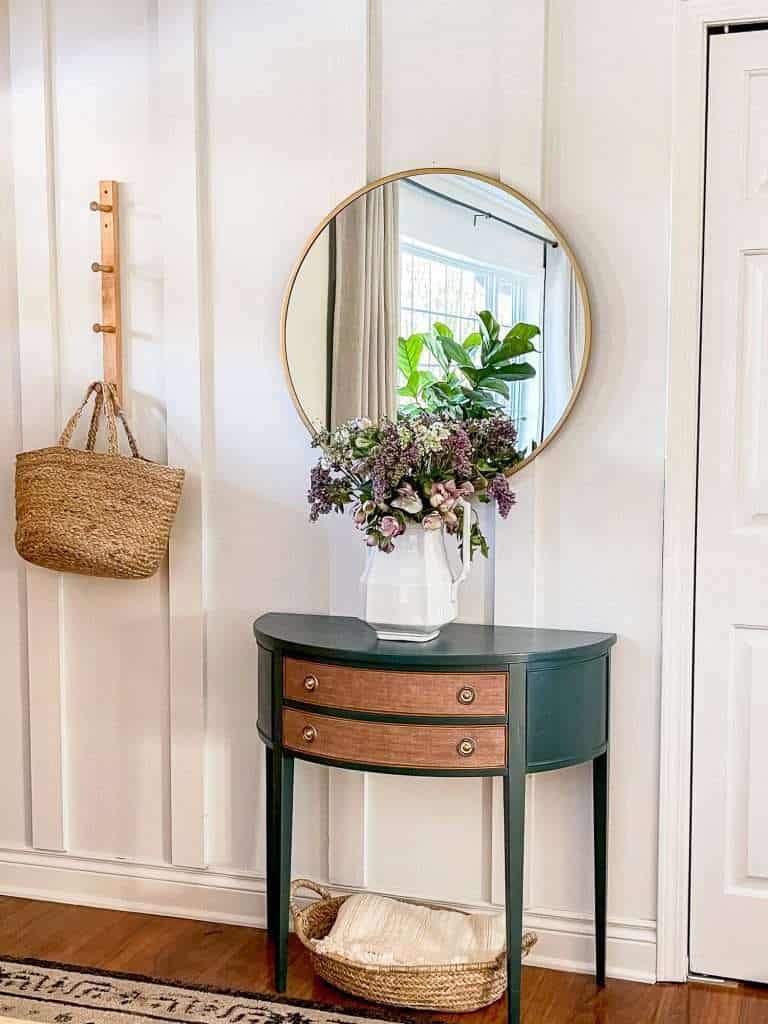 It's the perfect pop in our entryway. It almost makes me want to keep it here, even though I intended it for the cottage!
What do you think of how it turned out?
Are you feeling ready to tackle your own furniture flip or spray painting project?
Also, hint: you can use these spray painting tips on any material! Glass, wood, metal, plastic…it all applies!
Shop the Look

---
Stay Connected
Thanks so much for stopping by the blog today! I hope this tutorial for how to spray paint wood has been helpful to you.
If you're looking for more DIY inspiration, make sure to check out the following posts.
Make sure to subscribe to the blog for all my insider perks! And, you can follow along on Instagram daily and weekly on YouTube for in the moment projects.