20 Ideas for a Bedroom Refresh For Any Budget (2023)
Are you looking for ideas for a bedroom refresh that doesn't involve a full remodel? Bedroom updates will create a retreat you love, and thankfully, there are options for all budgets. Today I'm excited to share 20 ideas for a bedroom refresh on any budget, with simple timelines and all skill levels!
This post may contain affiliate links provided for your convenience.
How to Refresh a Room
Doing a room refresh is like breathing new life into a space without a floor to ceiling remodel. There are so many ways to refresh a room that can be done in 10 minutes, an hour, a weekend, or more.
Looking at updating a bedroom from the perspective of a room refresh, rather than a room remodel, gives you the freedom to make changes slowly. Making changes here and there over time is an attainable and manageable way to refresh a bedroom.
With that in mind, I'm breaking down the many ways that you can do a bedroom refresh by budget, time commitment and skill level!
Let's start by stating the obvious. You can refresh any room by:
Painting the walls
New decor
While both of those ideas can make a big difference, I find sometimes people rely too much on them. They paint a new color, but still aren't satisfied because they didn't tackle the right problem.
So your first step in answering the question, "how do you refresh a bedroom?", is to ask the right questions.
How do you Refresh a Bedroom? First, Diagnose the Problems.
Diagnosing the problem(s) in your bedroom is the first step to a successful bedroom refresh.
Slapping a new paint color on the wall won't fix a poor layout.
Adding new decor won't solve the cluttered chaos of poor organization.
Updating your artwork won't fix your back problems from an old mattress.
So, step 1: Ask the right question.
Sit down and write out the problems of the bedroom that need to be addressed. Here are a few thought starters:
Do you have a lack of light that makes the room feel dungeonish? (Yes…it's a design word)
Do you wake up in pain every day?
Do you need the room to function for dual purposes? (bedroom, office, reading nook….etc)
Do you have wasted space?
Is your decor still your style?
Does your bedding meet your needs? (Beyond being pretty, it should be comfortable and keep you at the right temperature for optimal sleep.)
Do you have a constant struggle for functionality or layout issues that need to be addressed?
Designing to Meet Needs: A Mindset Shift
Overall, you want to ask, "How do I update my master bedroom to meet my needs?"
This is a huge part of my design process and one that I focus on a lot in my book, Designing a Life: From House to Haven.
Too often we get caught up in how a room looks rather than how it functions. If you want to learn more about designing from a reformed mindset, make sure to check out my book.
Or, you can also take my free 3 part e-course, an introduction to design, by registering below!
Once you've taken the time to think through how you use your bedroom for functionality, the design will fall into place. Addressing those issues before focusing on decor or design will go a long way in creating a retreat you actually want to be in!
20 Bedroom Refresh Ideas for Any Budget
Now let's dive in to some specifics! I'm breaking down these 20 ideas by budget, and typically, budget dictates required skill levels. Anyone can tackle the free to medium budget ideas. However, if you want to attempt some weekend warrior updates and beyond, then having some DIY skills is a plus.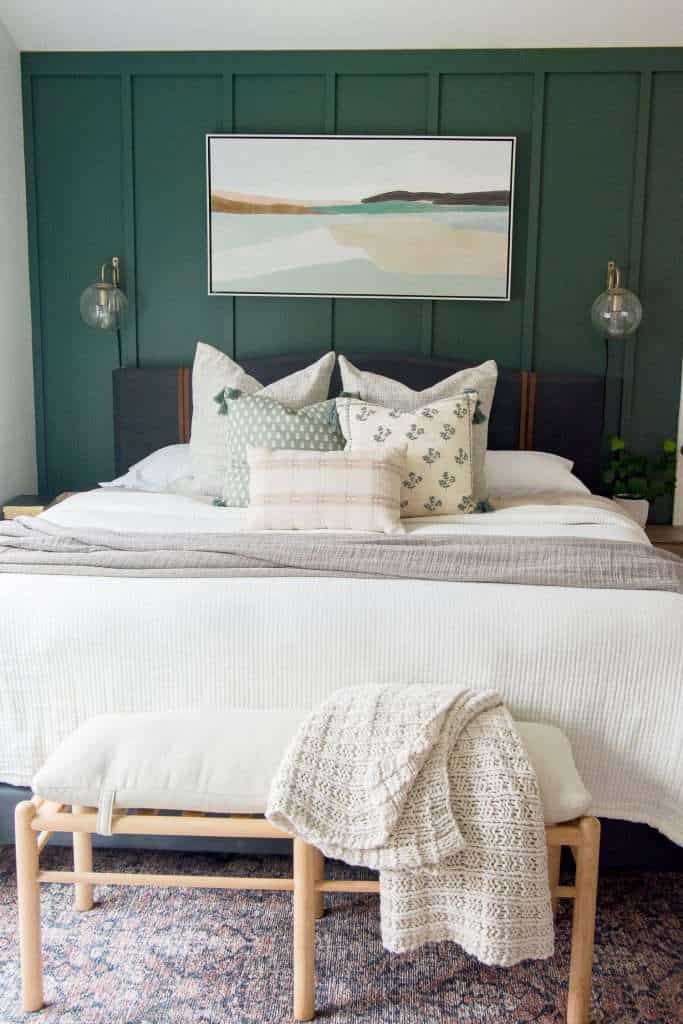 Here's a quick summary and then we will flush it out more.
Free

Declutter
Good Organization
Pair down the bedside table
Deep clean drapery, mattress, carpets, flat surfaces
Change the layout

Low Budget Updates in a Day

Add color through paint, bedding or accents
Play with patterns
Add plants
New lighting (Think beyond lamps or ceiling lights to sconces or task lights.)
Updated window treatments
New plush bedding

Medium Budget – Big Impact

Memorable artwork, kid's art or family photos
Play with the ceiling as a 5th wall
Create a seating area
New headboard (DIY or purchased)
Update closet or en suite doors or entrances

Weekend Warrior Home Updates

Go to the floor (new flooring or even just a new area rug)
Wall treatments
Wallpaper is having a moment

High Budget, but best money you will spend

Update the mattress that's killing your back
Free Ways to Refresh Your Bedroom
I like free. Free is my favorite number.
Thankfully, there are a ton of ways to refresh your bedroom without spending any money.
Anytime I start to get the itch to change up a room, I start with these free ideas.
Declutter & donate
Organize
Deep clean
Change the layout
Usually, after cleaning, organizing and decluttering I'm already feeling better about the space.
When everything has a place then the whole room feels less chaotic and more intentional. Plus, it's just nice not to see the lone sock on the floor anymore.
Once you've gotten your bedroom back in shape, consider changing the layout.
A fresh look at the furniture placement in your bedroom will open up ideas for ways the room could function or flow better. You can even think outside your existing bedroom furniture.
Is there a chair somewhere else in your house that you could add to create a cozy reading corner?
Do you have an armoire that isn't being used best that you could swap into the bedroom for bedding storage?
Instead of segmenting every room in your home, think of ways that you can swap decor or furniture from one room to the other to get a whole new look.
Also, try to cover all the senses. Sight is our default sense that we appeal to in design.
However, try adding in touch, sound and smell for a more well-rounded experience. This can be in the form of candles or diffusers, soft music, or extra luxurious bedding.
Low Budget – Small Timeline
Next, let's look at some low budget projects that you can do quickly.
Most of these ideas are decor focused. Sometimes all a room needs is a fresh look with a few selective decor accents.
When thinking about adding lighting, think beyond what is already in the bedroom. I love using sconces as bedside lamps because they leave the nightstands open for use. If you don't have a place for hardwired wall lighting, consider plug in or battery operated lighting.
If you want to update your window treatments, consider adding layers. I love to layer roman blinds with beautiful curtains.
Roman blinds warm up the space, depending on the tone, and provide blackout options. These are my favorite bamboo roman blinds.
For spring, I took down our curtains for a fresh and open look. I enjoy it both ways and like the flexibility of choosing the option that fits the season.
Shop My Bedroom Decor Sources

---
Medium Budget for a Big Impact
If you're looking for more bang for your buck, consider investing in some new pieces or design elements.
Memorable artwork, kid's art or family photos
Play with the ceiling as a 5th wall
Create a seating area
New headboard (DIY or purchased)
Update closet or en suite doors or entrances
Adding artwork or family photos is a smaller investment, but could potentially add up quickly depending on the size and source of the artwork, or the number of frames needed. However, it goes a long way to make intentional decisions with your wall decor.
Personally, I like to keep it simple above the headboard with a piece of artwork. Most of my bedroom wall art has come from Joyfully Said over the years. You can use code GRACEINMYSPACE for 15% off signs and artwork!
Next, don't neglect your ceiling. You can bring the same paint color of the walls onto the ceiling, add wood planking or beams, or wallpaper the ceiling. Thinking of the ceiling as a 5th wall is a great way to make the bedroom feel more custom.
If you have a slightly larger budget and space, consider adding seating furnishings or a new bed frame or headboard. Updating these larger items will transform a room immediately. If you aren't in budget to buy new, don't overlook the power of DIY!
I updated our upholstered headboard for just a few dollars and gave it a totally new look.
This next idea for a bedroom refresh teeters between the medium budget and weekend warrior. Depending on how complicated you want to make it, updating closet or en suite doors can completely change the look of a space!
You can see how I updated our guest bedroom closet doors in this post on a very small budget.
Weekend Warrior Bedroom Updates
For those who want a more dramatic change with more time and money, consider a weekend warrior project.
Go to the floor (new flooring or even just a new area rug)
Wall treatments
Wallpaper is having a moment
Flooring is one of the main design elements of a home. In many homes, bedrooms have carpeting. Our primary bedroom is getting a facelift this spring with new flooring. I can't wait to show you!
However, if you aren't up for that big of a makeover, consider just adding a new area rug. And yes, you can put an area rug over carpet for a change and updated look.
If you want to tackle a slightly more involved bedroom refresh, consider adding a wall treatment or wallpaper. I have tons of tutorials on the blog and on YouTube sharing how to install various wall moulding and types of wallpaper.
Wallpaper Tutorials on YouTube
Big Budget- But Worth It
There are a few big budget bedroom refresh ideas I could come up with.
Taking down walls to open up a space
Adding an en suite
Pitching a ceiling
You get the picture. BIG budgets. But, I'm thinking more in line with a big budget item that is truly necessary: a new mattress.
Maybe you don't need one. But with the way mattresses are made these days, in all likelihood you probably do.
So if you're waking up in pain each day, or get restless sleep because you're tossing and turning, then maybe the most impactful way you can give a bedroom refresh is with a new mattress.
They are a big expense. Especially if you buy a quality mattress. But it's money well spent considering you spend 7-8 hours a day in it!
More Cheap Bedroom Makeover Ideas
While I'm usually on board for a complete overhaul, sometimes bedroom updates only need to be minimal to make a big impact. There are a variety of DIY bedroom makeover ideas that I've covered on the blog in the past that I've linked for you throughout this article.
Here are a few more that may inspire you as you plan your own bedroom refresh.
Stay Connected
Thanks so much for stopping by the blog today! I hope you've found these ideas helpful.
If you want to see how my bedroom has transformed over the years, you can see all my bedroom refresh projects in the archives.
Make sure to subscribe to the blog, and follow along daily on Instagram and weekly on YouTube for real-time projects and tips!
~Sarah