10 Best Exterior White Paint Colors (2023)
Choosing a white paint for your exterior can be overwhelming. There are hundreds of white paint colors to choose from. Plus, those tricky undertones can throw off the color in various lighting. So, I've narrowed it down to the top 10 best exterior white paint colors to make it easy!
These colors vary in hue and undertone, but are all beautiful, classic and fresh!
This post may contain affiliate links where I earn a small commission on your purchases at no additional cost to you.
How to Choose an Exterior White Paint
We finally tackled our exterior painting project. For three years we focused on the interior of the house. After replacing our windows last winter, we are finally painting our exterior!
I knew that I wanted our house exterior to be a dark finish to offset the lighter brick. However, we also decided to paint our barn.
For the barn, I wanted to give it a fresh and classic look with white exterior paint.
But choosing a white paint can be tricky! So let's break down the main elements to look for when choosing a white paint for your exterior.
Determine the undertone
Determine if you want a warm or cool white hue
Play with the natural light throughout the day
Consider your roof and trim colors
How Do I Choose White Exterior Paint?
If you've struggled with picking a paint color in the past, you can download my free guide to paint finishes! I've rounded up all of the elements to consider and I hope it's a helpful free download for you!
We are going to go more in depth on the four elements you should consider for choosing white exterior paint. However, a general rule that may help you is that shaded homes do well with brighter whites. Homes in direct sunlight will benefit from a creamier shade.
Exterior White Paint Undertones
First, determine the undertone of the white paint you're considering. All paint colors have undertones that go back to the primary colors.
Blue, red and yellow undertones are extremely common. Some paint colors also have green or purple undertones.
White paint is especially tricky because of these undertones. The best way to determine what undertone your exterior white paint has is to hold a paint sample against a sheet of white computer paper.
The stark white color of the paper will reveal what undertone the paint sample has.
This is one element that you can take into consideration when painting your exterior white.
Warm v. Cool Hue White Paints
The next element to consider is if you want a warm or cool hue to your exterior.
Warm colors pull orange, yellow, or red undertones, while cool colors pull green, blue, or purple undertones.
Stark whites are often considered a best exterior white paint because the cool hue relates to natural colors well.
Blue sky, green grass, and green landscaping all work well with cool hue paints.
Cool whites feel more modern, classic and fresh.
Conversely, warm whites feel more cozy, relaxed and timeless.
How Natural Light Affects Exterior White Paint
The third element to think about is the natural lighting. If your home exterior is heavily shaded, the paint color you choose will look different than if it is in full sun.
How many times have you purchased paint in a paint store, only to come home and find that it is a totally different color? That's because of the lighting!
Most paint stores have florescent lights, which cast a completely different hue than natural light. So the color in a paint store will not look like the same color on a home's exterior.
Your best option is to paint a few samples directly onto your exterior.
Ensure that you are using samples with the same paint brand from the store you will buy your paint from.
When I painted our home exterior I purchased samples from a different store than the painting company did. Our colors were completely different! Each store location has a different calibration on their machine which can slightly alter the color outcome.
So make sure to get samples from the same location you'll be buying your paint from. Then, paint a few swatches on your exterior and see how they all look in different lights.
Make sure to look at them throughout the day. They will look different at sunrise, mid-day, and sunset because of the change in the sun's intensity.
Coordinating Roof and Trim Colors
White paint is so versatile when it comes to color coordination. However, you may still want to consider the colors that will be coordinating with your exterior. Roof, trim and door colors all play a part in how a final color looks.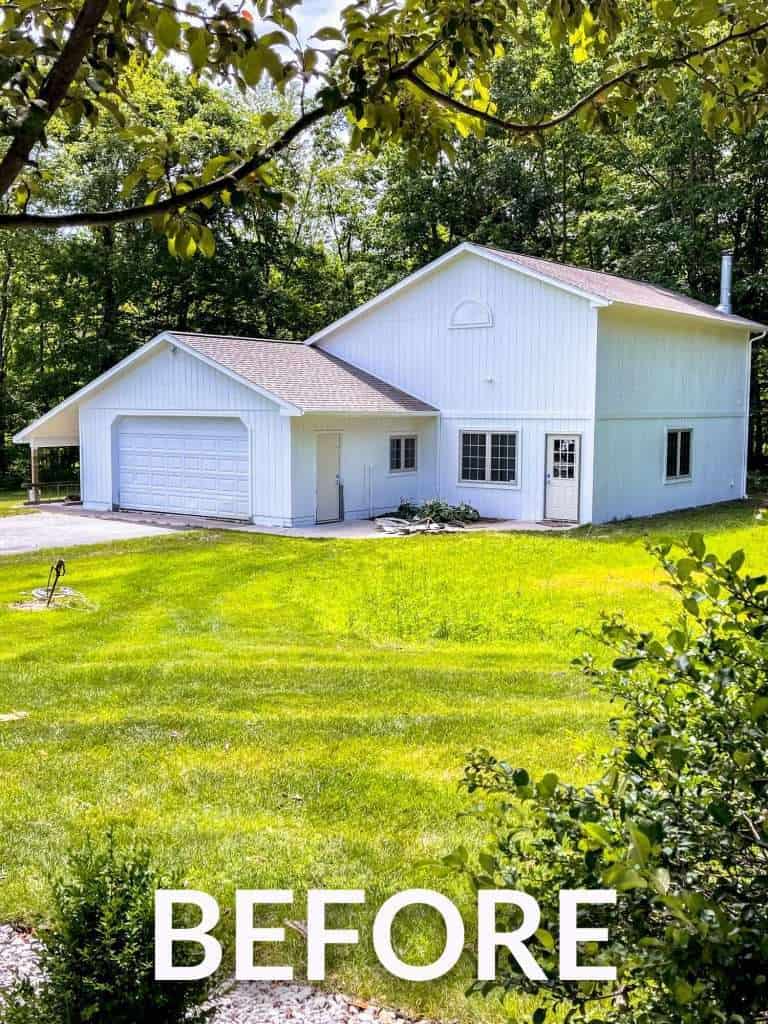 As you can see above, my white exterior of our barn looks different based on the door accent color.
With white/cream doors, the white exterior looks slightly different than with a bolder contrasting color.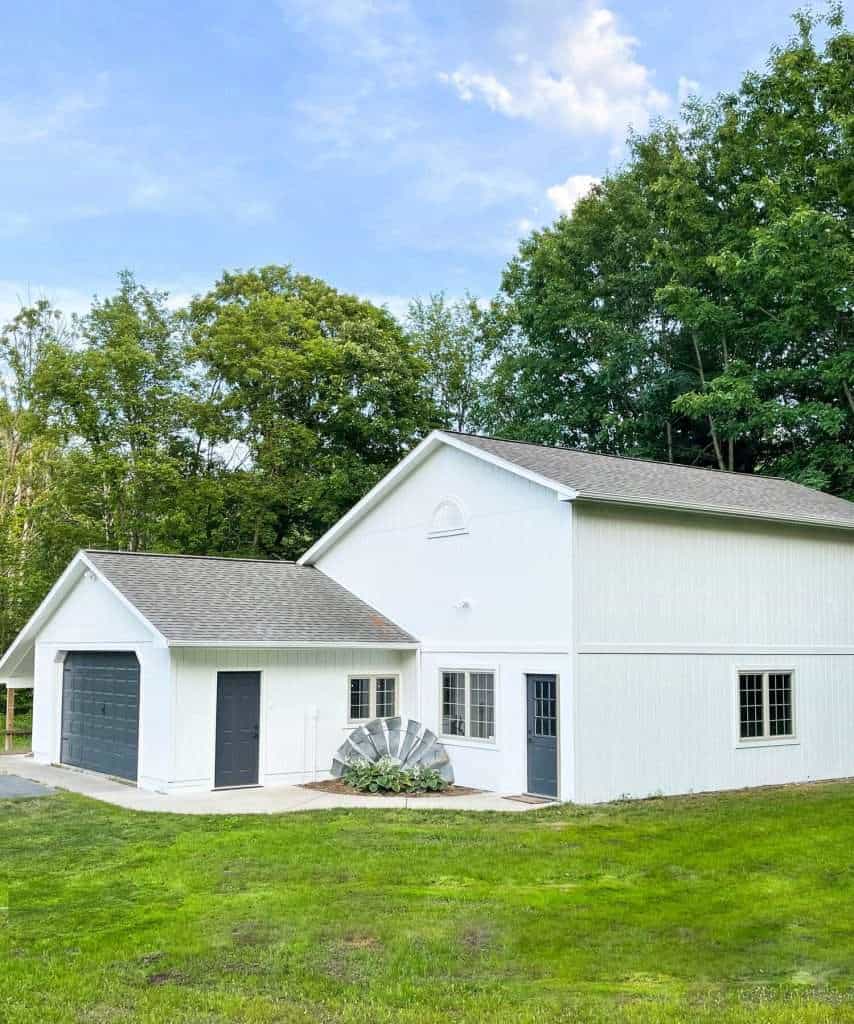 Should I Paint My House Exterior White?
Yes! 😉 Of course, you can also paint your house many other colors and it will be beautiful!
White is not the end-all-be-all when it comes to exterior paint colors. However, it is classic, fresh, timeless and creates a stunning focal point for your home.
White gives a great backdrop for other accent colors to shine. It is also a great way to highlight landscaping, brick, or other architectural elements.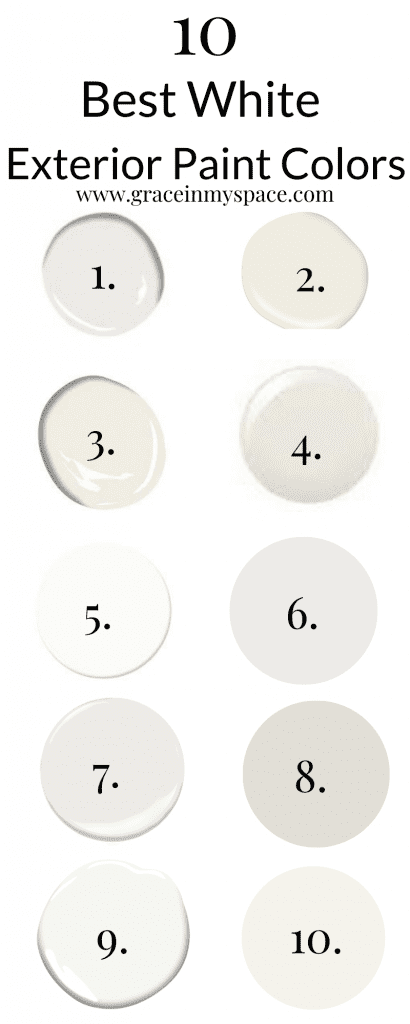 For example, we've had this windmill in this exact location for three years. After painting the barn white, most of our friends and family finally noticed it! They had never seen it before because it blended in with the previous color.
10 Best Exterior White Paint Colors
As I set out to choose the best exterior white paint for my barn, I came across many beautiful whites that were in the running. After some deliberation, I decided to go with a fresh bright white.
And now it comes down to sharing my barn color!
What Is The Best White For Exterior House?
In my opinion, the best white paint for exterior of a house (or outbuilding): Snowbound by Sherwin Williams.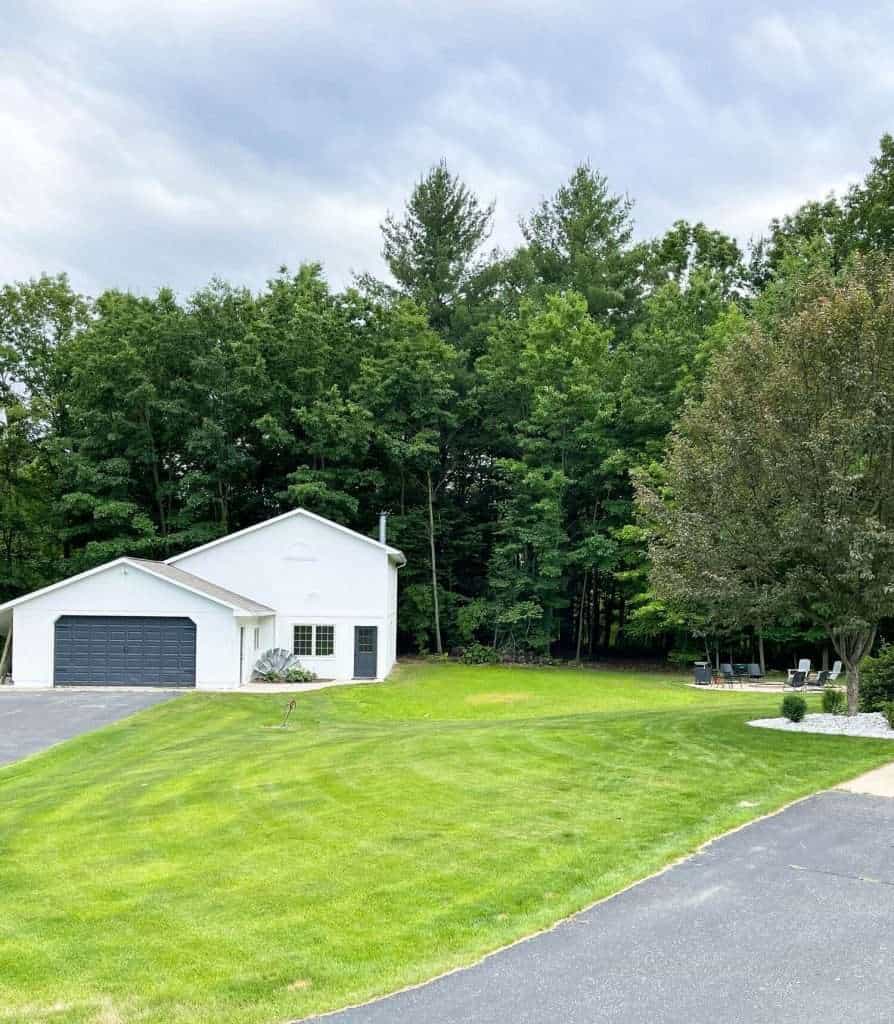 I'd also consider this the best white for exterior trim! It is a bright white with slight grey undertones. You can see how I used it on my exterior deck as well in this post.
Of course, this is the best white for me. It doesn't mean it's the best white for everyone. So I wanted to share nine other whites that would be a beautiful choice for your home's exterior.
Here's the list in full.
Top 10 Best White Exterior Paint Colors
Snowbound by Sherwin Williams
Swiss Coffee by Behr
White Dove by Benjamin Moore
Oyster White by Sherwin Williams
Milk Moustache by C2 Paint
Ultra White by Cabot
Pure White by Sherwin Williams
Nuance by Sherwin Williams
Chantilly Lace by Benjamin Moore
Whisper White by Behr
You can see an example of each color below, along with their sources and color descriptions.
Is Pure White Too Bright For Exterior?
Exterior paint is highly impacted by the sun. A bright, pure white may be too much for the exterior of a home since white reflects light.
Pure white paint works great to brighten up an interior room, but outdoors, it may be overpowering to look at. I'd go with one of the more subtle hues below.
NOTE: Here I am referring to a true, bright, crisp white when I say "pure white". I am not referring to the paint color called Pure White.
Examples of White Exterior Paint Colors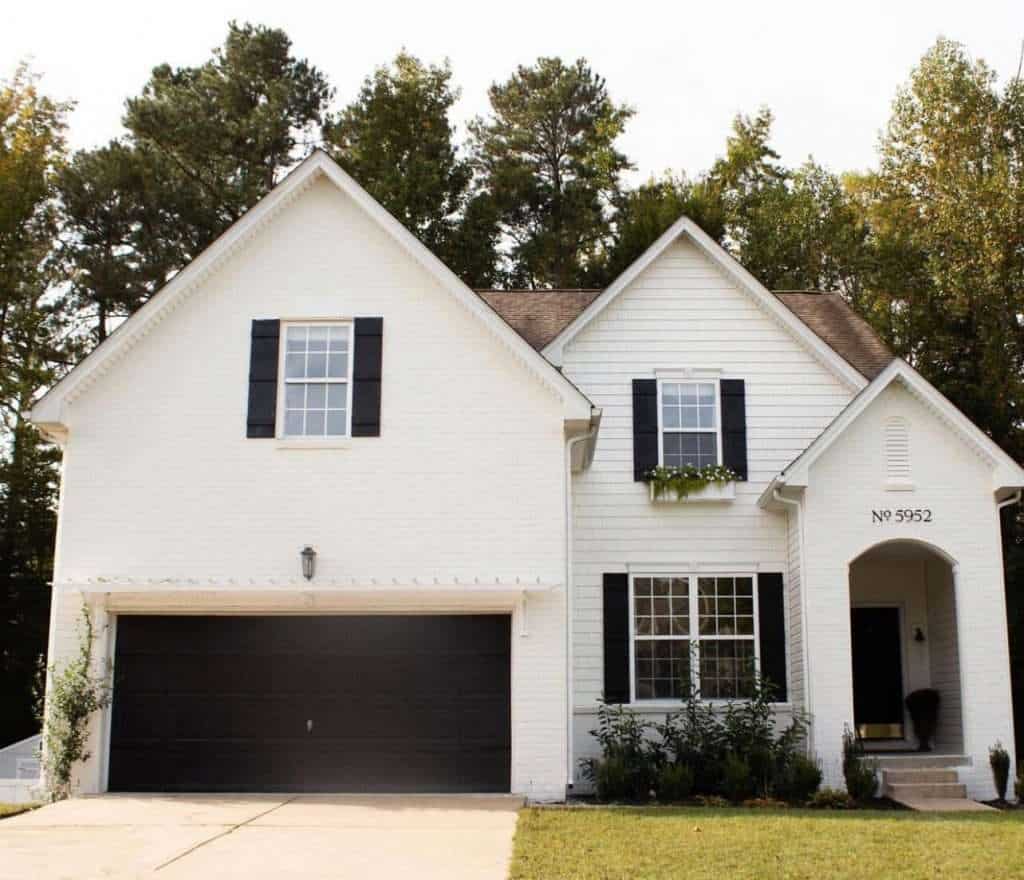 Cass Makes Home painted her home Swiss Coffee by Behr. Swiss Coffee is an off white with slightly creamy undertones.
Thistle Harvest used White Dove by Benjamin Moore. White Dove is a soft creamy white. It has yellow undertones that make it feel warm without losing its crispness.
I use White Dove on all my interior trim. You can also see how it looks inside on my kitchen cabinets in this post.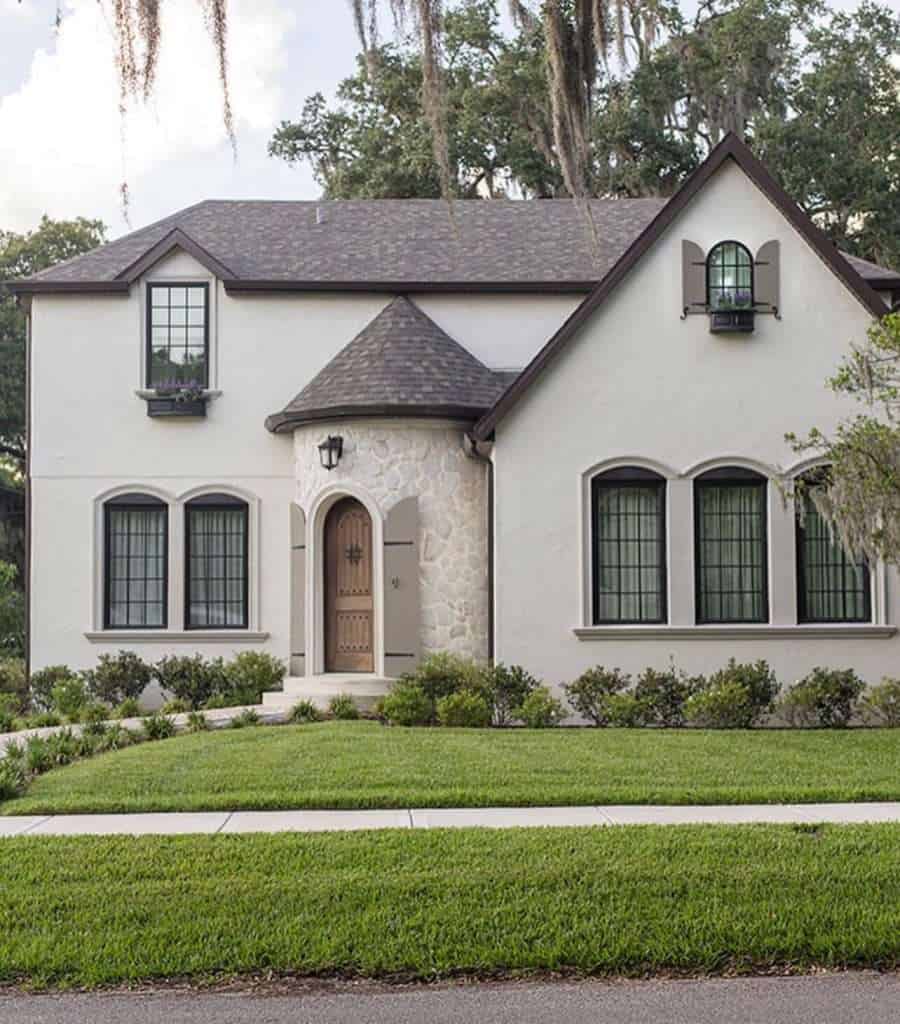 Jenna Sue Design chose Oyster White by Sherwin Williams. Oyster White is a very warm white, bordering on light greige. I love how soft it is and how it pops with black and wood accents.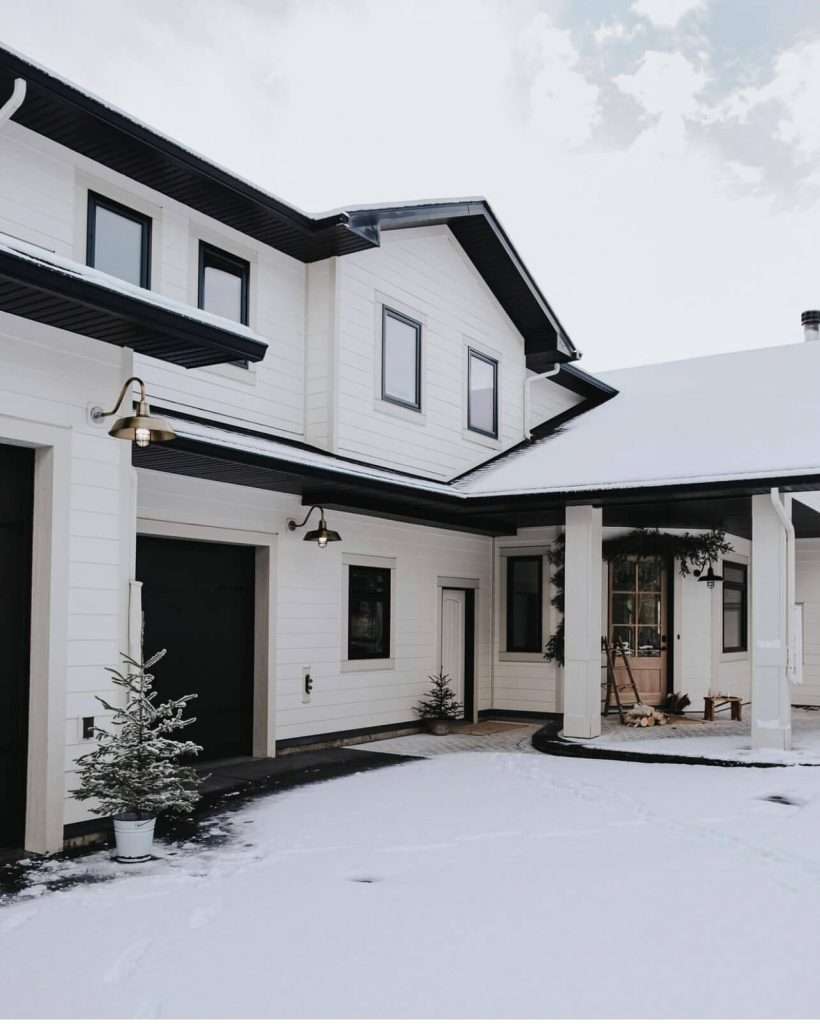 White Farmhouse color matched her home in a color called Linen (Color Match to Milk Moustache C2-692 by C2 Paint). This is a soft white that is modern with a subtle warmth.
The Fox Family Den used Ultra White by Cabot. Ultra White is a solid white exterior wood stain as opposed to a paint.
This is a great option if you prefer stained exteriors but want to eliminate the wood tones.
Jess from Carcaba Road used Pure White by Sherwin Williams for her rental's exterior. Pure White, contrary to its name, is a soft white with an almost creamy undertone.
I love how subtle it is against all of the beautiful natural colors surrounding it.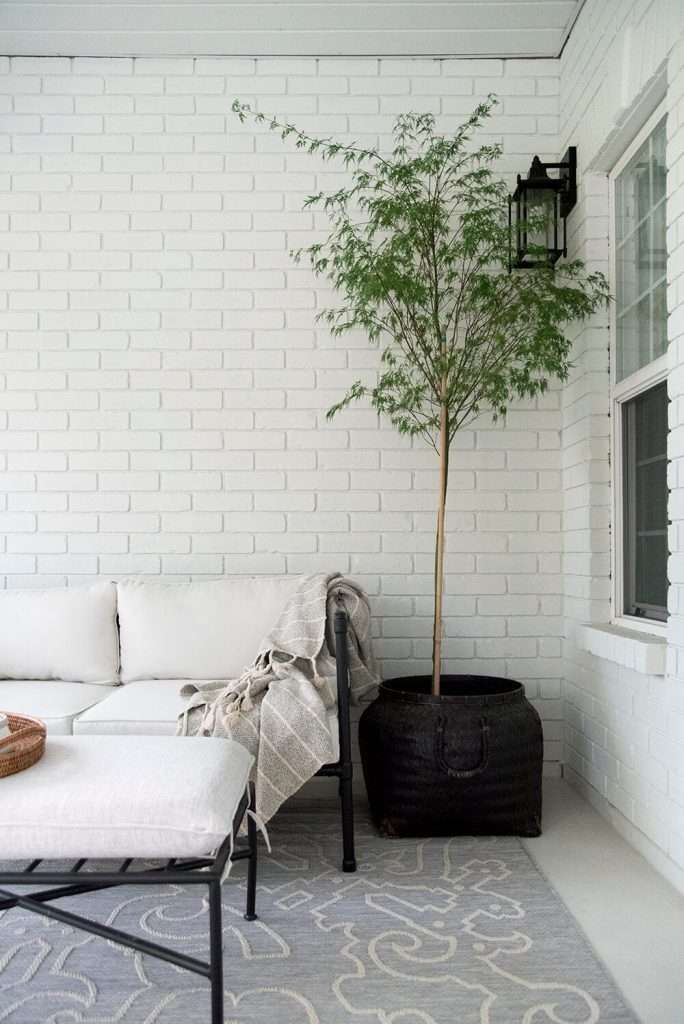 Room for Tuesday used Nuance by Sherwin Williams for her balcony brick and it is stunning! It is soft, but still fresh and modern.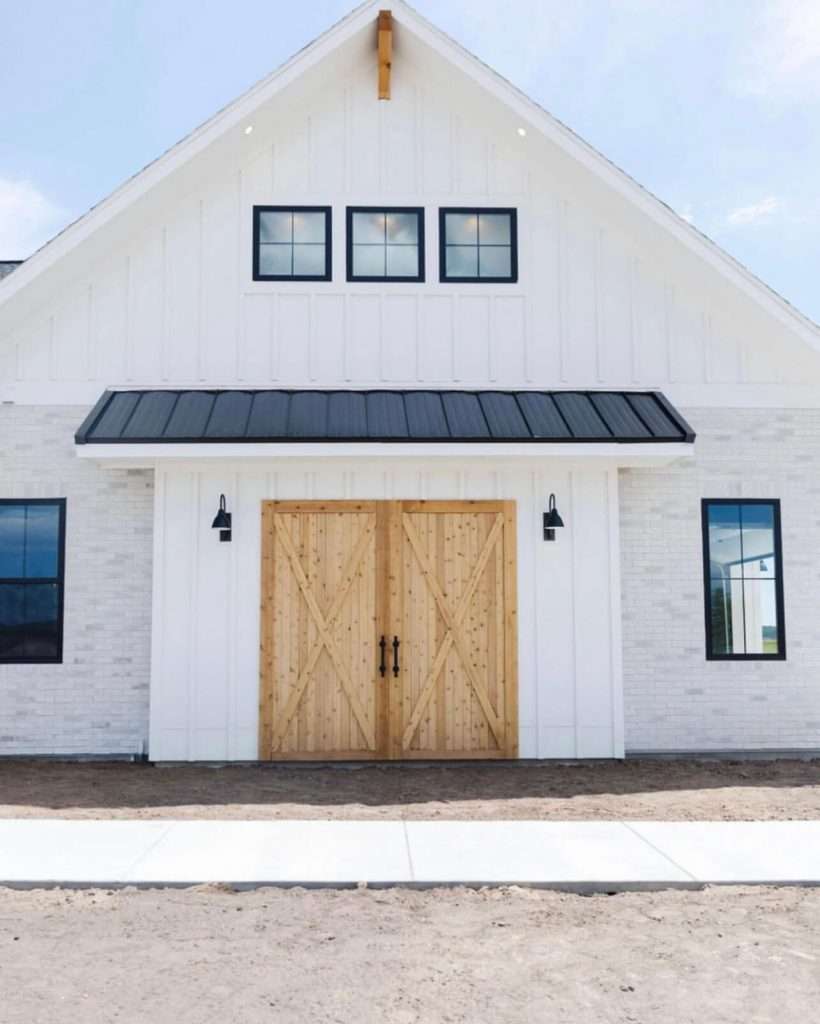 Tiffany from Gowler Homes used Chantilly Lace by Benjamin Moore on this barn build. I love how crisp this white is, especially against the white brick and wood accents.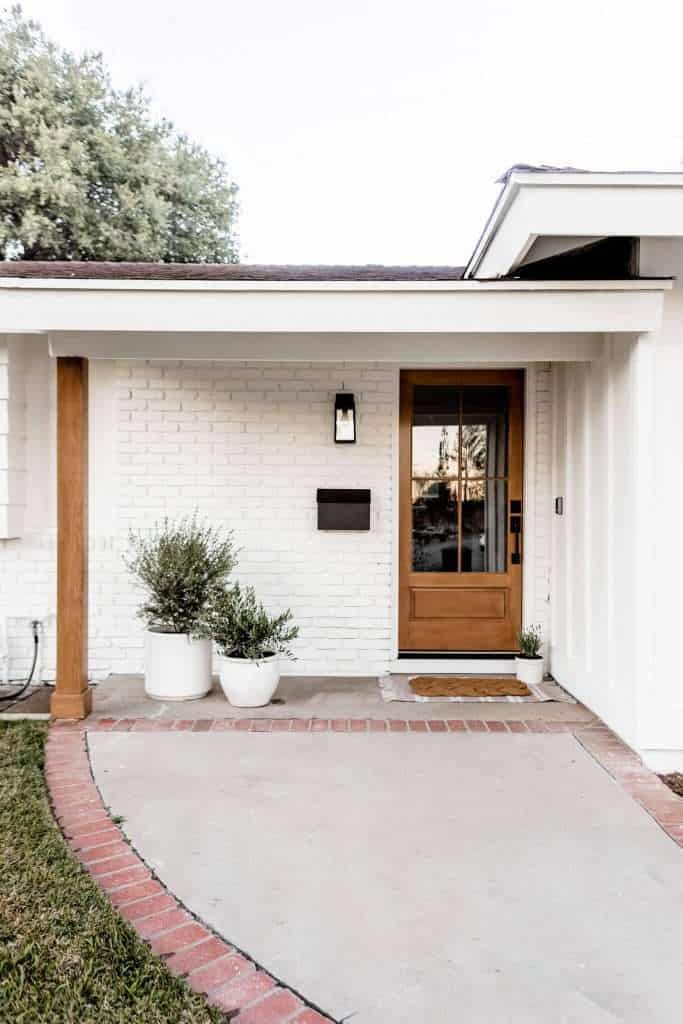 Lastly, Katie from Halfway Wholeistic used Whisper White by Behr on her porch makeover. Whisper White is a warm white, bordering on ivory. The warmth works perfectly with wood tones.
Stay Connected
I hope that this post on the top 10 best exterior white paint colors has been helpful to you! It's always helpful to me to see colors big picture, but always remember to get samples!
Samples are the best way to make sure that you are getting the color you want. Especially on such a large project where you wouldn't want to purchase paint twice.
Stay tuned for more exterior articles coming up! I'll be sharing all the details about our home exterior paint debacle as well. You can subscribe below to be notified when the post is live!
And, if you're looking for some outdoor inspiration, make sure to head next to my article on 20 low-cost ideas for beautiful outdoor living spaces.
More Home Exterior Resources
While we are talking about exterior paint colors, I think you'll also enjoy these articles on related topics!
Thanks for stopping by the blog today! You can follow along with my daily on my projects as well over on Instagram! And make sure to subscribe on YouTube for weekly videos!
~Sarah