10 Best Exterior Black Paint Colors to Upgrade a Home Exterior
Are you searching for black exterior house paint that will help modernize your home? When we did our home exterior makeover, I wanted to take our quaint country house and make it feel more impactful. So we chose a black exterior paint that would take our exterior remodeling project to the next level. This is the best exterior black paint to upgrade your home exterior!
This post contains affiliate links provided for your convenience.
Exterior Paint Colors With Brick
The first item I needed to take into consideration with my search for exterior black paint was that it needed to coordinate with our brick. Finding examples of exterior house colors with brick accents was difficult because most brick homes these days are painted!
Our natural brick is a lighter color, so I didn't need to compete with a red brick. Instead, I was able to work with our natural stone for a house exterior that doesn't fall flat or feel too dark.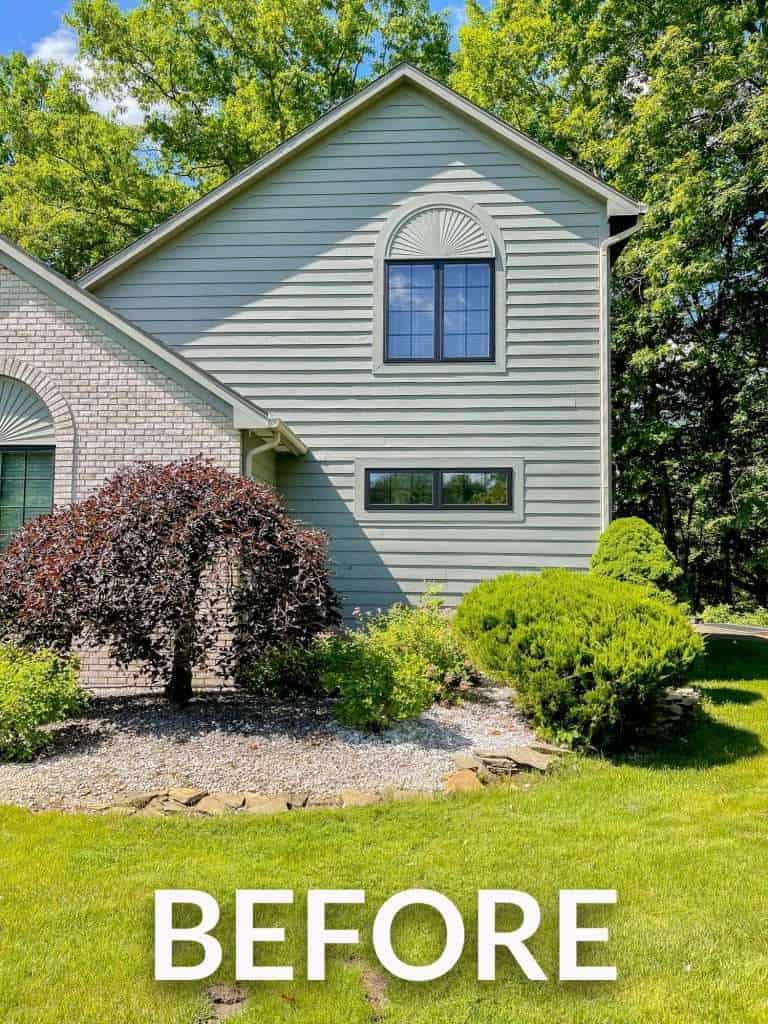 For our exterior home remodel, one of my goals was to make the brick pop.
The existing light sage green exterior paint color created a quaint country home vibe. It blended together so that the brick didn't really stand out.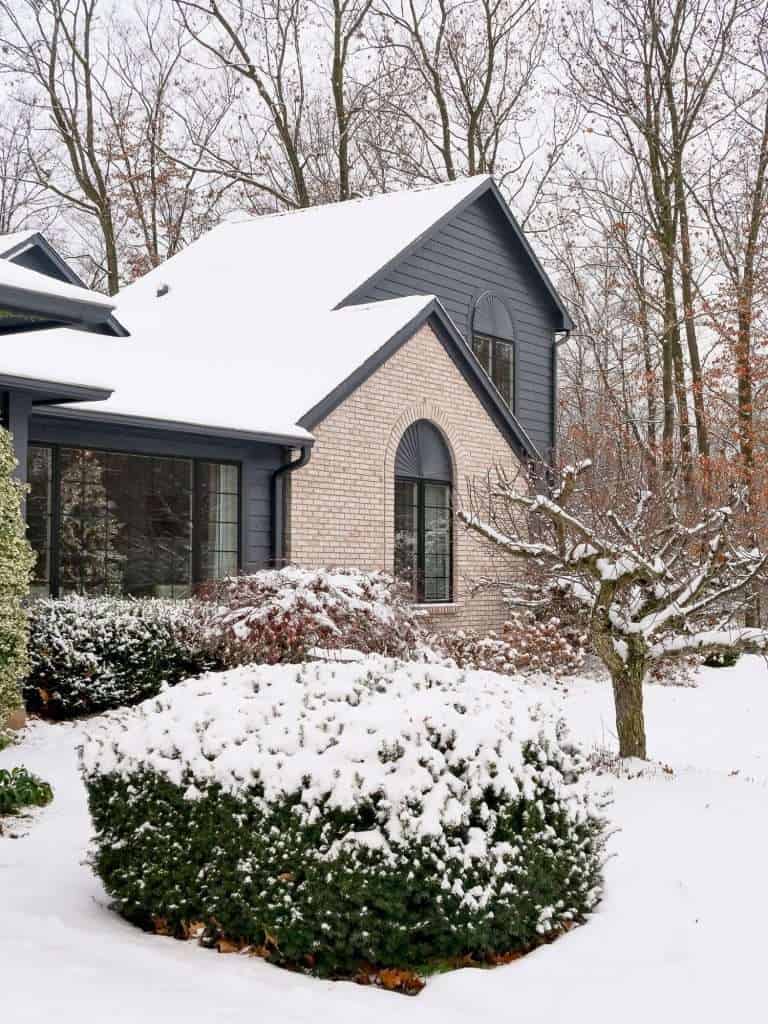 The brick and black house exterior combination balances light and dark so well, so I knew that a black exterior was the way to go for our wood siding. This makes the brick stand out and become a design focal point, rather than an afterthought.
What do you think of our black and brick home exterior now?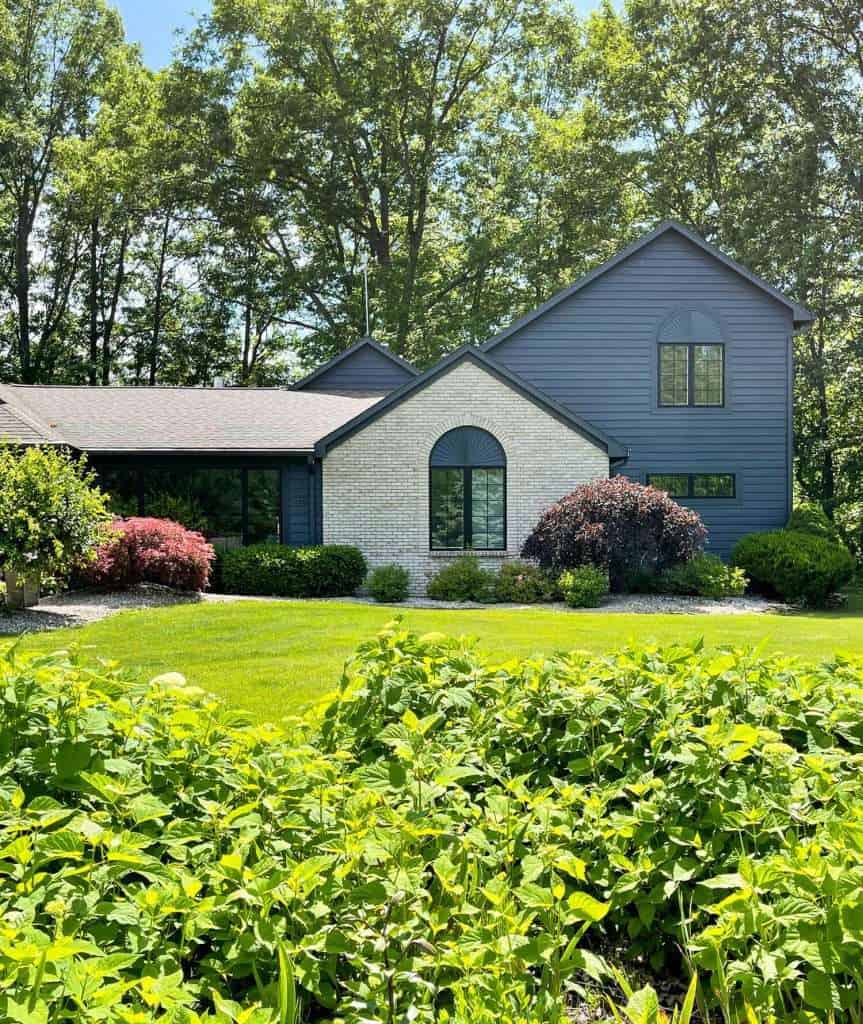 Tour our Home Exterior and Land
If you're new to Grace In My Space, let me introduce you to our home!
My Choice for Best Exterior Black Paint
Part of the process of finding the best exterior black paint was doing a lot of scrolling on Pinterest for inspiration. However, the most important part was buying actual samples and painting them on our wood siding.
In the end, I decided to paint our exterior siding in the color Graphite by Benjamin Moore.
Graphite is a very versatile color. In bright daylight it reads a dark grey. In shadows it pulls true black without overt undertones. It is a softer black that works perfectly with my country house.
It gave my home a modern dark house exterior vibe without feeling stark, contemporary or unwelcoming.
We decided to install black windows the year before we painted our home exterior and I love how they look with the siding color. It makes our black and brick house look like it has black trim for a subtle variation.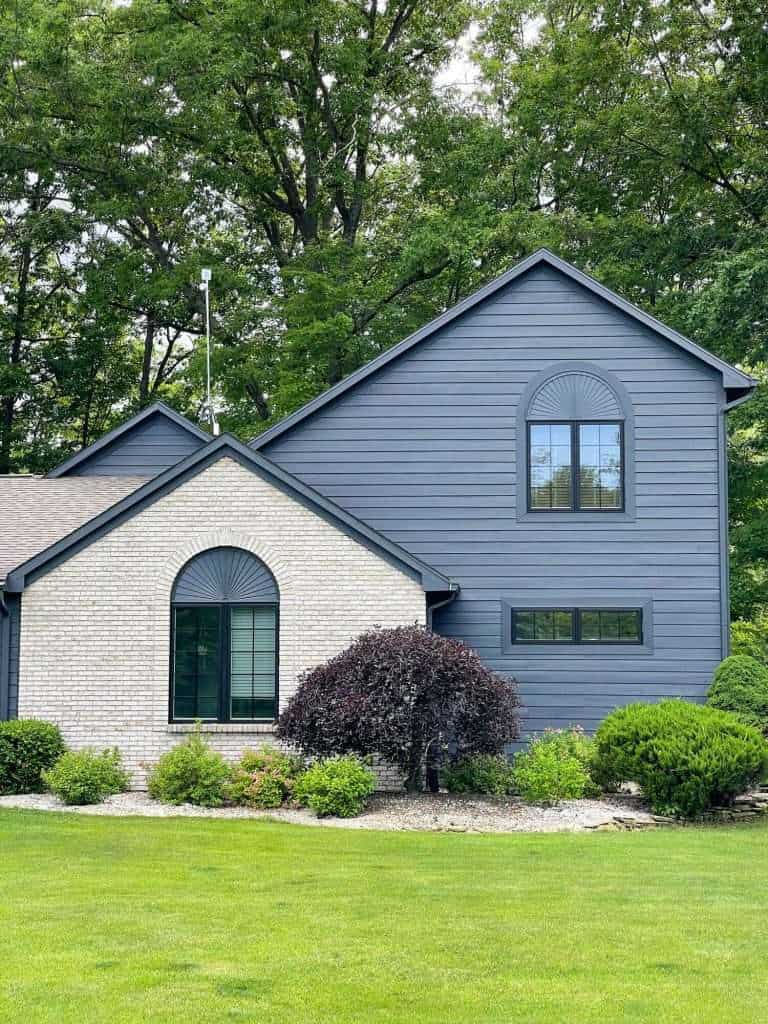 Top 10 Best Black Exterior Paint Colors
Additionally, here are 10 more black exterior paint colors you should consider as you test out samples for your home exterior.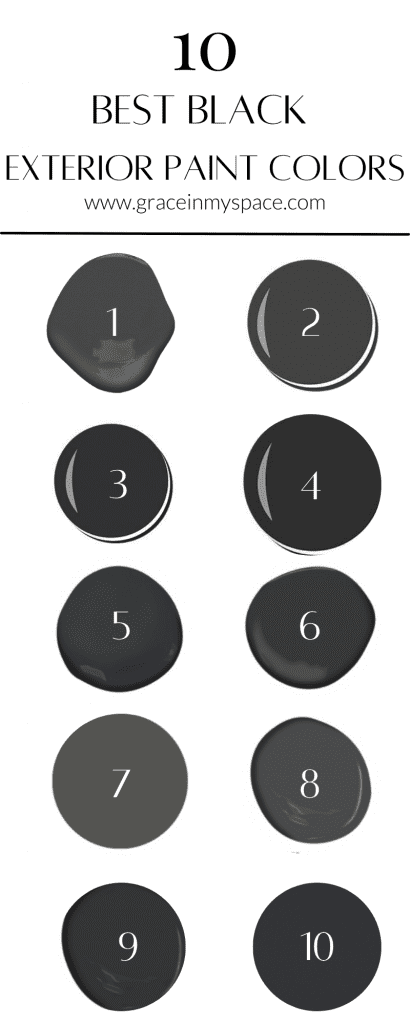 Graphite Benjamin Moore
Iron Ore Sherwin Williams
Black Magic Sherwin Williams
Tricorn Black Sherwin Williams (which you can see in our deck transformation here)
Soot Benjamin Moore
Black Beauty Benjamin Moore
Ebony Field Valspar
Wrought Iron Benjamin Moore
Mopboard Black Benjamin Moore
Blackboard Magnolia Home
Our Experience Choosing a Paint Color
Now, if you were following along with me on the home exterior remodel on Instagram, you may remember that we ran into some issues with the paint color.
Originally, I thought I did my due diligence in picking my exterior color.
I tested multiple samples.
The painting company's designer come out and went over colors with me.
I studied images of the paint color I wanted.
And yet, things still went awry.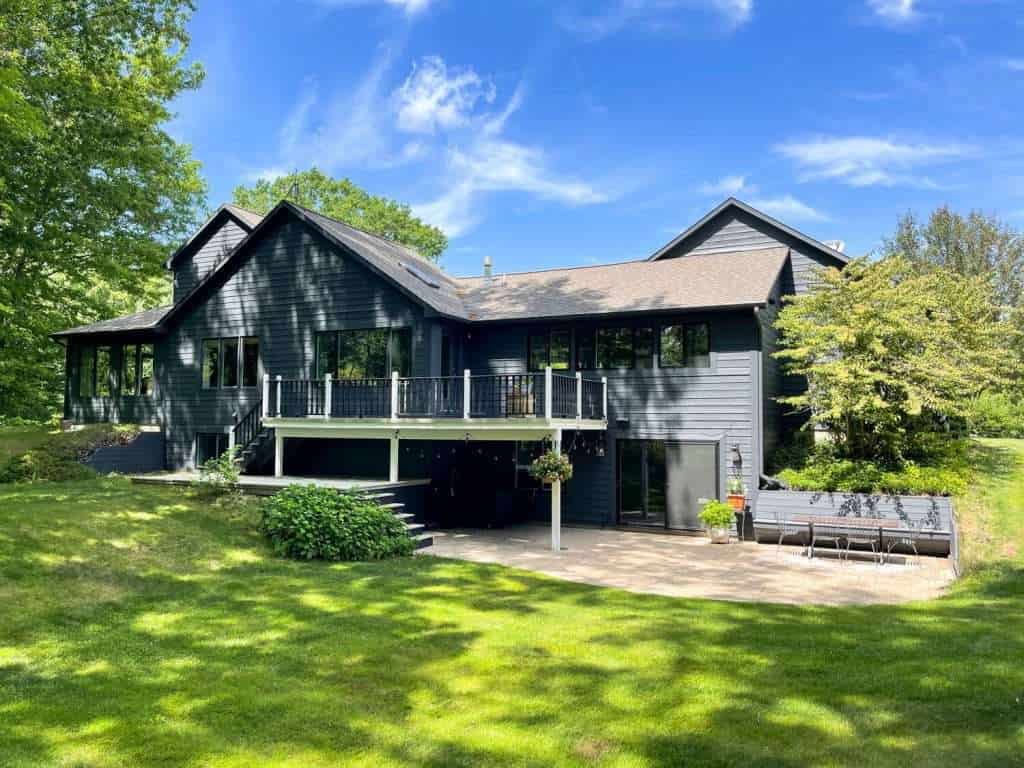 A full day into the painting process on our wood siding, I came out to see the progress and found a very different color than I had originally chosen. The entire back of the house was painted deep black with a glossy finish.
This finish picked up every single wood grain in our wood siding and made it look like charred wood.
While charred wood is an actual exterior weatherproofing method, it was not the finish I was going for!
The image below shows the top exterior in Graphite (fixed) and the bottom in the original color that was incorrect. See what a drastic difference it made!
After much discussion with the paint company and paint store, we determined that the issue came from this series of events.
The paint company was using Sherwin Williams exterior paint. So when I purchased my sample I went to a Lowes because they sell SW. Lowes gave me a color match to Benjamin Moore Graphite with the HGTV Home by Sherwin Williams Paint: First issue.
The paint company went to a different store to purchase the paint using Sherwin Williams Duration Exterior Paint in the color Graphite pulled from their system: Second Issue.
Turns out, there is a series of issues with getting a sample color in a paint brand that is different than the one you will use for the final result. Additionally, each paint store has slightly different calibrations for their paint machines. So getting a sample from one store and the paint from another, will result in a slightly different color.
This is why most painting companies recommend combining gallons of paint prior to painting so you get a true color across an entire large space.
Tips for Picking a Black Exterior Paint Color
So, here are a few tips for choosing an exterior paint color:
If you're working with a painting company, ask them to provide you with sample paint.
If you're painting yourself, get samples in the paint you will be using and from the same store you will be purchasing from.
Combine gallons of paint into a 5 gallon bucket to ensure the color remains true.
Consider the sheen of your paint. Glossy paint will pick up every defect in siding or wood grain in wood siding.
In the end, the painting company I worked with was wonderful to correct the problem. They color matched their paint to my original color and chose a low-lustre finish rather than satin.
They repainted the back of the house and it is now what I truly envisioned for our home.
You can learn more about our outdoor entertaining areas in this post.
Best Exterior Paint for Wood Siding
While interviewing with painting companies, a common theme for their choice of best exterior house paint was to use Sherwin Williams exterior paint.
For our home, we used Duration Exterior Acrylic Latex. For our barn, we used SuperPaint Exterior Acrylic Latex as it's a paint and primer in one.
When I was designing the way our home exterior remodel would look, I was drawn to a black and white house exterior. However, I didn't want to paint the brick white.
To achieve the look I wanted while keeping the brick natural, I decided to use the white paint on the barn. They coordinate so well together. I brought the Graphite color to the barn doors so that it would feel intentional.
If you're looking for the best white exterior paint, make sure to check out this article with my favorites!
Average Cost to Paint a House Exterior
Obviously, one of the biggest considerations for an exterior paint color remodel is the cost to paint the exterior of house.
In Michigan (during a pandemic with labor and paint shortages) we received bids from $5,000 to $15,000 to paint our large home and pole barn. Our bids included doors, windows and garage doors.
Since this was two large buildings, you can easily cut this bid in half for one home to range from $2,500-$7,500.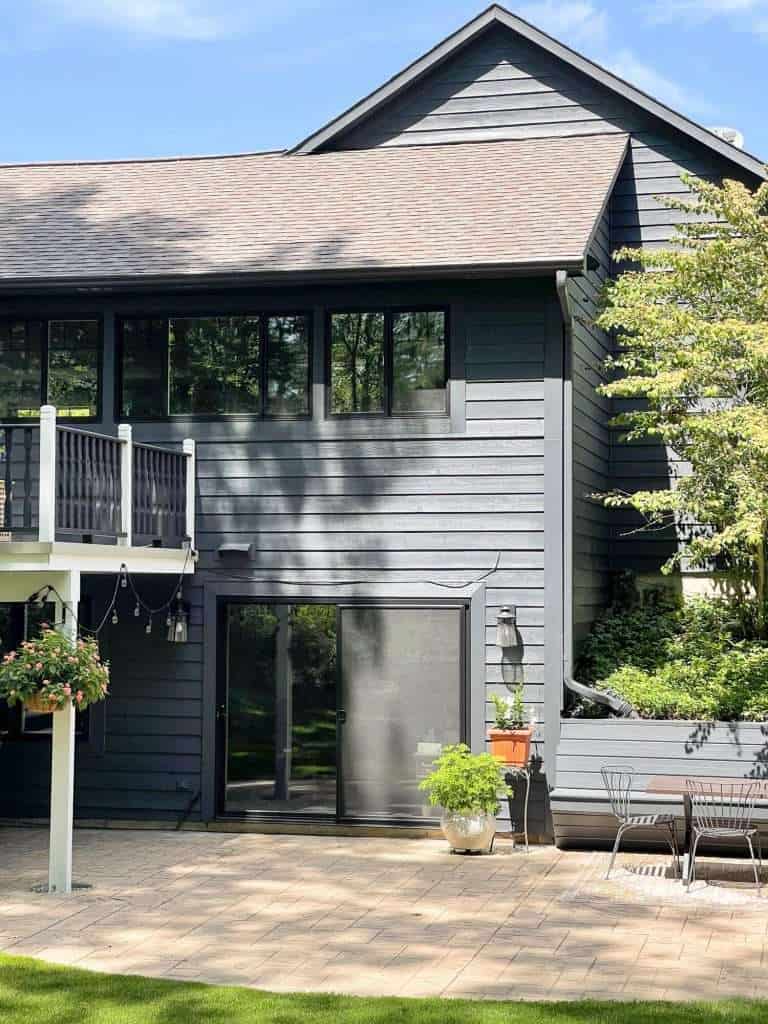 This price was higher than a typical average due to the world's events at the time. In fact, the paint shortages were so immense that our painters were limited on how much paint they could buy at once. Thankfully, we were able to get what we needed over time.
Depending on your geographic region, this price will vary. This article may be helpful to you.
Additionally, the average price to paint the exterior of your house will be significantly less if you do it yourself. You can easily save thousands of dollars by putting the sweat equity into your exterior remodel project.
Stay Connected
I hope that this article is helpful to you in choosing the best exterior black paint for your home.
Make sure to grab your free download to help you choose the proper paint for any project below!
I hope that you will join me on Instagram and YouTube as well where I share all our home updates, DIYs, decorating tips and more on a regular basis.