A Complete Guide to Painting Fireplace Brick (2024)
Painting fireplace brick is an affordable way to updated a dated fireplace, or just change the look to fit your style. There are various ways to paint interior brick, including using specific techniques like white-washing or lime-washing. I hope you enjoy this project where I'm sharing my painted brick fireplace before and after, as well as a complete guide to painting fireplace brick properly.
This post contains affiliate links for your convenience. I am an Amazon Associate.
Can Brick Be Painted?
First, let's start with the basics. Can brick be painted? Absolutely!
However, there are various ways to update a brick fireplace using paint and other materials. Here are a few options to consider.
Standard painted brick (which this tutorial will focus on)
Whitewashing brick
Greywashing brick
Limewash
Overgrout (sack finish)
German schmear techniques (which I've done on my current fireplace)
Each of these methods will result in a different look, have a different timeline for completion, and cost different amounts based on materials needed.
For this article, we are going to focus on how to paint a fireplace with acrylic latex paint.
What is the Best Paint for Brick?
Painting fireplace brick is a fairly basic process, however you will want to obtain the proper type of paint and materials. The best paint for brick is generally an acrylic latex paint.
This allows you to have a lot of flexibility on:
The sheen you choose.

For a more organic look stick with a matte or low-lustre finish. For a more dramatic look, consider a gloss or high gloss finish.

Color options to paint your brick fireplace.

Using interior acrylic latex paint means you can choose any color you want for your brick. Not all brick fireplaces have to be painted white, as has been the trend in the past. Consider bolder colors like charcoal, deep green, or softer neutrals like taupe. Conversely, if you are using a masonry paint like this one, you do have color options, but they are limited.

Affordability.

While brick paint does exist as a "brick transformation kit", it isn't necessary. Using standard interior paint does the job just as well for less cost.
Please note, this recommendation is for how to paint interior brick. Exterior brick will require a different method (and typically uses masonry paint) to perform better with temperature changes, heavy moisture and color fading.
Do I need High Heat Paint for a Brick Fireplace?
This is an excellent question! No, you do not need high heat paint for a brick fireplace as the face of the brick typically doesn't get hot.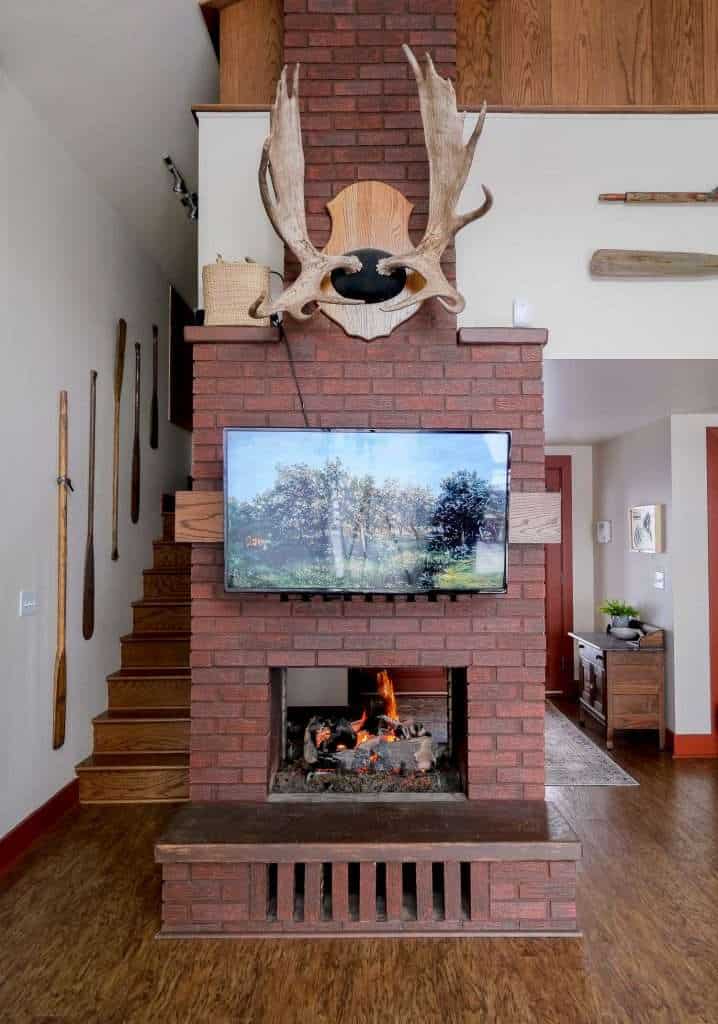 However, if you choose to paint the firebox itself, or a metal fireplace cover, you do need high-temperature paint.
Do I have to Prime Interior Brick Before Painting?
Even though you can use standard acrylic latex paint for your top coat, it is vital that you use a proper primer prior to painting brick.
Masonry primers are generally thicker, provide a protective coat against raw brick, and act as a binding agent for your topcoat of paint.
If you are painting raw brick, masonry primer will be the best foundation as it is thicker and the porous brick will soak up the first coat quickly.
While masonry primer is your best option, you can also use a high quality interior primer in a pinch. As paints and primers continue to develop, there are more options on the market than ever before.
Here are some options for the best primer for brick:
Step by Step Guide to Painting Fireplace Brick
If you're like me, you most likely have stood in front of your fireplace many times asking, "should I paint my brick fireplace?"
As I've renovated houses over the years, I find that the potential projects that I'm continually coming back to and questioning are the ones that pay off the most in the long run. So if you're consistently questioning whether or not to paint your brick, I'd say go for it!
More often than not, you'll feel relieved over finally making a decision and making your fireplace fit your style.
How to Paint Interior Brick
There are different ways to paint brick depending on what you are starting with.
Is your fireplace raw brick or painted brick? Do you have to deal with extra deep mortar lines or is it fairly flush? Is your brick highly textured or smooth? These variations and more will impact how you paint your interior brick.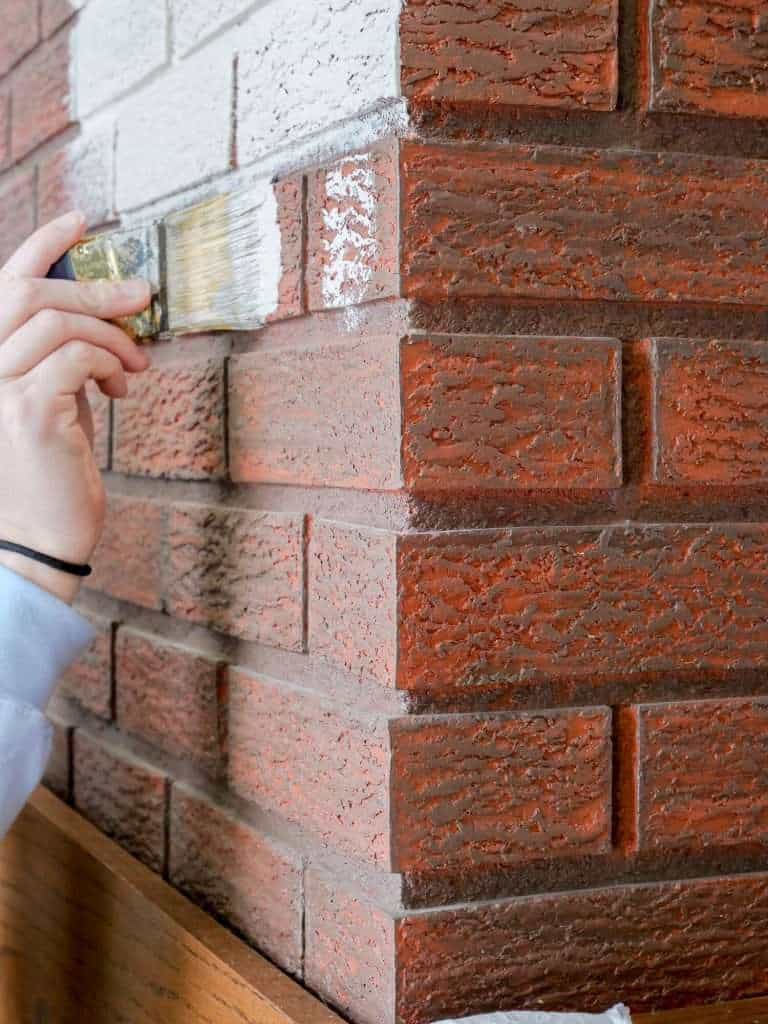 While this article is focusing on a brick fireplace transformation, the same method applies for brick walls or other interior brick structures.
Materials Needed to Paint Brick
First, gather your materials. These are the materials needed to paint your brick by hand. You can shop them all in one place here.
Primer
Paint of choice (I used this paint in the color Perfect Taupe.)
Painting tools in various shapes and sizes depending on your needs:
Ladder, if needed
Vacuum
Cleaning materials (rags, water, soap)
Wire or stiff bristled brush
Degreaser if brick has heavy soot or dirt
Alternatively, you could also choose to use a paint sprayer if you have access to one or want to invest in one. Paint sprayers are amazing tools that cut the time it takes to paint significantly.
If you choose to spray paint, ensure that your sprayer can handle the thicker masonry primer. Additionally, you will have much more prep work to tape off and protect surrounding areas from overspray.
Whether you choose to hand paint v. spray paint your brick fireplace, follow these simple steps for a beautiful finish.
Step 1: Thoroughly Clean Your Brick
The best foundation for any painting project is proper prep. Say that 5 times fast.
First, you should thoroughly clean your brick. How you do this will depend on the condition of your brick.
Use a wire or stiff bristled brush to scrub the fireplace brick. If your brick isn't overly dirty, you can get away with a dry scrub to loosen dirt and debris. However, if it is very dirty or has a lot of soot or grease on the brick, use soap and water or a degreaser like TSP.
If you used water, let the brick dry thoroughly as it is porous and will have soaked up some moisture.
Once you've removed all dirt, grime and soot from the brick and mortar, vacuum the entire fireplace from the top down to remove any remaining dust or debris. Pay special attention to areas with loose mortar or tight crevices.
Step 2: Tape and Cover Surrounding Surfaces
Next, protect your surrounding surfaces. Tape off where needed and lay a drop cloth to catch spatters.
Step 3: Prime Raw Brick
Next, if your brick has never been painted, apply 1-2 coats of primer.
Each fireplace is going to be different. However, the easiest and quickest method is to roll the primer onto the face of the brick. Then, use a brush to get into the spaces the roller can't reach, like deep mortar lines.
If your brick has already been painted, like mine was, you need to discern whether or not primer is necessary.
Painted brick that is chipping or flaking heavily, will be helped by a coat of primer to get the best finish for your project. If the painted brick is in good condition, you may not need to prime as the previous painter may have already done this.
Step 4: Painting Fireplace Brick
Once your primer is fully dry, you can proceed with your topcoat of paint.
Use the same method as the primer. Roll first onto the face of the brick. Then, paint within the mortar lines or any cracks and crevices the roller didn't cover with a brush.
Of course, you can also use a paint sprayer as an alternative.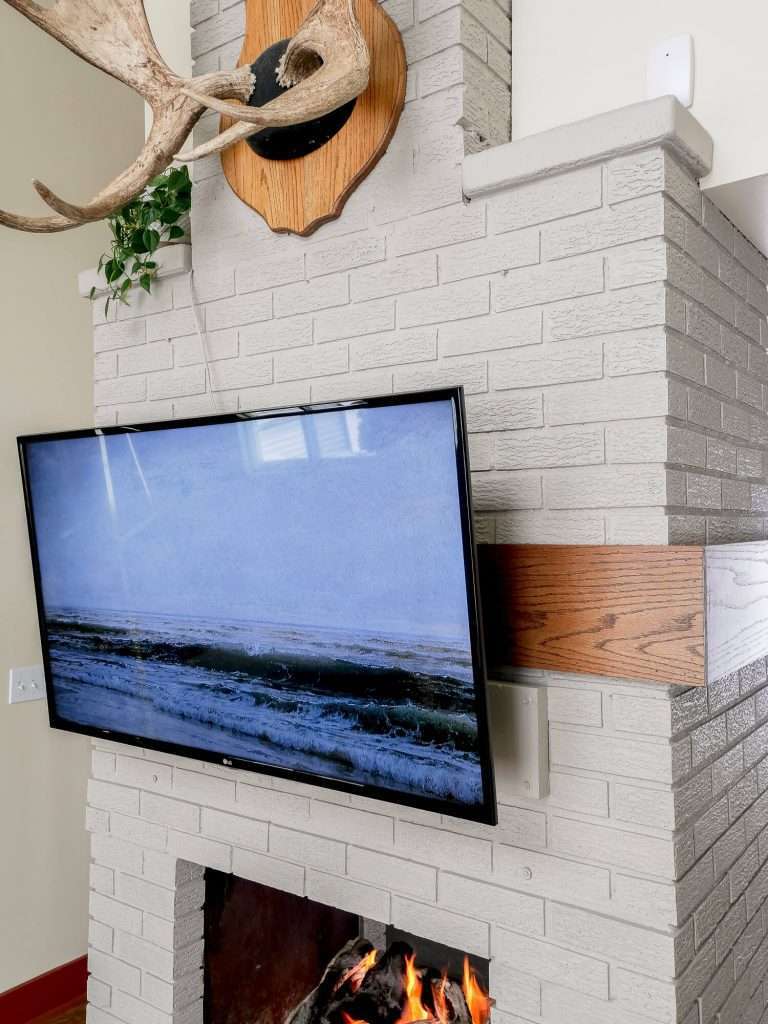 Painting Tips
There are a few painting tips I found useful as I painted our 4 sided fireplace.
Enlist help. My fireplace is extremely large with 4 sides and an almost 20 foot vertical. It took approximately 17 hours to paint over the course of several days. An average size fireplace can likely be painted in a day, but help is always beneficial.
Work from the top down. This way, you aren't leaning on fresh paint to reach above where you've already painted.
Once you've painted a section and moved down, make sure to look back up within 10 minutes to smooth out any drips. Drips will be common on the underside and corners of the bricks.
When using a brush, circular motions work well to get into tiny crevices.
Using a roller nap of 3/8″ or more will get into the grooves the best, but will also cause the most drips! Be cautious not to oversaturate the roller.
Unload your brush on the face of a brick every now and then to avoid dripping. You can do this by simply pressing the brush hard on its side and drawing it off the brick. Backstroke any drips.
Is Painting Fireplace Brick Expensive?
And, it's done! And guess what? This project was 100% free for me!
Luckily, I was able to use all leftover materials from previous projects. Even the paint was leftover from my recent mudroom makeover.
However, even if you have to purchase all the materials needed for this project, it is still very inexpensive.
Depending on your situation, you'll likely be able to update your fireplace by painting the brick for under $200.
That is an extremely affordable way to make a HUGE impact in a space! It's hard to believe how much lighter our entire main floor is now that the dark red is gone.
Can You Paint a Fireplace Hearth?
Now, let's chat about this hearth. You can certainly update a hearth with paint.
Mine is concrete that was previously painted brown. I mixed a variety of paint colors to create a dark grey.
Then, I didn't love it so I lightened my mixture and painted a very light coat of lighter grey overtop. I left some of the dark grey visible to give it more dimension.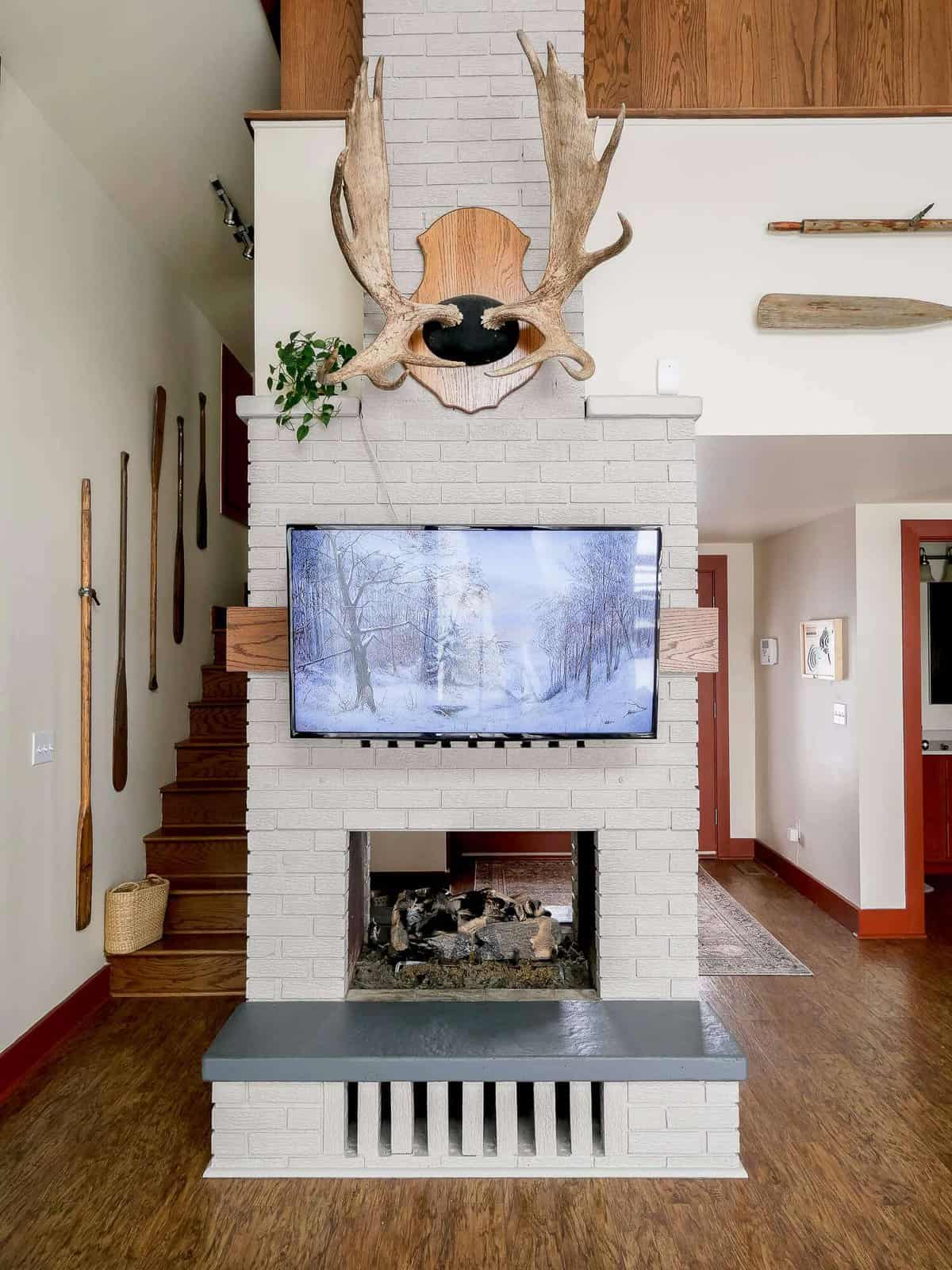 On the opposite side, I tried a lighter taupe and a light grey to see if a color outside of the grey family would work.
I think they all "work" but I haven't yet decided if I love my final coat enough to leave it. Perhaps I will try again! Do you have a favorite?
Stay Connected
I hope you found this tutorial for painting fireplace brick helpful! What do you think of the before and after?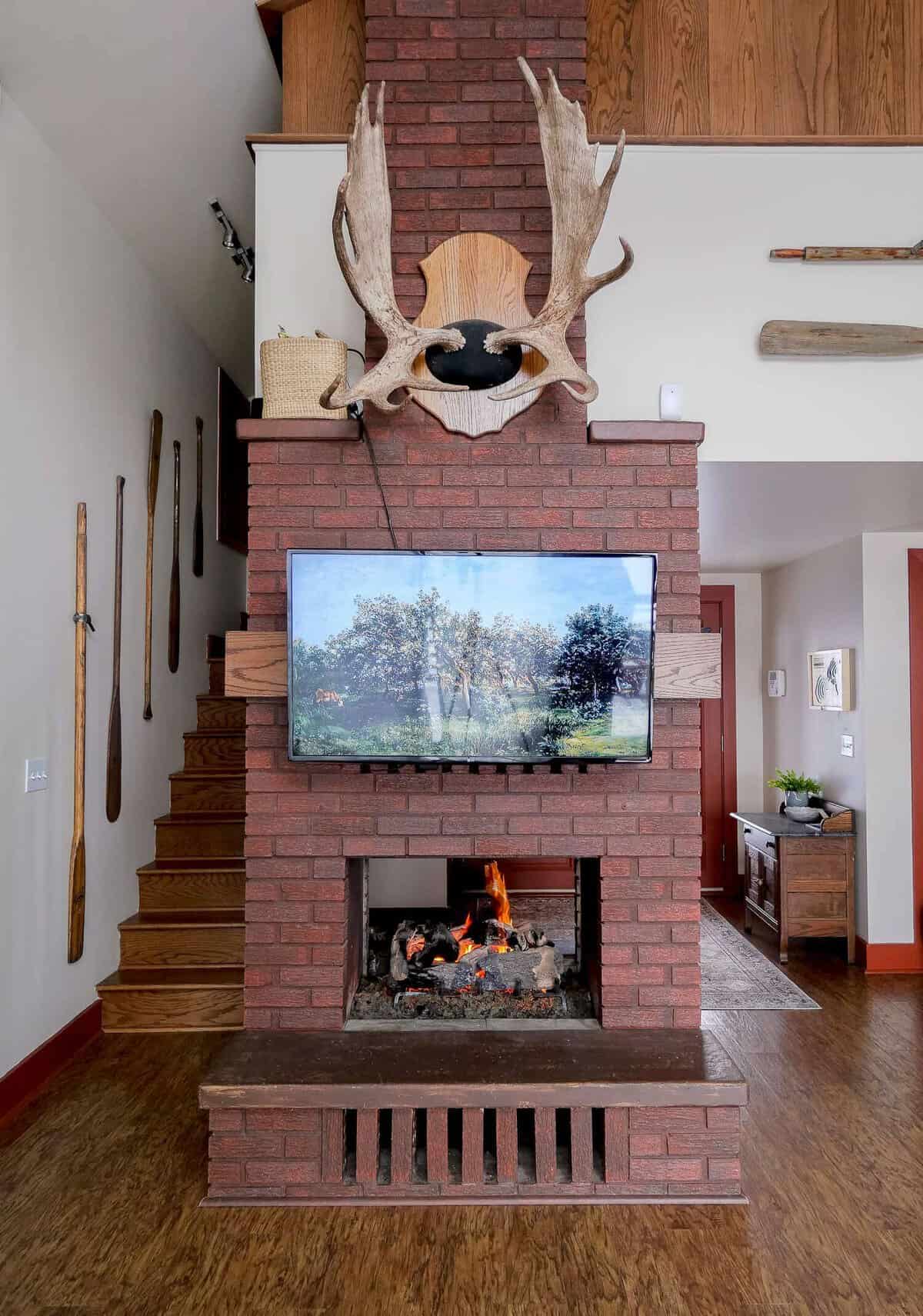 This was a beast of a project! While it wasn't difficult, it was tedious and time consuming. But worth it, in my opinion!
Welcome to Haven Cottage
This is also my introduction to you of our next adventure! Welcome to the Haven Cottage!
We are now the proud owners of this sweet lake cottage. I will be taking you along as I make cosmetic changes to affordably update this cottage.
Make sure to subscribe to the blog and to YouTube to watch the renovations happen!
We hope to have the cottage ready to rent out by the spring. It is a quaint little retreat and we are excited to open it up for others to enjoy. Follow along to stay up to date!
If you decide to update your fireplace with paint, I'd love to see your before and afters! Have fun with the project!