Best DIY Mudroom Ideas | Paint, Storage & More
Are you excited for another mudroom makeover? Almost two years ago I completed my first DIY mudroom makeover and now I'm sprucing it up again! After two years of daily use, I'm sharing how it's worked for our family of four. Plus, we are going to give it another small facelift as I share my best DIY mudroom ideas for paint colors, DIY storage and more!
Affiliate shopping links provided for your convenience at the end of this post.
Simple Mudroom Ideas
If you missed my first DIY mudroom makeover, make sure to visit this post to see the complete before and after. We removed DIY storage lockers that were too large for the space, a DIY mudroom bench that wasn't functional, and added a ton of mudroom storage ideas back to the space.
This is what our mudroom looks like with daily use.
It is a very narrow mudroom, however the storage solutions I added two years ago have worked so well for the space.
The DIY peg racks are a complete lifesaver. We can fit three times as much on them as we were able to store in the mudroom lockers previously. You can learn how to build them yourself with this tutorial.
Plus, my Ikea hack DIY mudroom built in cabinet has worked out incredibly well. I'm still so glad I went this route and saved $2,000.
Overall, my original mudroom makeover has worked very well for our needs.
The peg racks make it easy and accessible for my kids to hang their stuff, so I'm not constantly picking up coats and back packs. And, the cabinet stores tons of shoes, dog food, flashlights, hats, gloves and more.
The only storage issue I've had, as you can see above, is that our everyday shoes get tossed on the floor, rather than stored in a cabinet.
For some reason, that extra step of actually placing them in the cabinet daily seems to be a stumbling block for everyone. I'm on the hunt for a skinny shoe rack!
DIY Mudroom Ideas
With that said, I wanted to share my best DIY mudroom ideas for a small space. Plus, I'm sharing how I've revamped this space this year!
These are the main storage solutions that have worked extremely well with this very tight space.
Wall to wall peg racks
Tall storage cabinet with drawers and cupboards
Motion sensor light
Small mirror for last minute checks
Durable rugs
Skinny bench or small stool
Sparing decor
Let's quickly break down these DIY mudroom ideas.
DIY Mudroom Storage
First, I've greatly enjoyed peg racks over lockers or mudroom cubbies. I've had both, and the peg racks seem to work better for our family.
The kids are more apt to hang items because the pegs are easily accessible and plentiful. They aren't trying to hang a coat, backpack, sweatshirt and hat all on 1-2 hooks in an individual locker. Instead, they have tons of options to choose from.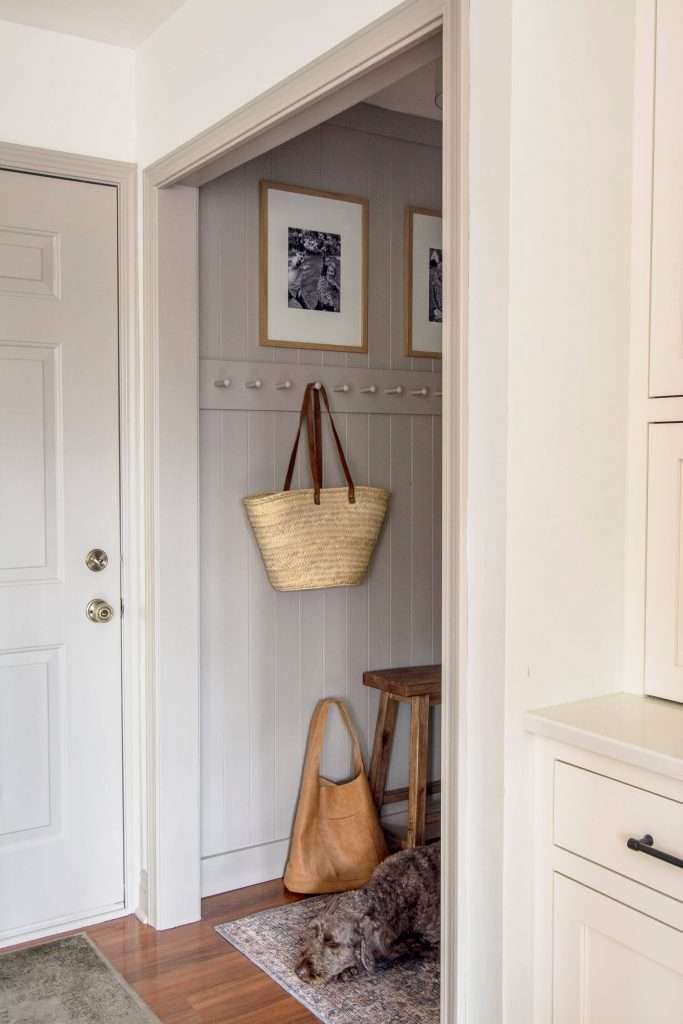 Second, the built in cabinet has been such a better use of space than a built in DIY mudroom storage bench.
Previously, the built in bench was extremely lacking in function. It had a lift up lid, making it difficult to access the items stored inside when someone was sitting on it. It also ended up becoming a drop zone of junk, so there was always something on top of it, hindering access.
Instead, my Ikea hack "built in" has one drawer for hats and gloves for each family member to stay organized. Plus, four cabinets for shoes and other bulky items. It has been a lifesaver!
Functional Decor
Lastly, let's address the more functional items in my DIY mudroom.
Having a skinny bench, or small stool, has been a great addition in place of the built in bench. It still allows us to sit to put shoes on, but doesn't take up a ton of space or become a drop zone for junk.
Adding a small mirror has also worked well for last minute checks as we run out the door.
Using sparing decor has been a must since it is such a small space. Family photos hung on the wall are out of the way, but create a cozy environment.
However, in terms of functional decor, the two workhorses of the mudroom are the light and the rug.
I'll get to the mini mudroom makeover in a second, but above you can see a progress shot. My favorite addition to this space two years ago has been the motion sensor light bulb.
Our space is very tight coming in from the garage and the light switch for our mudroom is actually BEHIND the garage door (to the left above).
Which means we had to come inside in the dark, close the garage door (usually with arms fully loaded), and fumble for the light switch near the open stairway down to the basement. (Safety hazard!)
These motion sensor bulbs now automatically come on as soon as we open the door. I can't tell you what a lifesaver this simple change has been!
Best Mudroom Rugs
Finally, let's talk about the best mudroom rug options.
I'd highly recommend one of two basic mudroom rugs if you're looking for beautiful rugs that are also functional. Rather than use rubber or plain rugs, try one of these!
Printed low pile
Washable rugs
For low pile rugs, I love Loloi brand rugs. The majority of their rugs are printed, so you have a huge variety of designs. Many of them even look like high-end vintage rugs. However, they are printed and have no pile so they are extremely easy to vacuum and clean in a messy mudroom.
I have had around a dozen Loloi rugs throughout my house and they've always held up well to kids, a large dog, and regular use. In my mudroom makeover, I added this Loloi Rug.
You can shop all the Loloi rugs I have in my home in my Amazon storefront.
I've also used washable rugs as well in my mudroom and kitchen and those work great for extra muddy areas!
Mudroom Paint Ideas
Now that we've reviewed how my initial DIY mudroom makeover has worked for us, let's talk about mud room paint colors.
My first choice two years ago was a soft green/blue.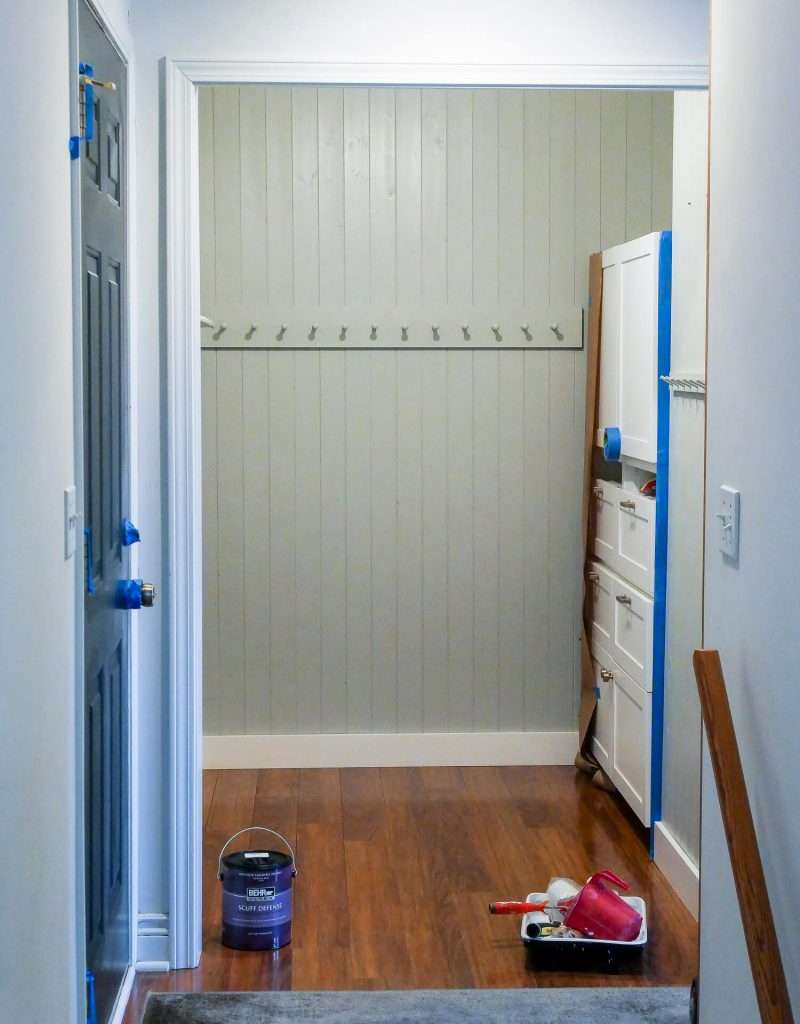 I ended up mixing a custom color. You can find the color code for this paint in my original post.
This time, I wanted my mudroom colors to extend beyond the mudroom to the trim and garage door.
Our black garage door stood out so drastically, and showed every speck of dirt!
And, the white trim was constantly dingy from kids' hands and a muddy dog rubbing against it.
So I chose to update the whole space to Perfect Taupe by Behr.
I love two things about this update:
It makes the door blend into the space more and feel more cohesive. If it were a pretty door, I wouldn't mind it being highlighted in a bold color. But it's just basic and boring, so blending it in makes the space feel calmer.
Perfect Taupe is a beautiful earth tone color that helps mask dirt so well!
The mudroom color isn't a drastic update. Both the green and taupe are softer, muted, and almost neutral colors. But painting all of the trim makes it feel more seamless and fluid.
Now it's ready again to have all our winter gear on those pegs!
Someday, I want to come up with a door solution for this space. It is currently open to the whole house, and it would be so lovely to close it off. Next project on the list!
Shoppable Decor Sources
I hope this post has been helpful if you are looking for some tried and tested DIY mudroom ideas! Two years later and I'm still loving the functionality of this space.
You can shop the available decor sources from our mudroom via the affiliate links below.
Stay Connected
Thanks so much for stopping by the blog today! Make sure to subscribe above for my free DIY tool kit download! And you can follow along with me daily on Instagram and weekly on YouTube for real time content.