Top 20 Non Christmas Winter Decorations [2023]
How do you decorate in January or February? This is often a struggle for many people as we exit the Christmas season. It's not Christmas anymore, but it feels too early for spring florals and vibrant colors. So today, we are talking about winter decorating ideas! Here are my top 20 non-Christmas winter decorations.
Affiliate shopping links provided for your convenience.
Winter Decor After Christmas
I don't know about you, but once Christmas is over I am SO ready to take down the decorations. There is just something about creating a fresh start for the new year in both life and my home.
Even though many of my rooms this year had minimal Christmas decor, like my living room above, it still feels good to simplify.
I love taking down my traditional Christmas decorations to create a blank slate for my winter decorating.
For me, winter decor ideas are easy. I tend to focus on coziness, nature, and lighting.
Decorating for winter feels very similar to decorating for summer for me. I tend to lean towards simplicity for both seasons. It is less about seasonal decor and more about styling my year-round decor creatively.
This allows me to keep up most of my decor regardless of the season because I simply add sparse seasonal accents. A simple example of this is using antique stoneware pottery as a vase. I can use the pottery year round and simply swap out the florals or greens depending on the season.
It is these simple seasonal touches that can transform the feeling of a room very quickly.
Simplify Existing Christmas Decor
The first thing I always do after Christmas is to simplify my existing decor.
You'll find that a lot of the items you decorated with for Christmas can be kept out during the winter months.
Items like pine or moss trees, bells, simple wreaths, pine boughs, pinecones, simple garlands and bottle brush trees can all be used in winter decor as well!
I just like to remove some of the following overtly Christmas items first, and then go from there.
Ornaments
Glittery trees
Christmas-y color schemes (specifically reds)
Overtly "Christmas" figures like nativities, stockings, Santas, elves and reindeer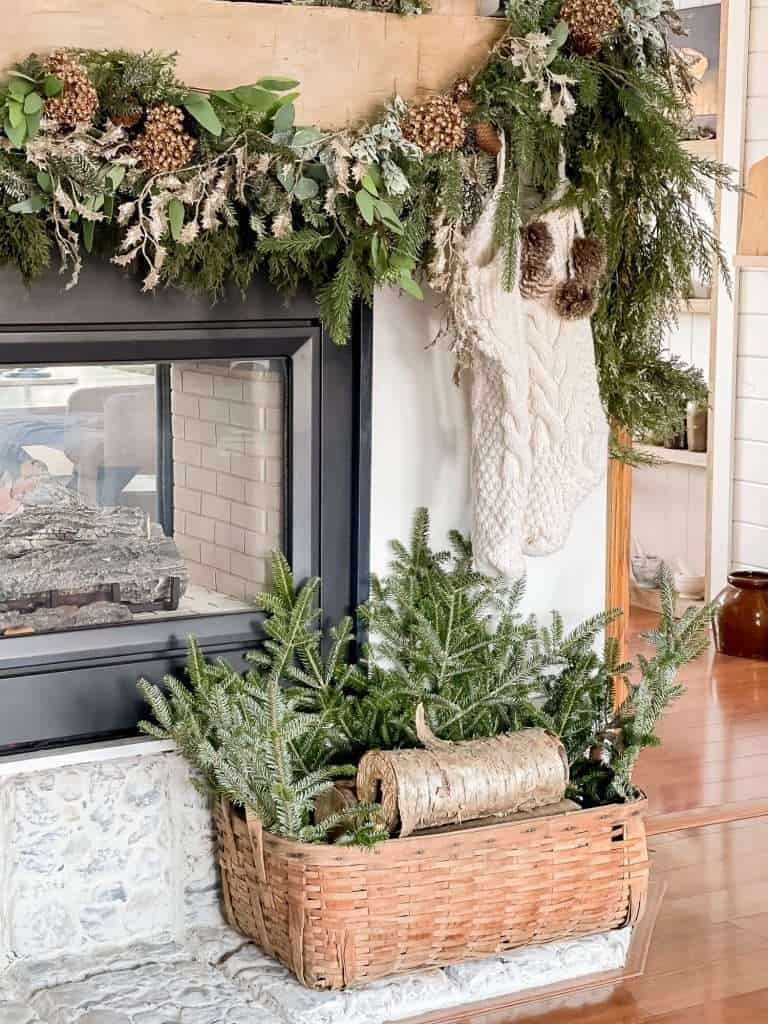 Here is a great example of this. My Christmas mantel garland had a lot of glittery pieces in it. Golds, copper and silver foliage were mixed in with cedar and pine greenery. Once I removed those glittery pieces (and the stockings), you can see below I'm left with a much more subdued winter mantel.
You can see my full winter mantel in this article. Plus, you'll learn how I made these fake candles look real!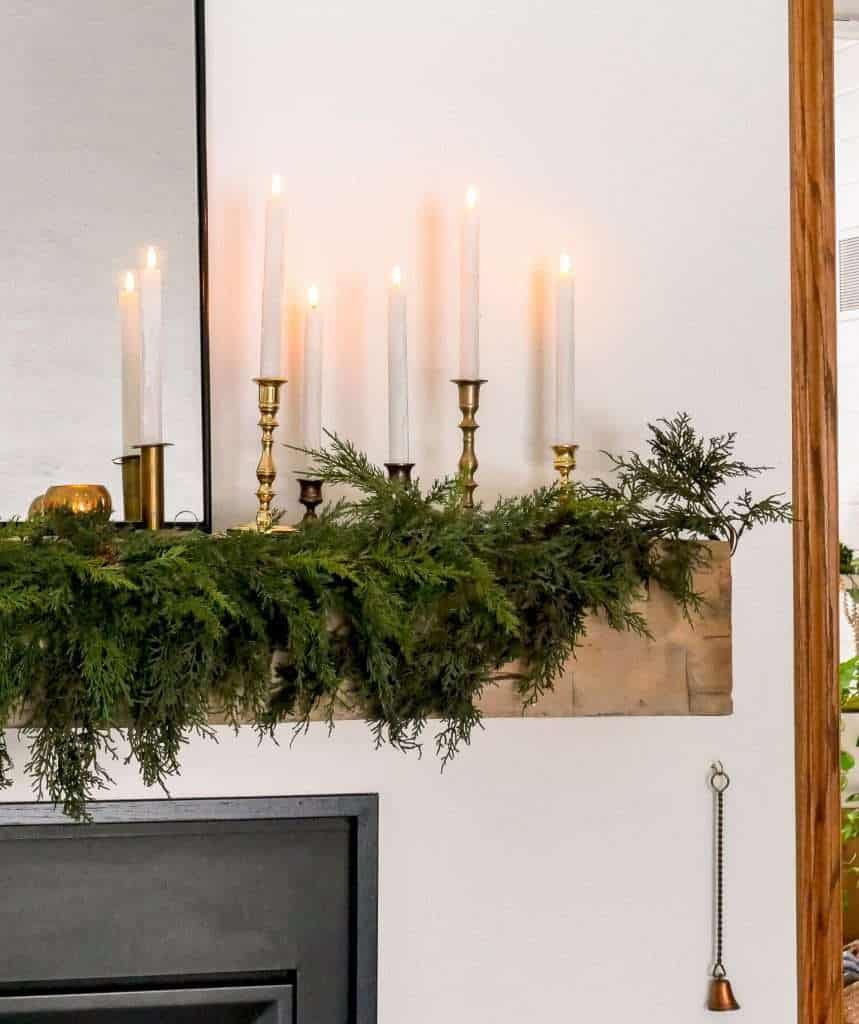 So, start by removing the overtly "Christmas" decor items as you decorate for winter. Next, add in specifically winter elements.
January wreath
One of the easiest ways to dress up a wall or door is with a winter wreath. For wreaths in January and February, I love to focus on simple greens.
This year, I made my own using two seeded eucalyptus garlands.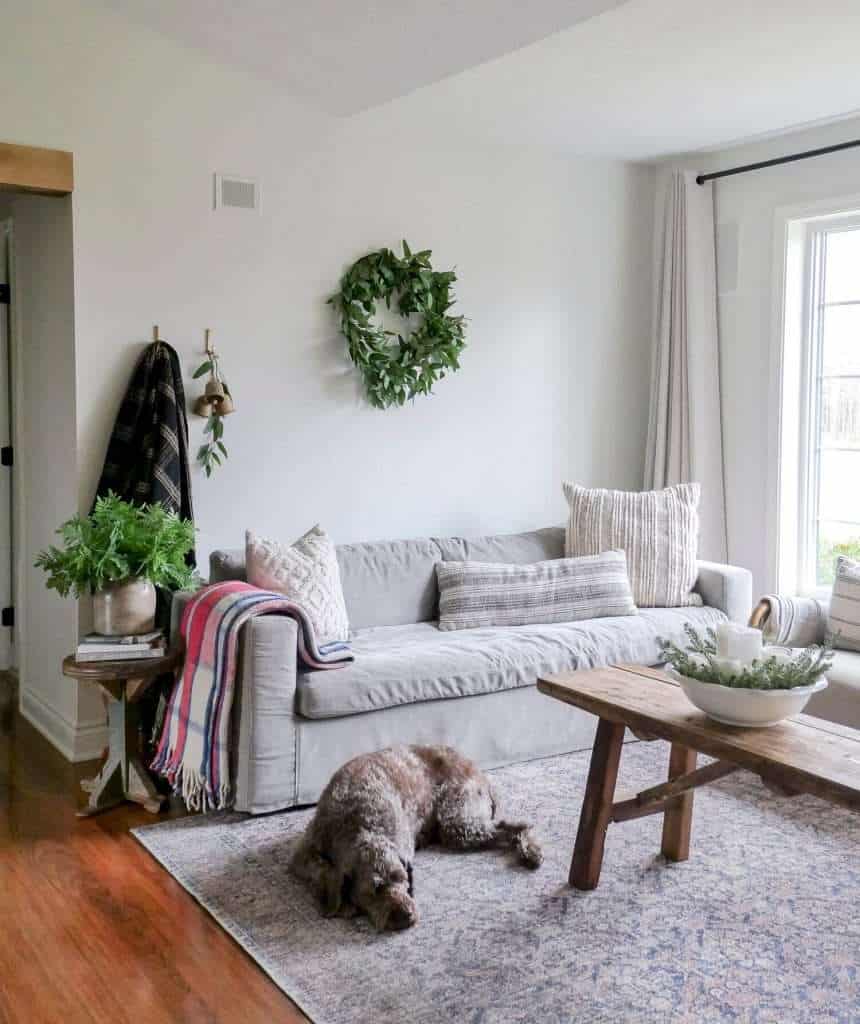 You can see the very simple tutorial for how I created this winter wreath on Instagram. I used two of these garlands and I love how realistic they are.
If you're looking for a store bought winter wreath, I would focus on cedar, pine or eucalyptus options with minimal accents. This helps it carry through the season rather than feeling Christmas-y as you search for non Christmas winter decorations.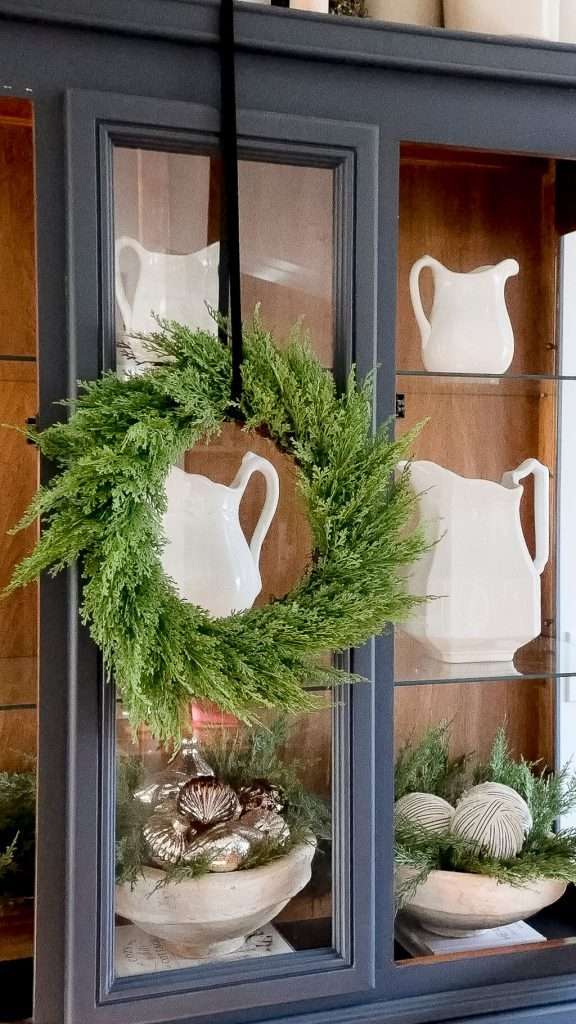 Focus on Nature for Non Christmas Winter Decorations
Another main theme I use for winter decoration is to focus on nature.
Whether it is a live Norfolk pine, like I have in my kitchen, or fake bottle brush trees, incorporating natural elements goes a long way.
Not only does it bring some warmth and coziness into a space, it also mimics what we are seeing outside. Bare or snow covered trees are commonly thought of when considering how nature looks in winter. So it makes sense to incorporate it into your decor!
You can see above how my china cabinet looked decorated for Christmas. I simply removed the cedar on the bottom and swapped out the ornaments for real pinecones. This simple swap has it winter ready!
Air Dry Clay Projects as Winter Decor
If you're looking for a creative project you can do with the kids, try this simple air dry clay project!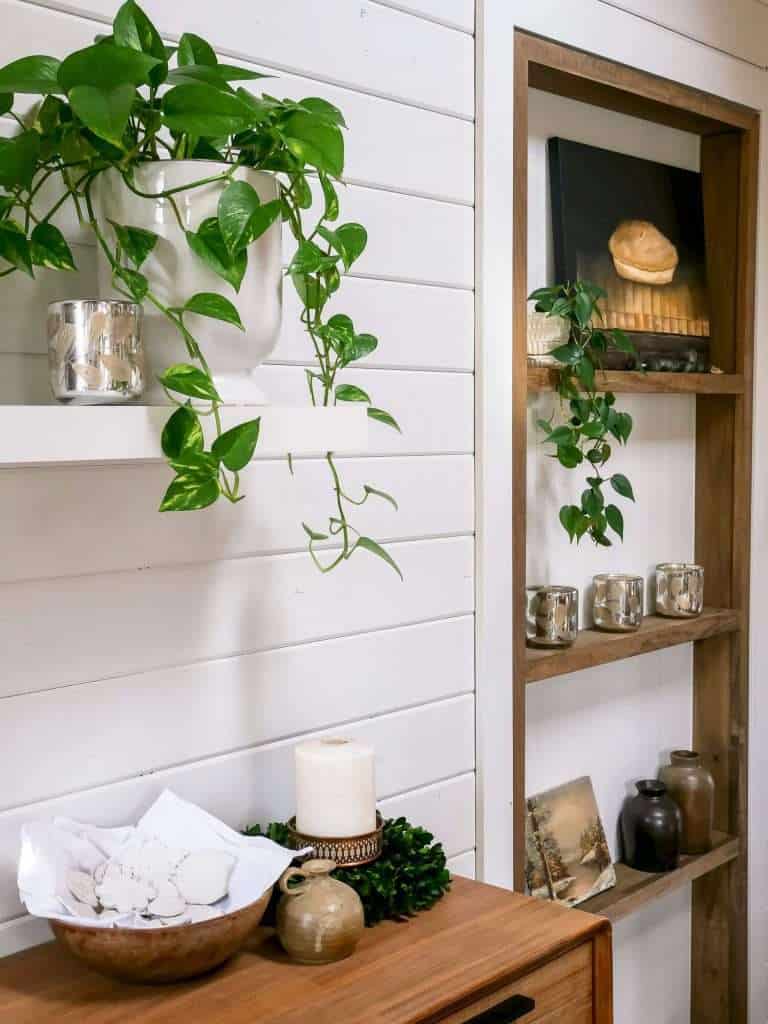 It was so fun to create a variety of shapes, sizes, and patterns to display with my kids. Then, it can double as winter decor. I intentionally planned this so that each year we can create new designs to add to our collection.
It will be like walking down memory lane each year that we pull it out!
Create a Cozy Environment for Winter
And of course, I love to focus on coziness during the winter months. As a Michigander, this is particular necessary from a comfort standpoint.
I've rounded up some of my favorite blankets for you in my Storefront!
However, creating a cozy environment doesn't necessarily only mean focusing on warmth. You can create a cozy environment with lamp or accent lighting, candles, pillows, and more!
Winter Decorating Ideas | Decorate with Me!
If you'd like to see some winter decorating in action, make sure to check out my recent YouTube video. In this video I transform my home from Christmas to winter decor with you!
Top 20 Non Christmas Winter Decorations
And finally, here is my go-to list of my top 20 non Christmas winter decorations! Many of them you'll see in the images above, or will find an example of them in my YouTube video.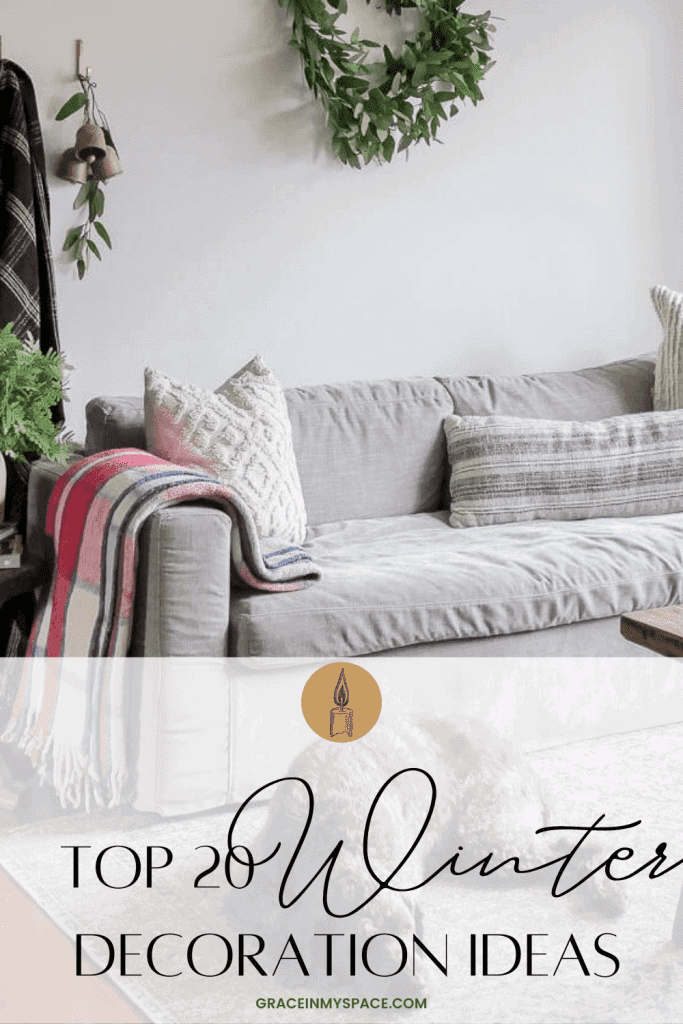 Winter decorating can be very simple, or it can be elaborate! Create a cozy environment, or focus on a fresh clean palette. Make sure your home is serving your needs in this winter season.
White collections
Simple evergreen wreaths
Plain wreath
Bells
Moss trees
Pine boughs
Plain cedar garland
Norfolk pine
Logs
Leave up sparse Christmas decor that isn't overly seasonal
Natural garlands
Flocked pine trees
Cozy blankets
Winter artwork
Deer Sculpture
Snowflakes
Cozy candles
Homemade clay art
Vintage finds
Plain pine trees with just lights
Stay Connected
Thanks so much for stopping by the blog today! Make sure to subscribe to my newsletter to be notified when new projects, DIYs, recipes and styling tips are published.
And, make sure to follow along with me daily on Instagram and weekly on YouTube!
If you're looking for an extra unique winter display, make sure to check out this post on creating a vertical garden!