Organic Modern Design | Winter Mantel Decor
Do you love organic modern design? I've fallen in love with this rustic, yet modern, style. My home is slowly transitioning in this direction. Today, I'm sharing how to decorate a fireplace with winter mantel decor in an organic modern design style!
Affiliate shopping links provided for your convenience.
Organic Modern Design
If you're new to the concept of organic modern design, make sure to check out my other posts that detail more information on this style!
In short, organic modern design is a combination of two opposing design styles: organic/rustic and modern/contemporary.
This is much like the modern farmhouse movement, where you've seen two styles collide so each tones down the other.
Since we are talking about mantels today, you can see how my mantel has transitioned through different design styles in the articles below.
Make sure to also grab my free guide to decorating mantels!
Organic Modern Winter Mantel Decor
Now that we've strolled through the past, let's take a look at this year's mantel.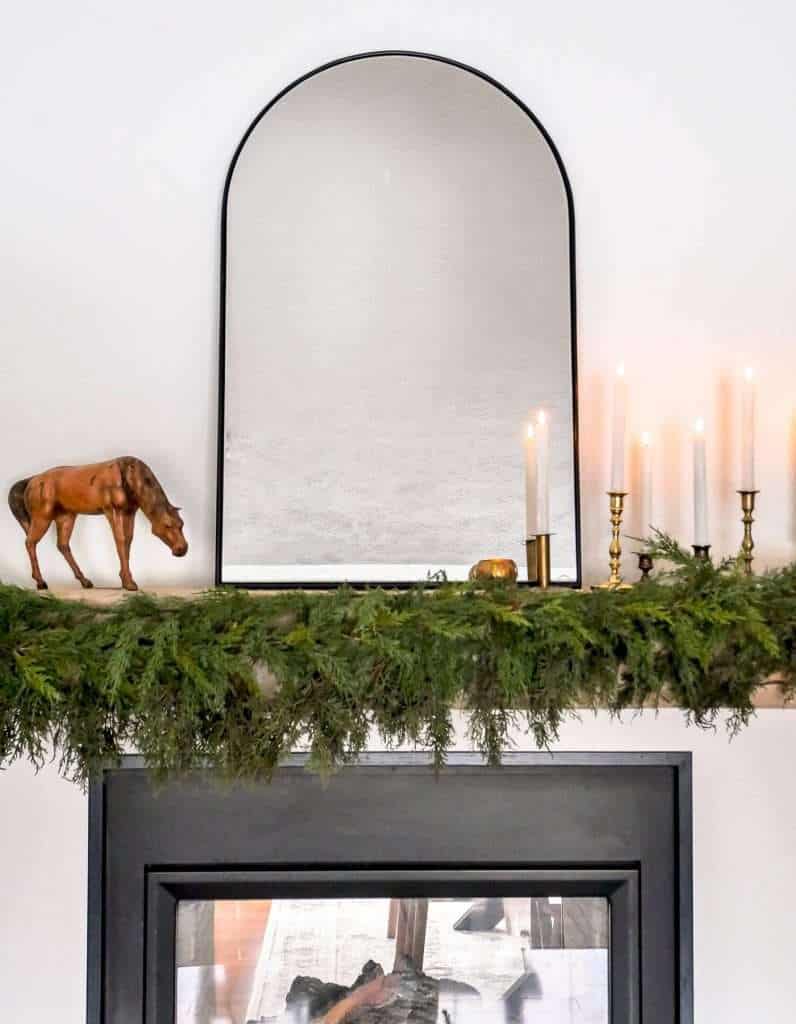 My love of rustic mantel decor began when I found this barn beam on Facebook Marketplace. I cleaned it up, cut it to size and Aaron and I hung it as a mantel.
The rustic barn beam mantel gives our fireplace the organic feeling I love. For this year's winter mantel ideas, I wanted to keep it super simple.
My Christmas mantel this year was quite extravagant and I felt a tug to simplify for the winter months.
Organic Winter Mantel Decor
I used mostly organic elements. Some examples are pine boughs cut from our Christmas tree, logs, wood elements and cedar, pine and juniper garlands.
Additionally, I recently found this antique horse that I fell in love with. It is wood with leather wrap and is so interesting to me! I love that it is made of organic materials but feels like a modern piece of decor.
Modern Winter Mantel Decor
Next, I added a mixture of vintage and antique brass candlestick holders at varying heights. These are holding my newest DIY hack: battery operated taper candles that look real.
Watch how I make them in this video!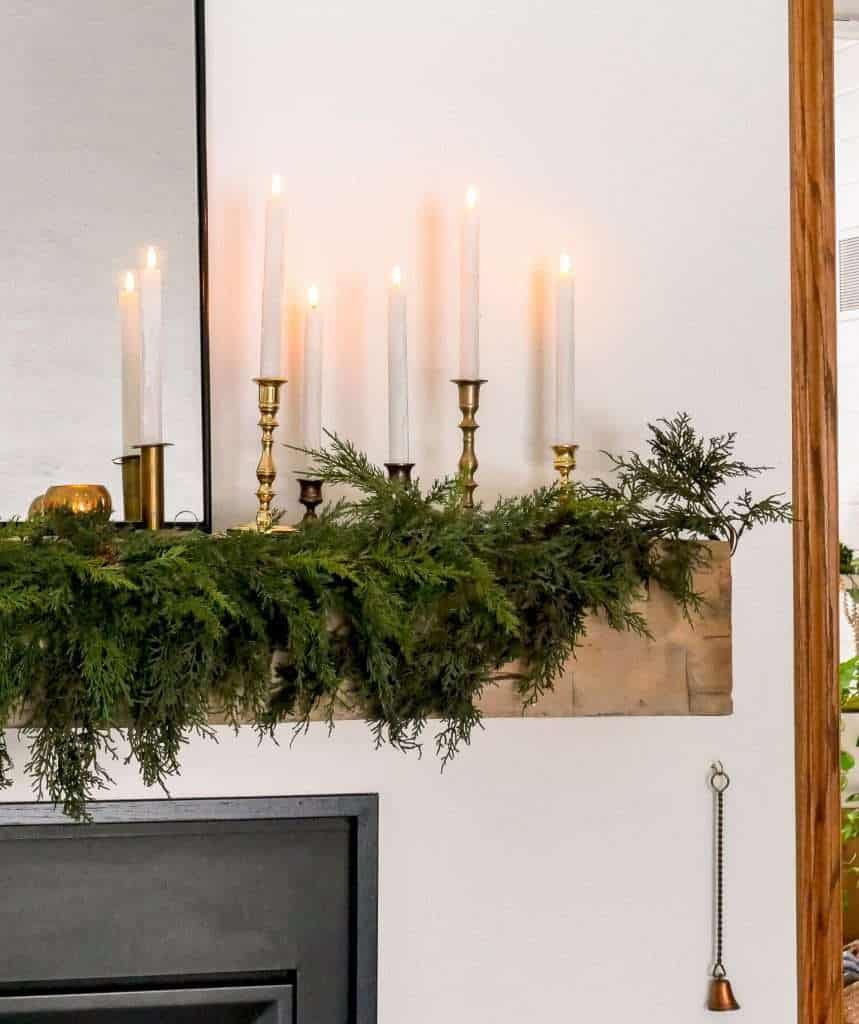 I just love how they turned out. Plus, they are remote controlled so I can turn them all on or off (plus various modes) with one click. You can shop them in my storefront!
I also found this sweet little vintage copper snuffer. It's besides the point that my candles are flameless. It still serves as pretty decor!
The focal point of my winter mantel decor is a beautiful modern arched mirror.
And that's all that is needed to create an organic modern style winter fireplace mantel.
I'm really loving the simplicity of this year's mantel. The greens are hung with nails in an asymmetrical design to modernize the look even more.
I started out even more simplistic without the horse or my sweet little vintage stool. But as I found new items I kept adding and it made it feel more cozy and inviting.
Key Elements to a Decorating a Mantel
Quickly, I want to give you a few tips for decorating a mantel, regardless of the season.
Focal Point
Balance
Groupings
You'll notice that balance is a very big factor in decorating a mantel.
Since I did an asymmetrical garland, the left side holds more weight. To counterbalance this, I added all my candles on the opposite side.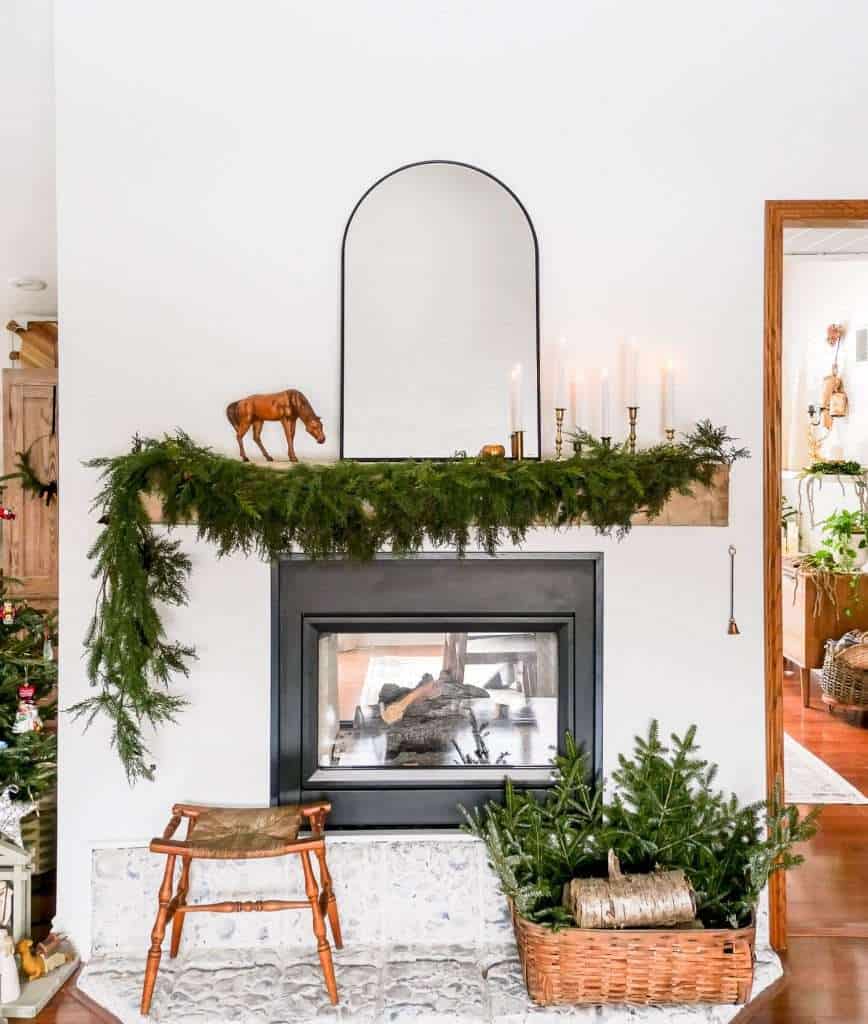 Now, balance doesn't have to mean symmetry. You can certainly attain proper balance with symmetry, but it is possible to achieve in other ways as well!
Next, I always like to have a focal point. For me, that typically looks like a mirror or statement art. I like to center mine, though it can be placed off-centered and balanced with other items.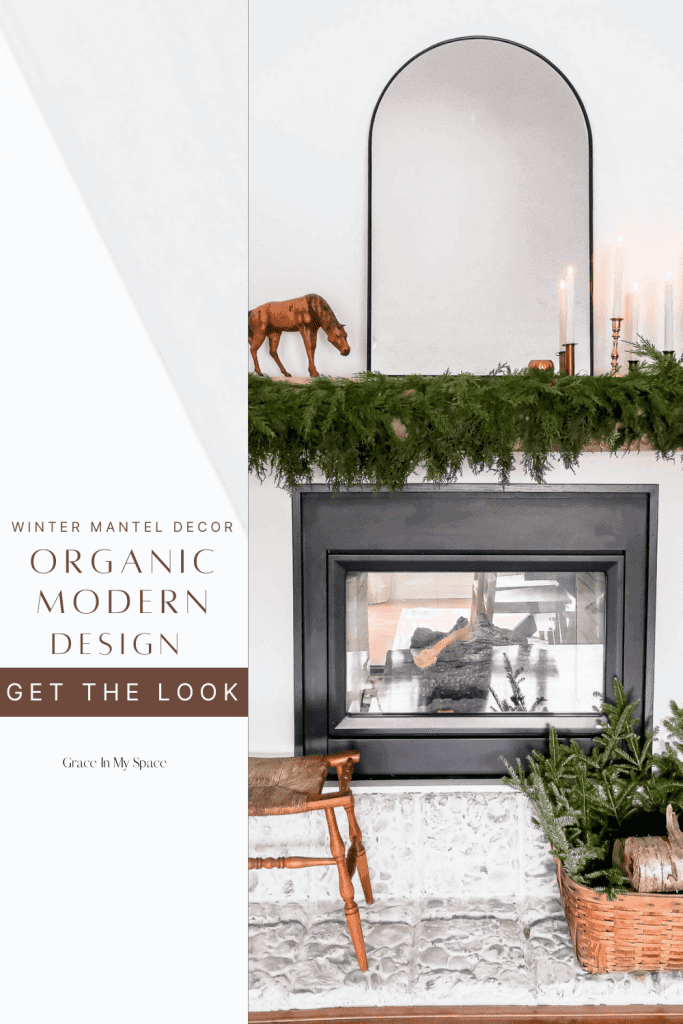 And lastly, make sure your groupings are in odd numbers. I have seven candles on the right and one horse on the left. Our eye tends to like odd numbers in design!
There are a lot more variations to create beautiful winter mantel decor, but I'm enjoying the simplicity of this option! I hope you enjoy it as well.
Stay Connected
Thanks so much for stopping by the blog today! Make sure to subscribe for your free mantel guide download.
You can also follow along with me in real time daily on Instagram and weekly on YouTube!