How to Add Vintage Rustic Decor in a Modern Home
Vintage rustic decor adds charm and character to a space; but especially to a modern home! It is my go-to decor style to warm up a space and add organic textures and colors. Plus, it is an easy way to bring old world charm to a space without breaking the bank! Learn how to add vintage home decor with a rustic edge to a modern home with these simple tips.
This post may contain affiliate links where I earn a small commission on your purchases.
We are going to dive into each different combination of design styles in this post, but I wanted to make sure you've taken advantage of my free interior design e-course! If you are new to interior design, my approach focuses on helping you design YOUR home to meet YOUR needs and goals. Sign up below for a free 3 module e-course to get you started!
What is the difference between vintage and rustic?
Many times people use the terms vintage and rustic interchangeably. However, they really have very little to do with each other! A vintage piece can look rustic. And a rustic piece can be vintage. But they are not one in the same.
Vintage decor depicts items from a certain time period. Items that are at least 30-50 years old are considered vintage. This can be held fairly true all the way up to 100 years old when an item "becomes" an antique.
For example, in the image of my dining room buffet above, I have several items that are considered vintage. The bottles and artwork would be considered vintage, while some of the pottery is certainly older and are antique. Similarly, my large collection of wood bowls are all from various time periods, so some are vintage while others are antiques, even though they look alike!
On the other hand, rustic decor is a style. This usually leans towards a country feeling with rich wood tones, lots of natural textures, and shabby elements that aren't polished or sleek.
Put those two together, and you get vintage rustic decor!
What is the vintage decorating style?
Within vintage rustic styles you may find that some people lean more one way than the other. The vintage decorating style is highly popular right now, utilizing vintage decor heavily without so much emphasis on the rustic side of things.
This style uses the below vintage pieces to highlight vintage home decor.:
Artwork
Furnishings
Dishes
Vintage fabrics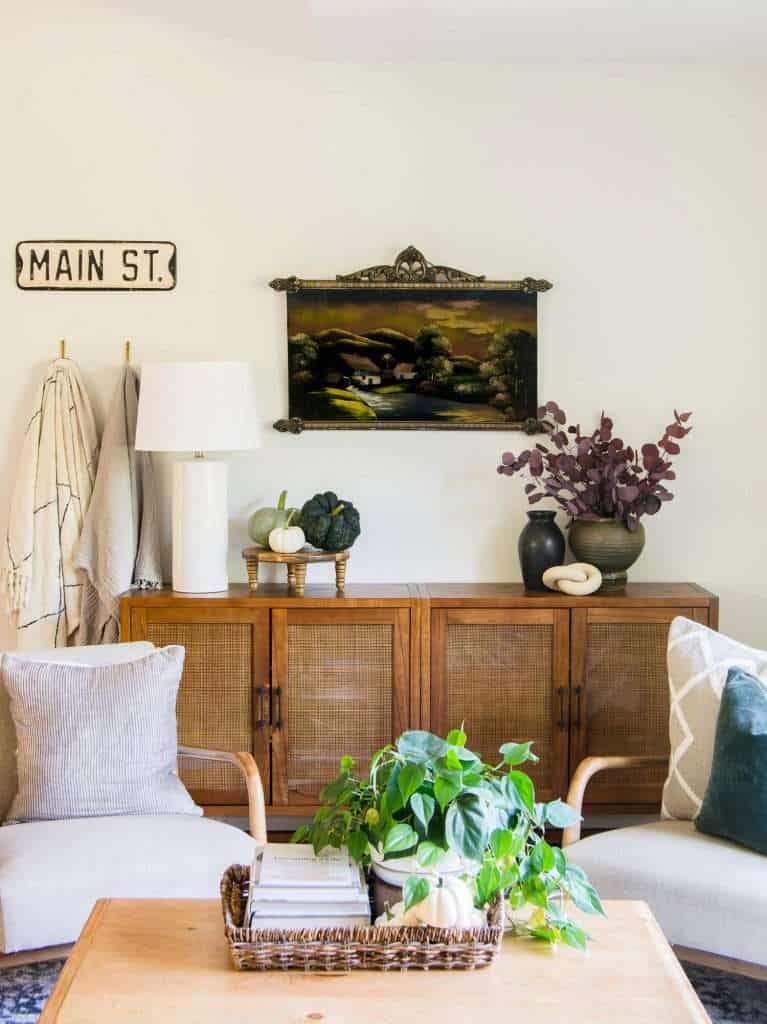 In the image above, this artwork and pottery both show off vintage decor while the larger furnishings are more modern.
What is the modern rustic decor style?
Like the vintage decorating style, some may lean more heavily towards the rustic side of things, and gravitate towards a modern rustic decor style.
This style emphasizes:
Modern furnishings
Sleek design
Updated aesthetics
With a nod towards rustic elements like beams, barn beam mantels and heavily textured items like pottery and wood elements.
I like to add rustic elements to my modern home with large statement pieces like this barn beam mantel that we installed. Adding statement pieces of rustic decor allows the home to still feel modern without feeling overly sleek and cold.
What is vintage modern decor?
And, one last final combination, vintage modern decor tends to lean heavily on modern architecture with clean lines and sleek finishes while decorating with vintage pieces. This can have some rustic elements but they tend to be incorporated more into the accent pieces than the main elements of a room.
Our basement family room is the most modern space in our home. I added this clean line accent wall to elevate the modern feeling of the space, while using vintage pottery as decor, a vintage stool as a plant stand, and a vintage bench as our coffee table.
Vintage Interior Design Elements
Vintage interior design elements are extremely widespread and easy to find (if you're up for the hunt!).
You can find vintage decor at flea markets, estate sales, Etsy, Facebook marketplace or Craigslist (and similar local online listings), Ebay, antique malls, and from curated vintage shops!
Vintage decor is big right now in interior design circles because it brings so much charm to a space with little effort. It can add a touch of nostalgia that warms up a modern home easily.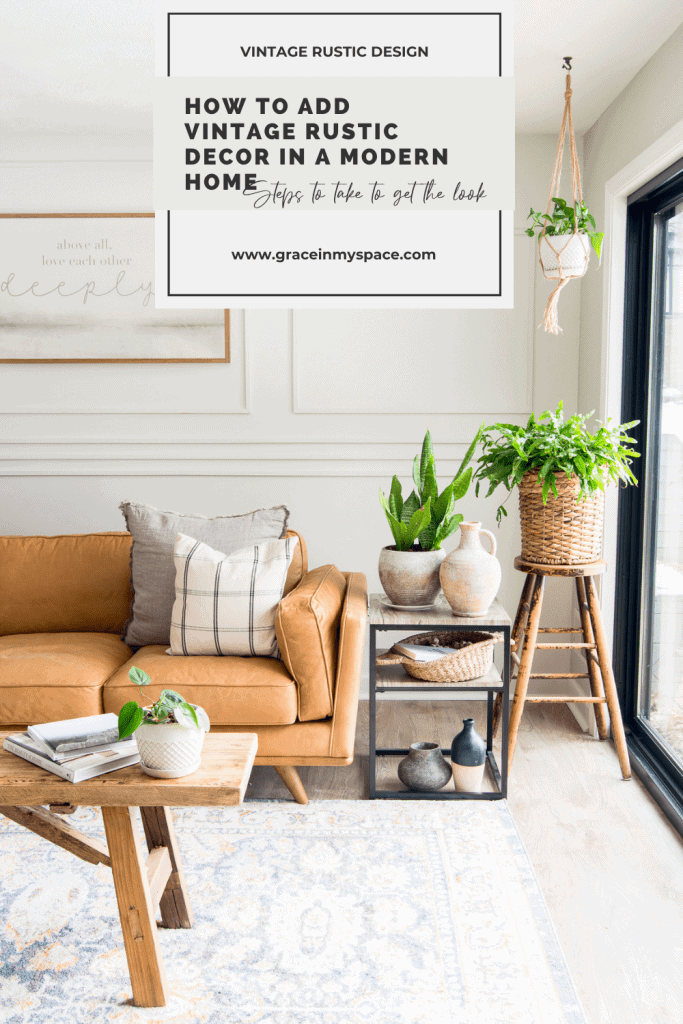 Here are a few of my favorite online shops to find vintage and antique decor. In addition, some of these shops sell affordable prints or reproductions that are more budget friendly to get the look without the steep price!
These are a few different vintage pieces that are most easily found if you're up for the hunt:
Rugs
Artwork
Pottery
Wood bowls
Dishes
Cabinetry
Desks/work tables
Coffee and side tables
Armoires/hutches
Arm chairs
Architectural elements
Textiles
Baskets
Utilitarian items like kitchenware and tools
Photographs
So, now that we've examined a few different combinations of vintage rustic decor in a modern home, let's dive into to how to achieve the look!
How to Mix Vintage Rustic Decor in a Modern Home
Balance Your Design Styles
One of the keys to mixing vintage rustic decor into a modern home is: balance.
First, choose the main design style you plan to use that will be the anchor for the space. In my home, that is a transitional modern design. I rely on modern pieces, color palettes and architecture to ground my home in one primary style. I chose this because it is easier to find modern furnishings and I prefer a clean and bright color palette.
Then, I add in vintage and rustic accents that I can take my time to hunt for. It helps create a more curated look. Bonus if it is both a vintage and rustic decor item like my pottery or wood bowls.
You may prefer to anchor your space with vintage furniture or rustic elements instead, and add in modern pieces sparingly. It is totally up to your preference!
As a more in depth example, in my recent post on the top 10 mid century modern design elements, I explained how I chose the balance between different design styles in my living room.
Study What You're Drawn To
Once you've chosen the main design style that you want to anchor your room or home with, the next step is to really study what you're drawn to about complementing design elements.
The vintage pieces that I'm most drawn to are artwork, ironstone and glass bottles. You will find these pieces on repeat throughout my home. It is simply a preference, but I took the time to really study other home's interior design to see what exact elements were sticking out to me. Vintage rugs are beautiful, but they were never what made me stop and stare. It was the smaller items that spoke volumes to me.
And, as I studied and hunted for vintage treasures, I found that the rustic decor that I'm drawn to tends to be organic feeling pottery and wood bowls. You'll also find those on repeat in my home! Really rustic furniture and certain wood tones were not for me as they tended to overpower the other elements in a room.
But I only know this because I really took the time to pause on a Pinterest or Instagram photo, or a picture in a magazine or design book…etc. to investigate the pieces that really stood out to me.
Once you take the time to understand how certain pieces impact you, it is much easier to focus in on the vintage, rustic, or modern pieces that make sense for your space!
Take Your Time To Curate
Now that you've:
Chosen your main design style and its complementing styles
Balanced how much of each style you put into your home
And studied what different elements you love and want to incorporate
It's time to curate!
Our culture is so focused on: everything has to be done NOW. And while you can certainly furnish a home immediately by going to any number of retailers, a curated home holds so much more appeal and sentiment for the homeowner. This is especially true if you are trying to accomplish a vintage rustic style in your modern home.
Vintage and/or rustic pieces are typically not mass produced. You can certainly find reproductions, and as the trend has grown many retailers are creating vintage-looking rustic pieces. But to find authentically vintage rustic decor you have to take your time and be willing to hunt, and wait for the right piece to come across your path!
For instance, I can tell you that most of the vintage items found in my dining room above were from a grand adventure with my mom or friends. Rummaging through a barn that I was certain wasn't stable. Walking rows and rows of vendors on a hot and dusty day at the flea market. Spotting that perfect piece from across a room in an antique store.
And then the excitement of the find and the joy of styling it later, knowing that it was found with loved ones by my side. It might sound overly sentimental, but there is relationship and human connection that comes with these types of finds. It is a gift!
So don't rush the process. A curated home can take years to feel complete, and that is ok! There is joy in the journey and seeing the progression of a home. Each stage can be beautiful when we aren't stressed over "finishing" our homes and instead enjoy the progress towards a goal.
More Mixed Design Style Inspiration
If you're looking for more examples of mixing design styles, make sure to check out these posts.
Stay Connected
I hope that these tips on how to add vintage rustic decor in a modern home have been helpful to you! Make sure to sign up for my free interior design e-course for beginners below if you need a little extra encouragement as you decorate your home!