How to Style Mid-Century Modern Vintage Decor for Fall
Combining mid-century modern and vintage decor can be tricky. However, they can work together beautifully when done right! I love the simple juxtaposition of these two extremes and had fun styling them together for my autumn home decor. Learn some simple tricks for how to style modern vintage decor for fall!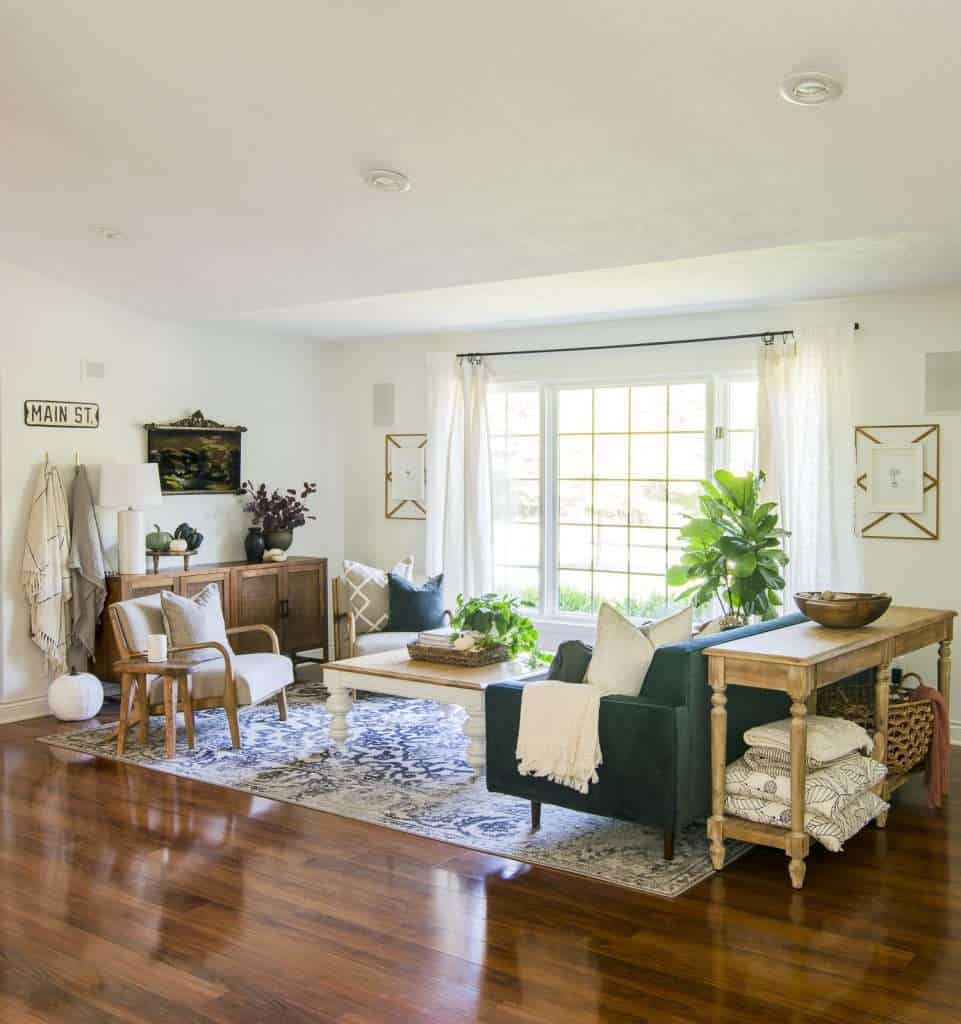 This post may contain affiliate links where I earn a small commission on your purchases.
Combining Mid-Century Modern and Vintage Decor
More and more my personal design style is changing. I used to lean heavily into the farmhouse style with lots of chippy wood and rustic elements. I slowly gravitated towards a more modern farmhouse style, mixing in some sleeker elements.
And yet again, I find myself slowly progressing in style towards something new and different with some more bohemian elements!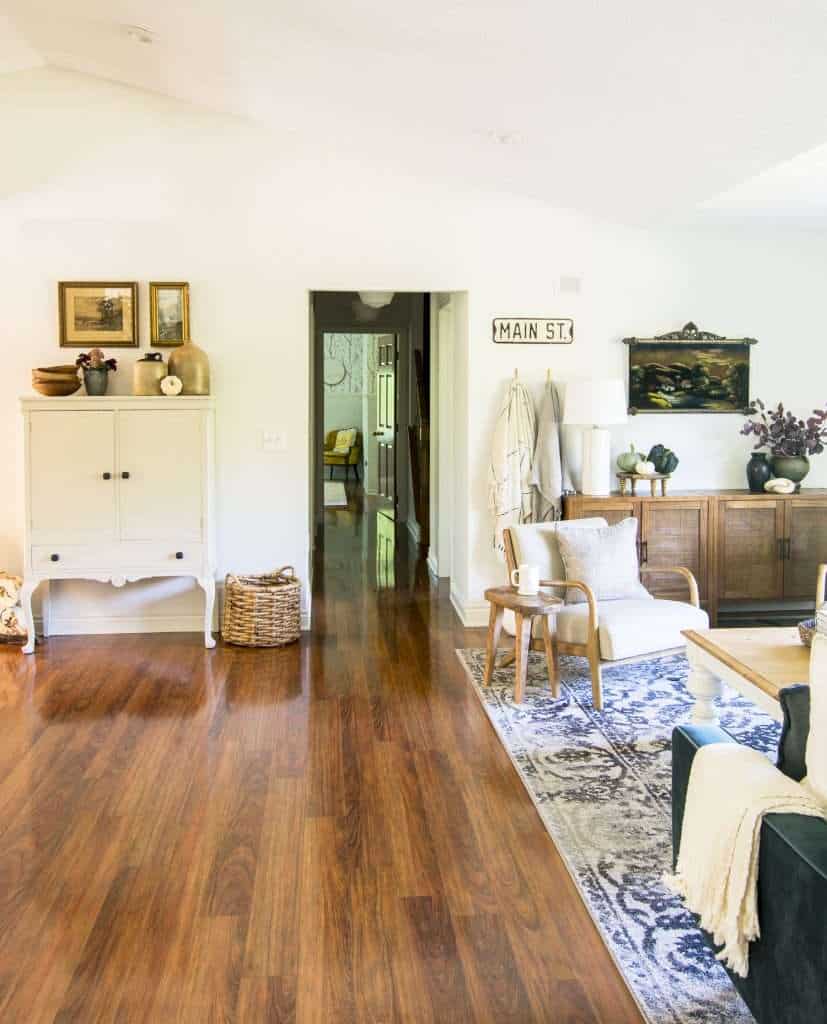 But this fall, I wanted to highlight how to incorporate vintage decor into my current living room. It ended up being a lovely mixture of mid-century modern furniture with lots of vintage decor accessories.
Here are three tips for how to mix the two styles into your existing decor!
1. Choose Furniture in Your Preferred Style
One of the key elements to mixing design styles is having a preferred style. Almost consider it your default. Determine which style is your favorite and use that as your anchor for the room.
Choosing mid-century modern furnishings anchored my living room with similar style statement pieces.
My velvet sofa makes a statement in this room. I paired it with beautiful wood cabinets opposite the room. These two pieces of furniture provide the anchor point for the mid-century modern style.
Then, I was able to fill in the additional smaller furnishings with pieces that span design styles. My long console table works well with many styles, and my accent arm chairs are very versatile.
The final touch is my coffee table which I thrifted and refinished years ago. You won't believe how it looked before, which you can see here!
And of course, we can't neglect the foundation of the room. My area rug is called Sheffield Gray and is a perfect addition of a touch of vintage elegance.
You can use code 15GRACE to get 15% off $75 or more at Well Woven Rugs!
2. Add Vintage Decor Elements for the Season
Once you have pulled together the larger pieces in your room, it's time to add those beautiful vintage elements! Vintage decor adds so much character and charm to a space.
This year, I found a beautiful vintage painting that is painted on black velvet. It is such a unique piece and the frame is so elegant.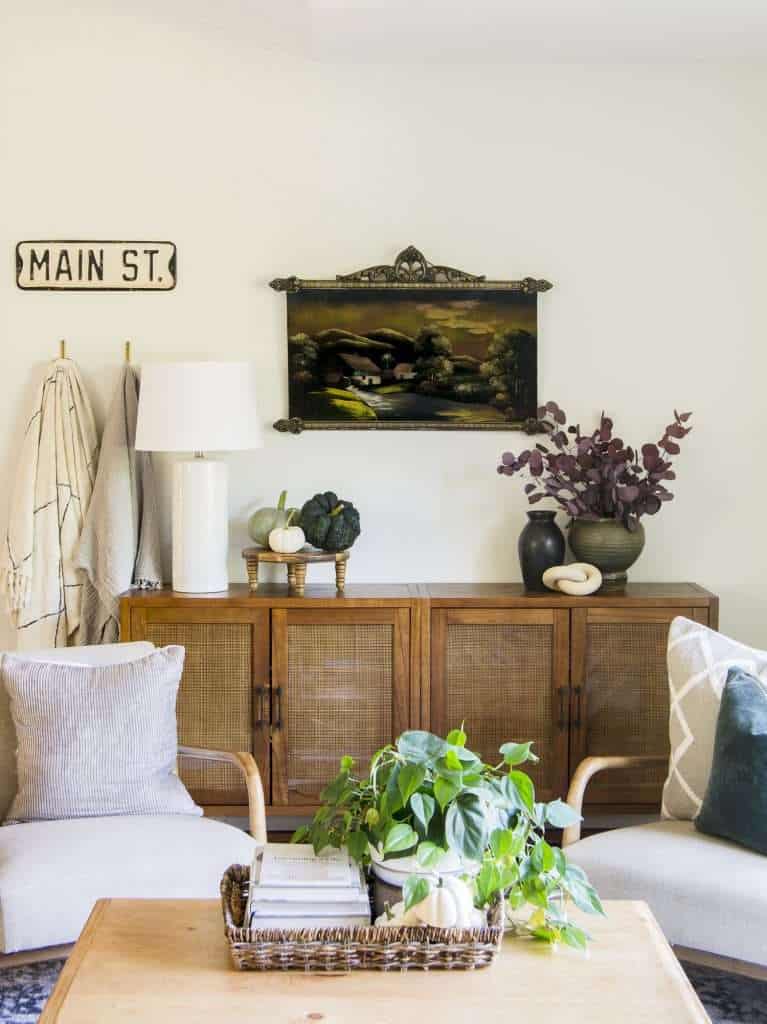 I specifically chose this for fall because of the moody colors. Deep olive green, taupe, brown, black and plum makes up the exact color palette I've been using in the rest of my fall decor, which you can browse below.
Being selective in the decor accessories you display can help them feel more seasonal. Since the painting isn't particularly autumn home decor by definition, I incorporated elements that do "feel like fall" to complement it.
Shop My Home Decor

---
Bringing out the colors in the painting throughout the rest of the room helps draw attention to it and blend it into the other design styles.
I love how the pumpkins and plum eucalyptus all work together in this space to bring the painting to life.
Throughout the room you'll also find vintage accents like pottery, wood bowls, artwork and baskets. These pieces are year round decor that are neutral enough to work with any season!
Mixing in lots of cozy elements creates a homey vibe as well that softens the more structured mid-century elements. You can find all my favorite blankets and pillows in my Amazon Storefront!
3. Incorporate Seasonal Touches
The last step is to add in those traditional seasonal elements to blend it all together!
Real pumpkins are my go-to fall accent, but I also like to include natural elements like leaves. I made this DIY wreath for free this year and love the pop of color it brings to my entry.
Last year my entryway looked very different with a full wall leaf display. I think it's still one of my favorite fall looks, but 2020 called for simplicity.
Stay Connected
Thanks for stopping by the blog today! I hope it was helpful to see how to combine certain design styles. Start with your preferred style as the anchor, add in your favorite vintage pieces, and then sprinkle in seasonal decor!