Modern Bohemian Style | Summer Living Room Tour
Do you want to learn how to get the look of a modern bohemian design style? It is such a versatile and energetic design and I've enjoyed bringing more boho design elements into my home over the last year. I hope you enjoy this summer home tour of my modern boho living room decor!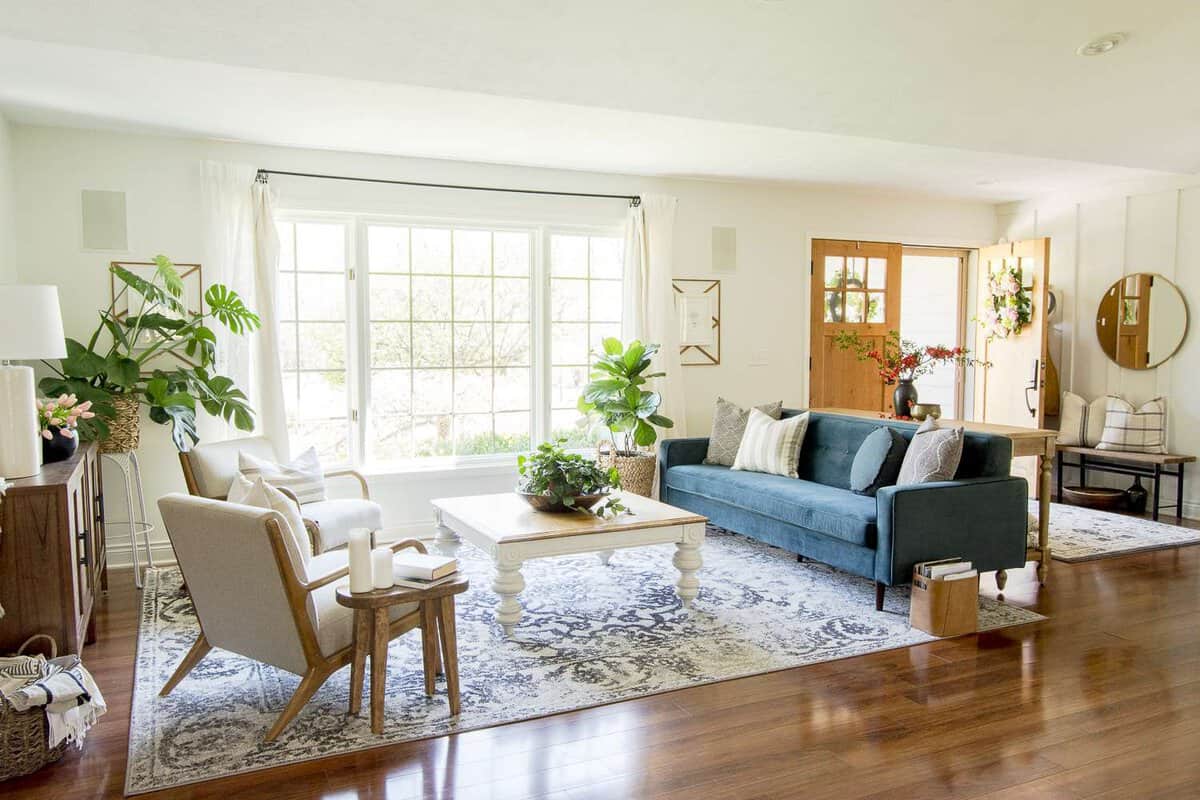 This post may contain affiliate links where I earn a small commission on your purchases.
Summer Home Tour Series
Joining me today are some talented bloggers each sharing their own homes for summer as well! If you're visiting from Christy at 11 Magnolia Lane, thanks for stopping by! After you're done with my tour, head to the next home and visit Doreen at Hymns & Verses!
Modern Bohemian Summer Living Room
My living room has seen quite a few changes over the last two years. My styled started out with a vintage farmhouse vibe. It quickly changed to a more modern farmhouse style. However now, I've enjoyed adding modern boho elements.
Plants are a huge part of my decor. I have many posts sharing how I care for them and which indoor plants are my favorite. They are such an easy addition to a home and really bring in those bohemian design vibes.
So today, I'm excited to share a few tips for how I use plants and other elements to add touches of boho design to my living room. Plus, I'll be sharing how I've designed with summer in mind!
How to get the Modern Boho Look
My design style is not 100% bohemian. I have quite a few modern pieces of furniture, plus some more farmhouse style pieces as well. However, adding one statement piece of boho furniture really took the look of my living room and amplified it to a more boho feeling.
Shop the Look

---
Add a Piece of Statement Furniture
When I chose this velvet couch from Kardiel, I wasn't sure how it would flow with my other decor. I just knew that I loved the look of it and I have been wanting a velvet couch for a couple of years! And what a difference it made!
Even just adding a pop of color with this couch made a huge difference to the feeling of the room.
Since the rest of my decor is fairly neutral, it welcomes a dose of bold color without it feeling overwhelming.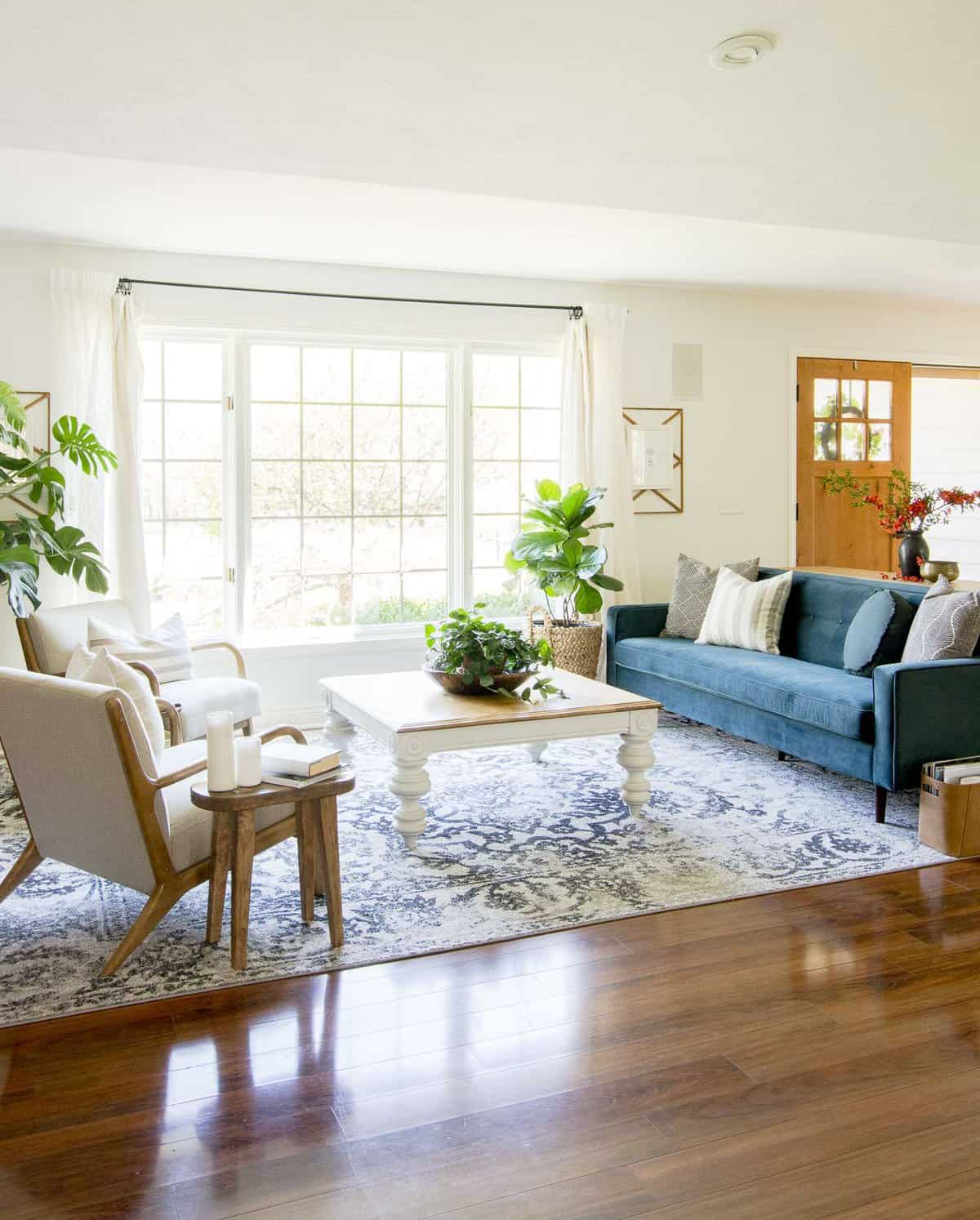 I love the way the clean lines of this tufted sofa modernize the space while giving it that slightly funky boho style.
Incorporate Plants
The boho design style is grounded in lively colors, playful patterns and indoor plants.
Shop the Look

---
I've accumulated a few dozen indoor plants over the last few years and they are by far my favorite design element. Statement plants, like this monstera and fiddle leaf fig, are crucial to getting the boho look.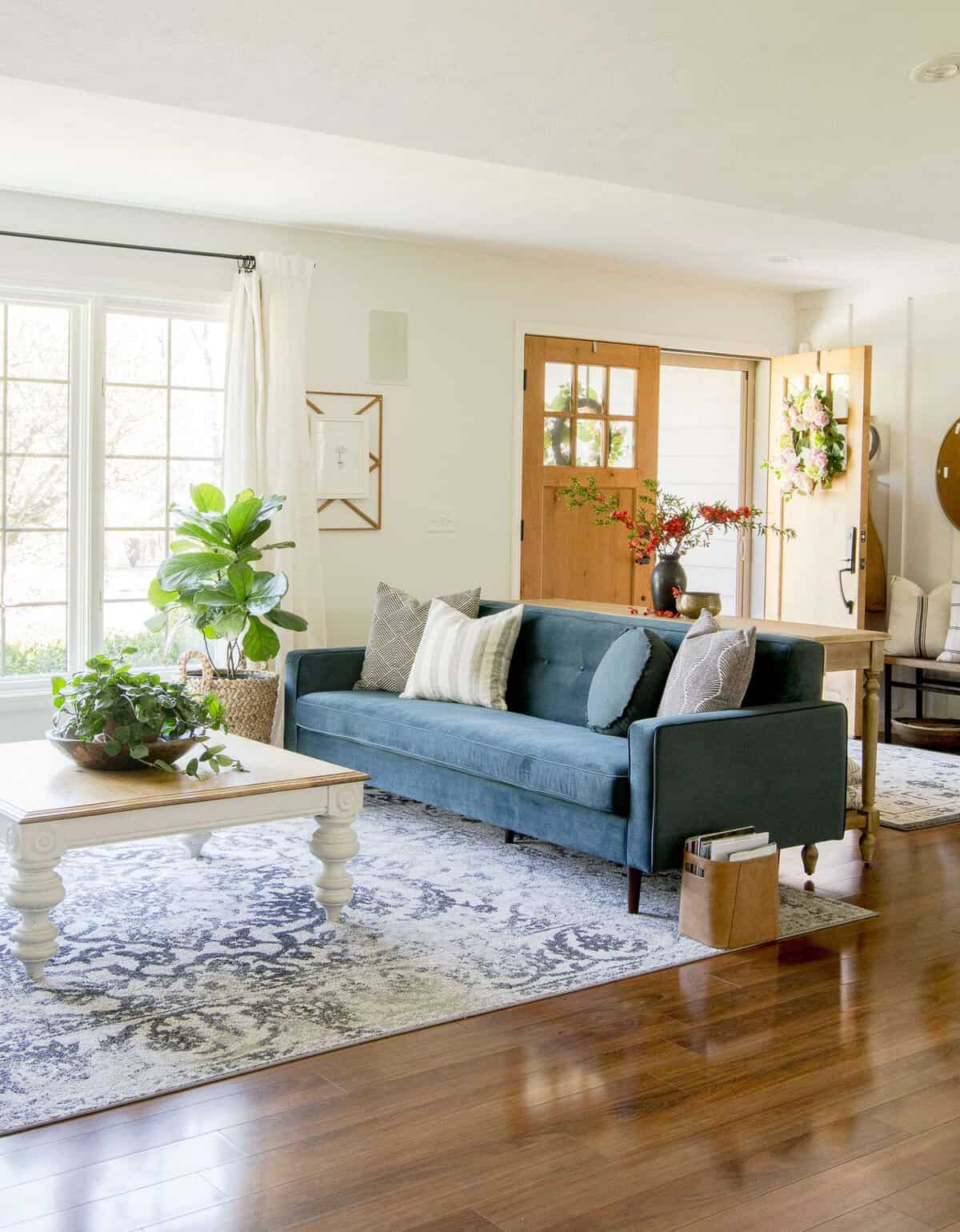 Of course, adding in smaller plants, including trailing vines, are important too. Plus, the smaller varieties are usually more easy to care for.
Include Playful Patterns
The final element I like to include of modern bohemian design is a playful pattern.
Many times people think of bohemian design and think that it must be "busy". However, it is simple to include neutral patterns that add interest without being overwhelming by using throw pillows.
Textured fabrics are also a great way to add in that funky element without going overboard.
Summer Design Elements
Now that we've covered the basics of what to include for modern bohemian design elements, let's talk about summer decor!
I typically remove more decor for summer than adding accent pieces. To me, summer deserves to be carefree and uncluttered.
Since our entryway is immediately connected to our living room, I always simplify that space for summer first. I removed the spring swag I created from the mirror and added my go-to summer hat to the entryway.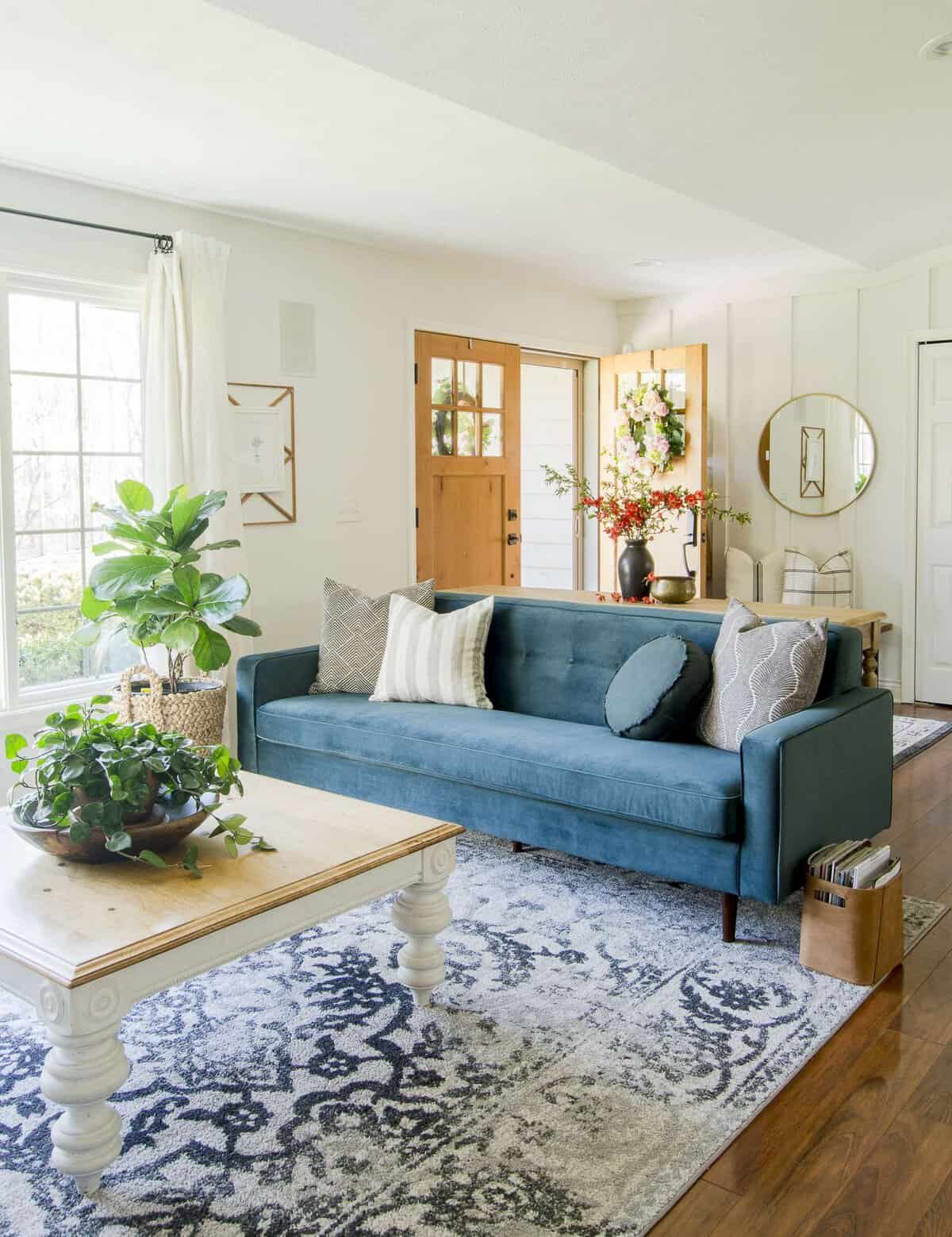 Next, I added another pop of color with fresh blooms from my quince bush.
As a Michigander who endures long months of cold, summer is always my favorite and I find so much joy in bringing in fresh blooms from my garden.
It's free decor and a simple way to amplify a space!
The rest of my living room decor was already fairly season-neutral so I didn't change much! I've really enjoyed the simplicity of this season.
Stay Connected
Thank you so much for stopping by the blog today! If you're trying to incorporate more modern bohemian style into your home, then I hope this was a helpful post for you!
Make sure to check out all of the beautiful tours, hosted by Marty at A Stroll Thru Life, by clicking the links below!
Summer Home Tour
A Stroll Thru Life , Clean & Scentsible , Far Above Rubies , Remodelando La Casa , It All Started With Paint , Life On Virginia Street
Setting For Four, Duke Manor Farm, Decor To Adore. House By Hoff , Inspiration For Moms, Pink Peppermint Design
Modern Glam , Fox Hollow Cottage , Thrifty & Chic , 11 Magnolia Lane , Grace In My Space , Hymns & Verses
Seeking Lavender Lane , StoneGable , Designing Vibes , CITIRINE LIVING, Our Southern Home , Southern State Of Mind
The Woodgrain Cottage , Life On Cedar Lane, Thistlewood Farms , White Arrows Home, Follow The Yellow Brick Home