Best Trailing Indoor Plants With Style Guide
Do you love boho style homes? Chances are, trailing indoor plants are a staple in the photos you love! Today I will share how to care for and style indoor climbing plants.
This post may contain affiliate links where I earn a small commission on your purchases.
Best Indoor Plants for Beginners
First, before we dive into the world of creeper plants (as I affectionally call them), I wanted to highlight some of my favorite indoor plants and plant care tips!
I rounded up my favorite beginner indoor plants for you here. The special bonus plant may just surprise you. These plants survived me when I was a brand new plant lady, so I highly recommend them!
I also put together a free printable care guide for my favorite beginner plants. Make sure to subscribe to get your freebie and have access to my free members only printable library!
Since then, I've become more adept at caring for plants. Even more finicky ones like the prized fiddle leaf fig.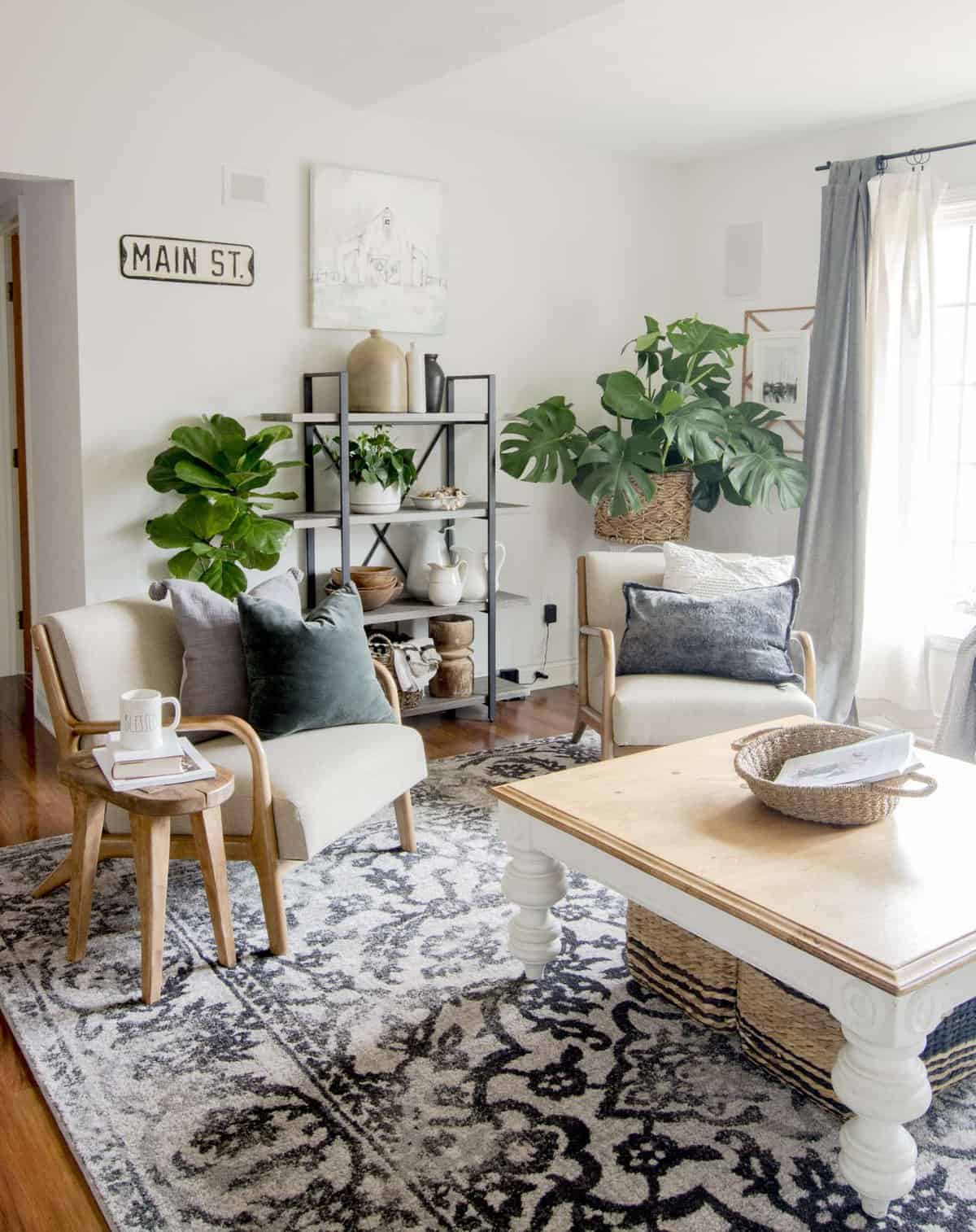 You can learn more about some plant care tips in this post! It's fun to look back at this post and see how far my plants have come! Compare the fiddle leaf fig above to the image of it in this post from less than a year ago!
Best Trailing Indoor Plants
Now, let's move on specifically to indoor climbing plants. These are my favorite type of indoor plant because they are so interesting! They are also more suitable for small spaces than larger plants like the monstera or fiddle leaf fig above.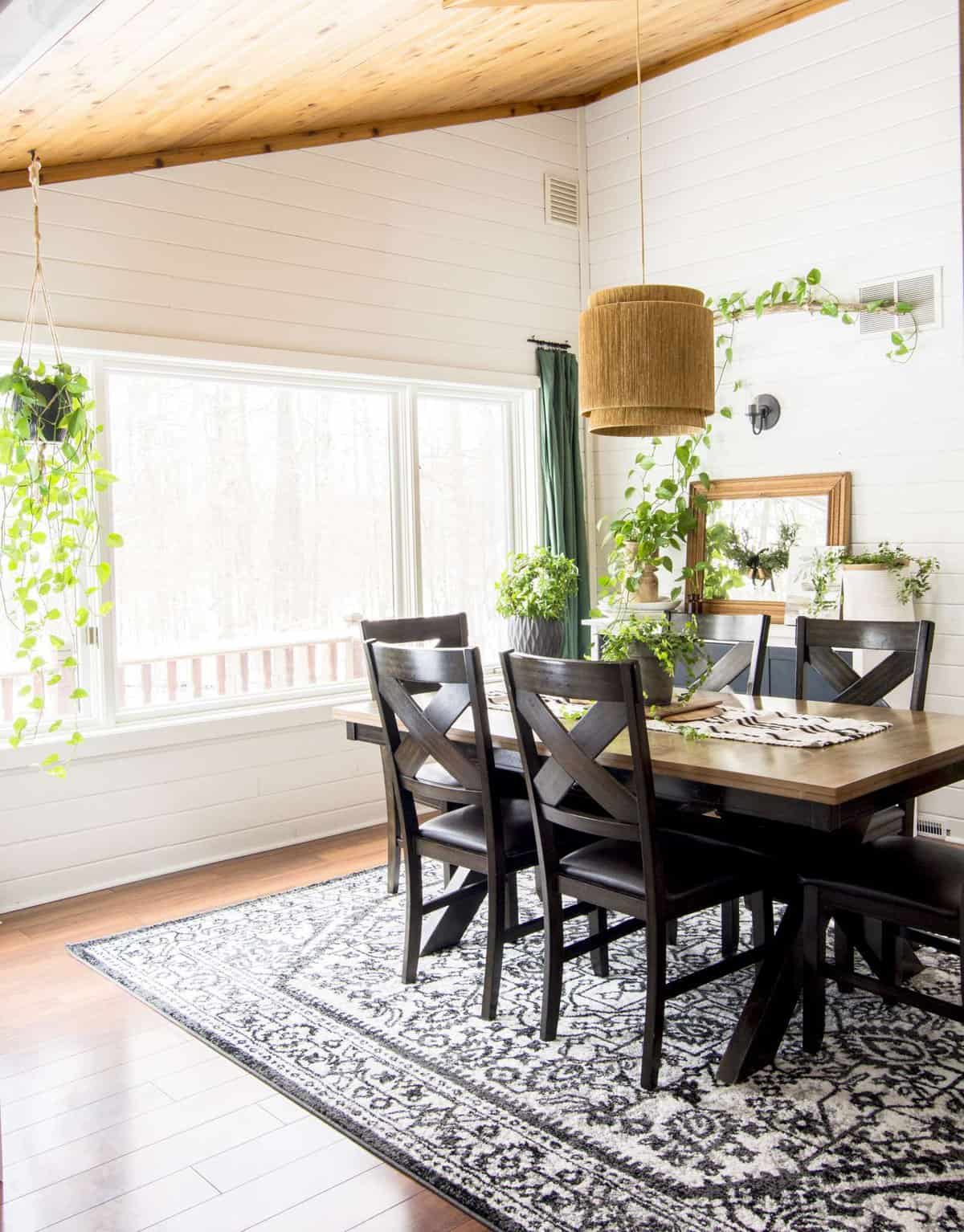 Pothos + Philodendron
My number one recommended trailing indoor plant is the Pothos or Philodendron. These two plants are often mistaken for each other because they look so similar.
There are many varieties of each, but they all share one thing in common: they thrive easily!
In my dining room, I have two golden devil's ivy pothos. One, as a traditional hanging indoor plant, and the other as my experimental vertical garden. (Which works amazingly well!)
They grow very quickly in both moderate to low sunlight, and with infrequent watering. This plant does not like to be moist! So I always let mine dry out at least two weeks without watering.
However, my favorite variety of this trailing vine is the heart leaf philodendron.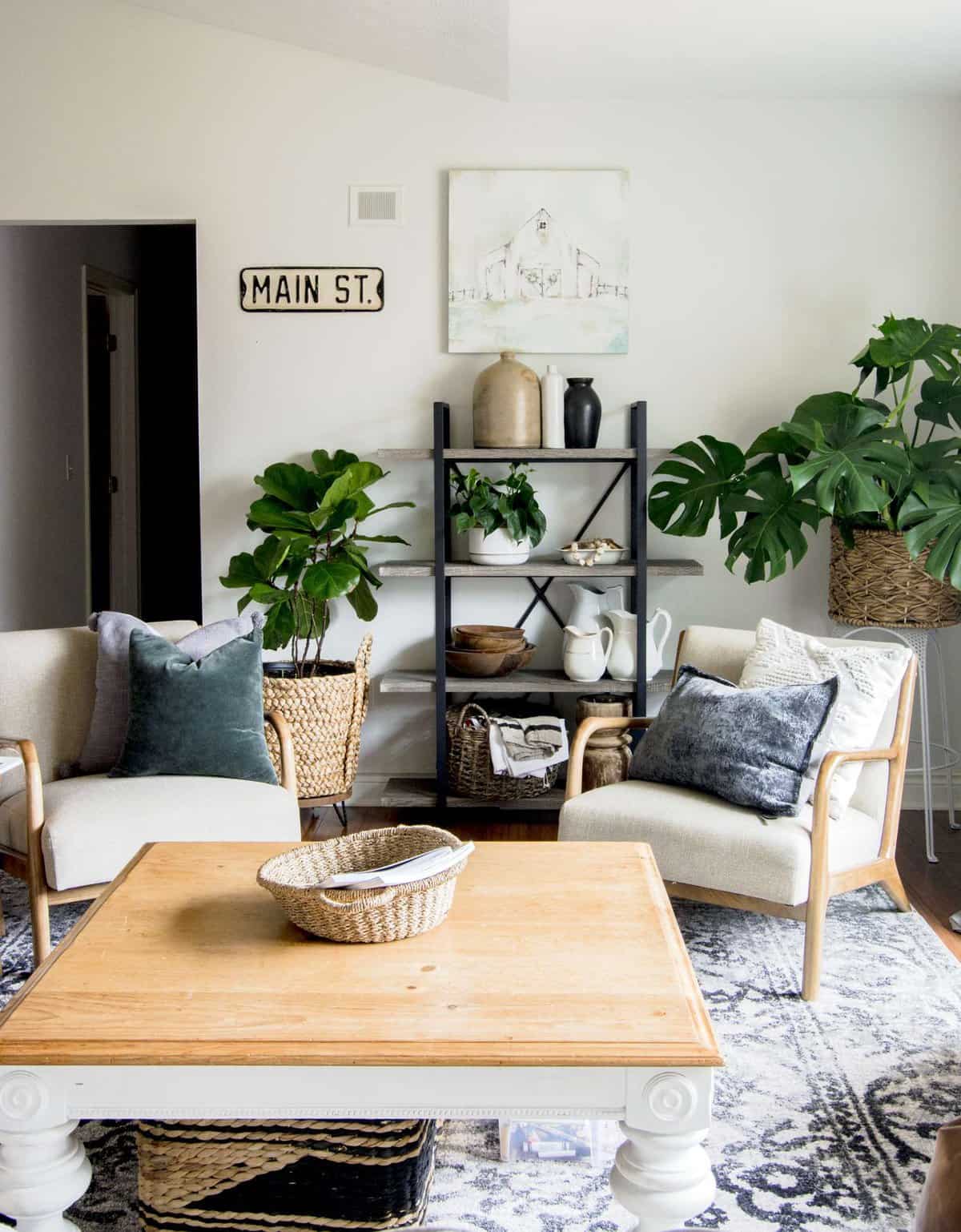 You can see this beauty on my open shelving above. The leaves have a more sophisticated shape and are a solid deep green. I prefer it over the variegated devil's ivy.
My philodendron is new and just a wee babe. But it is already sprouting trailing vines and will soon show itself in all its glory!
Someday, I would like to add a marble pothos to my collection as well!
Creeping Fig
My second favorite climbing houseplant is the creeping fig. As the name indicates, this is a slower growing trailing indoor plant. However, I adore the appearance of it!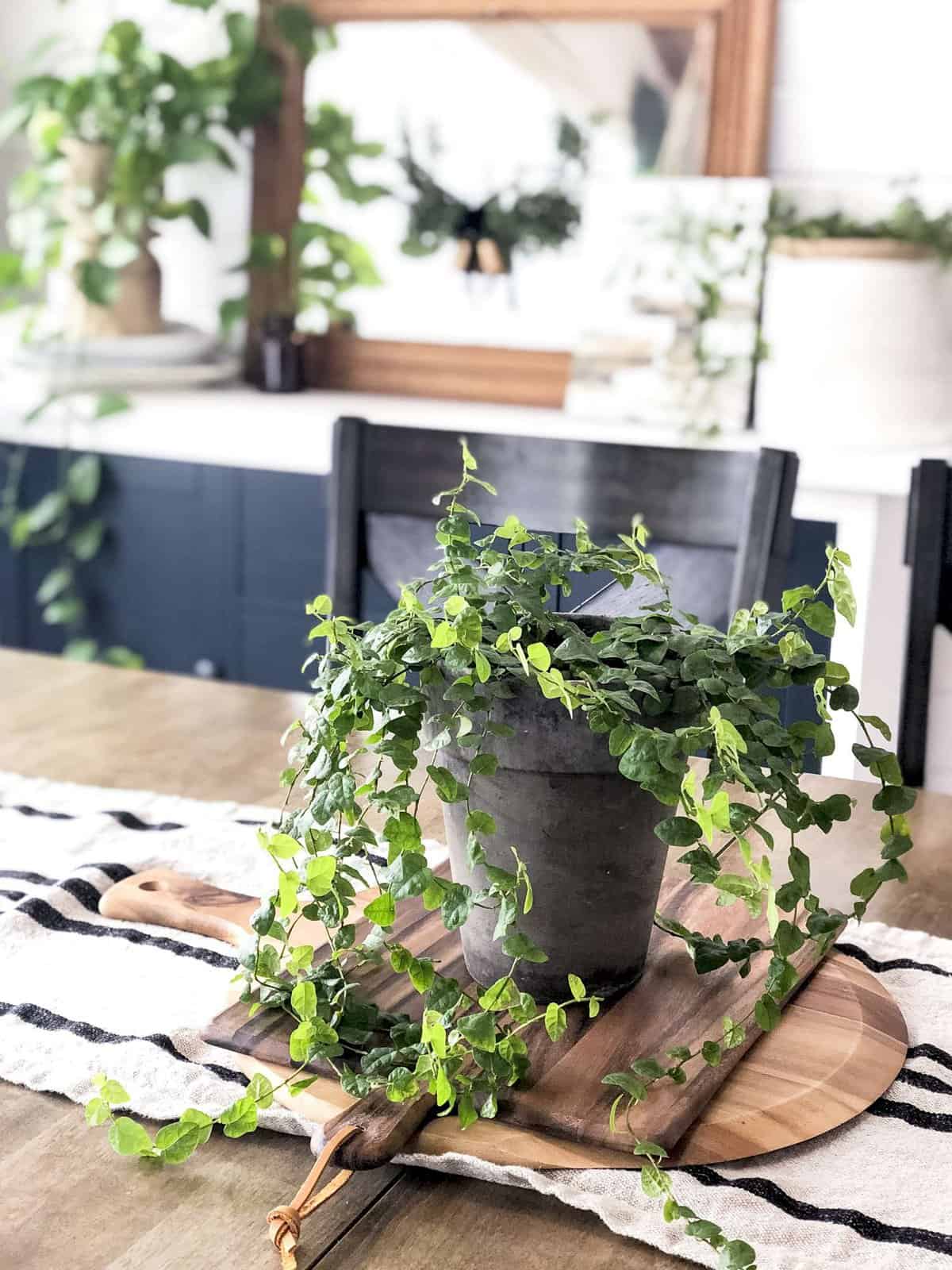 It has a slightly more delicate, small and papery leaf. It is happy to be thoroughly watered once every 10-14 days. And does well in moderate sunlight.
Ivy Varities
My third favorite indoor vine is differing varieties of ivy.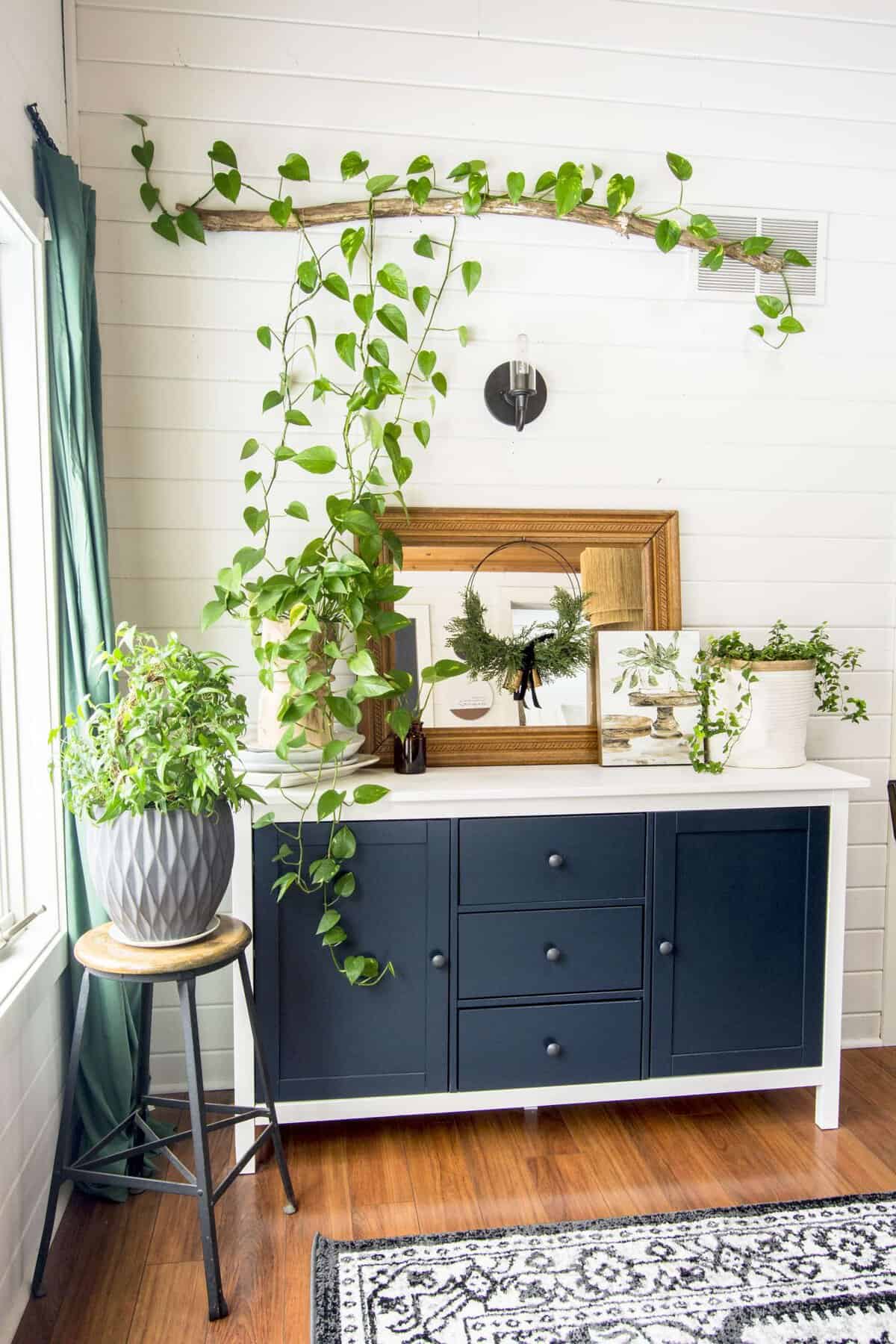 In my dining room, I have three or four varieties of ivy. My favorite is the spearpoint ivy. Royal Hustler is also a beautiful ivy variety, included in this four pack.
How to Style Climbing Vines
Now that I've shared some of my favorite indoor trailing plants, here are some ideas for how to style them!
Hanging
The obvious and most common way to display live climbing plants is by hanging them. This allows the vines to drape to the ground and offers a beautiful display.
However, I'd rather focus on more creative ways to style plants!
Climbing
My new favorite way to use indoor plants as part of your interior design is to allow them to do what they do best: climb.
You can see two versions of this method above. First, give them a trellis (or in my case a simple stick) to use as an anchor to climb vertically.
There are many ways that you can create a climbing plant wall. My version is probably the simplest. If you want to create a more detailed focal point, you can create a grid or pattern with string to give your plants something to climb on.
Second, keep them climbing, yet contained within a pot! My ivy, perched happily on a stool above, climbs around a ring mounted within the pot. This gives it the feeling of being a topiary and is another simple way to make your indoor plant display interesting.
Carelessly Overflowing
The last way to style your trailing indoor plants is perhaps the simplest. Allow the vines to overflow from a traditional pot.
I love this look and my creeping fig is my favorite example of this. I also am allowing my ivy varieties to begin to do this on my buffet. They are still young, but soon enough it will be whimsically spilling over as well.
I found these super cute fabric planters for my ivy and love the texture that they add. The size I purchased fit perfectly with this cylinder pot inside.
I simply remove the inner pot to water it and then place it back in the plant basket.
Stay Connected
Thanks so much for stopping by the blog! I hope that this quick guide to the best indoor trailing houseplants has been helpful to you! It is fun to come up with creative ways to use houseplants as part of home design.
They truly add so much life and interest to a space, especially during these dreary winter months!
Shop My Favorite Indoor Plants

---
You can learn more about my design tips with my book, Designing a Life: From House to Haven! I loved writing this simple 10 step guide to haven making and hope you will enjoy it as well!