How to Make a Fall DIY Outdoor Wreath for Free
Outdoor wreaths can be very expensive! With double entry doors, they are doubly expensive for me! So this year, I decided to make my own using materials from years past. Learn how to make a DIY outdoor wreath for fall using materials you have on hand!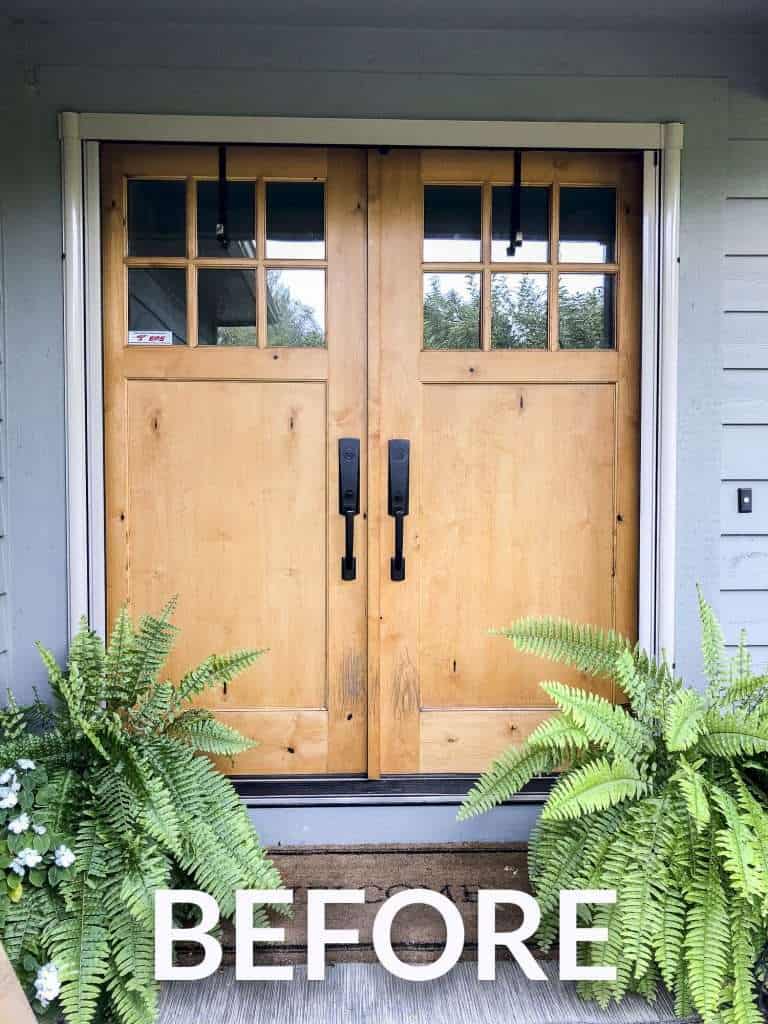 This post may contain affiliate links where I earn a small commission on your purchases.
DIY Outdoor Wreath for Fall
Last year, I purchased these simple leaf wreaths from Home Goods.
At the time, I thought the simplicity was beautiful. This year, I am feeling like they lack contrast. So I went on the hunt for new outdoor wreaths for my double doors.
Unfortunately, I came up short. Or, perhaps it was fortunate! Everything I found was either over the top (for me) or ridiculously expensive. Especially since I need two wreaths for my entry.
So, I went to the decor closet to see what I could come up with!
I got out the hot glue and floral wire, two necessities for DIY wreath making, and scrounged to find flowers and foliage I could add to my base.
I think it came together beautifully! I hope this tutorial is helpful to you!
How to Make a DIY Wreath
First, gather your materials.
Hot glue
Floral wire
Wire cutters
Extra faux (or dried) foliage and flowers
Wreath base
For my wreath, I started with a simple base. You can start from scratch, making your own grapevine wreaths like I did two Christmas's ago, use a pre-made grapevine wreath, or use a wreath form.
In my case, I also used spray paint. Have you ever spray painted flowers before? I hadn't, but I think it came out quite nicely!
Once you have all your materials, start by piecing apart your faux florals. I pop the heads off of my flowers and cut the stems of greenery into smaller chunks. This makes it easier to insert into the existing wreath.
All you have to do to make an easy DIY outdoor wreath is hot glue your extra florals and greenery directly to the wreath! If glue isn't working, you can also secure it with the floral wire.
DIY Wreath Video Tutorial
I simply followed the direction of the existing leaves and added bits of my spray painted greenery around the entire circle. Then, I arranged a swag style grouping of the flower heads on one side for a fun pop of color.
Free Fall Wreaths
Can you believe I made these for free! I had all of the supplies on hand simply because I took outdated faux florals and created something new with them!
Apart, I don't particularly like any of these florals. However, placed together I love how the colors and textures work to create a beautiful "new" fall wreath.
My guess is, you probably have several old wreaths or faux florals sitting in storage that you don't particularly like either, right? Go get them all out and create something new from them!
Another thing to keep in mind is that you can also take AWAY items from an existing wreath. I had quite a few fall wreaths from years past that were over the top for my current style.
If you're in the same boat, try removing pieces from an existing wreath to simplify it or just take off certain elements you no longer like.
Get creative with it and see how it comes together!
Stay Connected
I hope these ideas for how to make your own DIY outdoor wreath for fall have been helpful! It really is so simple to put together a wreath so don't be afraid to try!
Stay tuned for more details on how I decorated my fall front porch decor!