DIY Fall Decorations | Simple Leaf Display
Autumn decor doesn't have to be complicated! You can make a big statement with simple DIY fall decorations that are affordable and easy! Today I am sharing my simple leaf display I created to decorate my entryway for fall.
This post may contain affiliate links where I earn a small commission on your purchases.
DIY Fall Decorations Made Easy
I started decorating my entryway for fall early this year. I tried it a couple of different ways and decided I wanted to make more of a statement. The entryway is the welcoming point of the home, after all!
This is how I started my autumn decor in the entryway. Simple, classic colors, understated. I actually enjoyed it very much! But I wanted more pizzazz without adding traditional fall decor items like pumpkins (just yet).
So, I decided to try something out of the box! These ideas can feel "risky" but often pack the biggest punch.
So I started removing the leaves from the faux floral stems in my basket. They are such a pretty color and I thought they might work perfectly in conjunction with some other faux leaves I had in storage.
Fall Decor That Makes a Statement
Once I stripped all the leaves off, I just started haphazardly tacking them to the wall with putty! I wanted to create a windblown look as if the leaves were blowing in from outside.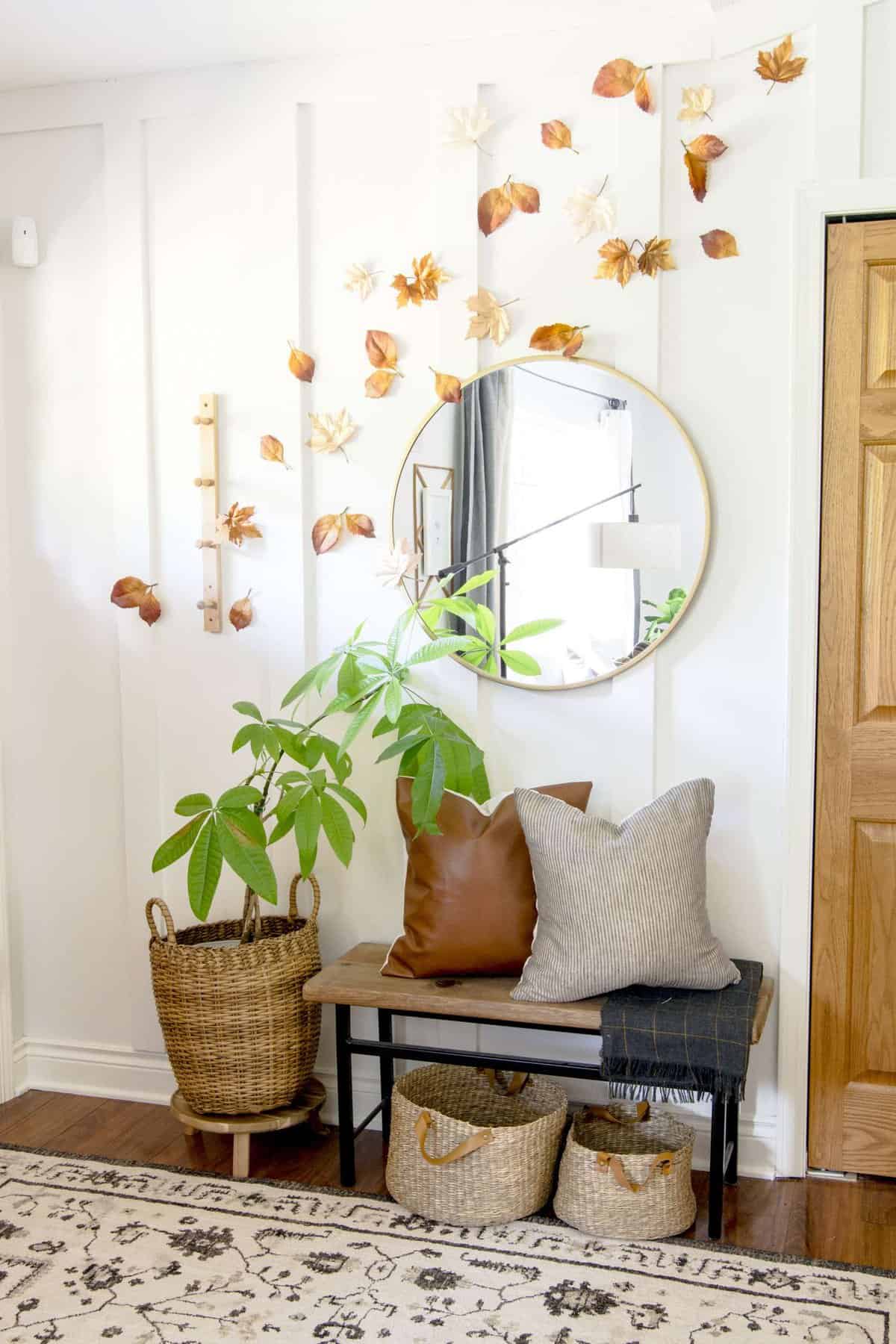 I love the whimsical look it brought to my fall decor. It's such a simple and easy way to make a statement without it feeling overdone.
The project took me about 5 minutes! One of the most frequently asked questions I've gotten on Instagram is, "Do the leaves fall off all the time?"
Shop the Look

I have had a few fall, but all I do is smoosh them back up! And yes, smoosh is an interior design term. 😉
Of course, I had to add in a few different ways to style the space. All of the fall throw pillows you see in my entryway can be found here! Make sure to use the discount code GRACE15 for 15% off!
Also, see that wood bowl gallery wall? Stay tuned to see how I pulled off that fall DIY project!
More Fall Decor Coming Soon
So what do you think of these slightly whacky DIY fall decorations? I have really been enjoying the view from my living room! I will be sharing more fall decor in several home tours coming soon!
Make sure to subscribe to the blog to be notified when they are live! If you missed it, my fall bedroom refresh was a fun one to share!
I hope you've enjoyed this quick fall decor idea! Would you ever do something like this in your home?