Best Modern Farmhouse Kitchen Style Elements
We all have Joanna Gaines to thank for making modern farmhouse design so popular. It's an amazing combination of classic and character-filled with an edge of modern. Fortunately, getting the modern farmhouse kitchen style is easier than you think! Today we'll learn how to combine modern and farmhouse styles into your kitchen!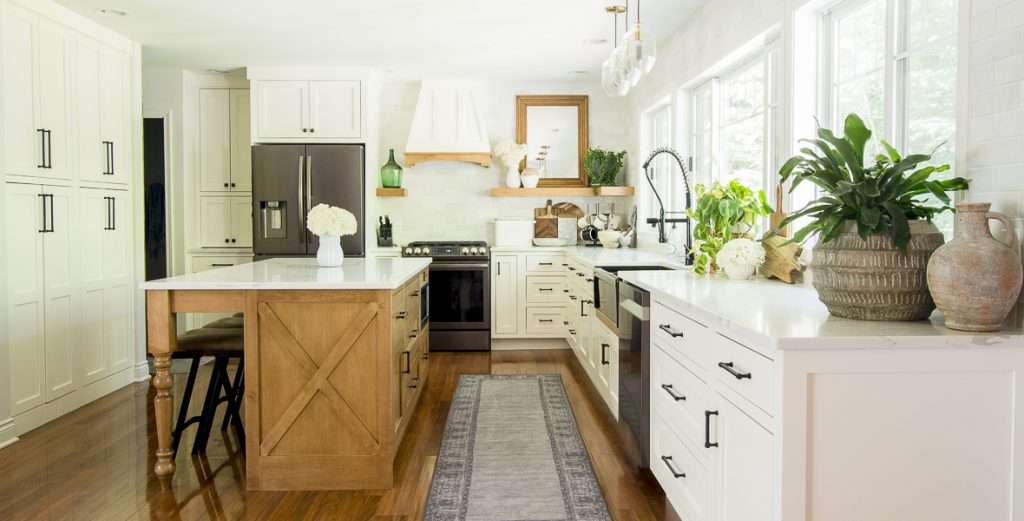 This post may contain affiliate links where I earn a small commission on your purchases.
Modern Farmhouse Style Kitchens
During our kitchen remodel, I focused my design inspiration on kitchens that had that classic combination of farmhouse style and modern design. I intermingled some earthy elements that I was inspired by our trip to Portugal as well.
Modern farmhouse kitchen style is still one of the most popular design styles a year and a half later, so I thought it would be fun to key in on exactly which elements make our kitchen true to this category of design!
Make sure to peruse all of my kitchen posts for details on the remodel process, as well as great kitchen decor sources.
Modern Farmhouse Kitchen Style Elements
Kitchen Cabinets
The first, and most prominent, element of a modern farmhouse kitchen is the design of your kitchen cabinets. Your cabinetry is going to be one of the top two most expensive elements of a kitchen remodel, so it's important to key in on the design elements you love.
Modern farmhouse kitchens tend to have very classic kitchen cabinets. Shaker style faces are predominantly used, often being complemented by designed end caps. For example, my kitchen island has the classic X design so that it stands out against the more traditional shaker style of the white cabinet end cap.
Adding a pop of character to your cabinetry can also cause the feel of your kitchen to lean one way or the other. Adding legs to my island pushes the design towards a farmhouse style kitchen. Conversely, using a full sided cabinet leans more towards a classic modern design.
Open Shelving
Open shelving has taken a huge leap into kitchen design over the last five years. It is both practical and pretty, but can take a bad rap!
I chose to do mostly lower cabinets only with one wall of open shelving in my kitchen. This worked perfectly for my kitchen because I did not need the extra storage that upper cabinets would offer. Plus, I don't mind having every day dishes displayed as "decor" on open shelving.
However, this is not for everybody! If you need the extra storage, consider just adding a small section of open shelving for display and using traditional upper cabinets elsewhere.
You can head to this post to see 15 pros and cons of open shelving v. upper cabinets.
Kitchen Countertops
Quartz is one of the most popular kitchen countertop materials in the industry. We love our quartz, and I also love that so many different designs and colors are possible to fit with different designs.
Other commonly used countertop materials are: concrete, soapstone, marble, and granite. Porcelain is also starting to make more of an appearance because of its affordability and customization.
Concrete and porcelain anchor the lower end of the price range, with quartz and granite being mid-range, and soapstone and marble being the most expensive.
All are beautiful options, but require different upkeep and offer varying durability. Make sure to research the materials to decide what is best for your family's lifestyle!
Kitchen Finishes
Now that we've covered two of the most obvious elements of a modern farmhouse kitchen, let's get into the finishes!
Finishes are often overlooked but bring such an important element to design. Black and brass finishes are the most popular colors for modern farmhouse finishes.
One of the most common questions in design is, "Can I mix metals?" Absolutely!
I wanted my finishes to be primarily black to stick with the more classic farmhouse style. But adding a pop of brass to my light fixtures adds that modern element to give it a cohesive modern farmhouse look.
My Kitchen Sources

Kitchen pendants can be found here.
Bronze and copper are also beautiful finishes if you want your kitchen design to lean more farmhouse style.
For your backsplash, neutral subway tile is a classic. My backsplash has a handmade look to it that brings it slightly more into a modern design style and gives it a bit more character.
Wood Accents
One common theme you see in many modern farmhouse style kitchens is wood accents.
Whether it is on shelving, a range hood, or island, modern wood elements bring in the farmhouse style without feeling too country.
I chose to coordinate my island color with the custom shelves, hood, and strip under the sink. This ties it all together nicely.
Kitchen Decor
Once you've designed your kitchen to be in line with a modern farmhouse style design, you can also add decor elements to enhance your aesthetic.
Typically, kitchen decor is kept more in line with a modern design in the sense that the pieces are more simplistic and sparing.
The pieces that are included tend to fall in line with a farmhouse style aesthetic, like vintage pieces, cutting boards, and live plants. However, the purpose of those pieces is less for decor and more for practicality.
Much of the decor that you see in a modern farmhouse kitchen can actually be used on a daily basis.
Favorite Kitchen Accents

---
Design With Your Family In Mind
No matter what, the best thing you can do when designing a kitchen is to design with your family in mind! If you think first and foremost about the functionality of your kitchen, then the aesthetic elements will be easy to follow.
Thank you so much for visiting the blog today! Leave any questions you have in the comments below and I'll be sure to get back to you and update the post accordingly!
Stay Connected