15 Pros & Cons of Floating Kitchen Shelves vs. Cabinets in 2024
The debate of floating kitchen shelves vs. cabinets is still a hot topic years into the open shelving trend. What do you put on floating kitchen shelves? Is open shelving strong enough to hold dishes? Is open kitchen shelving practical? How much storage space do I lose with shelving vs. upper cabinets? Read these 15 pros & cons to get answers and settle it once and for all!
This post may contain affiliate links where I earn a small commission on your purchases at no additional cost to you.
15 Pros & Cons of Floating Kitchen Shelves vs. Cabinets
When I was designing my kitchen, I knew that I wanted to incorporate floating kitchen shelves. Open shelving is something I fell in love with when I designed my last kitchen. However, I only added two very small open shelves to that kitchen and it simply wasn't enough for how I wanted to use them. Even with the glass front hutch I added, I still wanted more open shelving.
As I planned out our current kitchen, I decided to add a single corner kitchen shelf and a small floating shelf flanking the hood. I designed this with styling decor in mind, though I find open shelving in the kitchen to be very practical too!
Additionally, when I designed this kitchen I knew I wanted to add a wall of windows to highlight our view of our land. That meant sacrificing wall space for upper cabinets. While we do have a pantry area, I always get questions like, "Is open kitchen shelving practical?"
After living with our kitchen design for over a year, here is the answer to those questions and the 15 pros and cons of floating kitchen shelves vs. cabinets.
If you're interested in learning more about how to design a kitchen, make sure to sign up for my free e-course! This beginner interior design course comes in three modules via email and is the perfect way to figure out your style and align your design mindset with the goals you have for your home. It also gives you access to my free printable library and project guides!
Floating Kitchen Shelves are DIY Friendly, Affordable & Customizable
The first four pros of open shelving in the kitchen revolve around the fact that they are home owner friendly. Floating shelves offer a lot of flexibility to a home owner, not only in design, but also in affordability and customization.
Affordable
DIY friendly
Customizable
Easily fits any space
DIY Friendly | DIY Open Shelving
In my DIY kitchen remodel of the first kitchen in this home, I built my own open shelves! It was so simple and opened up the space immensely. You can see the full tutorial for how to make your own floating shelves, along with a free project guide, in this DIY shelving post.
This was such an affordable way to add my own shelving to our home. If you want to do this, you can simply remove the upper cabinets from your existing kitchen, and measure your shelves to fit the existing space! This way, you don't need to completely reconfigure your kitchen to add open shelving. You simply need to build them to fit!
Affordable | Are open shelves cheaper than cabinets?
Yes. Open shelves are cheaper than cabinets. The simple fact that there is less material needed to build them makes them a more affordable option than upper cabinets.
We had our floating shelves custom made along with our lower cabinets, but they were still cheaper than upper cabinets!
Best floating shelves for kitchens
If you are looking to add your own kitchen shelving, but don't want to have it custom made, you have some amazing options! You can build them yourself using my DIY tutorial. Or, you can buy them from retail stores.
Since floating shelves have become so popular in the industry, many retailers offer them for affordable pricing. Here are some of my favorites. Note that you can choose your finish, length and depth for most of these options! Simply click the affiliate image for details.

---
If you decide to add your own floating kitchen shelves, make sure to take a few things into consideration.
How deep should open shelves be in the kitchen?
First, the depth of your shelving matters! Many retail shelving options come in depths as small as 4″. Those are best in a bathroom or hallway. For kitchens, you want to have a depth of at least 10 inches. This is important if you want to store dinner plates or other wider items on your shelving.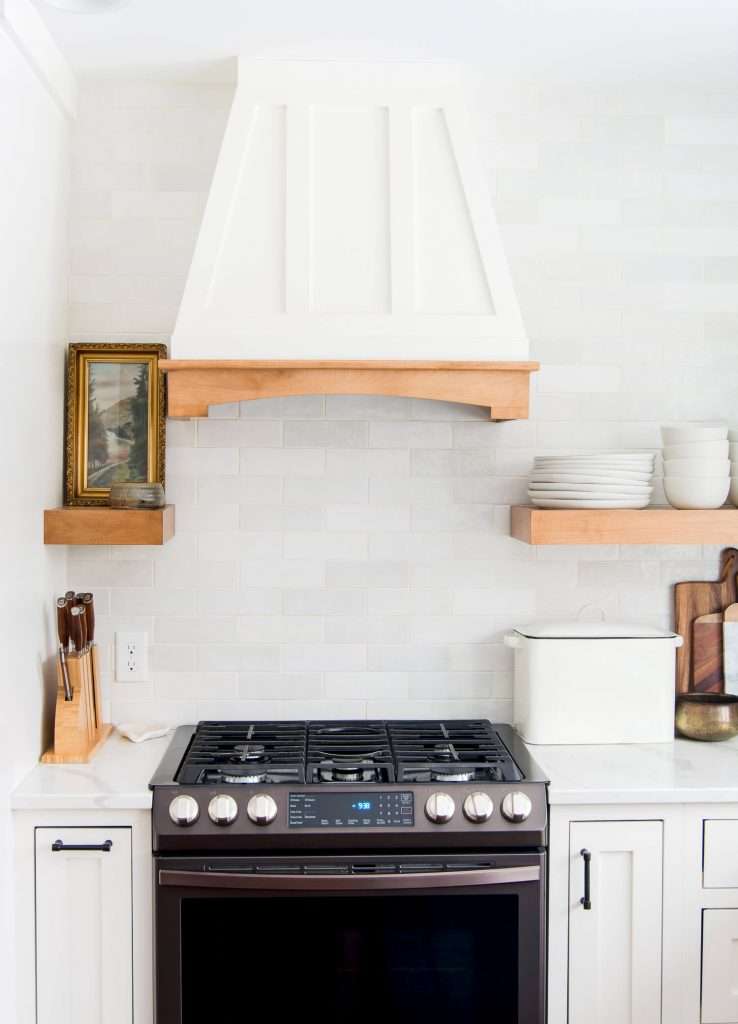 My kitchen corner shelf is 12″ deep and I think it is perfect. It gives about an inch of clearance for my widest dishes and some wiggle room if I want to decorate in layers.
How much weight can floating shelves hold?
The next thing you want to take into consideration is the weight capacity of your shelving. This is especially important if you are storing dishes and other heavy items on them. Retail shelves all list their weight capacity, and installation into studs is vital to support a heavy load.
Using floating shelves for kitchen dishes is one of my favorite ways to style them because it is so practical. But you must make sure you check the weight capacity of the shelving you buy so you know what you can realistically use your shelving to display.
Customizable | Easily Fits any Space
Like we discussed above, floating kitchen shelves or shelves with brackets, is the easiest way to add your own shelving to your existing kitchen because of the various size options. Likewise, you can customize them to your space if you are building from scratch.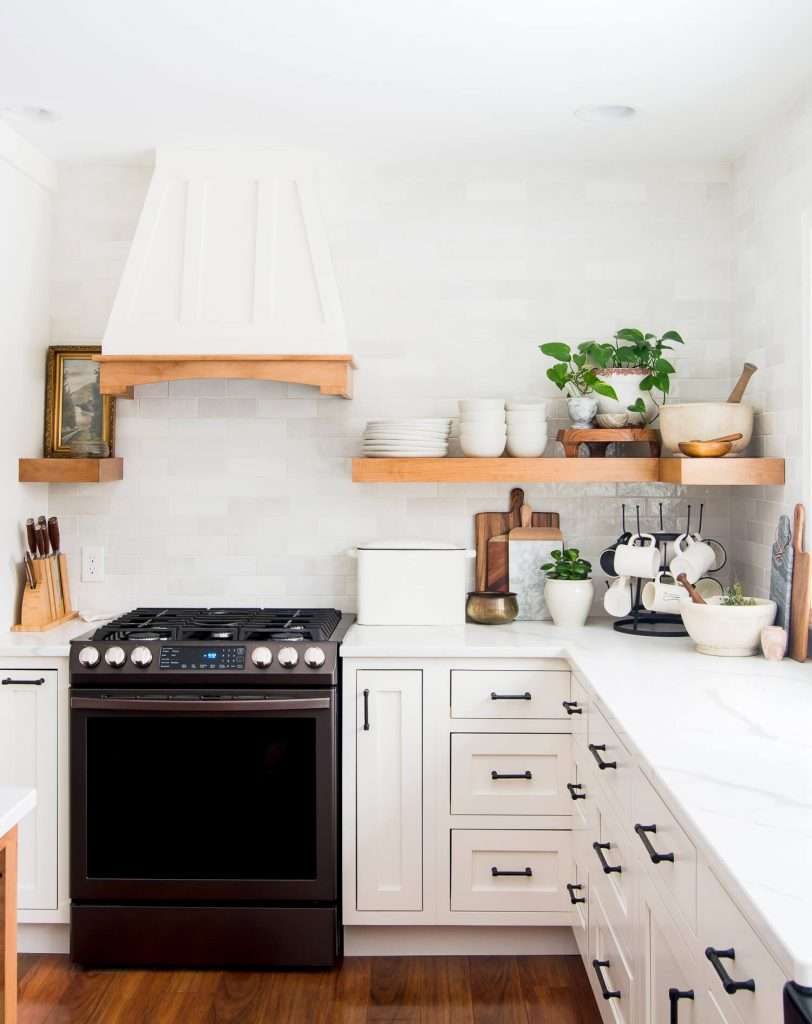 As you can see, I have one corner shelf on the right of my hood and one very small shelf on the left. In my original design, I actually had two small shelves stacked on top of each other on the left. However, when we went to install it, it felt like too much in a small space, so I left it as one.
I love how easy it is to customize shelves to the layout. If I had needed more storage, I could have added another shelf over my single shelf as well!
Perfect for Decor & Style
The next 6 pros for floating kitchen shelves all have to do with decor, aesthetics, and style. Obviously, design is a huge factor in my decisions when it comes to the functionality of my kitchen. That's why I love that open shelving is both beautiful and practical.
Pros of floating kitchen shelves:
Easily changed for the seasons
Highlights decor
Creates a focal point in the kitchen
Allows your backsplash to stand out
Are easily updated as trends and tastes change
Creates a curated look
Seasonally Curated
A lot of people use their open shelving for decor purposes OR for practical purposes. I like to use them for both! The seasonal decor changes I make in my kitchen all center around my floating kitchen shelves since I don't like to have clutter on the countertops.
How to decorate kitchen shelves
So many people ask how to decorate kitchen shelves. I find it comes very naturally to me when I have one shelf to focus on. The thing that trips people up tends to be when they have multiple shelves stacked vertically.
Make sure to visit this post on how to decorate shelving with a step by step guide!
Here are a few ways I've styled this corner for the seasons.
I think that spring and Christmas are my favorite seasons to decorate my shelving. They offer the most dramatic change as colors, florals and needs change.
Then, fall and summer feel very subtle and laid back!
Form vs. Function Versatility
The last three pros of floating kitchen shelves has to do with form vs. function versatility. I've alluded to it a few times, but most people get hung up on the "lost" storage space when they have less upper cabinets in their kitchen. Let's address that within the context of these three pros.
Can be used for everyday dishes and practical needs, decoration, or a combination
Adaptable to any design aesthetic
Opens up a space to feel more roomy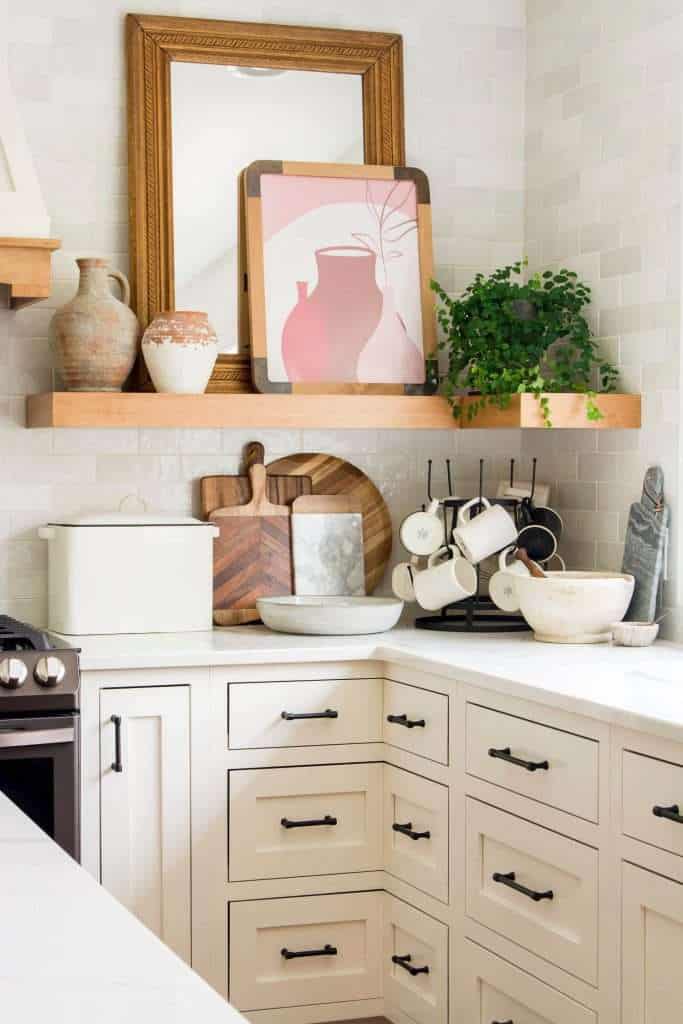 Are open shelves practical?
Adding open shelving to a small space helps it feel more open and airy. At the same time, it can sacrifice some storage that an upper cabinet might provide. But in reality, many people have way more "stuff" shoved into the depths of upper cabinets than they actually use!
When I took an organization course called Love Your Home Again, I was able to quickly see how valuable purging is. Purging in this context simply means going through every nook and cranny of my kitchen (or whatever room I'm focusing on) and pulling out all of my things. Then, I can separate them into piles based on whether or not I actually use it or have a sentimental attachment to it.
I gather everything and put it in three piles:
Trash
Donate
Keep (only if you've used it in the last 6 months!)
If you do this, you will most likely be amazed how many items you never use and are just taking up room! If you're interested in learning more about this easy online course, which I found highly valuable, you can check it out here.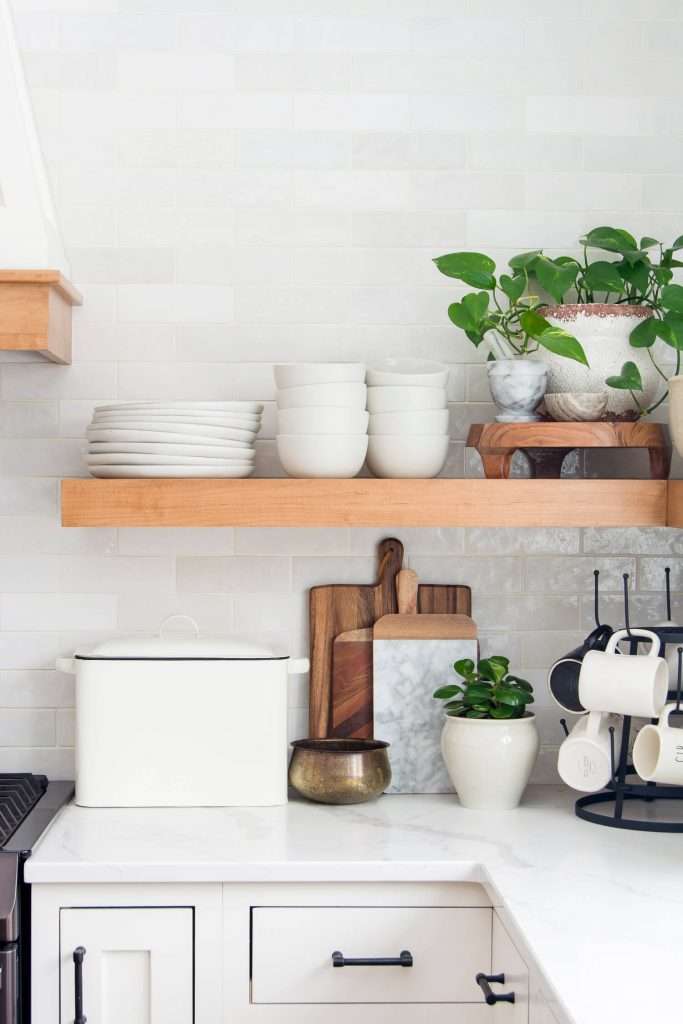 When doing this, I was able to quickly see that my lower cabinets would provide plenty of storage for the items I actually use. Plus, open shelving is practical storage! I love being able to have everyday dishes on display that are easy to grab when fixing dinner.
Additionally, open shelving can easily fit any design aesthetic. If you love a more modern or industrial look, consider steel open shelves. If you like more of a shabby chic style, distressed shelves can be bought or DIYed! The options are limitless.
4 Cons of Floating Kitchen Shelves
I think it's fairly obvious that I am an advocate for open shelving. My floating kitchen shelves are one of my very favorite design decisions and I've never regretted it. But, in all fairness, I want to cover some of the cons! I know that visible storage is not for everyone, so make sure to take these cons into consideration.
Can look cluttered instead of curated.
Less hidden storage for very small spaces.
Always visible, so your dishes, for example, will need to be a style that you want to see all the time.
Dusting is necessary.
I think the first three cons of floating open shelves are pretty self explanatory. You're going to see whatever is on your shelving, so you might want to buy new dishes or glasses or look for decor items to use. You also should take into consideration exactly how much storage you need as very small spaces or apartments just might not be big enough for open storage.
However, I do want to chat very quickly about how often you need to clean open shelving. First, I never have to dust my dishes. We use our dishes that are displayed on the shelves daily so they are washed daily as well.
However, the shelf does get dusty! Any flat surface will. The only reason upper cupboards don't is because they have doors. And even then, I'll bet you will be surprised about the dust that still gets into kitchen cabinets. So if you are highly opposed to dusting your shelves, this may not be the option for you!
How to decide between open shelves and upper cabinets?
So, with all of these pros and cons of open shelving vs. upper cabinets in mind, how do you choose what is best for you? In my free design course for beginners, I talk a lot about goal setting and making your home work for you. That is exactly what you should do in this situation!
Ask yourself the following questions.
How much storage do I need?
Do I have upper cabinets I can remove to add open shelving selectively?
Do I care about decorating shelves in my kitchen, or do I just want storage?
What is my budget for this kitchen update?
Do I want to maintain regular cleaning of shelves?
The answers to these questions will help guide you towards either open shelving or upper cabinets! Of course, upper cabinets have plenty of pros on their own. They can be a pretty and practical storage solution as well. It simply depends on your taste and desires!
Kitchen Decor Sources
Thanks so much for stopping by the blog today. I'd love to know your thoughts on whether or not you'd add floating kitchen shelves or upper cabinets to your home! Leave me a comment below with your experiences.
My kitchen cabinets and floating shelf were both custom made and the cabinets are painted Benjamin Moore White Dove. You can shop my decor sources via the images below.

---
If you are looking for my kitchen sources, make sure to visit my FAQ post on my kitchen design where I've sourced all of the non-decor elements like the backsplash, appliances, sink, faucet, lighting and hardware.
Stay Connected
Thanks so much for stopping by the blog today! Since writing this post, my kitchen has changed quite a bit. See the newly remodeled look here!
Make sure to subscribe to get my Grace Notes directly to your inbox and to access all my insider perks. You can also follow along daily on Instagram and weekly on YouTube!
~Sarah