Spring Kitchen Decor | Easy Ways to Beautify Your Kitchen For Spring
Hello Friends! I have a few tricks to help you get ready to usher your kitchen into spring! They say the kitchen is the heart of the home (or the way to a man's heart….or something like that) and I would tend to agree! However, the kitchen is also the most practical and utilitarian space in a home, so sometimes people get decorators block. Yes, that's definitely a thing. That's why today I'm giving you some practical ways to beautify your spring kitchen decor without adding clutter!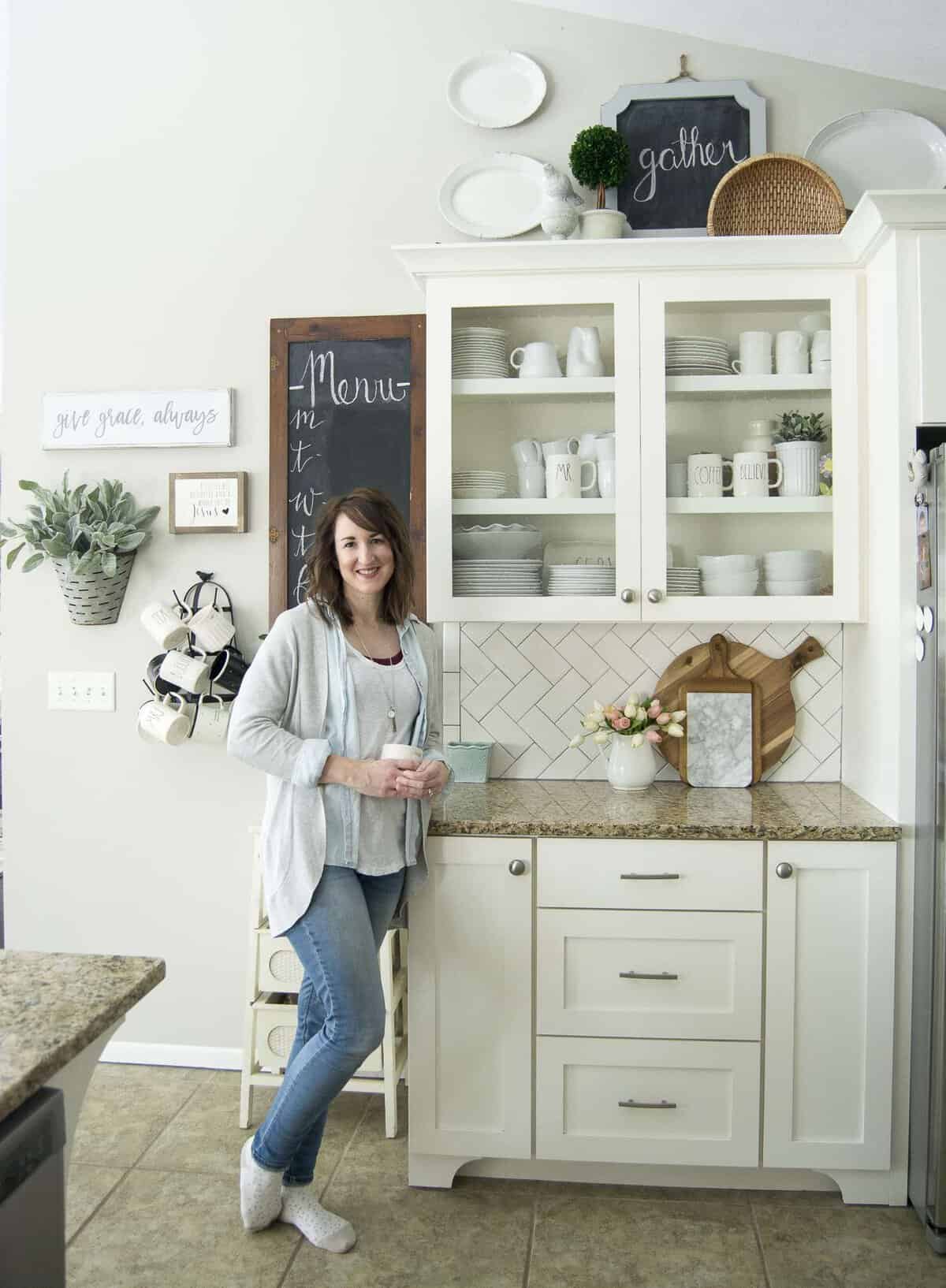 Hey! This is me, Sarah. I figured since I got semi-dressed and the hair was cooperating I'd hop in the shot. How do ya like those polka-dot socks though? 😉

Spring Kitchen Decor | 5 Tricks to Easy Kitchen Decor
Post may contain affiliate links where I earn a small commission at no extra cost to you on your purchases.
Trick #1: Invest in Pretty & Practical Kitchen Tools
The number one way to decorate your kitchen for any season (not just spring…but don't worry, we're getting there) is to incorporate every day kitchen tools into your decor. This not only brings warmth and character to your kitchen, but it also cuts down on decor clutter because your displayed items are serving a purpose.
When you buy cutting boards, utensils, pitchers, coffee mugs, towels, jars, even paper towel holders, make sure that you are buying quality products that can serve a dual purpose.
These days there are so many options to choose from in the realm of kitchen gear. So here are a few of my favorites that are not only functional, but aesthetically pleasing to display as well!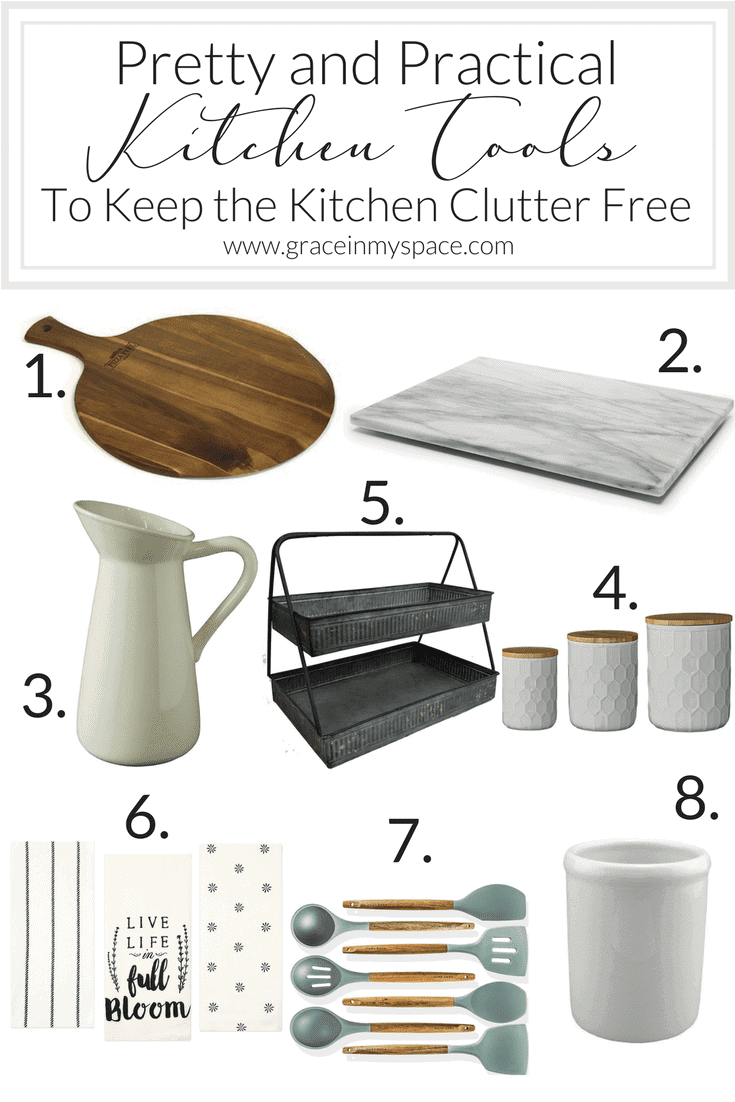 Trick #2: Beautify with Florals
Add florals. I know. That isn't ground breaking. But it is true! My eye is always drawn to live plants in a home. There is nothing that says spring like adding a bouquet of tulips, a live plant, or some touches of greenery here and there. Plus, adding florals or greenery is the easiest way to perfect spring kitchen decor with little effort. To see all my absolute favorite faux florals, click here.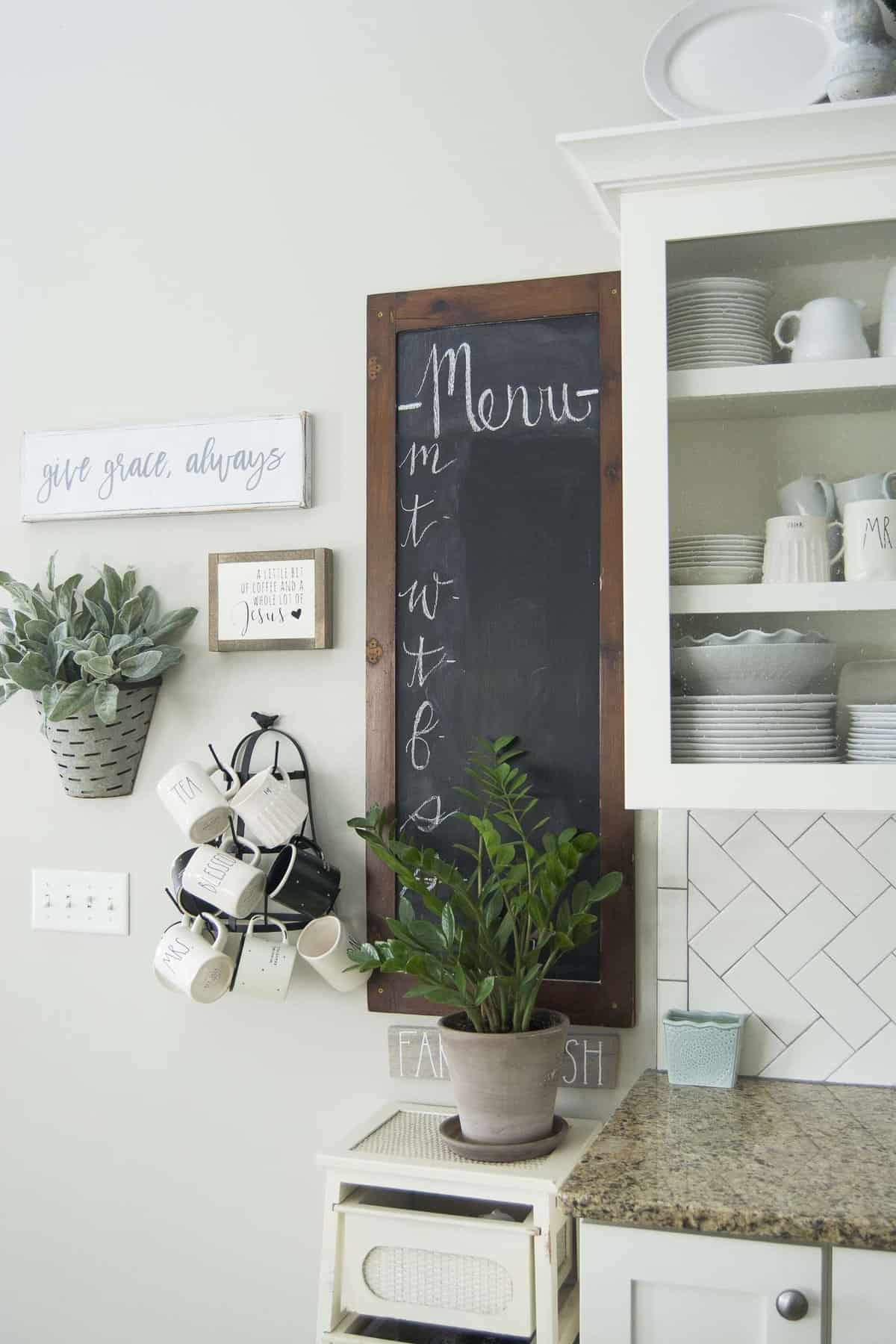 And, if you are nervous about adding live plants, then fear not! I rounded up my personally tested (which means they've been tested by the blackest thumb gardener you'll ever meet) live indoor plants for you here! Be fearless and buy a live plant! I promise it will make a difference in your home. My top 2 favorite live plants are the ZZ plant and the pothos plant. Unkillable, I tell you. 😉

Trick #3: Select Character Pieces
Add a few character pieces to your spring kitchen decor. An antique corbel, a vintage wood bowl, ironstone of any kind, and baskets are my go-to pieces. These bring some warmth to the space without feeling too much like traditional decor. They blend seamlessly into the kitchen because it makes sense that they would be there!

Trick #4: Add Artwork
While I like to keep the majority of my spring kitchen decor practical, it makes a statement to incorporate some artwork. Artwork in the kitchen, you say? Yes! Spring prints can be effortlessly blended into kitchen shelving or on walls for a touch of sophistication. Bonus: Most botanical prints are extremely affordable.
Here are a few of my favorites!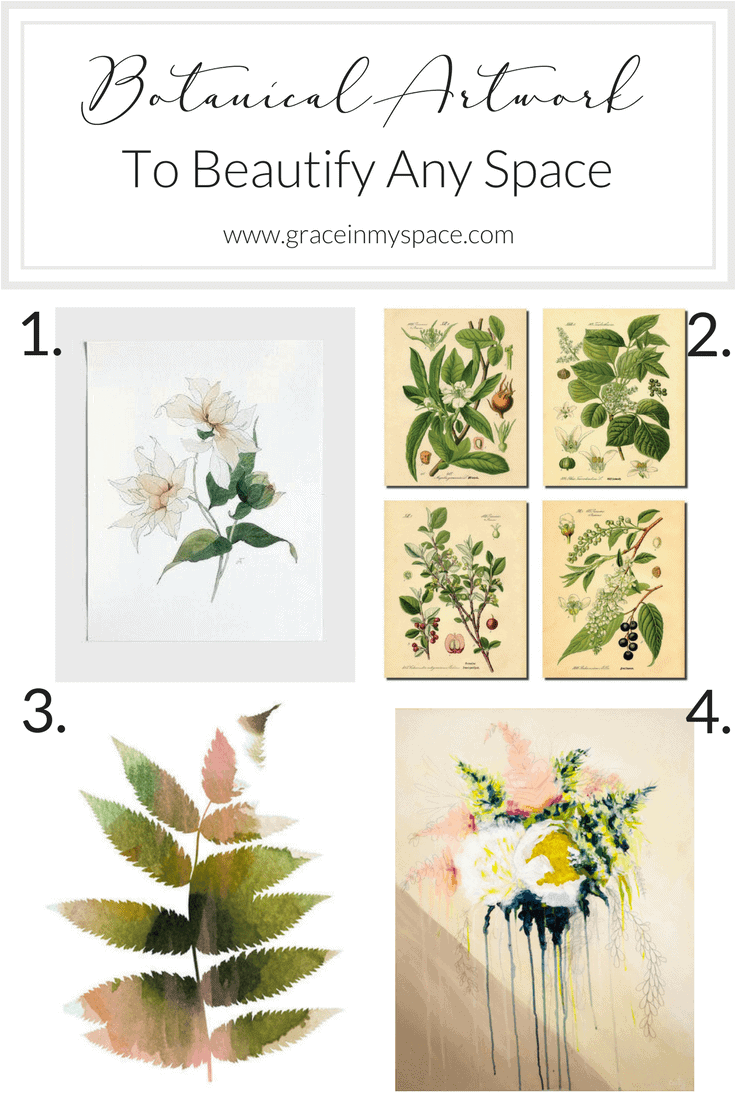 Etsy is an amazing source for artwork with hundreds of artisans producing breathtaking work daily!
Trick #5: Keep It Simple
Personally, I want my spring kitchen decor to be simple and clean with a touch of pretty. It tends to be the landing ground for all things "life" so I don't want to clutter it with too much decor! Designate space on your countertop and on shelving where you will focus your decor and leave the rest clutter free! No one wants to have to move decor out of the way to bake a batch of cookies. 😉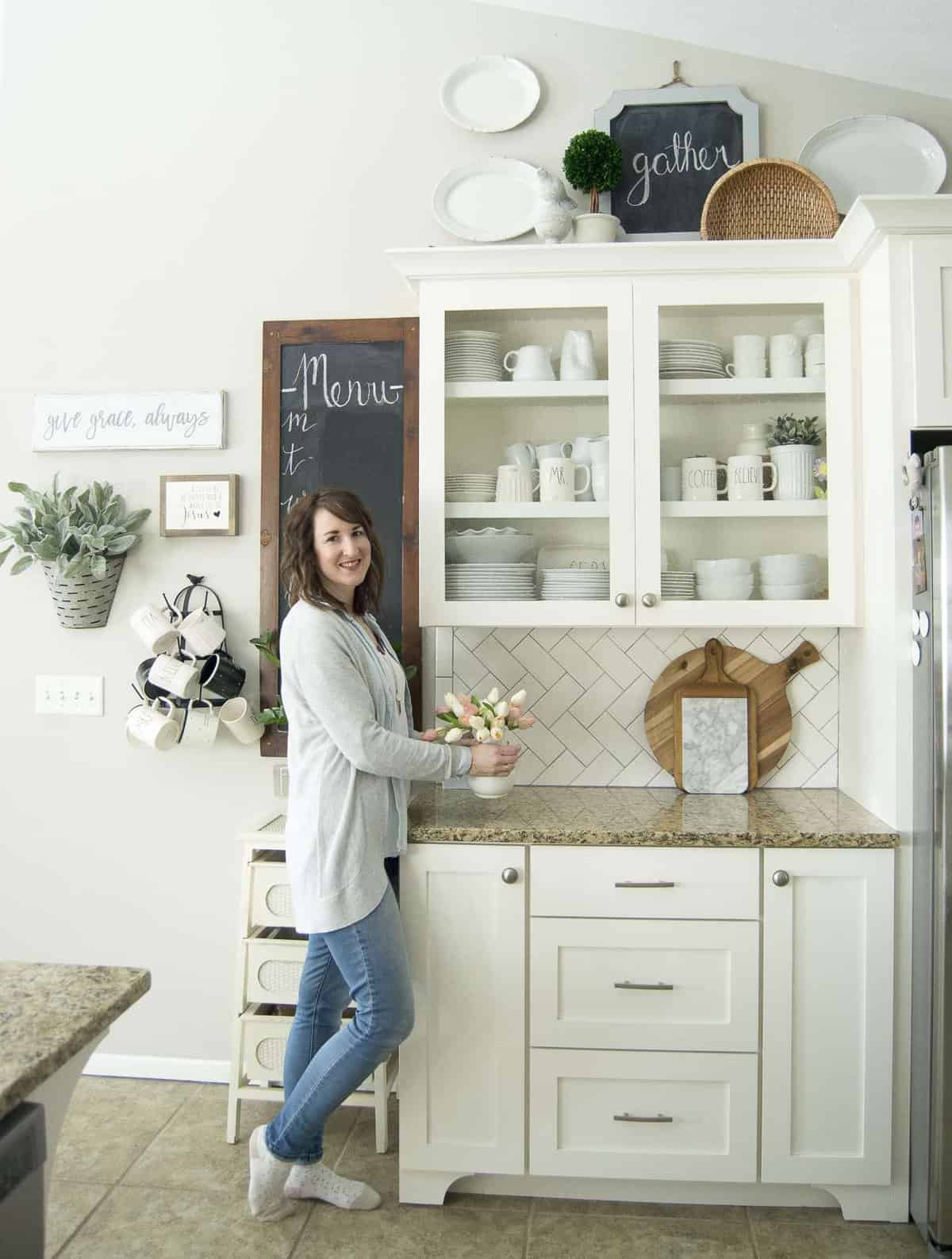 I hope that was helpful to you as we head into the spring season! If you've never decorated your kitchen for spring then I suggest starting with one live plant and a bouquet of my favorite tulips. After that, be on the lookout for a few fun pieces to add in over the years! Decorating doesn't have to happen all at once. Take your time and just enjoy simple additions every now and then.
What is your favorite way to decorate for spring? Leave me a comment below!
{A rose by any other name would smell as sweet} – William Shakespeare
SaveSave
SaveSave
SaveSave
SaveSaveSaveSave
SaveSave
SaveSave
SaveSave
SaveSave
SaveSave
SaveSave
SaveSave
SaveSave
SaveSave