How to Extend a Kitchen Island | Top 10 Options
Do you have a kitchen island that isn't quite large enough? Learn how to extend a kitchen island with several options! Plus, see how my kitchen island extension turned out with our recent mini kitchen remodel.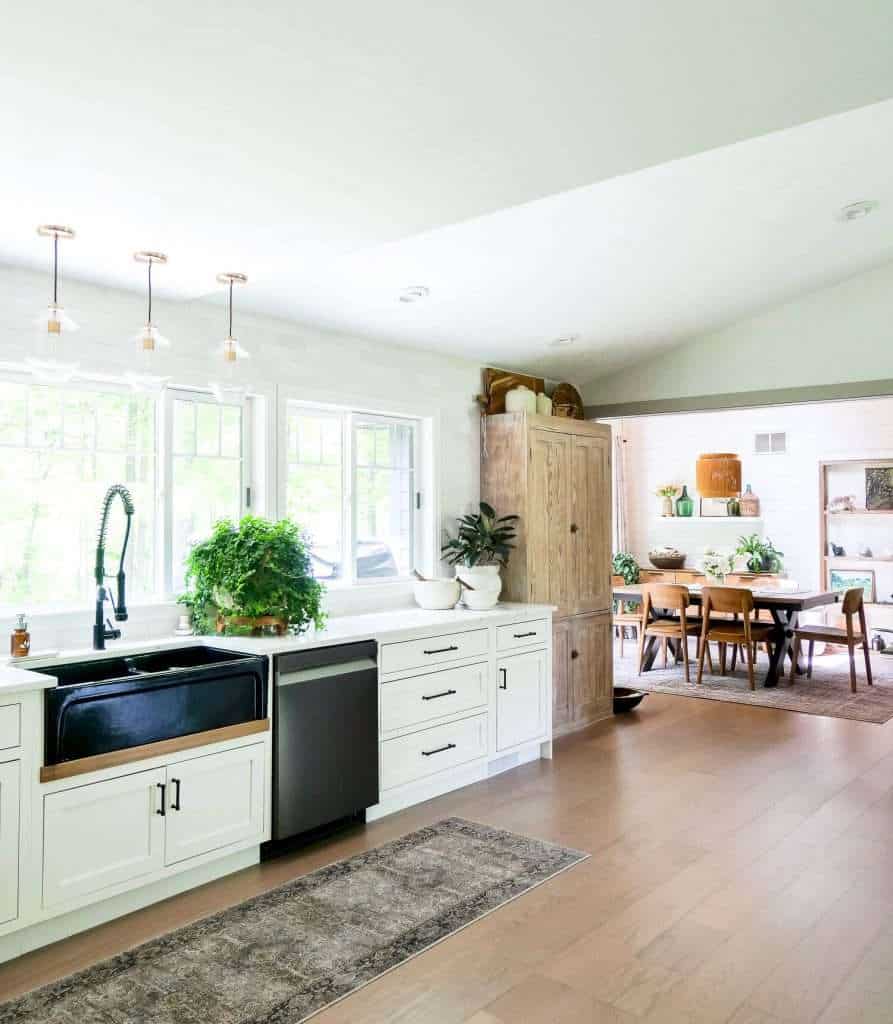 Post may contain affiliate links for your convenience.
Mini Kitchen Remodel Update
When we did our kitchen remodel in 2019, I didn't think ahead to accommodate for our growing family. That left us with a super tight eating space in the kitchen, where we like to eat breakfast and lunch together.
Even though I designed the original island to be 43″x84″, it was elbow to elbow when all four of us were sitting at the countertop. I had thought that kitchen island size was enough for four stools.
While they did fit, it wasn't comfortable and left no space for additional seating.
When we decided to replace the laminate flooring on the main level, it was the perfect time to also extend the kitchen island!
We also decided to darken the island to match the new flooring.
In the process, I discovered many ways to extend a kitchen island. Learn how to extend a kitchen island and choose which option might be best for you!
Kitchen remodel regrets
If you're interested in all of my kitchen remodel loves and regrets, make sure to check out this YouTube video! Hit the subscribe button while you're there!
how to extend a kitchen island
There are multiple ways to extend a kitchen island so you have more seating and/or counter space, depending on your needs.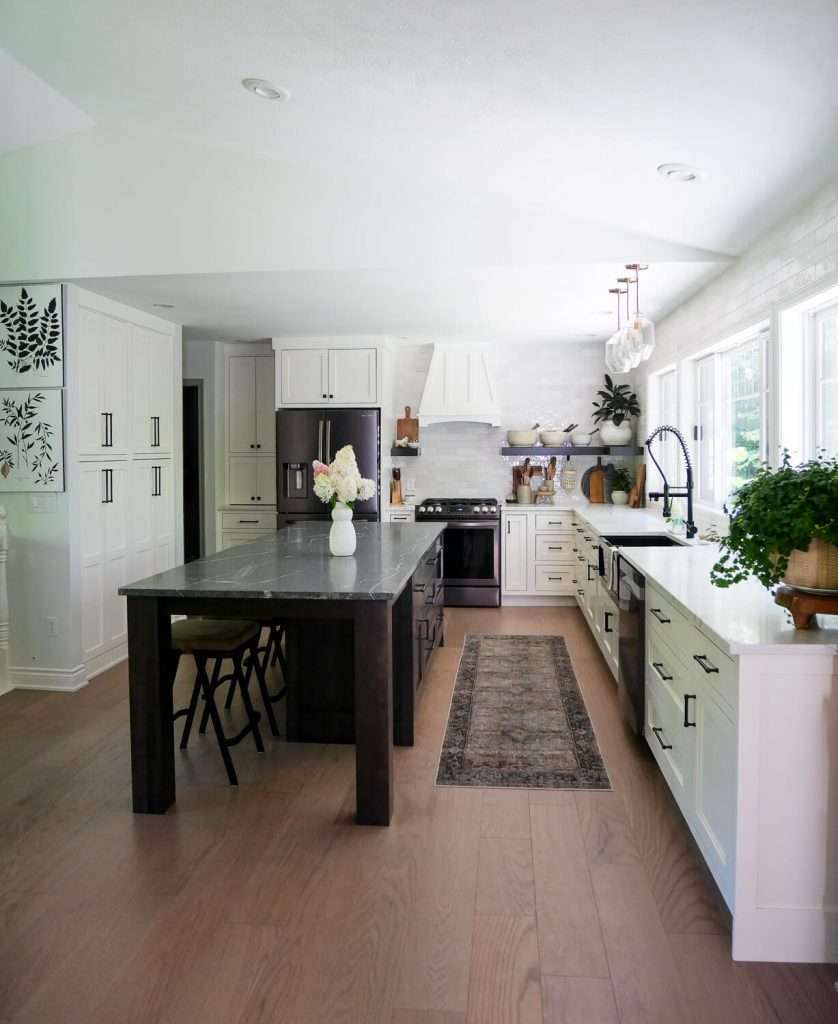 All of these options include how to lengthen a kitchen island that is already installed.
Island Extension + keep existing countertops
Add another level to an existing kitchen island
Incorporate a stand alone island extension
Butt a new work surface to your existing countertop
Add a table to your existing kitchen island
Add butcher block to one end
Island extension with new countertops
Extend a kitchen island with legs
Add a cantilever countertop
Install an open waterfall countertop
Install additional base cabinetry with a new island top
DIY an end cap with shelving (Can also be done with existing countertops by using butcher block or another top for this addition.)
The majority of these are self explanatory. However, I wanted to dive into my favorite options in more detail!
how to extend a kitchen island with legs
Our kitchen island extension was done by reusing our original kitchen island cabinetry and adding legs.
This included lengthening the skirting to 10 feet long to support the additional countertop overhang.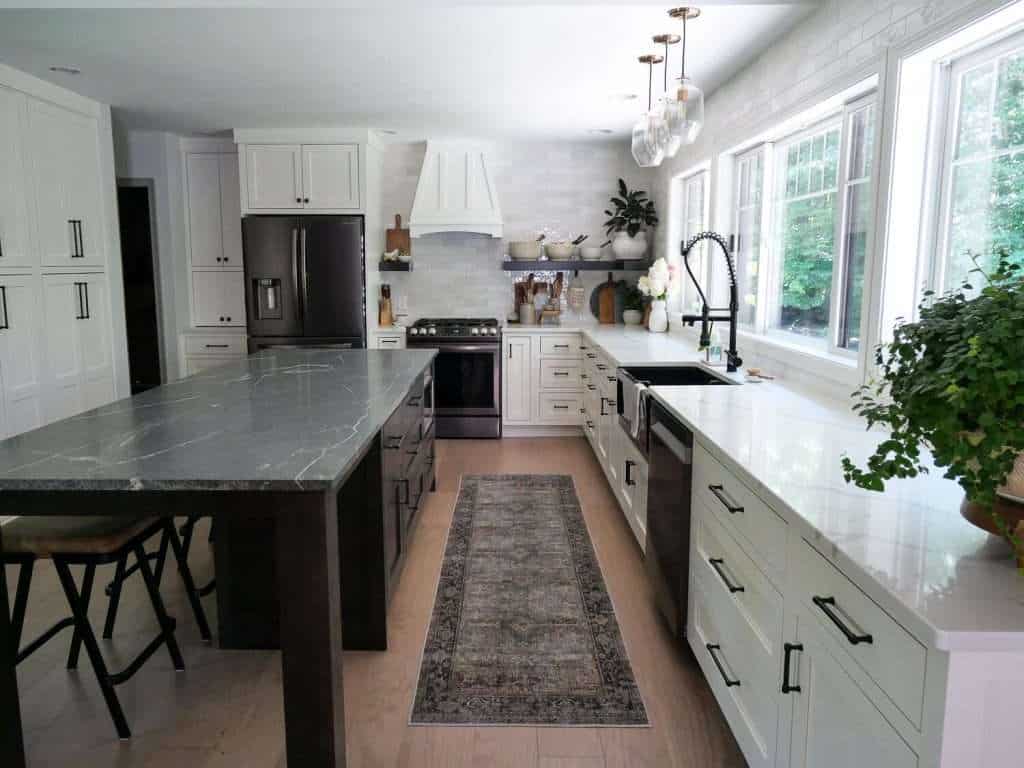 We now have about two and a half feet of open space on one side of the kitchen island. This is excellent for additional seating if we ever need more stools.
By choosing to extend the kitchen island with legs, we were able to save money by reusing the existing base cabinets.
While we did pay to have the cabinets refinished to this beautiful charcoal color, the majority of the cost was in the island legs and a new island countertop.
How Much Does It Cost To Extend a Kitchen Island?
The cost to extend a kitchen island can vary greatly.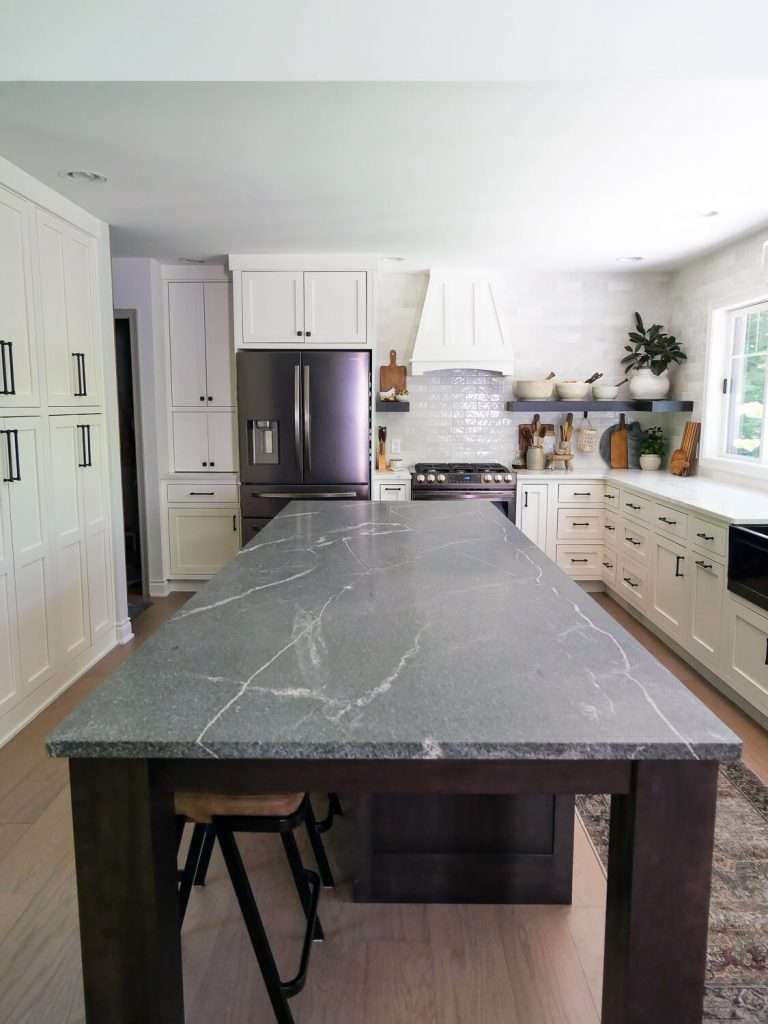 Each kitchen island extension is going to cost a different amount, depending on:
The materials you choose
How much of an extension you create
If you need to replace the countertop
Labor and installation costs for your area
The type of extension you decide on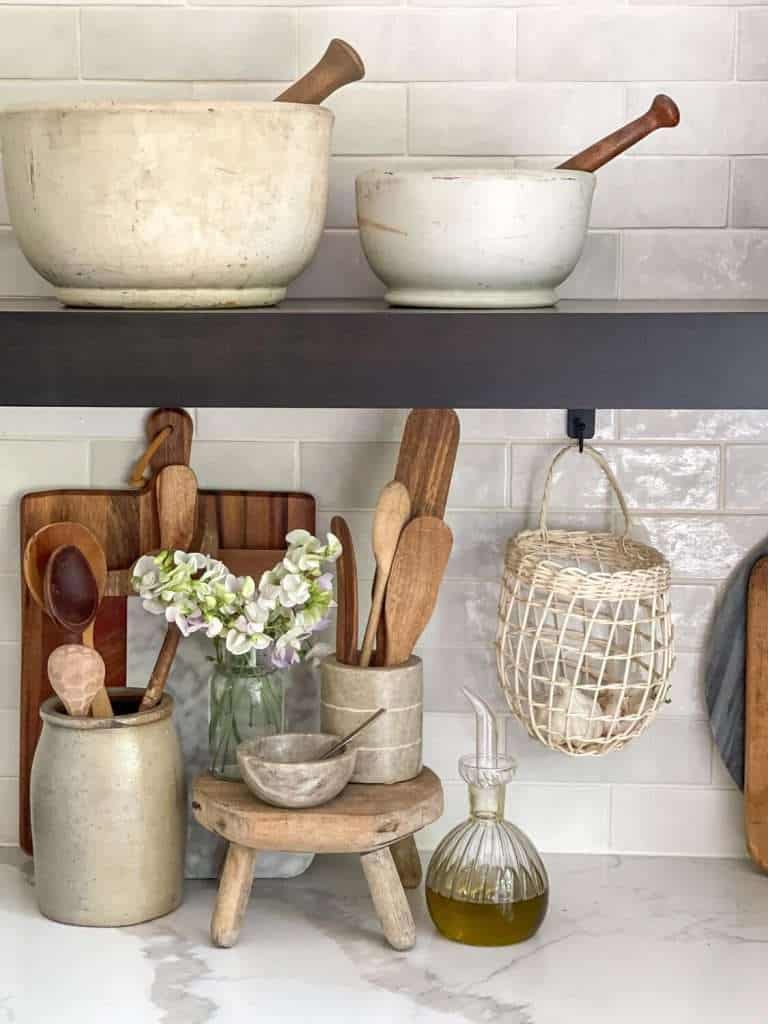 You can find a stand alone island extension that is several hundred dollars, or you can install a custom extension that can cost several thousand.
Shop My Kitchen

Incorporate a stand alone island extension
If you are looking for a very budget friendly option, I would highly recommend adding a stand alone island extension.
This can be done by either purchasing one pre-made, or crafting your own to the dimensions you need.
Island extensions come in a variety of sizes. However, the majority of them are for additional counter space, rather than additional seating.
You can add surface space with shelving like this extremely affordable option that also offers storage.
However, if you're looking to add seating, try an option that has an open area for leg room like this extension. While it can serve as a stand alone island in small kitchens, it can also serve as an extension if it fits your island's dimensions.

Most of the time, it will make the most sense to build an extension like this from scratch to work with your existing kitchen island. Most carpenters or handy DIYers can build this type of structure easily for an affordable option.
Add a cantilever countertop
On the flip side, you can extend your kitchen island by adding a larger countertop. While I chose to do this by adding legs for support, you can also accomplish the same goal with a cantilever countertop.
Cantilever countertops either extend out one end, or extend over both sides like a balanced table top. Either option gives you more seating and more surface area.
However, you will need to assess how much over hang is stable for the countertop you choose. Working with your local countertop expert is the best way to go about this as it will vary based on material.
You can get a better idea of some cantilever island options in this article.
Butt a New Work Surface to Existing Island
Let me quickly discuss one item that might have been confusing from the list.
Adding a new work surface to one end of an existing island is a viable option to extend your island.
You can do this by building an extension of any kind, and then adding a contrasting material for the top.
Butcher block is often a great material to use to accomplish this.
As you can see in this beautiful kitchen designed by Studio McGee, butcher block ties in well with white countertops.
The trick to this method is ensuring that whatever extension you create, your two countertop materials hit at the same height for a seamless transition.
kitchen island dimensions
One of my most asked questions from our previous kitchen remodel was, "What are your kitchen island dimensions?"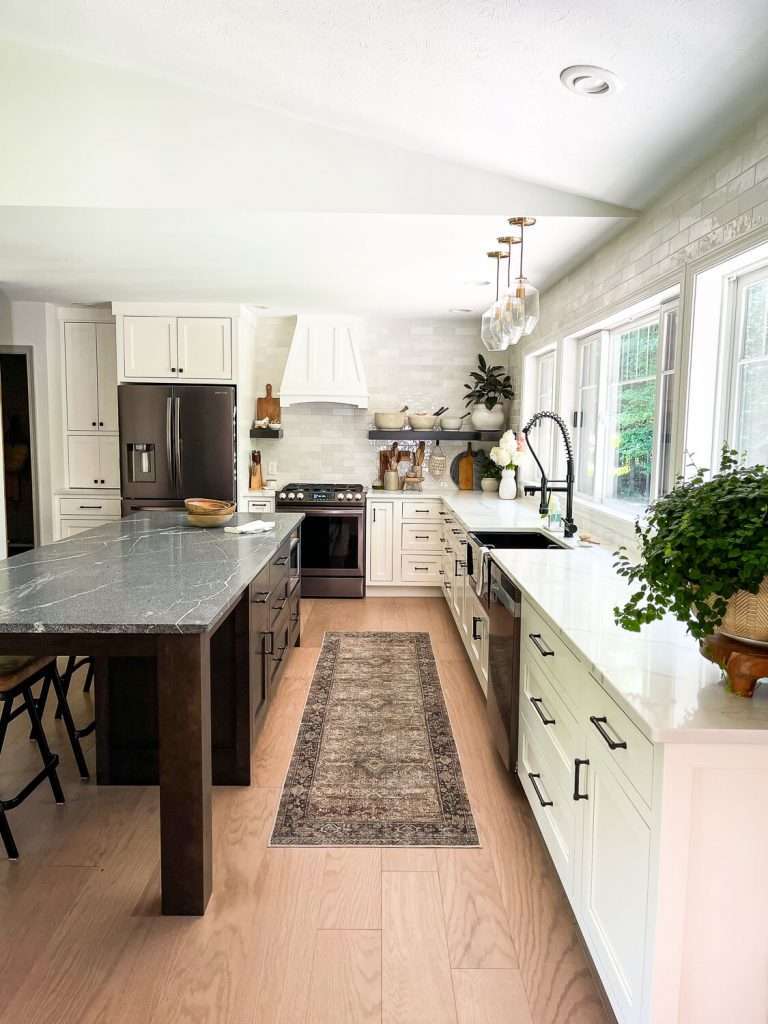 kitchen island size for 4 stools
As I stated above, our first kitchen remodel had an island measuring 43″x84″.
This fit four stools. However, it was tight.
If you have a small kitchen and have no wiggle room, this is the shortest length you should go to be able to fit four stools.
On the other hand, you should aim for 10 feet in length to comfortably fit four counter stools at a kitchen island.
Our new kitchen island measurements are 43″x116″. This is just a few inches shy of 10 feet.
We love the new size! And I'm also loving the dark kitchen island stain I chose.
Our previous wood tone accents in the kitchen were more orange toned. With the replacement of our main level flooring, it no longer matched well.
So I updated all the wood accents in the kitchen to a charcoal stain over maple wood.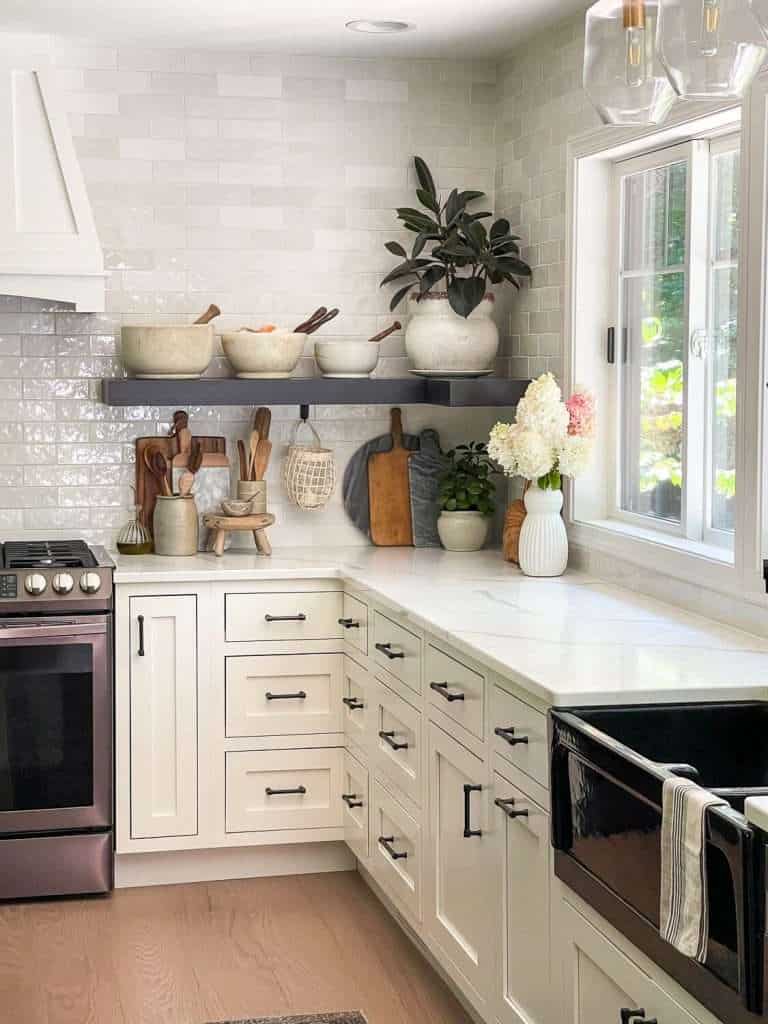 I love the high contrast design it creates!
Plus, there are now less wood tones to compete throughout the entire house.
You Might Also Enjoy…
I hope that this article on how to extend a kitchen island 10 different ways has been helpful to you as you plan your own kitchen makeover!
If you're looking for more kitchen design inspiration, make sure to check out these articles next.
And if you want to learn more about the countertops in our kitchen, check these out!
Thanks so much for stopping by Grace In My Space today! Make sure to subscribe to access all my free guides. Plus, you can follow along with me daily on Instagram and weekly on YouTube!
~Sarah