How to Choose a Flooring Color That's Best for Design, Cleaning & Function
The flooring you choose to install in your home is literally the foundation of your home's design. That isn't a decision to take lightly as it will play into every design decision you make thereafter. Today, I'll be sharing the best tips to learn how to choose a flooring color that focuses on design, clean-ability, and long term functionality!
This post is sponsored with thanks to Dogwood® by Bruce® Flooring.
Post may contain affiliate links for your convenience.
Why we are updating our flooring
Let's start with a quick recap of our decision making if you are new to Grace In My Space! We have lived in our home for 4 years. When we first moved in, I knew immediately that we would eventually update the flooring throughout the house.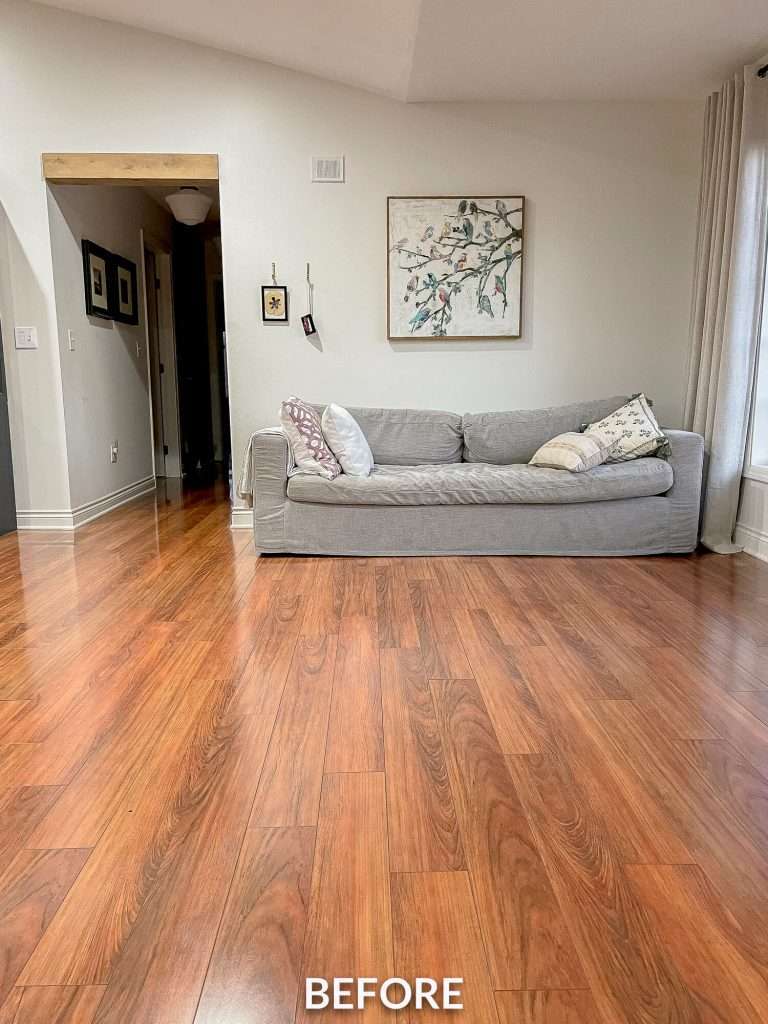 We did the basement first to get rid of 20 year old pink carpet, then updated the guest bathroom, and now, four years later we are tackling the main level!
Our original flooring was laminate that was peeling, heaving and gapping throughout our home. It was also very red and very shiny. Two things I do not look for in flooring.
So, when Dogwood® by Bruce® Flooring reached out to me to discuss a partnership, I jumped at the opportunity! We'd been looking at Bruce® Flooring for the last year as a top contender once we were ready to update our flooring. So it was a natural progression to partner with them to showcase their new densified hardwood flooring.
What is Engineered Hardwood
While there aren't many different types of engineered wood, there is a new product on the scene that I'm excited about.
If you're wondering, what is engineered hardwood, it is essentially a combination of plywood layers with real hardwood layered on top. This creates a very strong and durable hardwood floor that has more stability than solid hardwoods. This is a great option to avoid the risk of heaving and swelling!
However, Dogwood® by Bruce® Flooring takes it even farther with a new type of engineered hardwood made in the USA. This product is called densified hardwood and is a 100% natural engineered hardwood that uses a natural process to densify the wood. Using heat and pressure, their procedure closes the open cells of the hardwood to make it the hardest wood flooring on the market.
We chose this engineered oak flooring because it is scratch, dent and water resistant, and will stand up to our large dog, two cats, and our active family.
How to Choose a Flooring Color that's best for you
Now, let's dive into how to choose flooring that works best for your family. For this article, I will focus on how to choose a flooring color specifically.
The type of flooring you choose is dependent on your family's lifestyle and needs. Personally, I've had LVP, laminate, bamboo, solid hardwood and engineered hardwood in our homes and each of them have different strengths and weaknesses. So do your research on the type of flooring you want, and then let's dive into design!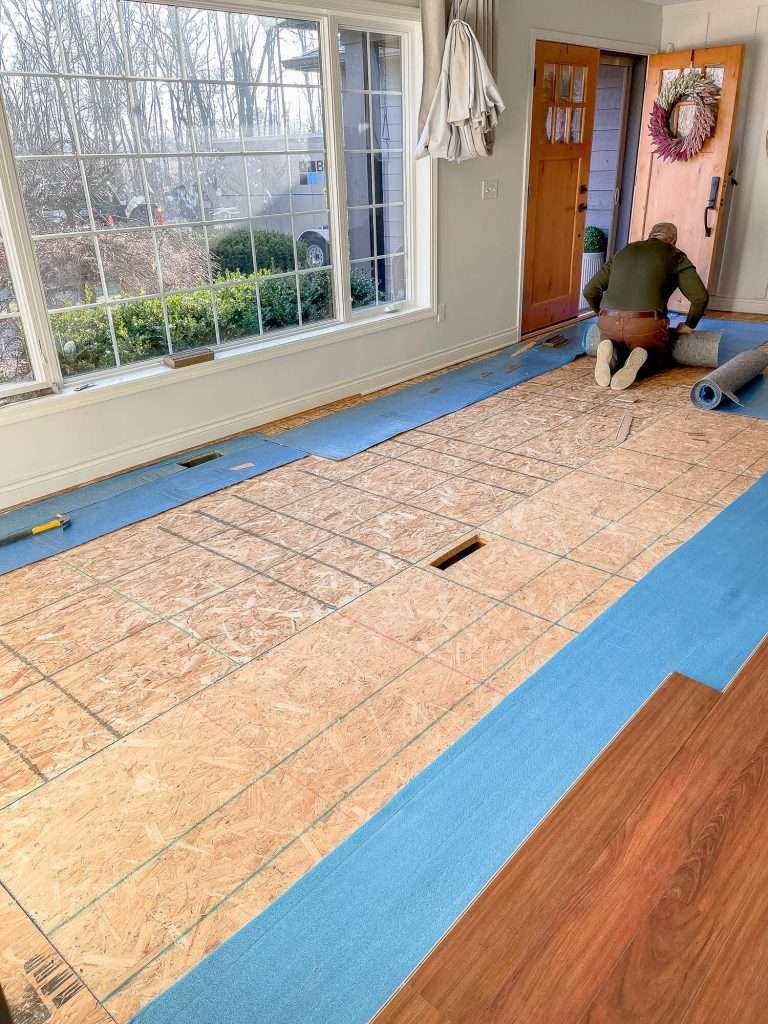 Choosing your flooring color is an extremely important decision. It can feel very overwhelming as there are hundreds of base colors, undertones, and wood species to choose from. However, there are three main factors to consider for how to choose a flooring color.
Functionality
Design Style
Clean-ability
How to Choose a Flooring Color: Functionality
Our Dogwood® by Bruce® Flooring densified wood planks are a red oak flooring. Red oak is a very common flooring choice and is already highly durable, even before the densifying process.
So, when deciding how to choose a flooring color, start with the functionality of your space. If you need a highly durable floor for a high traffic space, then your wood species matters.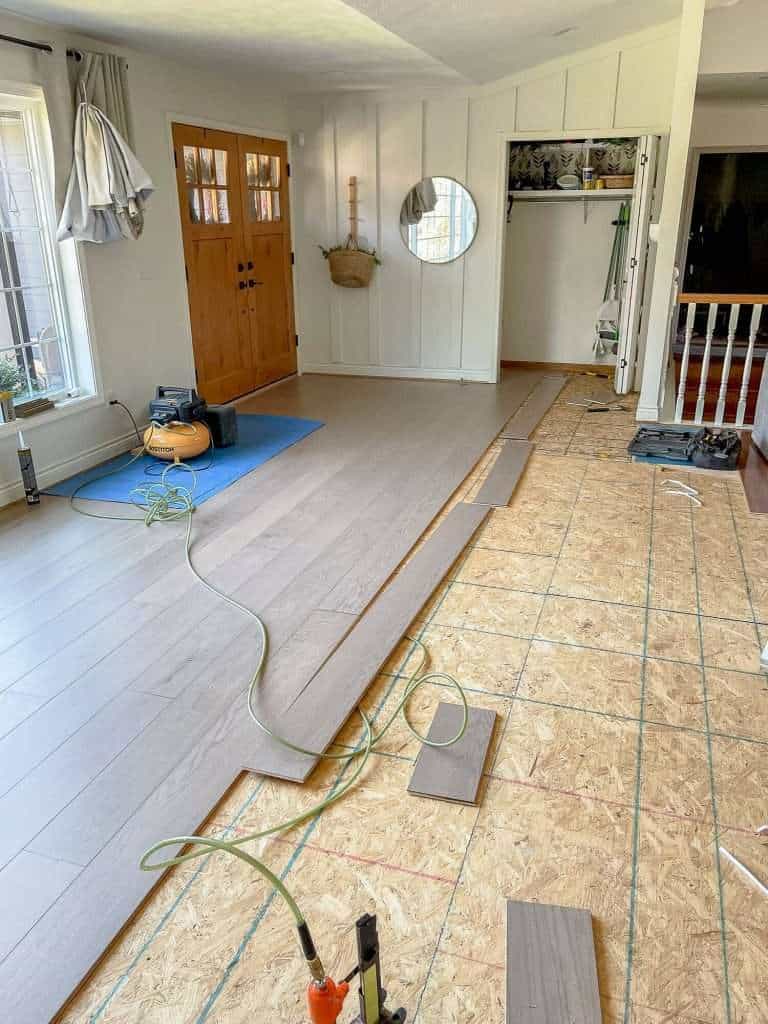 Harder woods, like white oak and red oak, will take stain differently than softer woods like pine or maple. Each wood species has its own undertone that will impact the final color of your wood floors. Here are some of the most common species of wood floors and their undertones:
Red oak: pink
Cherry: red
White oak: brown, taupe
Maple: orange
Walnut: brown
Pine: yellow
So the first decision you need to make is, how durable do my floors need to be?
Choose your wood species based on how much abuse your floors will take, then you can consider how that species' undertones will impact your flooring color once it's stained.
How to Choose a Flooring Color | Design Considerations
Once you have chosen your wood species, it's time to consider your design style!
Our previous red laminate floors were very much outside my preferred design style. I do not love to include red, orange or yellow tones in my home color palette, so toning down our flooring was a big deal to me.
Start by defining your design style.
This will help guide you with your whole home color palette. If you don't know how to define your style, make sure and check out this two part series on YouTube that will help you define your style and put it into action!
Once you have defined your style, you can pull together the overall mood of your home.
If you love organic design, you may want a richer color floor. If you like bold design choices, you may want to do a darker color with a high grain pattern. If you prefer minimalism, lighter woods provide a fresh palette.
Should you have the same flooring throughout your house?
On a side note: While you're planning your flooring design, take into consideration the other areas of your home. You can certainly have the same flooring throughout your house to provide consistency and good flow from room to room.
However, it isn't necessarily a design mistake to choose more than one type of flooring either. Sometimes it makes more sense to have tile in an entry, carpet in a bedroom, or LVP in a basement. However, when it comes to flooring color, you'll want to ensure that different types of flooring flow together well.
Choose complementing colors and try not to mix and match too many different flooring options throughout your home and you'll be good to go!
How to Choose a Flooring Color | Clean-ability
Now, the more important question for all of us homeowners, "What color flooring shows the least dirt?"
Let's be honest. No one wants to deal with high maintenance flooring. So, what flooring looks cleanest? Typically, lighter color woods show less dirt and dust.
Dark floors can easily show dust, while lighter floors mask it. Similarly, matte floors show less smudges, foot and paw prints than high gloss flooring. On the other hand, no flooring color can eliminate dirt from coming into your home. No matter what, you still have to clean!
So while I'd lean towards lighter color flooring for less frequent cleaning, that doesn't mean that darker tones don't clean up well.
It's all a balance of how often you want to clean v. the look you're going for. I specifically chose the color Shetland for my Dogwood® by Bruce® Flooring engineered hardwood because:
It is a matte finish
It has a high variation of the wood grain to create movement and mask debris
It resists scratches and dents
It's softer light coloring will mask dust better
It has an antimicrobial protective coating
Flooring Before & After
I hope those three considerations are helpful as you choose your own flooring color! We are so pleased with how our new Dogwood® by Bruce® Flooring hardwoods have totally changed the look of our home.
We went from bold shiny floors to a much softer modernized look. This will make decorating much easier for me because I no longer have to compete with red tones in every room!
Plus, I'm excited for the durability of these floors to stand up to our active family and last us for years to come with the commercial-strength warranty.
Make sure to head next to check out Dogwood® by Bruce® Flooring and all its beautiful colors to choose from!
Read More…
Thanks so much for stopping by the blog today! I hope you found this post helpful. You can subscribe to the blog to gain access to all my insider freebies, tutorials and more!
Make sure to check out these other posts I think you'll find interesting.
~Sarah