European Stone Fireplace Design Reveal
Old stone fireplaces have an elegance and charm that's hard to recreate. However, I've wanted to add that type of character to our gas fireplace in the living room since we moved in in 2018. We've finally built a European stone fireplace design in our home and I'm excited to reveal it today!
This post may contain affiliate links for your convenience.
European Stone Fireplace Design Ideas
Stone fireplace ideas are all over the internet. However, most of them are modern stone fireplaces with sleek finishes or stacked stone.
My heart has always gravitated to the old European style stone fireplaces. They have a storied character about them. They tell a story of hard work, craftsmanship and standing the test of time.
So, when we finally decided to build a stone fireplace to replace our drywall fireplace, I began my search for the best stone for a fireplace I'd love.
Turns out, there is not a lot of in between. There are thousands of modern fireplace ideas. Thousands of rustic fireplace ideas. But an old-world European stone fireplace design? That was hard to find.
So I started saving images on Pinterest that were similar to the idea in my head. Then, I used those images to discuss with our builder, mason, and stone yard what was needed to bring my vision to life.
I'm excited to share the result with you today!
The Evolution of Our Fireplace Design
Quickly, let's walk through the evolution of our fireplace design.
When we moved in in 2018, the fireplace had a traditional floating wood mantel, river rock hearth stones, and flat drywall surround.
Over the course of two years, we updated the river rock with a german schmear technique. Then, we replaced the mantel with an authentic barn beam.
These were very easy and extremely affordable updates that helped tide us over until we were ready to do a bigger remodel.
You can learn more about those updates below.
Now, after 4 years of dreaming and planning, we've finally made our dream fireplace design come true!
How to Build a Stone Fireplace
While I love a good DIY, this project felt over my head. We hired out the construction for this fireplace remodel.
Our last fireplace remodel resulted in a more modern stacked stone fireplace that I loved. But it didn't feel quite right for the style of this home.
I pulled together a curved fireplace design that felt storied and less modern than all of the straight stone fireplace designs. Since I wanted those curves, it felt beyond my DIY capabilities.
And this is definitely a job I wanted done right.
Designing the Fireplace Shape
The first step was to design the shape I wanted. A lot of the rustic stone fireplace ideas I came across had a bit of a shape to the top portion of the fireplace.
However, most of them were too angular.
So, my builder and I spent several hours adjusting a curve template on the wall until it was just what I was envisioning. Sometimes, it works best to do this in design software. Other times, it works just fine to literally draw it on the wall!
Choosing a Fireplace Hearth Stone to Complete a European Stone Fireplace Design
The next step was to choose a fireplace hearth stone.
What is a fireplace hearth?
A fireplace hearth stone forms the floor of a fireplace. In gas or electric fireplaces, it is typically on the floor or used as a bench for a raised hearth.
I'd been researching limestone fireplace ideas because I love the look of a limestone surround.
However, I wanted to keep our existing barn beam mantel. So I chose instead to use a custom-cut solid limestone hearth stone.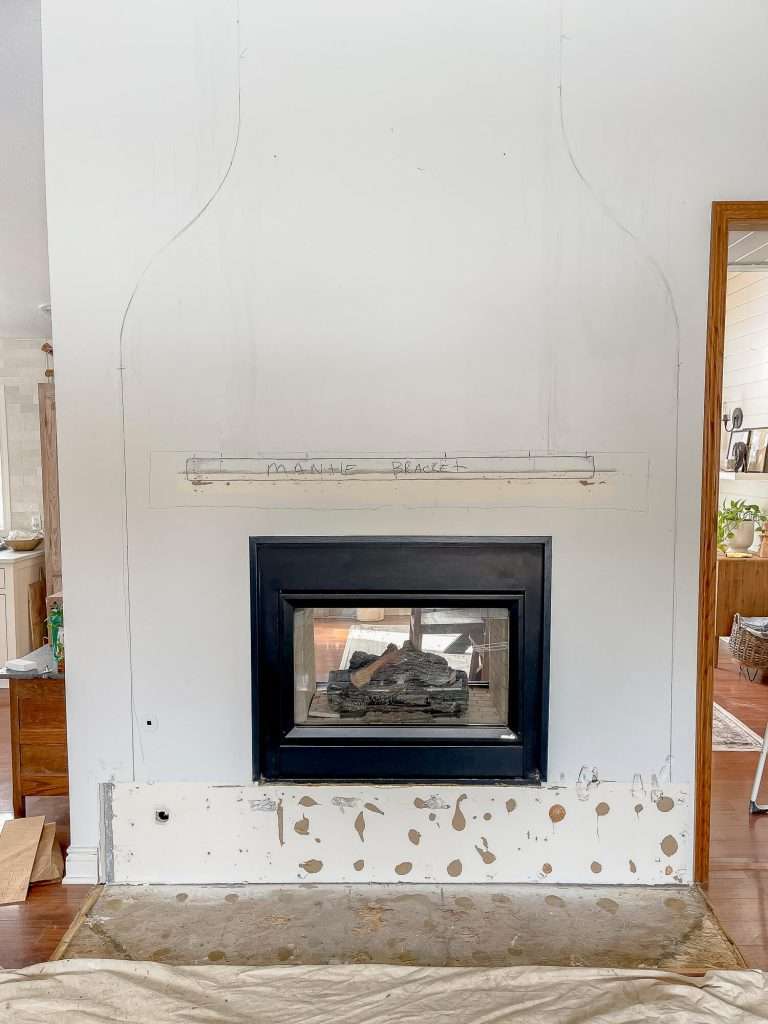 This is the same hearth stone we used in our last fireplace remodel and I love how it works with a modern stacked stone or a rustic stone fireplace.
Some other options for a fireplace hearth stone are:
slate
granite
sandstone
soapstone
quartz
brick
concrete
Essentially, you can use any material that is fire-resistance and highly durable to avoid cracks and chips.
Framing the Fireplace
Once the design was finalized, the framing began. Our contractor took just a few days to fully frame the fireplace in preparation for the stone.
Obviously, each fireplace will have framing done specific to your design and dimensions.
For our curved fireplace, he used wiggle board, which is a special kind of flexible plywood, to frame the curves.
Preparing For Stone
The next step is to prepare for the stone.
Our mason installed the wire mesh first. Then, applied a coat of mortar for the stone to adhere to.
After a night of drying, it was ready for stone.
Installing Stone For the Fireplace
While searching for rustic stone fireplace ideas, I kept coming across a large fieldstone look that I loved. It is very imperfect, like they grabbed a stone right out of the ground and placed in on the fireplace.
As I was choosing my stone for our fireplace, I went for the stone in our budget that could come close to that look.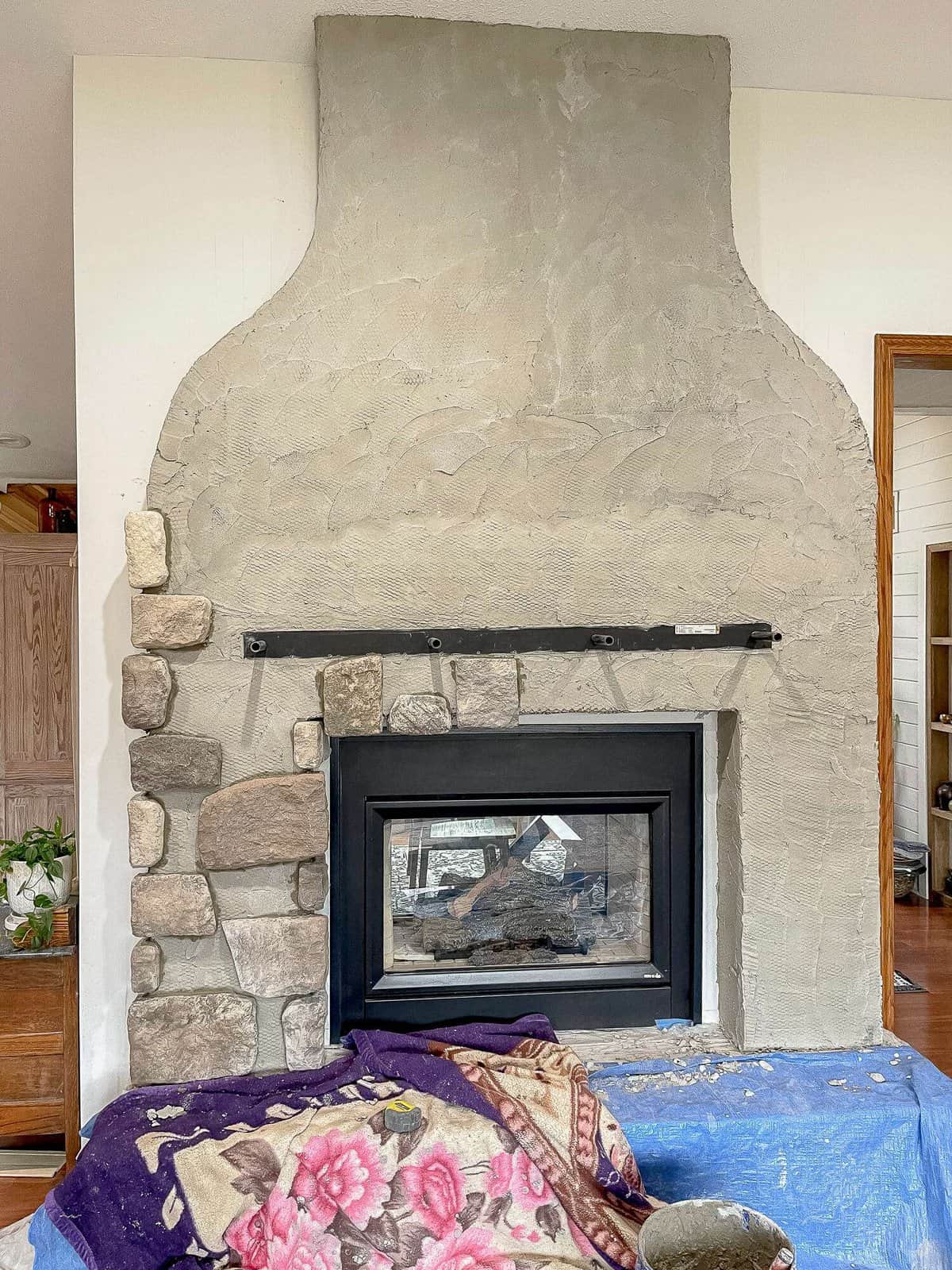 We ended up using a stone veneer from Creative Mines that was large format. I chose three color variations in their Orchard Limestone selection (70%, 20% and 10% variations).
Our mason installed the stone a section at a time and used mortar to grout.
Grout Variations
One of the things most people overlook when designing a fireplace is the vast difference grout can make in the final outcome.
Grout Options to Consider
Large grout gaps
Overgrout
Schmear
Brushed v. tooled
Color
There are SO many various ways to finish out grout that will result in different looks.
I chose an overgrout with hand brushed grout lines. This gives it more of that old stone fireplace look I was going for. Not too perfect and not too symmetrical.
European Stone Fireplace Design Reveal
Our European stone fireplace design came together over two months.
Our mason did the top portion in a week. Then, we waited for several weeks until our floors could be installed before adding stone to the bottom.
And now, it's finished!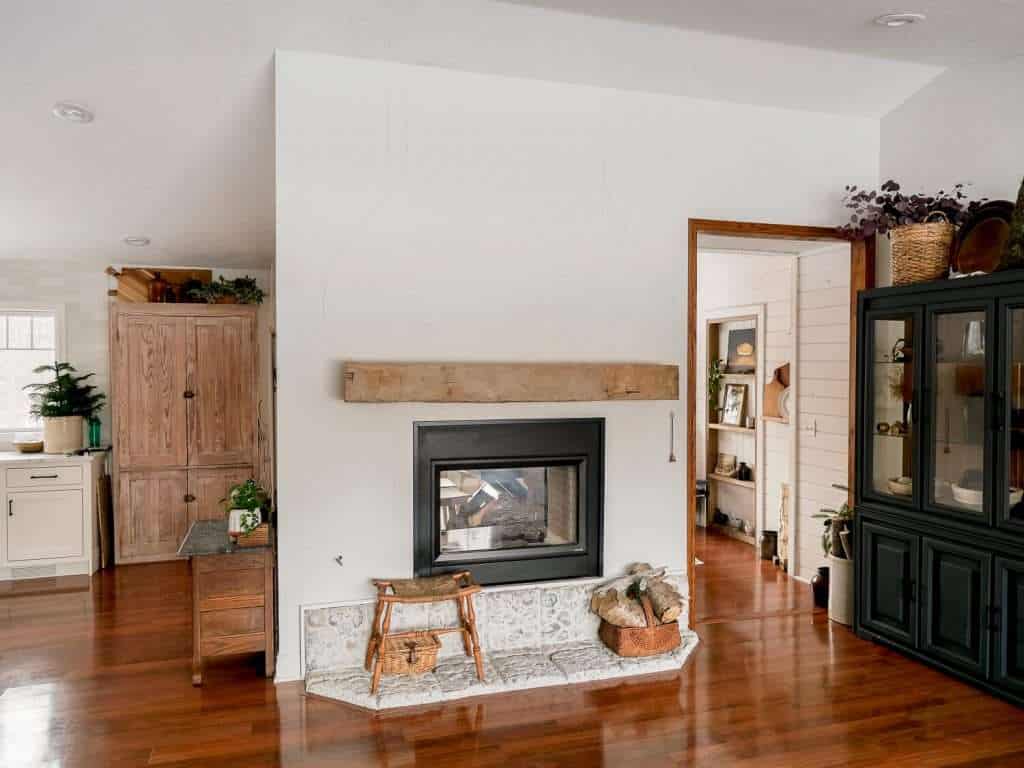 It finally feels like an intentional fireplace! Since this is a double sided gas fireplace, it always felt like the living room side was just floating.
Now, it feels like a design statement and anchor to the room.
The mortar is still drying and will lighten up over time. Now, I just need to decide if I want to keep the mantel this raw wood or stain it slightly darker.
Which would you do? Keep it raw or darken it?
I can't wait to put the room back together and get a final styled picture of the whole room!
You can learn more about our new flooring in this post.
What do you think of how it turned out? More to come on this remodel as we finish up the flooring on the main level and redecorate the whole house!
Make sure and sign up for my newsletter to snag your freebies and this free mantel styling guide!
Thanks so much for stopping by the blog today. I hope this example of a modern European stone fireplace design is helpful as you plan your own stone fireplace remodel.
You can see how the whole fireplace came together in this YouTube video as well. Make sure and hit the subscribe button while you're there!
Until next time,
~Sarah