Top 12 Organic Modern Style Design Rules (2023)
Do you love organic modern style? Perhaps you weren't even sure what to call your design style, but you know that you love modern spaces that feel natural and laid back. That most likely means you'll love to create an organic modern home. Implement these simple top 12 design rules to style organic modern decor in your home today!
Organic Modern Style Defined
Organic modern style is an emerging design trend that finally gives a name to laid back modern spaces. It has guided my design choices for over a year now.
I'm going to break down this style for you so you can see practical ways to add it to your home as well!
What is organic modern design?
Organic modern design is a beautiful combination of two opposing design styles.
On the one hand, we have modern design. This is typically classified by clean lines, smooth textures, and a neutral and bright color palette.
On the other hand, we have organic design. Organic elements are classified by materials that originate in nature. Natural stone, wood materials, leather, and natural fabrics like linen and cotton, can all be included as organic materials.
The beauty of organic modern interior design is that it combines these two opposing styles to create a modern home that is unpretentious, laid back and cozy.
Top 12 Organic Modern Style Design Rules
Now that we've defined organic modern design, let's dive in to the design rules that will help you implement this style in your own home.
The top 12 design rules to create an organic modern home are:
1. Choose a dominating style to anchor your overall home design
Generally, organic modern styles lean more heavily one way or the other. It is best to choose a dominating style that will anchor your overall home design.
You will typically find that most designers lean more heavily on modern styles. Then, they incorporate organic elements through smaller pieces.
However, you don't have to fit into a designer mold! If you love natural elements, anchor your home with that more inviting and cozy style. Add in modern elements in smaller doses to freshen up and make the space more contemporary.
2. Keep your overall color palette more neutral and calming
Oh, and neutral doesn't mean white. Greens, blues and taupes are also neutrals.
The general idea is that modern organic design thrives on a wall color palette that creates space for other elements to shine.
If you go too bold on the walls, it will overshadow the other design elements in the room.
In my home, I do love a crisp white wall to give breathing room for the rest of my decor and furnishings. It also allows me to play with color more freely in blankets and pillows.
However, in my bedroom I still have an organic modern style with green walls used as a neutral. This simply means that I need to tone down my bedding and other accents.
3. Anchor rooms with more modern large scale furnishings
Traditionally, the large scale furnishings in a room define the overarching style.
For organic modern style homes, I like to recommend modern style sofas, beds, and dining tables.
Using large scale furnishings that have clean lines and sleeker finishes makes the room feel fresh and current.
Incorporating the largest pieces in a modern style allows you to add in vintage finds like side tables, coffee tables, credenzas, stools and chairs to ensure you don't lose that organic charm.
Shop My Living Room

---
Landscape artwork above the console table can be purchased using my 15% discount code GRACEINMYSPACE.
4. Add in handmade and/or organic decor and accents
Once you've anchored your home style with a neutral color palette and large scale modern furnishings, it's time to add in the smaller organic decor elements.
Focus on two categories for the organic side of this style:
Handmade
Natural materials
Handmade decor is so charming and lends so much character to a room. The imperfections are what make these pieces special and unique. Etsy is a great resource for handmade items.
Also, include natural materials like wood bowls, cotton or linen fabrics, and pottery.
5. Make a Focal Point from Organic Materials
Part of creating a home that conveys both modern and organic styles is having a balance between the two styles.
The easiest way to create that balance is to add in a focal point using organic materials.
This allows you to design an overall modern space (i.e. wall color and larger furnishings) without losing the organic elements to only smaller pieces.
Some ways to add in organic design focal points are:
Reclaimed wood ceiling beams (or get the look with DIY ceiling beams)
Wood beam headers (you can see how I made a faux header in this tutorial)
Stone fireplace (We built ours from scratch, see it here.)
Visually textured walls (Roman Clay is a great option)
Limestone Fireplace Surround
Reclaimed wood wall or ceiling treatments
6. Play with Soft Curves for Organic Movement
The next design rule for modern organic style is to play with curves.
Look at nature. Nothing natural is perfectly straight before man made it that way.
Trees have bends, flowers are whimsical, water has continual movement, and land can go from rolling hills to mountainous.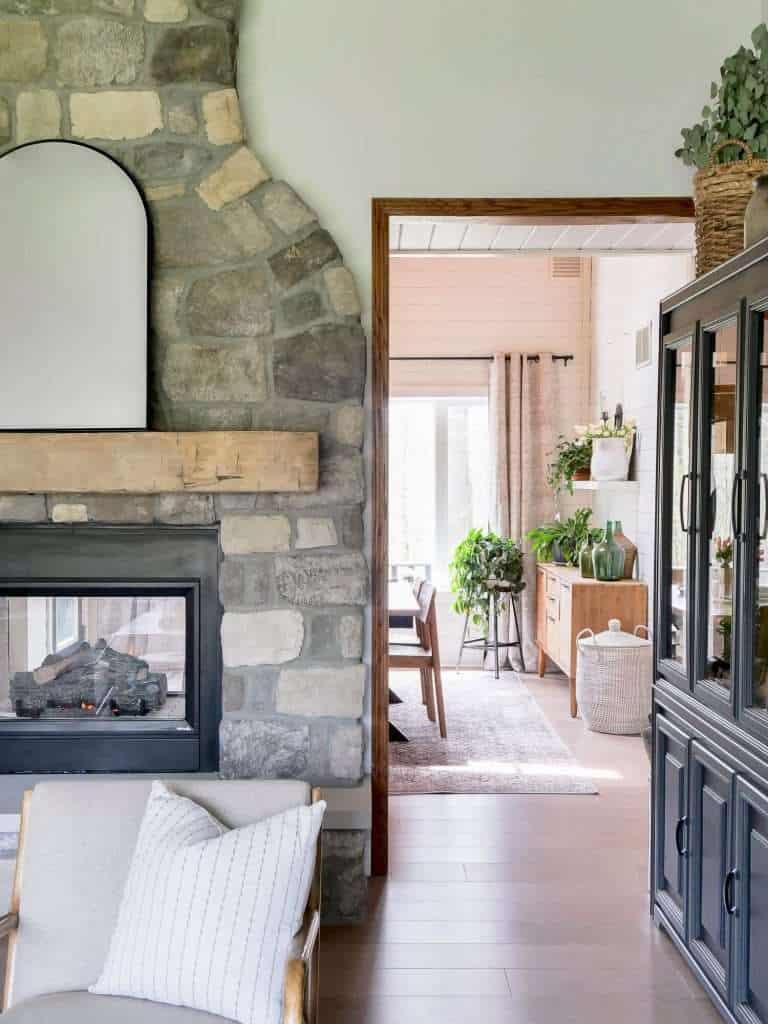 So, when incorporating organic style into your home, you need to add movement.
Look for pieces that bend, twist, have soft curves or aren't sleek. Even something as simple as a pitted coffee table with rounded edges can soften a room immediately.
7. Texture, Texture, Texture
A huge part of modern organic design is texture.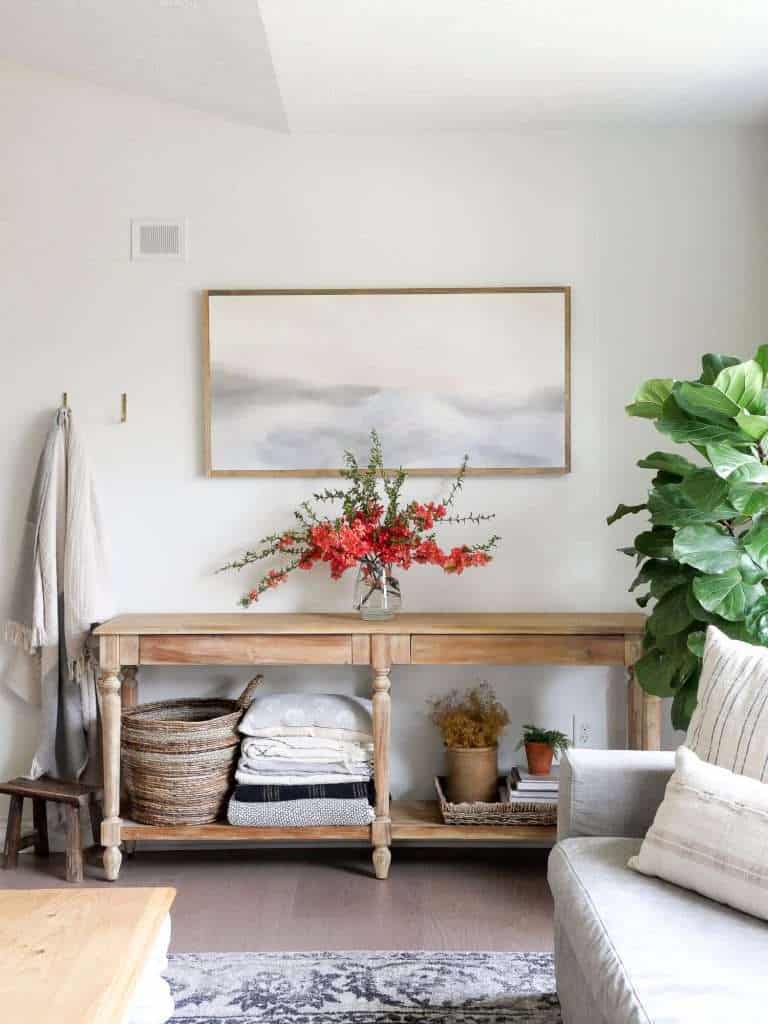 A lot of people are confused by what it means to add texture to a home. I like to keep it simple: if it isn't smooth, then it is a texture.
Reclaimed wood
Plaster or roman clay walls
Nubby pillows
Luxurious linen
Woven baskets
Oil paintings
Textured ceramics
Cotton blankets
Handmade pottery
Plush area rugs
Handblown glass
Adding texture creates a cozy environment that softens the modern elements you have at the same time.
8. Incorporate Vintage or Antique Items
One of the easiest ways to add organic elements to your home is with vintage or antique pieces.
Antique pieces, especially, have that handmade craftsmanship that you rarely find in modern furnishings.
Vintage items offer a character and charm that tell a story and create conversation in your space.
9. Include Live Plants
I would be remiss if I neglected to talk about plants.
I love adding plants to my home. And what better way to add organic style than with actual living nature!
I love larger plants like fiddle leaf figs, monstera, kangaroo ferns, rubber trees, and taller varieties of trees that can be grown indoors. These larger scale plants act as anchors in a room and serve as decor at the same time.
Of course, smaller plants popped around a home help tell this story of nature in your home. You can learn more about indoor plant care in the posts below.
10. Use Unexpected Combinations to Highlight Your Organic Modern Style
Lastly, use unexpected combinations in your styling.
The foundation of organic modern style is combining two opposing styles.
Modern v. Organic
Sleek v. Soft
Smooth v. Textured
New v. Old
Straight v. Curved
So, when you are styling, use those differences to your advantage to create something interesting.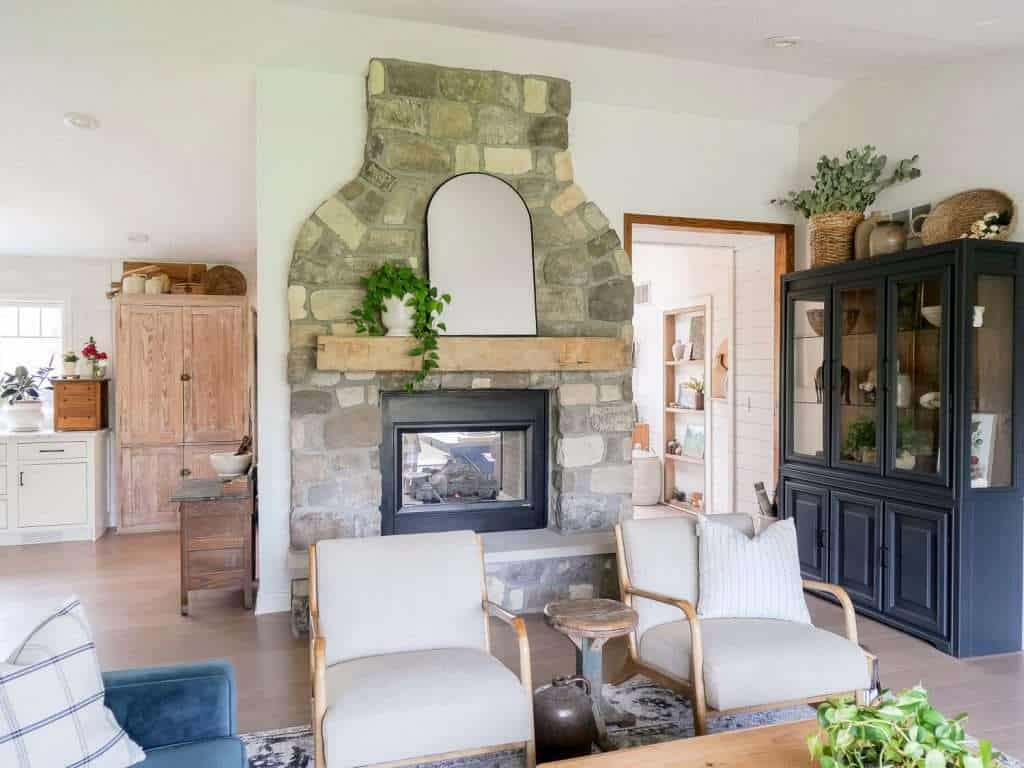 Combine a rustic coffee table with a clean lined sofa. Use handmade, imperfect pieces on top of a sleek credenza or console table. Mix in natural stone textures with glass shelving.
Think outside the box to create a look that is unique to your eye and your personality. Don't be afraid to step outside the "design rules" and do something unkempt or unexpected.
11. Hunt for One-of-a-Kind Pieces
One of the most important elements of organic modern style is incorporating unique pieces. Often, that requires a hunt!
Finding one-of-a-kind treasures does more to create a unique home than any other design tip. There is something so satisfying in the victory at the end of a hunt to find something unique and uniquely you.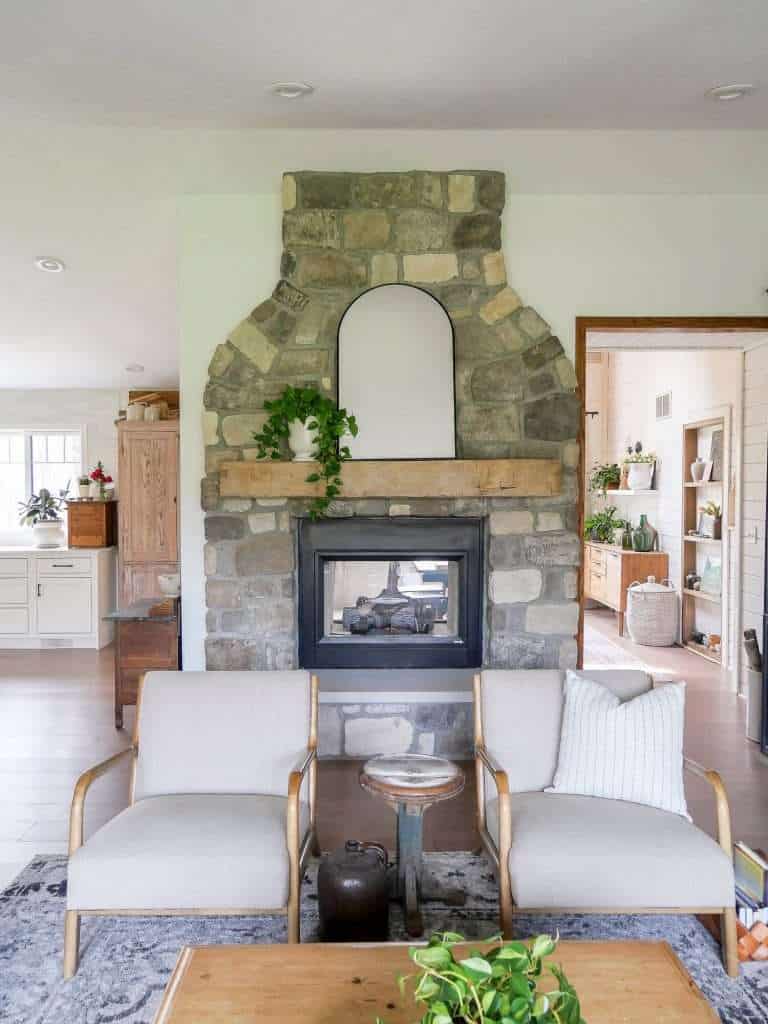 This is often where I incorporate antique or vintage finds. However, it can be done with new pieces as well. Think outside the box of traditional department stores to find those unique pieces.
Most of the time, my favorite finds are discovered at antique fairs or flea markets. Additionally, here are some places I like to look online for these treasures:
12. Bonus: Create a Laid Back Atmosphere
While this isn't necessarily a design rule, creating a laid back atmosphere in your home lends itself to the modern organic design style.
The contrast between the two stand-alone styles helps your home feel more relaxed while being polished at the same time.
When you invite guests into your home, create an atmosphere that matches that relaxed feeling by focusing on the relationship rather than the physical location. This can just be simple things like offering a drink or snack, having a chat in the great room with a cup of coffee, playing board games at the dining table, or cooking together at the kitchen island.
When you invite a person to live in your space, you are welcoming them in a way that they will remember and cherish.
Modern Organic Living Room
As you can see through the photography in this post, I've showcased an organic living room design as most of my examples.
My organic style living room was recently elevated immensely by the completion of our stone fireplace. You can learn all about the fireplace project in this post.
I've loved designing an organic modern living room because it is the central point of our common areas. You can see it from the open concept kitchen, as well as the entryway and dining room.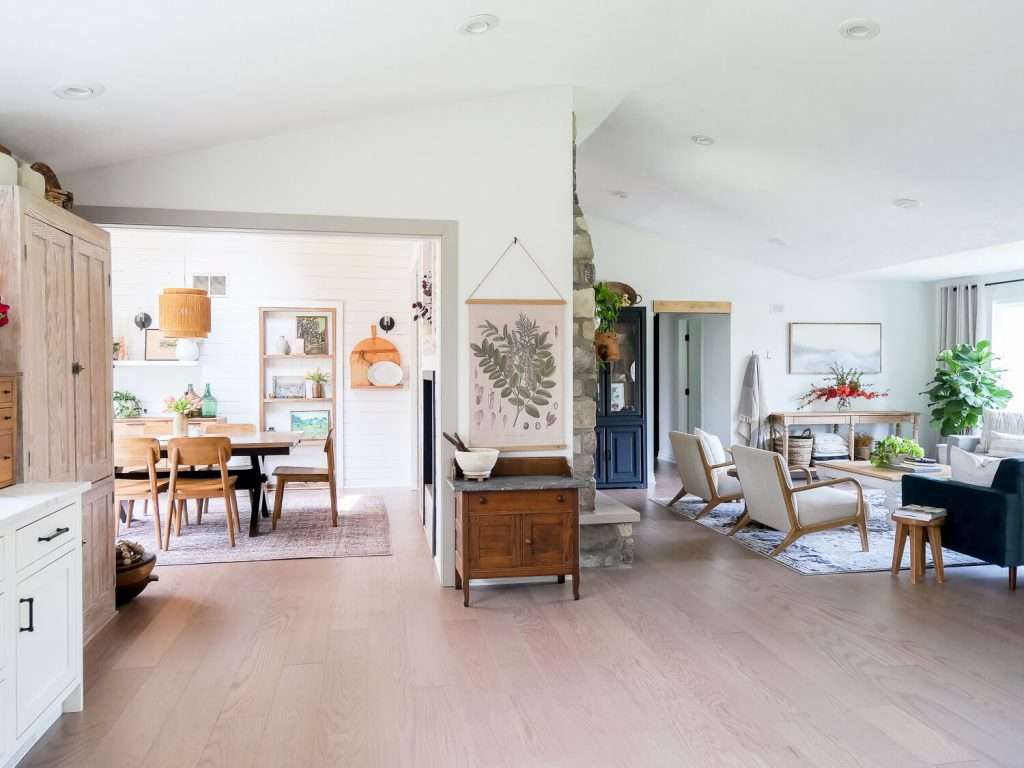 It anchors our home as one room flows into the next.
Our new flooring also helped complete the look I was going for as we switched from a red toned laminate to these beautiful softer red oak hardwoods.
It has been a four year process to transform this living space into the home you see now!
You Might Also Be Interested In…
I hope that you've enjoyed this post and learned some helpful tips on how to create an organic modern style home.
I've written more on this topic in the posts below that you might enjoy as well.
Make sure to subscribe to my weekly newsletter to get all my insider perks and to continue following along on our home updates! You can also follow me daily on Instagram and weekly on YouTube.
~Sarah