How to Use Plants as Decor to Decorate for Spring
The simplest way to decorate for spring is to use plants as decor. They are vibrant, a beautiful pop of color and appropriate as we head into a time when creation comes back to life. However, plants aren't decor! They are living things and do need to be treated that way for them to survive indoors. But that doesn't mean they can't be used as decor with that in mind. So, here are the top things to consider so plants thrive as spring decor!
Post may contain affiliate links where I earn a small commission on your purchases at no additional cost to you.
Today I'm also joining some talented bloggers, hosted by Marty at A Stroll Thru Life, each sharing their spring homes with you! If you're joining me from Monica at Monica Wants It, thanks for stopping by! You can see links to all the articles at the end of this post.
How to Use Plants as Decor to Decorate for Spring
Decorating for spring has to be one of my favorite things! After a long winter here in Michigan, I can't wait for the flowers to start coming up outside, the temperatures to warm up and to see color replace dingy snow. However, I tend to focus my time outside once the snow melts, so my spring decor indoors can easily be neglected. That's why I love to use plants as spring decor!
Houseplants have become a slight obsession for me. I'm always on the lookout for new and interesting looking plants that I think I might be able to keep alive. I'm up to over two dozen indoor plants, and I've learned a lot along the way! You can find some resources for how to care for indoor plants in the articles at the end of this post.
And, if you're a beginner to the world of houseplants, I've created a free printable to help guide you. Download this freebie showing you the best beginner indoor plants and how to care for them now!
How do you use plants to decorate?
Using plants to decorate is very simple, in theory. Simply buy plants that you love and place them on display. Right?
Wrong.
Using plants as decor is simple, but not quite that simple. There are several elements you need to consider so that your indoor plants can survive as decor. Otherwise, you will have shriveling brown blobs and, let's be honest, that doesn't exactly scream spring.
What Plants are Used for Decoration?
Let's start with the best plants to use for decoration. There are hundreds of plant species that make beautiful indoor plants. Succulents, aloe, and other tropical plants do well in warm climates. Certain tree species, like ficus and figs, are statement makers. And then, of course, hanging plants are a great option as well.
However, you should choose plants as decor based on your plant lady level. Beginners will do best with easy care plants and then you can work your way up to the more difficult to care for plants. Most nurseries show difficulty levels on their plant tags so be on the lookout for those care guides to decide what to use.
If you are brand new to the idea of keeping plants indoors, here are some foolproof plants that I love and will thrive no matter where you live. You can shop them online via the affiliate images below.

---
ZZ Plant
Snake Plant
Pothos
Ivy
Philodendron
Monstera
Peperomia
How do I beautify my house with plants?
Now, let's get to how to decorate with plants so that they both thrive and serve as beautiful decor! There are several things to consider when it comes to choosing houseplants:
Plant type
Placement

Sunlight
Temperature/humidity
Size
Next, you need to consider elements of design once you've chosen your plants:
Room style
Functionality
Accessibility
Visual impact
Choosing Houseplants as Decor
Like I mentioned above, choosing the right plant for your level of expertise will go a long way in sustainable plant decor. Yes, plants die sometimes, and that is nothing to fret about. However, buying 5 new plants and having them all die in the first month is simply a waste of money and time. So choosing the right houseplants as decor is the first step to success!
You'll want to consider placement of your plants before you buy them. For example, I have a wall in my basement where I have a grouping of different types of plants.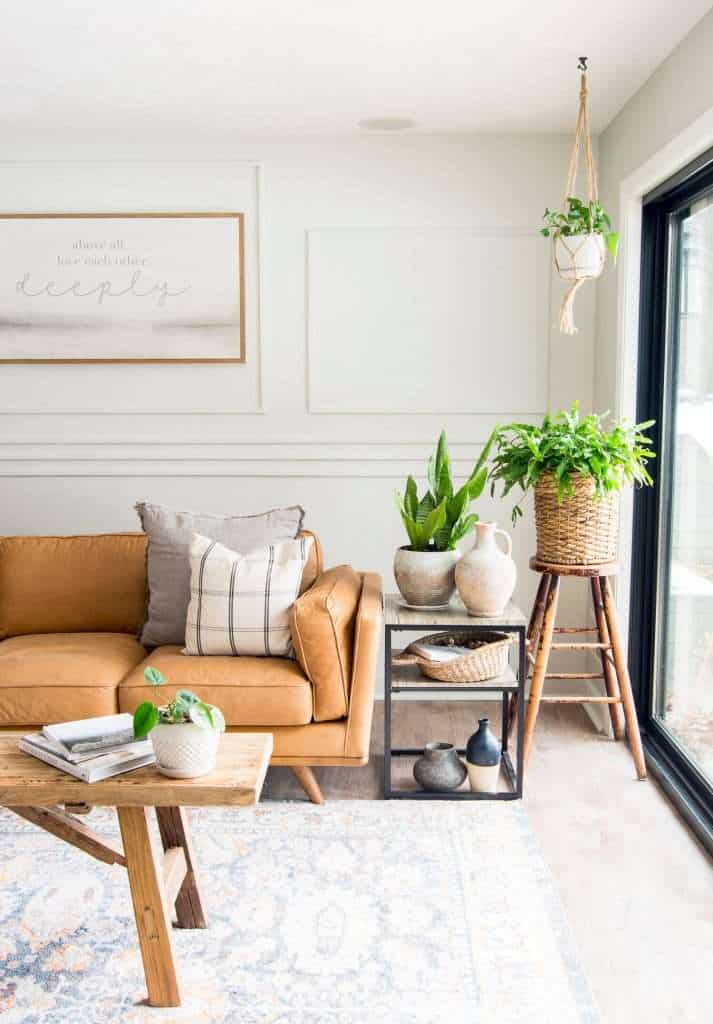 Prior to plant shopping, I knew that I wanted to have plants on both sides of the sofa. On the right, the plants would be in direct sunlight, with fluctuating temperatures and humidities as it is right next to a sliding door. On the left, the plants would be in indirect sunlight with a steady temperature and a larger space to occupy.
Knowing this, I chose to place my monstera on the left so it had lots of room to grow since they are rapid and sprawling growers. It also needs indirect sunlight and does beautifully at a consistent temperature.
Then, on the right, I chose a grouping of some of my hardiest plants. Snake plants, pothos and philodendron can easily withstand the changes in temperature and light. My kangaroo fern does well here too, but needs a higher frequency watering schedule due to being in direct light.
So as I placed each of these plants, I considered the amount of sunlight they would receive, the temperature and humidity levels they do best at, and how much room they need to grow.
Low light plants like ivy and rubber trees would most likely do well on the left side of the sofa with the monstera, but not the right side. So these are all things to consider when choosing a plant as decor.
How to Decorate with Plants
Elements of Design + How to Incorporate Plants as Decor
Once you've scoped out the different types of plants you might want to incorporate into your home, you'll want to consider certain elements of design.
I use lots of plant decoration in my living room because it is central to our home. It has lots of natural light and plenty of room to add plants.
Living Room Sources

---
My fiddle leaf fig is the statement maker in this space, and then I like to add in smaller plants on table tops, cabinets, and the fireplace mantel.
When using plants as decor, take into consideration the style of the room, functionality and accessibility in the space and the visual impact you're looking for. For example, tropical plants tend to have a more playful vibe than ivys or ficus, which lean more sophisticated. So if you have a formal living room, you may want to avoid succulents or tropical plants.
Similarly, you need to keep functionality and accessibility in mind. You don't want to put plants in a space that you can't access to water or that would be in the way of living in the space. Large plants should be tucked out of the way so they don't get bumped and jostled, and smaller plants should be placed where you can easily water them (rather than high on a shelf, for instance).
And lastly, you want to consider the visual impact you desire. Some plants are made to stick out, like the monstera or other large houseplants. They make a statement in a room and serve as a focal point.
Smaller plants, like trailing philodendrons or peperomia, show off glossy leaves for a pretty and petite statement. They serve more as a decor accent rather than a show stopper. So as you plan, determine how you want your plants to serve as part of the overall design of a room.
How do you decorate with a greenery?
If you're anything like I used to be, the thought of taking care of houseplants might feel overwhelming. That's where greenery and faux plants come in! You can easily decorate with faux greens and florals to get a similar look in your home without the extra step of caring for live plants.
In my dining room, I love using greenery as a garland to bring some life to this space.
The houseplants are all real, however the garland and tulips are my absolute favorite faux foliage and florals. They are SO realistic and even feel real to the touch. And it is easier than ever to find faux greenery that is realistic as houseplants become a more significant home decor trend in department stores.
Dining Room Sources

---
How will you use plants as decor?
Your next step is to determine how you will use plants as spring decor! And even better, using plants as decor spans the seasons. So you can enjoy them for as long as they are kept alive and thriving no matter the season. I hope this article has been helpful to you as you design your home with plants this spring.
Houseplant Sources
And if you're looking for any of the names of my houseplants, I have them all identified for you in this Instagram reel. Make sure to follow me on Instagram for daily projects and behind the scenes looks at projects!
If you need help caring for houseplants, make sure to check out more articles below: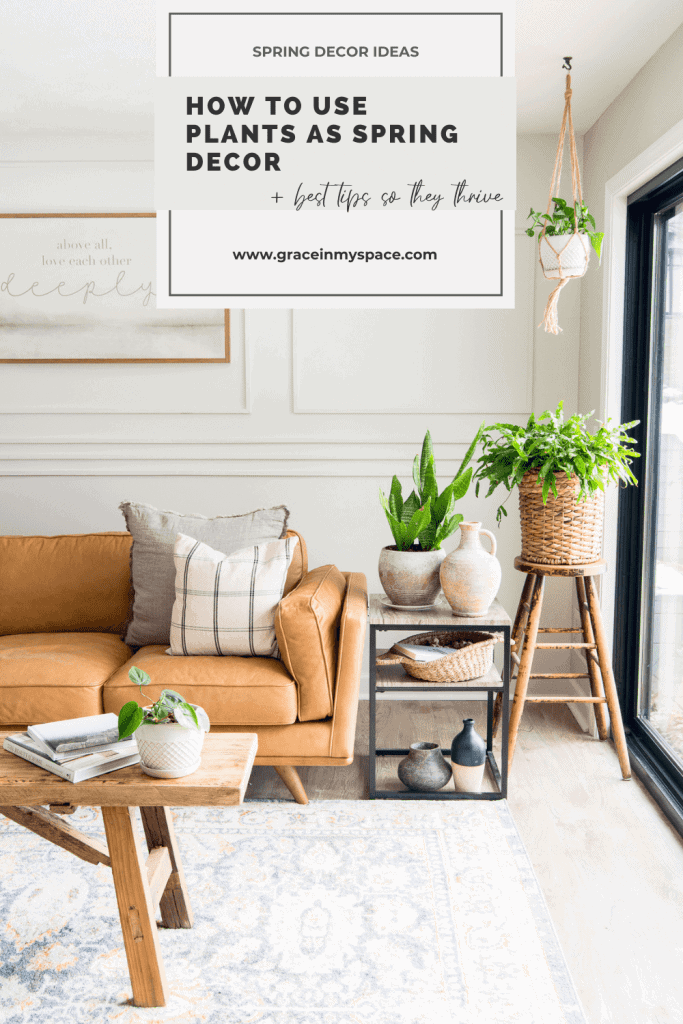 Spring Home Tours
I hope you enjoy the other spring tours below! Head next to read Anita's article from Whispering Pines Homestead.
Monday March 8th
A Stroll Thru Life – Worthing Court – Town and Country Living – Hymns and Verses – Decor to Adore – White Arrows Home
Tuesday March 9th
Cassie Bustamante – Inspiration For Moms – Thrifty and Chic – Southern State of Mind – Clean and Scentsible – RemodelaCasa
Wednesday March 10th
Grace In My Space – Whispering Pines Homestead – The Wood Grain Cottage – StoneGable – It All Started With Paint – Monica Wants It
Thursday March 11th
Southern Hospitality – Pink Peppermint Design – 11 Magnolia Lane – Modern Glam – CitrineLiving – Our Southern Home
Friday March 12th
This Is Our Bliss – Cuckoo4Design – A Pretty Life – Up To Date Interiors – Chalking Up Success – Fox Hollow Cottage – Follow The Yellow Brick Home