10 Affordable Modern Farmhouse Spring Decor Ideas
Are you looking for affordable ways to decorate with modern farmhouse spring decor? Changing up seasonal decor can feel overwhelming, or like you need to buy all new items. However, I have 10 ways that you can decorate seasonally without breaking the bank! Here are 10 budget friendly, vibrant spring design ideas!
Post may contain affiliate links where I earn a small commission on your purchases at no additional cost to you.
Spring Decor Home Tour
In this post I'll be taking you through a tour of my home decorated for spring! We will touch on each space and the elements that I've added for seasonal modern farmhouse spring home decor.
Joining me today are also 30 other bloggers sharing their spring home tours! Make sure to visit their articles linked at the bottom of this post. If you're joining me from Mansa at This Is Simplicite, thanks for stopping by!
10 Budget Friendly Ways to Add Modern Farmhouse Spring Decor
Often when planning our spring decorating we tend to gravitate towards all of the new seasonal decor in the stores. New spring home decor is very attractive because it is a season of renewal and new life. Many of us are ready for a big change in our homes after a long winter, but our wallet doesn't need to be stretched to accomplish this! Let's take a look at 10 budget friendly ways to add modern farmhouse spring decor.
What is modern farmhouse decorating style?
Today I'll be focusing on the modern farmhouse decorating style. I love this style because it feels transitional and flexible. You can easily incorporate this style for spring into most existing design styles because it is multifaceted and approachable.
The modern farmhouse decorating style combines modern design with a farmhouse aesthetic.
The farmhouse style centers on charm and character with vintage pieces, chippy paints, light color palettes and cozy accents.
Conversely, the modern style boasts lots of clean lines, a more sleek aesthetic, and bold color palettes.
Take my dining room as an example. While it does have some boho farmhouse elements, the majority of the room is a modern farmhouse decorating style. The rug, table, and decor accents lean towards a farmhouse style, while the buffet, woven light fixture and high contrast black fireplace are more modern.
Do you know what your design style is? In my free three module e-course I help you lay the foundation for design in your own home. Make sure to sign up below to access this free course!
And if you're interested in learning more about different decorating styles, make sure to check out the articles I've written on these different aesthetics!
Spring Modern Farmhouse Decorating Ideas
Now that we've defined the style I was going for this spring, let's get to these spring decorating ideas in 2021!
1. Add Plants
I realize that live plants are not everyone's cup of tea. However, the number one spring item in my home is live plants. Dozens of them, to be exact. While you certainly don't need to have a plant on every surface like I do, adding one or two live plants will brighten your room immediately!
Pops of green, soft purples and light pinks are my favorite plant colors to create a vibrant spring design. I've worked for years to curate a home full of plants that are easy to maintain, even for beginners. So if you're ready to add plants to your spring farmhouse decor, then make sure to check out this post!
In this article, I share exactly how to incorporate plants as spring decor so that they thrive! You do need to treat plants different than decor, you know, since they are alive and all. 😉 This post will give you the easy steps to succeed at indoor plant care!
The best part, you can find affordable plants at your local nursery. You can realistically add 2-3 plants to your home for under $50 that will provide you with "decor" for years to come! And if you're looking for one statement maker plant, I love my fiddle leaf fig! These will run $30 (Ikea) to $100 (local nurseries) depending on your geographic location.
2. Add Spring Florals
Modern farmhouse spring decor wouldn't be complete without adding spring florals. Nothing says spring decorating quite like tulips, daffodils, lilacs and peonies. I love bringing fresh flowers in from my garden, but since spring doesn't actually arrive in Michigan until late May, I like to get it started indoors with faux florals.
These faux tulips are my favorite because they are so realistic. You can see more of this space in my post on how to create a spring mantel!
Anytime I buy faux florals I always look for "real touch" in the description. They are the most realistic looking options. You can buy a bundle a year for under $30 and slowly grow your collection.
3. Add a Pop of Color
Color is a staple in spring decorating. Though the modern farmhouse style tends to be more neutral, that simply creates a blank slate to add in your favorite pops of color for spring.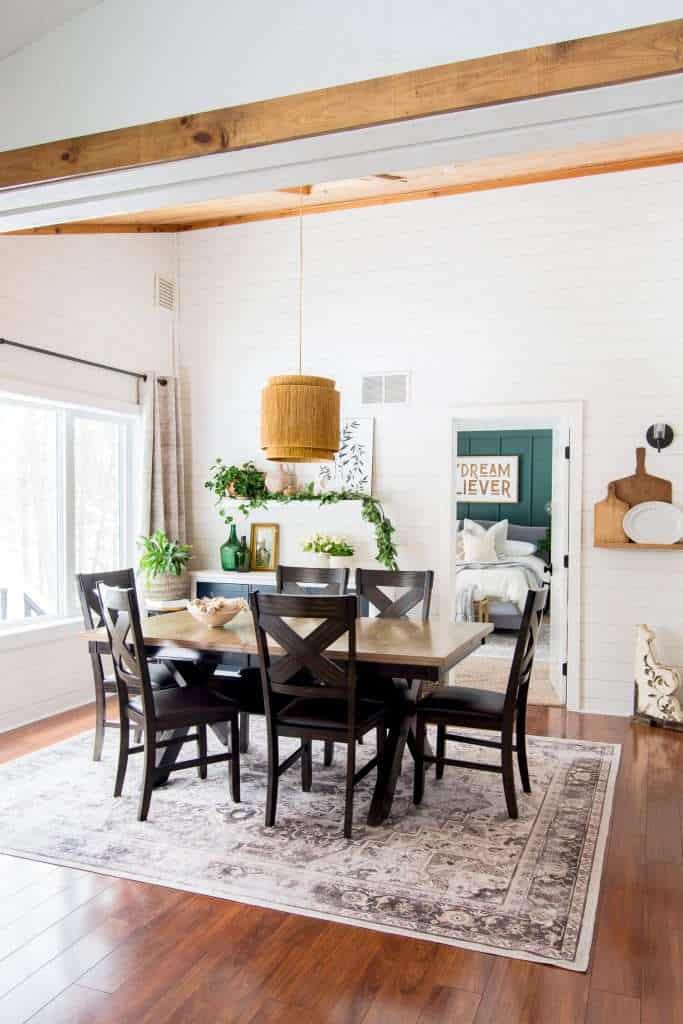 In my dining room, I like to play off the green accent wall in my bedroom by adding varying shades of green. Vintage green bottles, plants, and faux garlands all bring in color. Green is a signifying color for spring since nature erupts in it, however any of your favorite vibrant colors work wonderfully!
This can be very low cost by simply buying one item that "screams spring" or by using items you already have on hand! This leads me to my favorite way to decorate on a budget for spring.
4. Shop Your House
If your budget is $0 for spring decorating, then shop your own house! You will be amazed at how much your home can change simply by moving items from room to room.
Bring pillows from the living room to the family room or bedroom. Restyle shelves in the living room with items you used to display on your mantel. Group decor in different arrangements. Move furniture around to create a new layout. Swap rugs from one room to another similarly styled room.
You can create a whole new feeling in your home without buying a thing!
5. Add Light Texture with Baskets
Another easy way to bring in some modern farmhouse spring decor is to add light textured baskets. Hyacinth, jute, and other woven baskets are a soft way to bring in texture to your space. I like to add baskets as pretty planters for my plants, a way to collect my favorite reading materials or blankets, or as a display on a coffee table.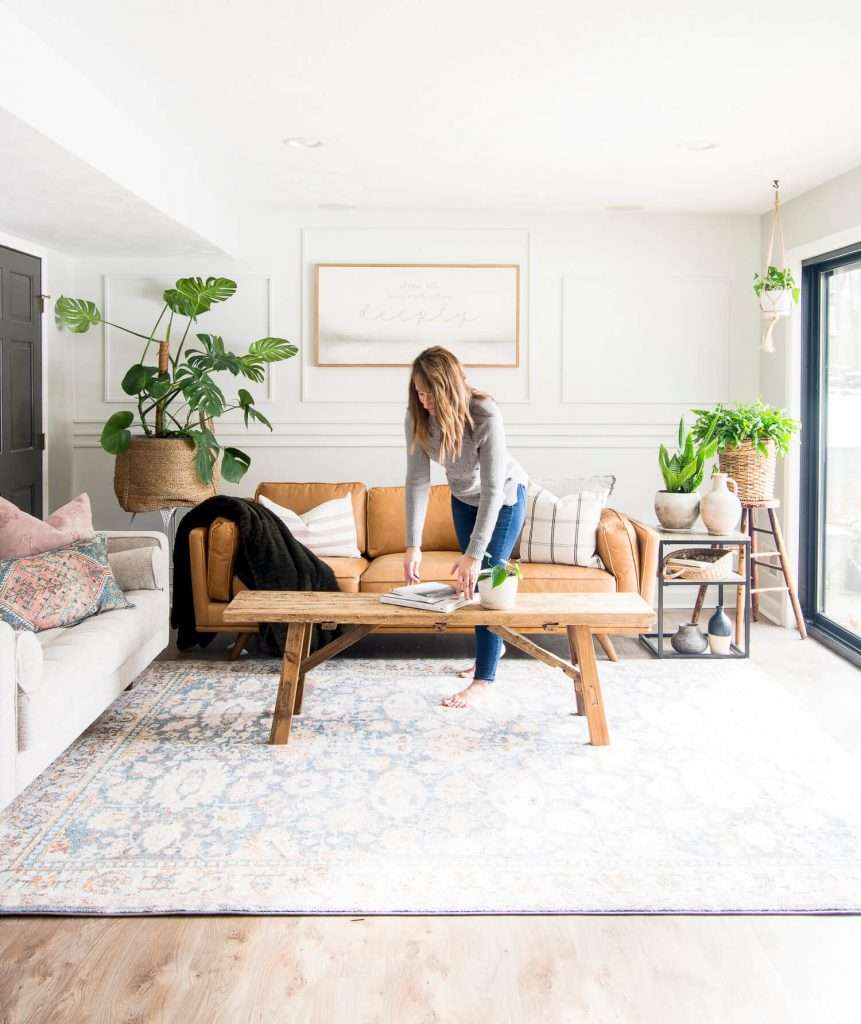 Most baskets run from $20-$50. I like to opt for larger options so they are more visible and impactful in my space. Here are some of my favorite affordable basket sources!
6. Simplify & Streamline
Another no-cost way to decorate for spring, that fits in perfectly with the modern farmhouse design style, is to simplify and streamline your decor.
When you think of spring + home you probably have spring cleaning in the back of your mind. Think about this in terms of home decor as well! Not only should you use this time to clean your baseboards and freshen your bedding, but use this time to spring clean your home decor!
Simply put, purge items you no longer love. Go through your home and sell, donate or throw out items that don't fit your style any longer. Modern farmhouse spring decor should feel fresh and clean and part of that aesthetic means less clutter.
Winter decor tends to have layers because we want to feel cozy in colder months. But spring is the perfect time to bring out the minimalistic elements of modern farmhouse decor!
7. Light & Bright Accents
While adding pops of color to your spring decor creates a vibrant focal point, incorporating light and bright accents keeps your design in the modern farmhouse style.
I like doing this with pillows and blankets specifically. Changing up these textiles is an easy way to bring in fresh tones to lighten any room for spring. And even though we are entering warmer months, it doesn't mean that we don't still have chilly nights where we need some cozy comfort!
Here are some of my favorite affordable pillows and light weight throw blankets!
8. Add a DIY to your Modern Farmhouse Spring Decor
My favorite budget friendly options for spring decor are DIYs!
For example, the artwork in my living room is a DIY inspired by all the beautiful spring textile artwork I was seeing in the store. I didn't want to pay $150 or more, so I made my own for under $30!
You can see this project specifically in this post.
A few other things you can make are pillows, centerpieces, floral arrangements, dollar store upcycles, and more! You can find lots of fun spring DIYs linked at the bottom of my DIY textile article!
9. Lighten up your window coverings
A very fast way to decorate for spring and keep a modern farmhouse vibe is to lighten your window coverings. A light and bright aesthetic goes a long way in elevating the feeling in an entire room!
You can lighten your window coverings in a few different ways.
Lighten the actual color. Bright white, creams, soft pinks and light greys are all beautiful spring options.
Lighten the weight. For example, instead of a heavy and thick curtain, swap it out for a gauzy or sheer option.
Lighten the texture. For example, instead of velvet, swap it out for cotton or linen.
These drapes are actually my favorite drape for spring because they are a lightweight feel with linen and a light color, but they still provide a black out option for privacy and sun! Plus, they are $52 for two panels which is half of what most quality drapes cost!
10. Add Statement Artwork
The last way to add some modern farmhouse spring decor on a budget is to add statement artwork. This allows you to add one beautiful piece to be the focal point in a room.
This can be something like a small oil painting of a beautiful field, like I have displayed in my kitchen. Or, a hand painted piece like the one my mom painted for me in my dining room.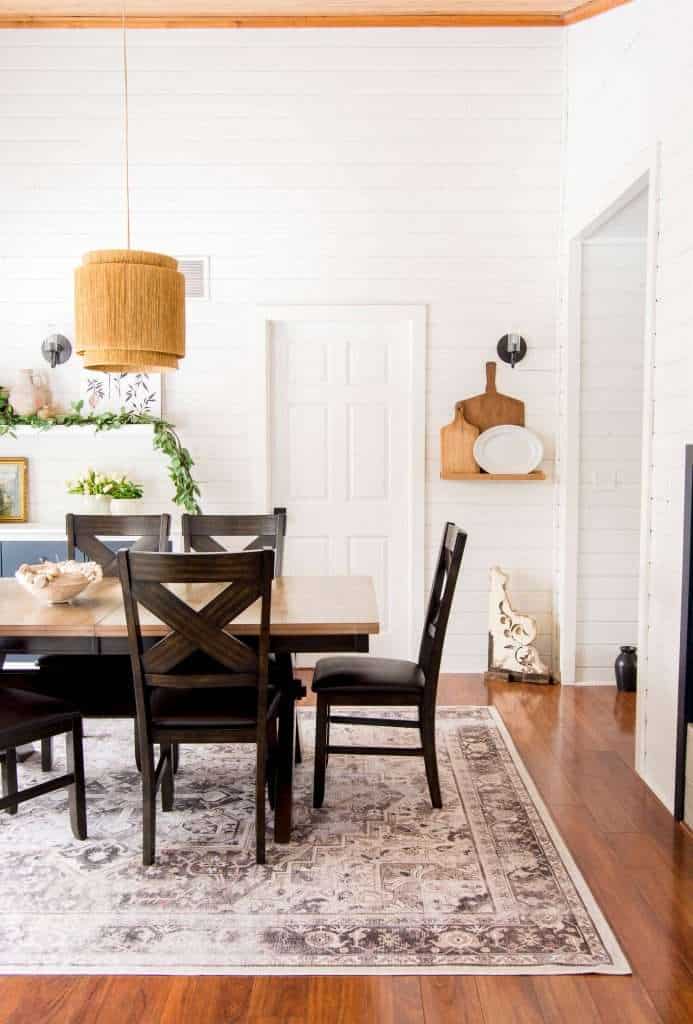 A statement piece doesn't have to be large and expensive to be a focal point! Smaller artwork has a subtle elegance about it that adds a lot of charm to a room.
Of course, I do love large pieces as well that your eye is immediately drawn to. You can see an example of that in my spring mantel decor!
Stay Connected
I hope that these 10 affordable ways to add modern farmhouse spring decor to your home are helpful to you! Of course, this list of 10 ideas is not exhaustive. But I hope it's a jumping off point for you to brainstorm ways to decorate for spring in your own home.
Make sure to subscribe below to get my freebies and follow along with me for daily tips and projects on Instagram! Thanks for stopping by the blog today! And head next to see Ashley's beautiful spring home at Cherished Bliss!

This week I'm joining some of my talented blogging friends for the Spring Seasonal Simplicity Series! All week long we are sharing our homes decorated for spring and our best tips and ideas for bringing a spring feel into your home. You can visit each tour by clicking on the links below the images!
Sharing with me today….
Monday
The Happy Housie // Inspiration for Moms // This is Simplicite
Grace In My Space // Cherished Bliss // Modern Glam
And sharing the rest of this week…
Tuesday
Cassie Bustamante // A Pretty Life // Lemon Thistle
Rambling Renovators // Maison de Cinq
Wednesday
Dans le Lakehouse // Life is a Party
She Gave it a Go // The Tattered Pew // Joanna Anastasia
Thursday
Life is Better at Home // Taryn Whiteaker Designs // Clean & Scentsible
Craftberry Bush // My Sweet Savannah // Zevy Joy
Friday
Tatertots & Jello // Jennifer Maune // Deeply Southern Home
Homemade Lovely // The DIY Mommy