3 Steps to Fool-Proof Spring Mantel Decor
Spring mantel decor can feel complicated, but I have a 3 step method that is fool proof to get your mantel vibrant for spring in no time! It doesn't matter what your design preference is! Whether you love modern farmhouse, country chic, contemporary or more, these three steps will provide the visual appeal you need to create a beautiful spring mantel.
This post may contain affiliate links where I earn a small commission on your purchases at no additional cost to you.
Spring Mantel Decor Ideas
Joining me today are some talented bloggers each sharing their own beautiful spring mantels. Make sure to visit their articles linked at the end of this post for more inspiration!
And, if you're looking for a clear cut guide to get you started in designing your home, make sure to sign up for my free 3 module e-course! This beginner interior design e-course starts by focusing your mindset on design to meet your personal goals. Sign up below for this free course!
3 Steps to Fool Proof Spring Mantel Decor
No matter what style of design you gravitate to, there are three main pillars of mantel design. My spring fireplace mantel decor is going to be an illustration of these three pillars:
Focal Point
Balance
Height Variation Choice
When you combine these three pillars, it will guide you through a decorating process that simplifies your mantel decor, no matter the season. Let's take each of these one by one.
Mantel Focal Point
First, start with your focal point. I prefer to choose one larger focal point to center on my fireplace due to the height of our ceilings and the fact that we have a double sided fireplace. This causes the fireplace to feel like it floats in the room. Additionally, a larger focal point helps to ground the space and give it definition.
This spring, I chose this beautiful abstract piece from Joyfully Said. I've partnered with Joyfully Said for years and love their beautiful signs. You can find this serene landscape here and make sure to use code GRACEINMYSPACE for 15% off. (Applies to their wood signs, wooden words, metal rounds, and graphic tees.)
Some other beautiful focal point options are mirrors, architectural salvage, or artwork. You can see some other examples of how I've used larger focal points for other seasonal mantel decor below.
I like to keep my focal point scaled to the size of my fireplace so that it takes up 2/3 of the width of the mantel when centered. This draws the eye immediately to the center point and ensures that the focal point isn't too small or too large for the space.
Since we also have vaulted ceilings, I keep in mind the height of the placement. Rather than centering it on the wall, which would position it extremely high in the room, I keep it within a foot and a half of the mantel. This placement gives me space to display items on the mantel without covering the focal point. Plus, it keeps it feeling intimate and properly hung.
You can also use a grouping of items to create a focal point. Layered mirrors or artwork create beautiful dimension and and extra interesting design for your focal point.
Balanced Mantel Decor
Next, I like to balance my decor horizontally. Placing a grouping on each side of the focal point provides symmetry and balance so the spring mantel doesn't feel lopsided.
This is an easy way to display a few of your favorite mantel accents like candles, plants, vases, flowers, or photos. The key to this type of balance is to choose select pieces to include. Keeping the number of items on the mantel to under 5 helps it feel streamlined and not cluttered.
Another way to create balance is to use the width of the mantel fully with simple spring mantel decor. For example, 5 small bud vases with one tulip each displayed down the center of the mantel in a straight line creates as much visual appeal as a full bouquet on the side.
Tulips are truly my number one spring fireplace decor staple. While I prefer live plants in my home, I love faux flowers! Especially tulips for spring. Nothing says spring quite like a bouquet of tulips. Rather than buying fresh tulips each spring, I buy a bouquet of these faux tulips each year to add to my stash. They are so lifelike and come in so many beautiful colors.
You can find more varieties of these tulips on my Amazon storefront!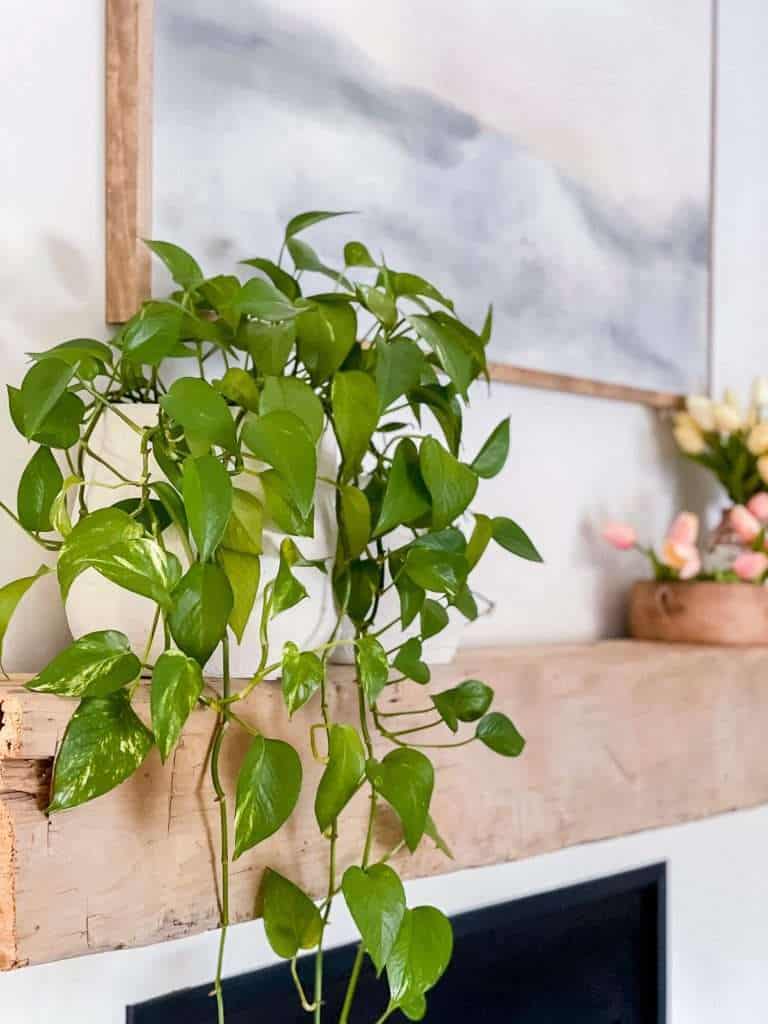 The main point to focus on when thinking of balance is less about symmetry and more about not overwhelming the space.
Intentional Height Variations
The last element of simple mantel decorations is varying heights. Or, keeping a singular height level! You can do either, as long as it's done with intentionality.
As you can see on my spring mantel, I have two groupings. Each grouping has two different heigh variations. One taller than the other. Additionally, the plant grouping is slightly taller than the flower grouping. This intentional height variation gives the eye something to follow down the mantel. It sets each piece apart so they don't all blend together.
Conversely, if you choose a single height level, do so with similar items. Let's reference the bud vase example above. As long as the vases are all the same height, it is an intentionally designed way to add the same height decor.
What you want to avoid is a smattering of items that are all the same height but have seemingly no relation. This version will appear haphazard and like you just tossed random items together.
So How Do You Decorate a Spring Mantel?
At this point, you may be reading this and thinking, "That makes sense! I've got this." as you head into your decor closet or out to buy something from the store. Or, you may be thinking, "Ok, so how do you decorate a spring mantel exactly?"
Some people need more structure and guidance than simply pointing out the three pillars of a beautiful mantel design. They want to know exactly what to use, exactly where to put it, and for exactly how long to keep it up. However, the truth of the matter is that every home will be different!
What should I put on my fireplace mantel?
What you put on your spring mantel will depend on the following variables:
Your personal design style
The decor you already own
Your budget for new decor
Decor already in surrounding areas
Lighting
Ceiling height
Mantel length and depth
If you want to display seasonal decor vs. memorabilia, collectibles or family items
As you can see, it isn't as simple as saying: put a painting in the middle, candlesticks on one side and a plant on the other. In your space, a mirror might be a better focal point because you need to bring more light into the room. Mirrors bounce light around are a a great design solution for dim spaces. Similarly, plants might not be a possibility for you if your fireplace doesn't receive any natural light for them to grow.
Or, you may have low ceilings which only allows space for small artwork. In that case, your focal point might give you more bang for your buck to layer two pieces at varying heights since you can't do an oversized piece.
That's why I like to focus on a few key pillars and then set you free! Trial and error is a great way to learn how to decorate and it's still the main method I use when styling my mantel.
Often, I find it helps immensely to style my mantel, take a step back and take a photo, and then assess the photo instead of real life. A photo of the space helps see the lines in your styling as it brings it into 2 dimension. This helps with making sure your balance and height variations are working.
After looking at the photo, assess what needs tweaking and move things around. You might need to try different focal points or play with the accents many times before it feels right. That's the fun of styling! Grouping different pieces together to see which works best is all a part of decorating.
I rarely get it right the first time, and even after taking these photos and writing this entire blog post, I am noticing that I should have done something higher on the right! The flowers are beautiful but I think a taller accent would have balanced the space better.
Live and learn! There is always next time. And truly decorating for spring, or any season, is all about creating a space you enjoy. Don't put pressure on yourself to create perfection. Instead, create something that makes you smile.

This week I'm joining some of my talented blogging friends for the Spring Seasonal Simplicity Series! We're all sharing some inspiring mantel decorating ideas with you! You can see each mantel in more detail by clicking on the links below each image.