Top 10 Mid Century Modern Farmhouse Design Elements
Mid century modern farmhouse design has been on trend since early 2020. It seems like a design combination that can be hard to achieve, but it doesn't have to be complicated! I've simplified this design duo into the top 10 design elements you need to achieve the look.
This post may contain affiliate links where I earn a small commission on your purchases at no additional cost to you.
Mid Century Modern Farmhouse Interior
My design style used to be very strong in the modern farmhouse style. You can see how our living room looked when I leaned more that way in this post on how to get the modern farmhouse living room look. Since then, I've added more clean lines, color and character to my design and a lot of that is due to an infusion of mid century modern furnishings.
Does mid century modern go with farmhouse?
You might wonder, can you mix modern and mid century furniture? Yes! You sure can. In fact, I would argue that you can mix almost any design style if it is done right. Our homes should be a reflection of our tastes and personality and sometimes that means an eclectic design.
My book, Designing a Life: From House to Haven, is all about how to make your home work for you to meet your goals. Not the other way around! If you'd like a kickstarter to interior design with haven making in mind, subscribe for my free e-course to be sent right to your inbox!
However, there are a few tips and tricks to how to combine different design styles.
How do you mix mid century modern with farmhouse?
As you design your home, you want to create an overall feeling in the space with a balance of cohesiveness and interest. Your decor should feel like it all complements each other, but it does not need to be matchy matchy.
In fact, too much of the same design style can create a flat space. Adding dimension through a variety of styles is much more interesting and actually gives you the freedom to branch into multiple styles of decor, rather than being siloed into one.
So, how can you achieve this?
Determine which design style you are most drawn to and use that style in your main focal points of a room. (Ex: furniture, rugs, and color scheme)
Choose a room's color scheme based on the overall feeling you want in the space. Neutral colors tend to be more calming and vibrant colors are more exciting.
Intermix smaller items from a complementing design style into your decor.
Include organic textures in a variety of ways which can act as a bridge between styles.
Key Elements of Mid Century Modern Design
Before we go any further, let's define each of these styles. Mid century modern design is a very broad style which has a few very key elements. Clean lines is the most commonly known element of this style. Clean lines simply means that the physical lines of furniture are not ornate or detailed. They are sleek and simple.
Minimalists tend to lean towards this style because of the clean lines and typical lack of clutter. The style tends to have a lot of intentionality to it. Intentional placement of furniture for best function. Intentional addition of decor so that it does not become in excess. And intentional functionality of furnishings for best use.
Color can be used broadly with deep tones to vibrant colors and everything in between. It also usually has organic and geometric shapes in decor pieces. Additionally, wood tones are frequently used rather than painted furniture.
Key Elements of Modern Farmhouse Design
Conversely, the modern farmhouse design style is less about the function of a room and more about the feel of it. Comfort plays a huge role in this style as pillows, blankets and plush furnishings are main staples.
Neutral colors paired with black and wood tones is a typical modern farmhouse color palette. Wood, white and black is the signature palette for modern farmhouse living rooms and kitchens.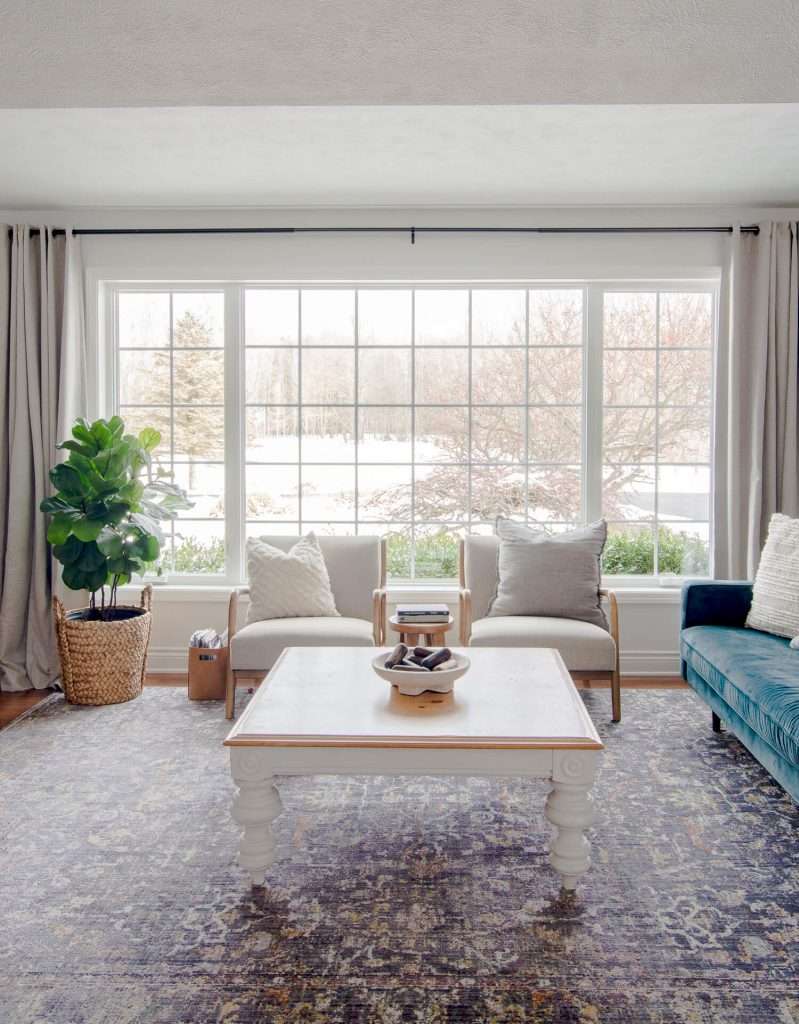 Additionally, vintage pieces play a big role in modern farmhouse style. This can be vintage decor, vintage rugs or architectural pieces. And, while most furniture pieces still aren't ornate, turned table legs are a huge element in this design style.
Mid Century Modern Farmhouse Living Room
Now, that we've defined the different styles of design we want to combine, let's break it down. We will use my living room as an example!
Top 10 Elements of This Design Duo
The top 10 elements of my mid century modern farmhouse living room to consider are:
Furnishings
Rugs
Color Palette
Pillows/blankets
Decor
Lighting
Plants
Architecture
Functionality
Natural light
Furnishings, Color Palette & Rugs
Remember when we talked about choosing which design style you love the most and making that style the focal point of your room? That is where furnishings, color palette and rugs come into play first, as these are the most obvious pieces in a room.
In my living room, I went with light and bright walls as the main focal point, as well as two accent chairs and a coffee table in modern farmhouse style. Then, I added in my accent of mid century modern with the couch and cabinets specifically. This anchors the room for both design styles.
Wall color and accent furnishings: modern farmhouse
Main furnishings: mid century modern
If you want to have a light and bright area most reflective of modern farmhouse style, then go with light walls. This gives you the most flexibility with the color of your furnishings. I chose white walls so they don't compete with my mid century furniture. If I were to have dark blue walls, it would be more difficult to add color to my furnishings that didn't feel like overkill.
Pillows/Blankets, Decor, Lighting, Plants
Once you've anchored your room with the main pieces, you can add in your home decor accents. Some might call our living space a minimalist farmhouse living room because the focus is on comfort. Lots of throw pillows, blankets and warm wood tones set the stage for a modern farmhouse look.
My decorative lighting has a modern farmhouse sleekness to it, and my accent tables have a rustic finish to them.
Since my larger pieces of furniture are mid century modern style, I wanted to balance that with a modern farmhouse feel to the decor. For a pop of mid-century modern, I added some geometric accents like this limestone knot and ball.
All it takes is a small dose of the complementing design style to pull the room together.
Additionally, I love to use indoor plants as decor staples. They fit in any decor aesthetic, bring life to a space, and serve to bridge the gap when there are a variety of different styles in a room.
If you are interested in learning more about caring for indoor plants, I have a variety of resources for you on the blog!
You can also grab my free indoor plant care guide for beginners below!
Architecture, Functionality, Natural Light
The last three elements of mid century modern farmhouse design have to do with the actual design of your home. Two of these elements you may have no control over, like architecture or how much natural light you get. Functionality, however, can always be improved intentionally!
Both design styles favor lots of natural light and cleaner architectural lines. However, they differ on functionality. Whereas mid century modern seeks a clean functioning design, modern farmhouse warrants more importance on comfort.
Shop My Living Room Decor

---
Both of these bents have functionality, they are simply functioning in different ways. One is more for productivity and the other is for a comfortable living space.
These elements should be decided on based on your family's needs and desires rather than which style you like best. If you need organization, then let mid century modern functionality guide you. If you want a space to rest, then consider more modern farmhouse functionality.
What's Next? Mid Century Modern Rustic
If I were a betting girl, I'd say the next design duo to rise to the top would be called mid century modern rustic. I had this combination in mind when I designed my guest house. It favors clean lines in furnishings while letting rustic wall treatments and architectural details take center stage.
What do you think of these different design combinations? I'd love to know what your favorite is!
Thanks so much for stopping by the blog today!