Simple Organic Modern Spring Home Decor Ideas (2023)
Spring is a time of refreshing our homes. Let's uncomplicate the process with these simple and quick organic modern spring home decor ideas!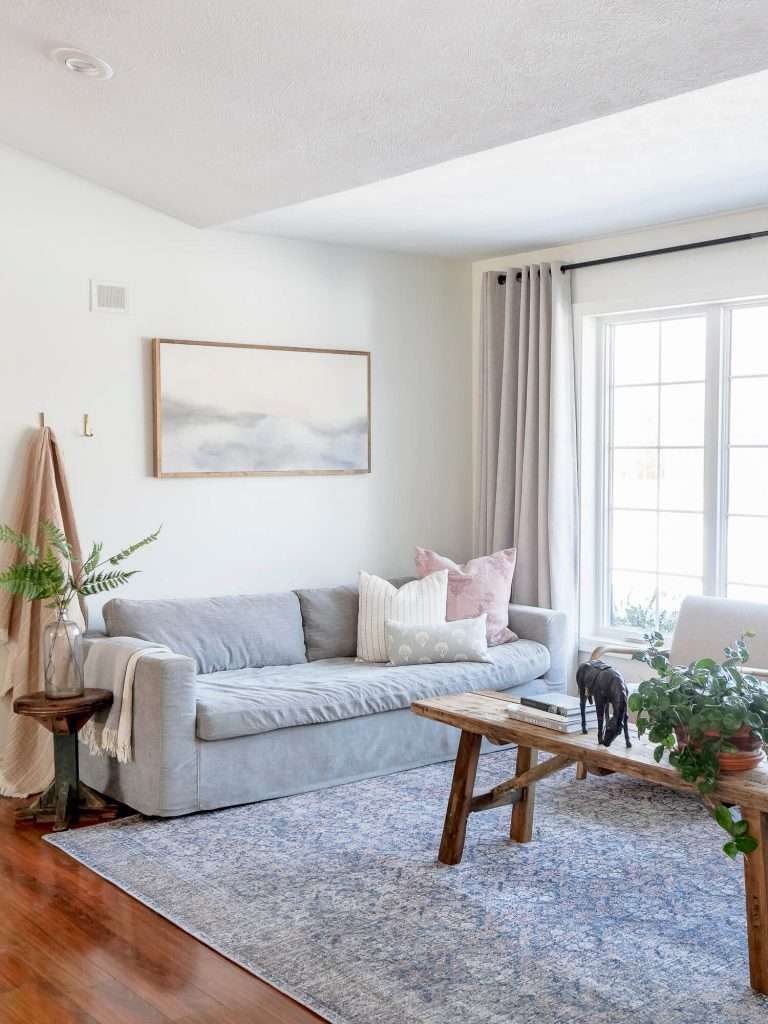 This post contains affiliate links for your convenience.
Spring Decorating Home Tours
In addition to my spring home tour, I'm excited to be joining up with some amazing bloggers each sharing spring decor inspiration. I'm grateful that Marty from A Stroll Thru Life hosts these amazing tours each year.
If you're joining me from Julie at My Wee Abode, thanks for stopping by! Wasn't her tour so beautiful?
To follow along with the spring home tour blog hop, continue on through my post and then your next stop will be Amber from Follow the Yellow Brick Home (linked below!).
Organic Modern Spring Home Decor Ideas
There are so many ways to decorate for spring. Recently, someone was confused when I mentioned adding spring decor to my home. She said, "There's such a thing as decorating for spring?!"
It made me chuckle as spring is my most anticipated season to decorate for. I love bringing in fresh bright colors, clearing out the clutter that's built up over the cold months, and adding life back into my home.
So, let's get back to the basics of spring decorating. First, let's break down spring home decor that fits into an organic modern style.
Learn more about organic modern style
The main elements I like to include for spring can be broken into organic and modern categories:
Organic

Plants
Flowers
Wood accents
Paper mâché bowls
Textiles
Pottery
Antiques

Modern

Metal accents
Clean lined furnishings
Artwork
Architectural decor
The combination of these two contrasting styles creates a modernized environment that isn't stuffy or pretentious. It is welcoming, character-filled, charming and not too precious.
Organic Spring Home Decor Ideas
To begin, let's focus on organic spring home decor ideas. My style tends to lean more heavily towards organic than modern.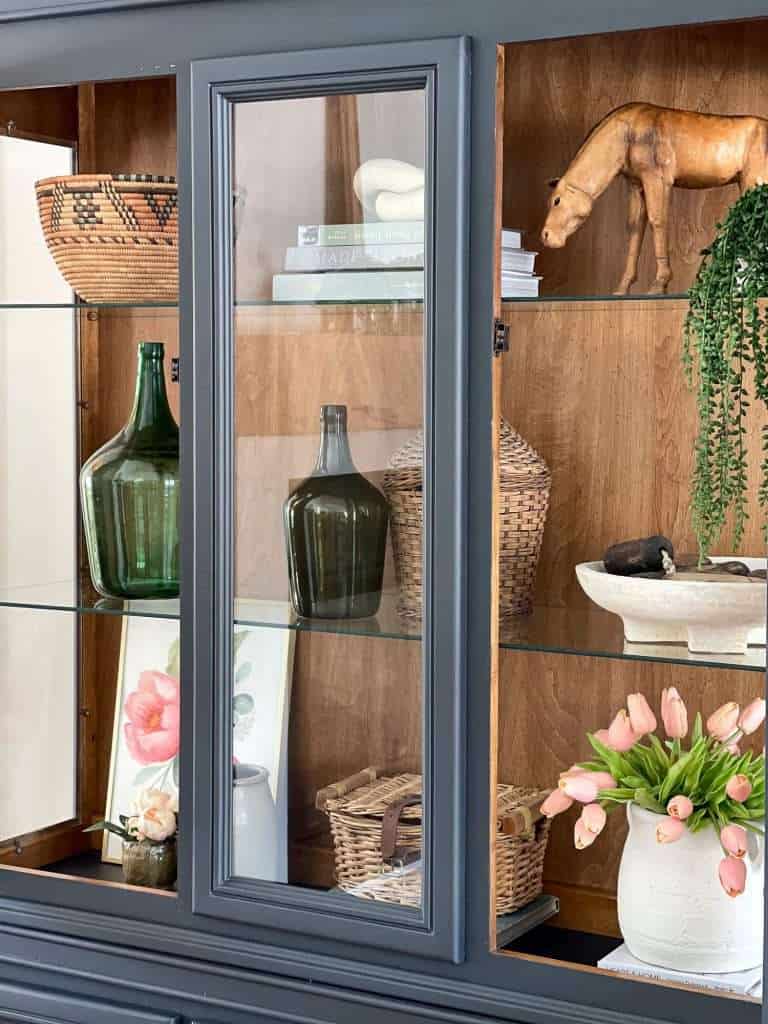 This year, to style my shelves for spring I incorporated these organic elements:
My favorite faux tulips (that look SO realistic!)
Plants
Pottery pieces
Woven textures (wicker, hyacinth baskets)
Antique finds like my leather wrapped horse and vintage demi johns
These leather horses are a favorite new collection I'm always on the hunt for now. You can find similar ones here.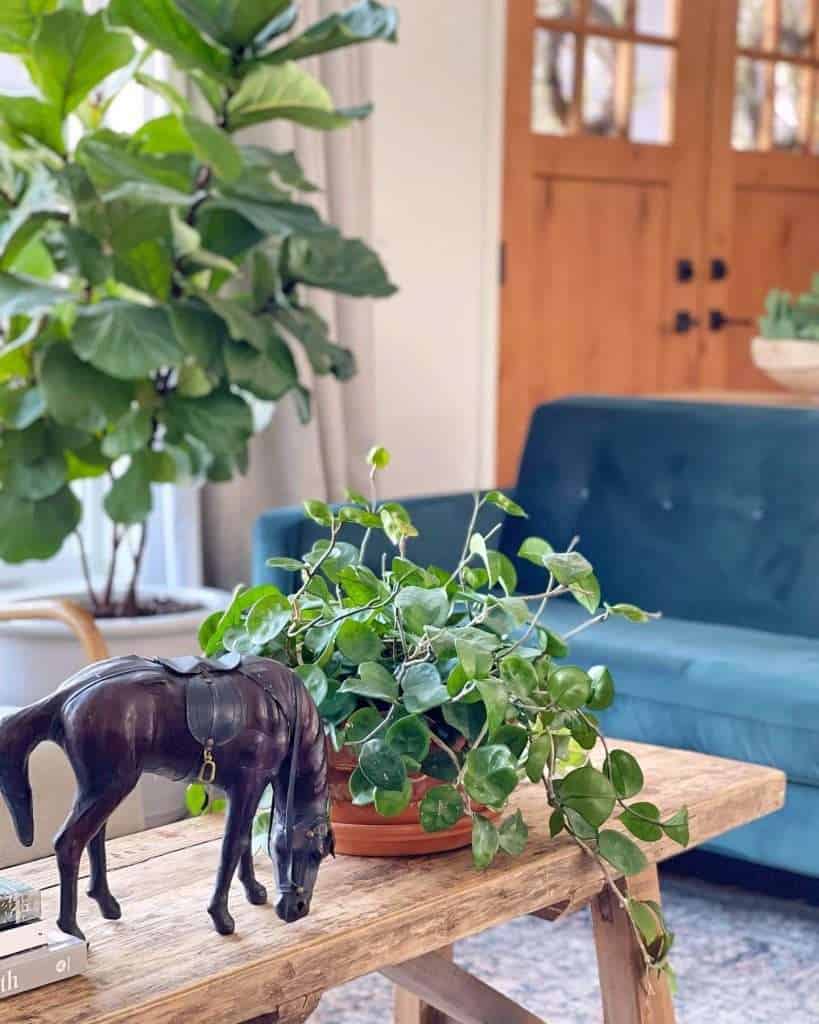 I also scatted similar elements around the living room. These types of spring decor accents create awesome coffee table decor.
Next, I added in my collection of paper mâché bowls to the console table behind our sofa.
I created a spring look by simply wrapping eucalyptus garland inside of them. I use this garland for everything! You can easily create a simple wreath by tying the two ends together. Or, it can be added to a Christmas mantel for fullness, or be used a spring garland.
In addition, I like to include lots of pottery pieces to add in those earthy elements.
And of course, wood accents are a must have for organic design. My vintage bench is a favorite antiquing find and it is the perfect size for a coffee table in our living room. I also like to include small wood side tables that are just big enough for one decor item or a book and coffee cup.
I've rounded up some of my favorite small side tables here.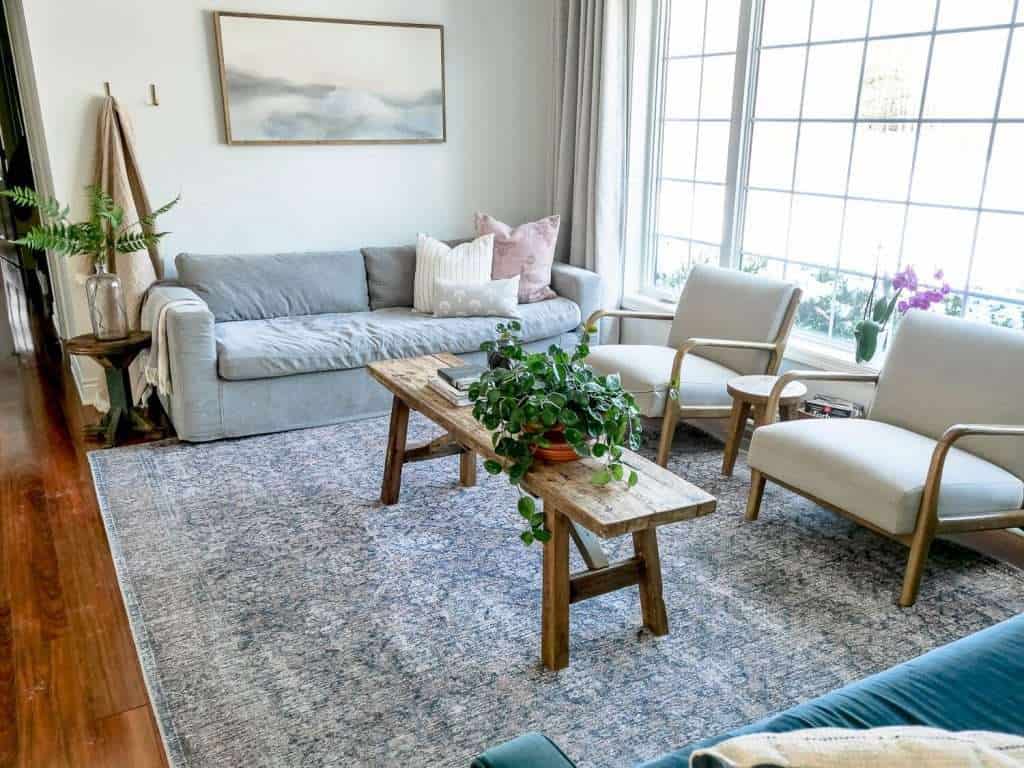 Modern Spring Home Decor Ideas
Now, let's talk about the more modern additions. Most of the larger furnishings in my home are modern. This allows the space to feel current without it feeling contemporary or stark.
Then, I layer in smaller home decor pieces that have a modern feel. Metal accents are the perfect way to add more modern pieces.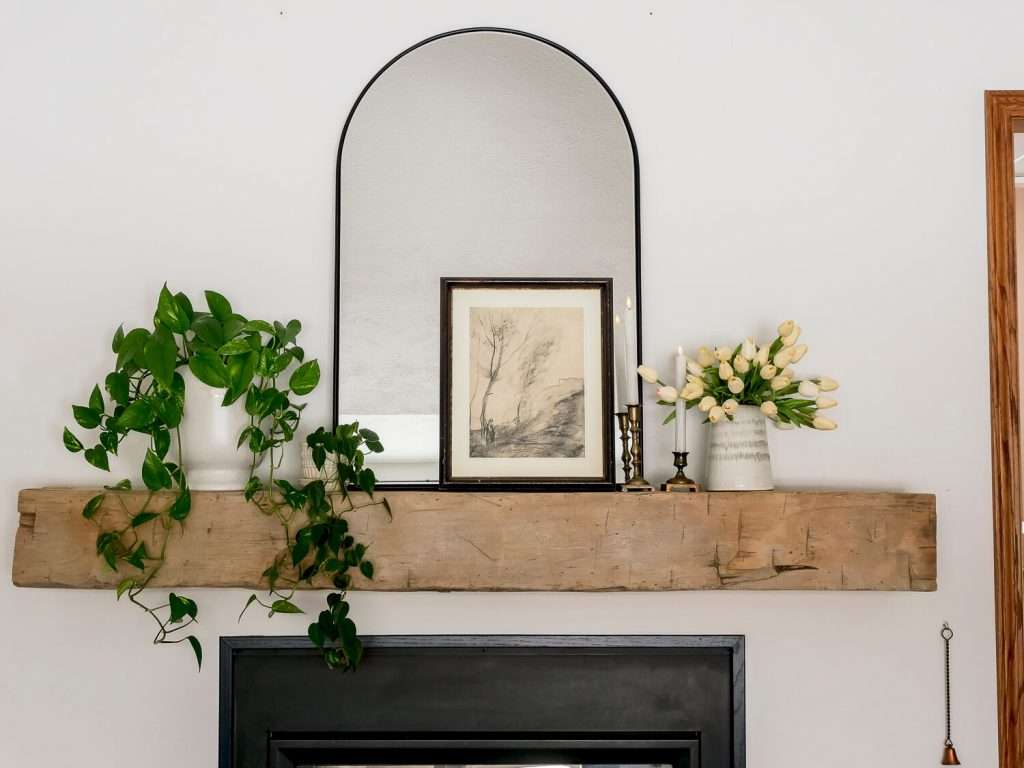 My spring mantel decor was modernized with an arched mirror. You can see how I styled this mantel for spring 5 different ways in this post.
Additionally, I like to add metal accents to rooms with picture frames. In my bedroom I used a bright brass picture frame to hang some of my favorite photos from our trip to Portugal.
Brighter brass feels more modern than an antiqued brass, so keep those different finishes in mind!
You can see that I reuse metals throughout the home to help it feel cohesive with this brass mirror in our entryway.
Adding this board and batten to our entryway created an interesting environment so I don't have to do much "decorating" in this space! Just pop in a couple of lighter textiles for the spring and summer months and it is good to go.
More Simple Seasonal Swaps
Once I have the main elements of a room designed with interesting wall treatments, statement furnishings and neutral wall colors, it is easy to swap in seasonal elements.
Sometimes all it takes is a pillow swap, fresh bedding, a new rug, or lighter curtains.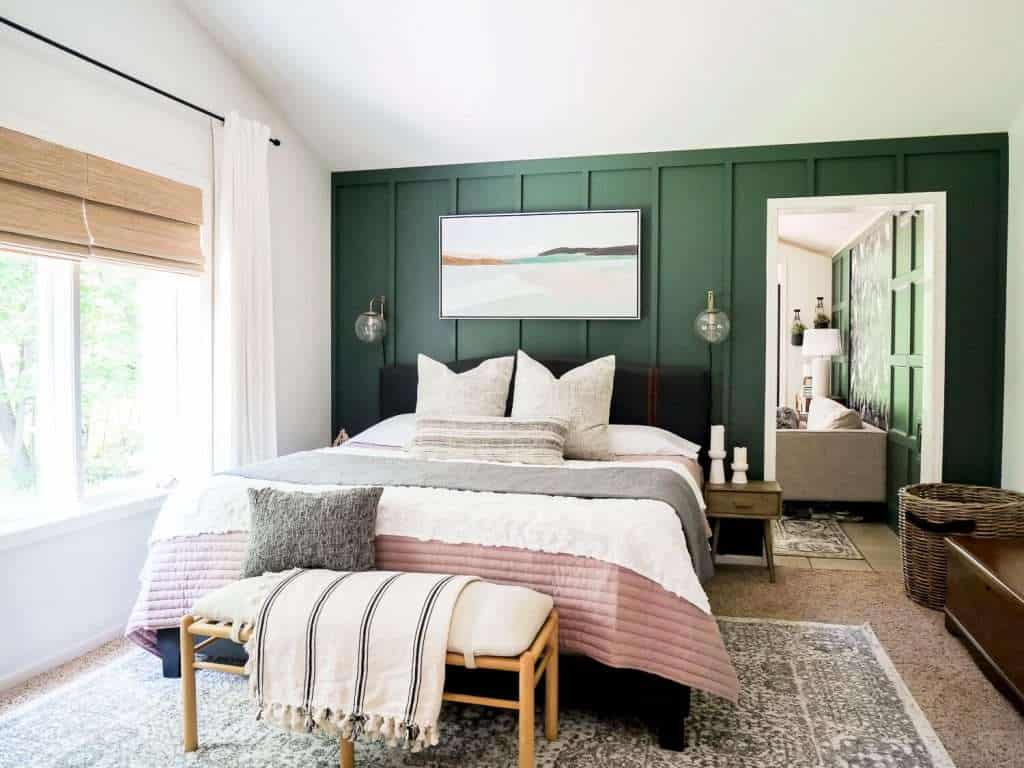 Other times, simply adding in a few brighter pops of color can brighten an entire room. I like to do this in my dining room with bright greens after a long winter.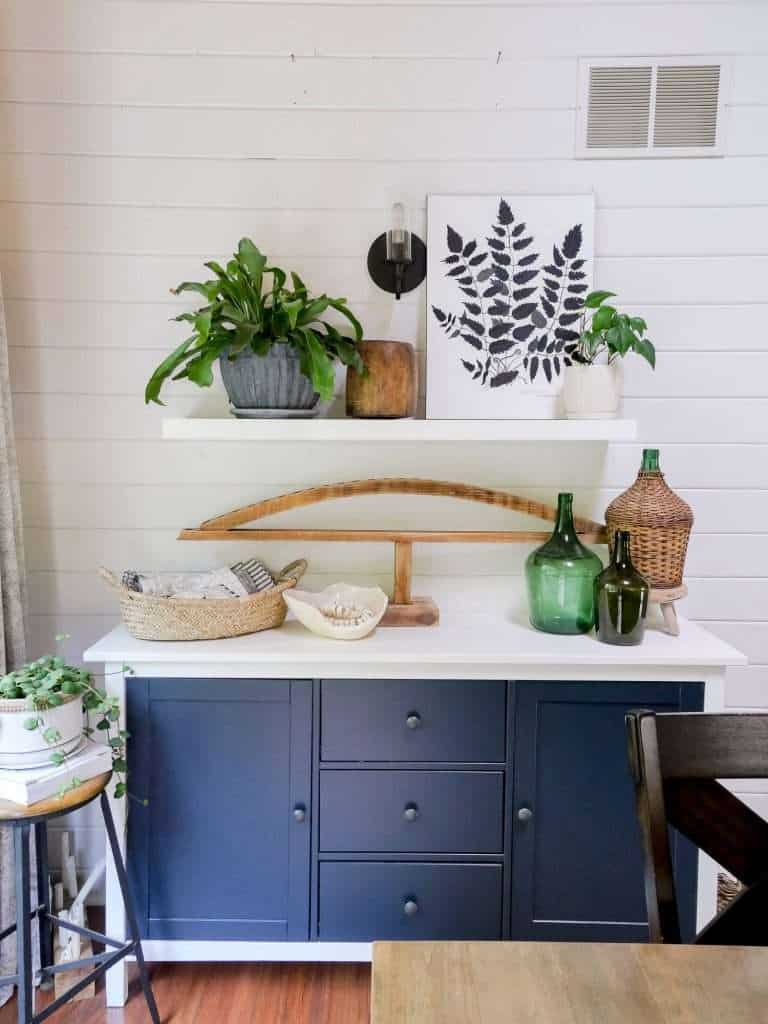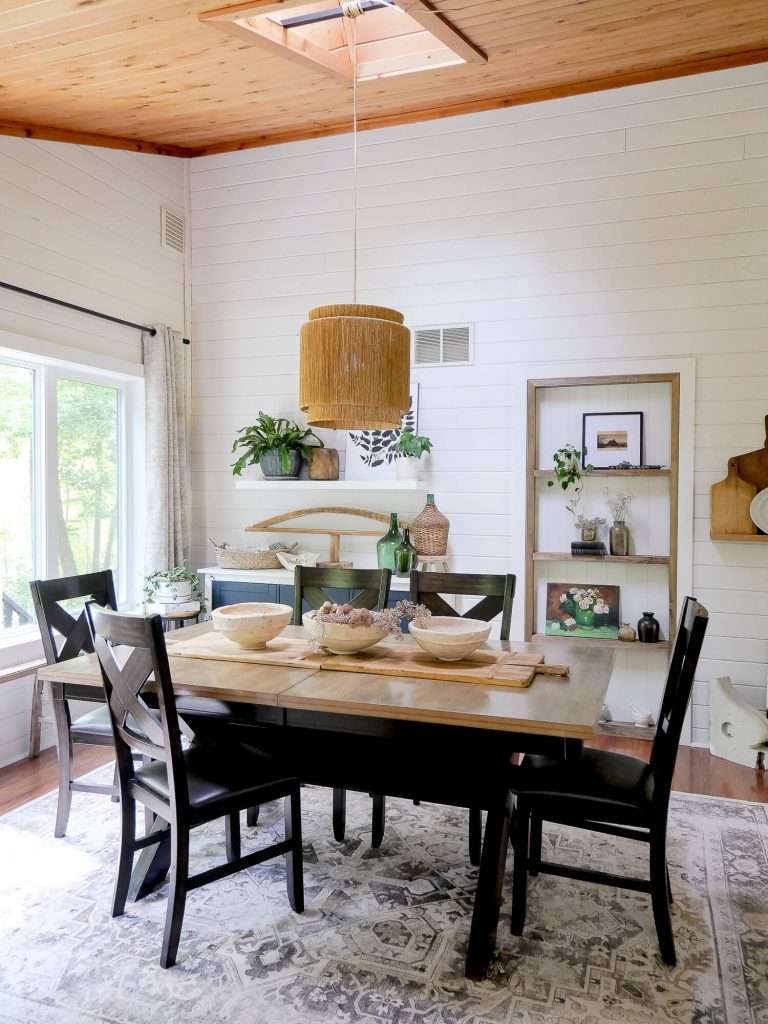 I also like to move pieces of spring decor around. If I'm tired of how something looks after a month, but it's not time to change decor for the season, then I simply move items from one room to another!
Sometimes all it takes is a quick swap to make a space feel fresh again with no added cost or additional decor to store.
Stay Connected
Thanks so much for stopping by the blog today! I hope you were inspired with some spring home decor ideas in both the organic modern style, and just seasonal decor in general!
Make sure and subscribe to my insider newsletter and snag my free course on decorating!
You can also follow along with me weekly on YouTube and daily on Instagram for DIYs, home styling and more!
To follow the spring home tour hop, make sure to head next to tour Follow the Yellow Brick Home!
More Spring Home Tours
Monday March 7th Lineup
A Stroll Thru Life – Thrifty and Chic – Chalking Up Success – White Arrows Home – Pink Peppermint Design – Worthing Court
Tuesday March 8th Lineup
Our Southern Home – Cuckoo4Design – Country Road 407 – Decor To Adore – RemodelaCasa – Calypso in the Country
Wednesday March 9th Lineup
Whispering Pines Homestead – Up to Date Interiors – The Stonybrook House – DIY Beautify – Southern Home & Hospitality – Dimples and Tangles
Thursday March 10th Lineup
CitrineLiving – Hymns and Verses – 11 Magnolia Lane – StoneGable – Southern Hospitality – This is our Bliss
Friday March 11 Lineup
Grace In My Space – Follow The Yellow Brick Home – Quarters One – My Wee Abode