Top 10 Spring Shelf Styling Tactics of the Pros
Do you find that styling shelves can feel intimidating? Today, I'm taking the mystery out of the process! Learn the top 10 spring shelf styling tactics of the pros to create a beautifully styled shelf. I'm also excited to give you a full tour of my living room decorated for spring!
This post may contain affiliate links provided for your convenience.
Spring Inspired Living Rooms
Joining me today are some talented bloggers for the Seasonal Simplicity home tour series hosted by Krista from The Happy Housie. Make sure to visit each home tour linked at the bottom of this post for tons of living room spring decor ideas!
Spring Living Room Decor
This year, my spring living room decor is very simple, with most of the spring decorating happening in my china cabinet.
You can see how I styled my spring mantel 5 different ways in this post.
Some years I go all out with spring decor. Other years, I crave simplicity. Decorating for spring in a concentrated area (like a china cabinet) allows me to add beautiful spring elements without it feeling overwhelming to the room.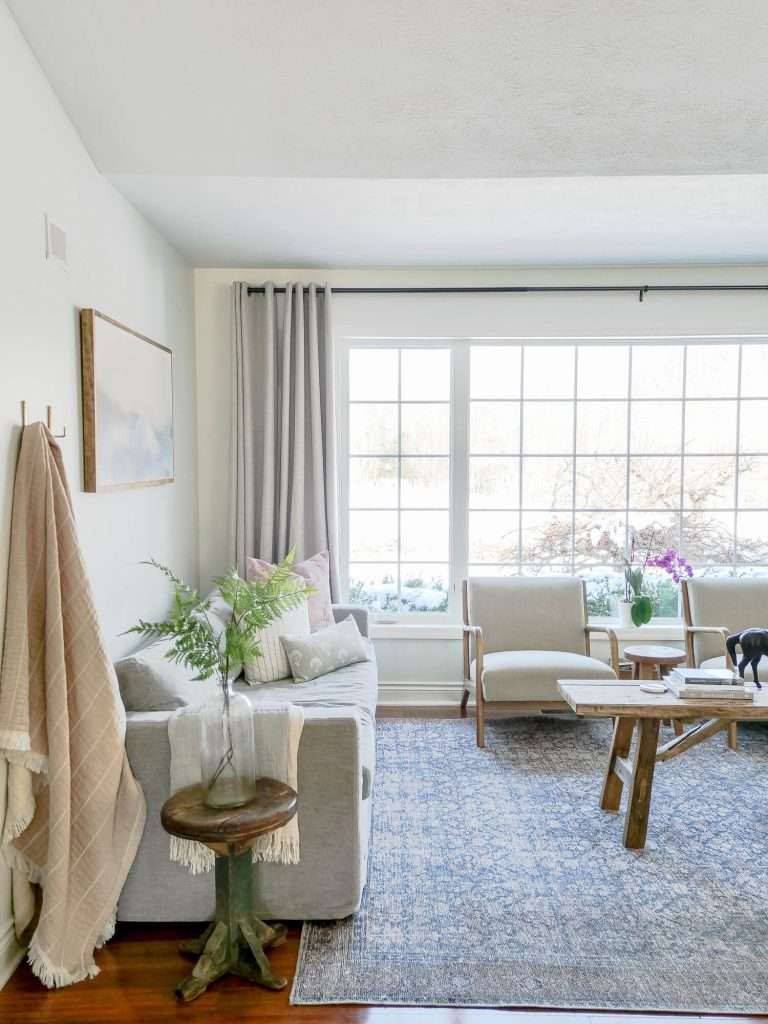 This year, I simply included some statement foliage, lightened linens, and fresh pillow covers.
That is all it takes to transform the living room to a brightened color palette for spring.
Spring artwork is another simple update to change the feel of a room for a new season. This beautiful piece is from one of my favorite brands, Joyfully Said. You can shop their beautiful signs and artwork with code GRACEINMYSPACE for 15% off.
Of course, adding in live plants is always a go-to for me as I help usher in warmer months and the earth comes back to full bloom!
You can tour more of my spring home decor in this post.
Shop Living Room Decor Sources

Top 10 Spring Shelf Styling Tactics
Next, let's key in on specifically how I've used spring shelf styling as my focal point for spring decor in the living room.
Sometimes people get stuck on spring shelf styling when they have multiple layers of shelves to fill. It can easily become cluttered, overcrowded, or haphazard. With the following 10 simple steps, you'll have your shelving styled like a pro!
Start with a blank slate
Choose a small color palette
Gather more decor than you need. It's all about options.
Combine seasonal and non-seasonal decor
Add unique or unexpected pieces
Repeat like decor
Vary heights and balance
Style in a triangle
Collections
Consider the background: thinking outside decor.
Decorate Spring Shelves with Me!
If you like to learn visually, make sure to check out my spring shelf styling tutorial on YouTube!
1. Start with a blank slate
The first step is to start with a blank slate. Take everything off your shelves, wipe them clean, and clear your preconceived notions of what it should look like.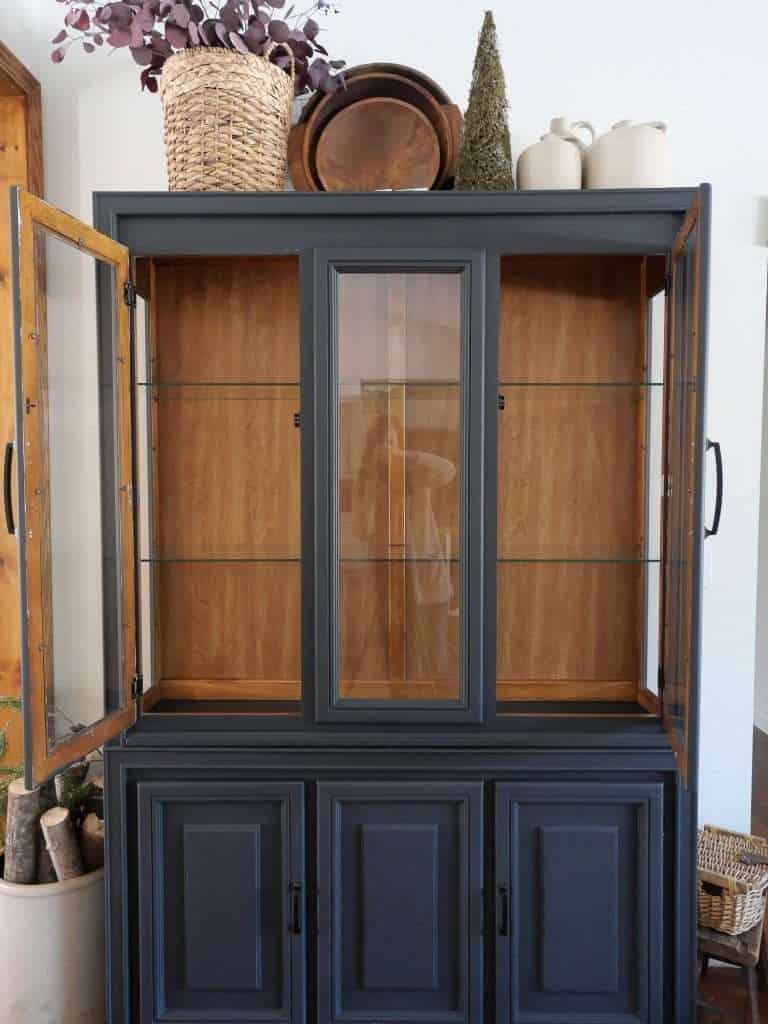 Not only does this allow you to have more creativity by starting from scratch, but it also gives your brain some time to rest.
Even if you plan to re-use decor that was already on the shelves, taking it down and placing it to the side gives you options for how it can or should be used down the road.
Otherwise, it is easy to get stuck in a rut of "this goes here" and now I need to work around it.
Instead it allows the mentality, "I want to use this again and it could be used in x, y, or z layouts."
2. Intentionally choose a color palette
Once you've cleared away the existing decor and have a blank slate, your next step is to intentionally choose a color palette.
Try to stick to 2-3 colors interspersed with neutrals.
Using a smaller number of colors in a condensed space will keep the entire shelving unit looking cohesive and calming.
For my shelving, my small color palette consists of pink, green and tan/wood tones. My neutral is a white/cream combination to help ground the design.
3. Gather more decor options than you need
The next step is to round up a plethora of decor items. This should be a combination of spring specific decor, as well as non-seasonal decor.
By gathering a variety of decor items into one place, you give yourself a head start on planning. It is easier to see how a space can come together with all the shapes, colors, and sizes right in front of you.
This also gives you more options to choose from when testing out a variety of ways you can style a shelf. There is always more than one way to create a beautiful look in the end.
4. Choose a combination of seasonal and year-round decor
Next, as you sort through your options, choose a combination of seasonal and non-seasonal decor.
For example, the "spring" elements of my shelf decor are my favorite pink tulips, springy artwork, and a faux plant. That's it!
The rest of the decor could potentially be used year round. I chose the green bottles for the addition of a springy color, and the basket on the top left for the pink accent colors. However, none of those pieces are specifically spring-related.
By choosing a smaller amount of season-specific decor, it creates styled shelves that can span the seasons easily into summer without feeling out of place. I can stretch my decor without having to restyle the shelves if I don't want to!
5. Add In Unique or Unexpected Decor Pieces
The next pro tip for spring shelf styling is to include unique or unexpected decor pieces.
This year, I have fallen in love with these vintage leather horses. I found one antiquing one day, and then a couple of months later stumbled upon another one.
It is a unique and unexpected item to include with seasonal decorating. It adds interest and is a great conversation starter.
Similarly, pieces that have unique shapes, like this limestone knot or sculpted bowl, add tons of interest without feeling heavy in the space.
Shop Similar Knots

---
6. Repeat Like Decor Throughout a Room
One of the ways to keep an entire room feeling cohesive, and to ensure your shelf decor fits the room, is to repeat like decor in multiple places.
For example, within my china cabinet I have my leather horse decor. Then, I have repeated this interesting element on my spring coffee table decor with a similar horse.
Additionally, I use the same color palette throughout my living room as I did in my spring shelf styling.
Repeating these smaller items or colors throughout the room pulls the entire space together. This way, it feels like you have a big-picture plan for the space rather than decorating piecemeal.
7. Vary height and balance scale
One of the most common mistakes people make in shelf styling is neglecting to vary the height of objects. Or, have an unbalanced scale to the space.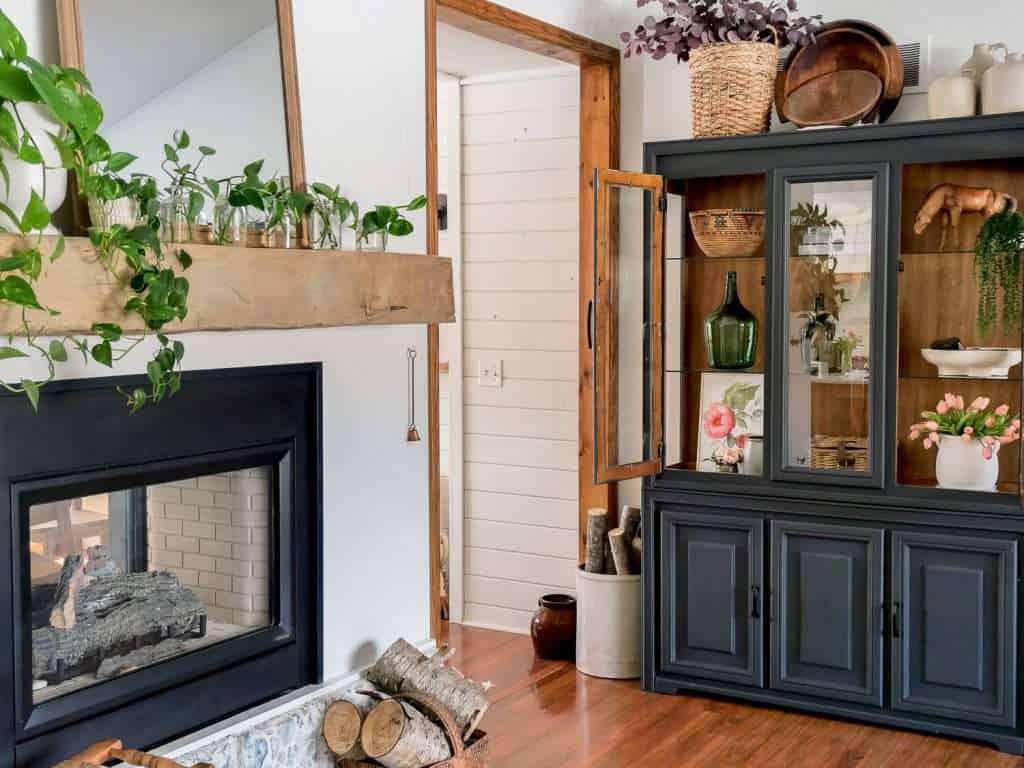 As you can see above, my cabinet is a grid of 9 boxes created by the cabinet doors and shelves. Within each box, I need to ensure that I have proper scale and that the height of the objects vary. In addition, grouping items in odd numbers with varied height is helpful.
This helps the eye move through the space with easy movement rather than feeling overwhelmed with all items at one height.
Varying heights also allows for "dead space" or as some would call "white space". An example of this is above the shallow bowl on the right of my cabinet. By intentionally leaving white space, it gives pause and a place for the eye to rest.
8. Style Colors Diagonally or in a Triangle
Number 8 on the list has to do with color placement.
Since you've narrowed your main palette down to 2-3 colors, you can intentionally place them in a triangle layout.
As you can see below, my tan colors are an inverted triangle. The whites are a traditional triangle. And the greens are in a sideways triangle.
Repeating the main 2-3 colors in a triangle (or diagonal) pattern bounces the eye from corner to corner without it feeling chaotic. It also keeps the entire shelving system feeling cohesive and unified.
9. Spring Shelf Styling with a Collection
Now that we've covered the basics of shelf styling, here is an exception to all the rules!
Collections.
You can see, above, in my winter styling that decorating shelves with a collection can be much more straightforward.
Heights, when they are all identical, can make it feel polished.
Similar sizes across a single shelf reiterate the similarities of a collection. Which, is why people tend to collect in the first place!
Additionally, collections can be all one color with varying sizes or shapes. Or, they can be multiple colors of the same size and shape.
The fact that collections have distinct similarities make them very easy to style together without feeling cluttered or chaotic.
10. Consider the Background
Last, but not least, consider the background of your shelving! Rather than only focusing on the decor you place ON the shelves, also consider what is BEHIND the shelves.
In my cabinet, the shelves are highlighted by a wood background.
This makes my whites and lighter colors pop! It also blends some of the tan/wood tones.
This gives a good balance of decor pieces that are highlighted. If you have a collection of all white decor and you place it on shelves with a white wall behind it, then they will blend. If you put them on shelves with a dark contrasting background, then the decor will pop!
You can also use wallpapers, beadboard, or other textural items as the background of wall shelves to get the look you're going for. Wallpapers with a busy pattern will allow you to use less decor items on your shelving because the pattern serves as "decor" on it's own.
Conversely, neutral or plain backgrounds give more breathing room to use more decor items so the space doesn't feel overwhelming.
Stay Connected
I hope these 10 tips for spring shelf styling (or any season!) have been helpful to you as you decorate for spring. And, I hope you enjoyed this little tour of my spring living room decor. Make sure to check out all the amazing living room tours linked below!
I'd love for you to join my subscriber community to get access to all the insider perks. You can also follow along with me in real time weekly on YouTube and daily on Instagram!
Happy spring my friends!
Today some of my friends are sharing their Spring home decor ideas for their Living Room. Be sure to visit their posts by using the links below the images.