Sensibly Decorating Floating Shelves in a Kitchen
Decorating floating shelves in a kitchen can be a fine balance between form and function. Today, I'm going to share several sensible ways to decorate my floating shelves in the kitchen for spring. Learn how to decorate kitchen shelves for beauty and everyday use!
This post may contain affiliate links for your convenience.
Spring Home Tour: Kitchen Decor
As I share different ways to decorate floating shelves today, I'm also sharing my kitchen as part of the Seasonal Simplicity spring home tour blog hop! Krista from The Happy Housie hosts some amazing tours each year where you get the benefit of visiting several blogs all sharing ideas around the same topic.
Make sure to tour each kitchen decorated for spring linked at the bottom of this post!
Decorating Floating Shelves in a Kitchen
Personally, I love floating shelves in a kitchen.
I know there tends to be some controversy over open shelving. However, my floating shelves are one of the favorite elements in my home!
If you are trying to decide for yourself whether to do floating shelves v. upper cabinets, make sure to check out this article where I've broken down the pros and cons.
On the one hand, they are an amazing place for kitchen decor. On the other hand, most people need them to function!
So today, I'm focusing on how to decorate floating shelves in a kitchen that meets both form and function.
How do you dress a floating shelf?
Decorating floating shelves doesn't have to be complicated! If you're looking for general shelf styling advice, make sure to check out this article for specific shelf styling design rules.
You can also decorate shelves with me in this YouTube video!
Now, focusing back to kitchen shelving; I like to combine both kitchen decor and everyday staples in my shelf styling.
Dressing, or decorating, kitchen shelving is a fine balance between keeping them functional without appearing disorganized.
Key Tips for Decorating Floating Shelves in the Kitchen
Here are some key tips for decorating floating shelves in the kitchen, for any season.
Mix 2/3 functional items to 1/3 decor
Think outside the box of traditional kitchen decor (i.e. artwork, lamps, plants, tchotchkes)
Place items used daily on most accessible shelf
Utilize the full height of the space with kitchen shelf risers (This style would be easy to DIY, but I'll link some options below as well!)
Create a cohesive look by storing everyday items in matching containers
Purchase more polished everyday items that can serve both form and function

Glass jars for pantry items
Cloche for daily sweets
Ceramic bowl for fruit
Glass spice containers with uniform labels
Pretty everyday dishes
Matching mugs on cup hooks
Cohesive color palette
Uniform, matching storage containers
Shop Kitchen Shelf Risers

---
What can go on floating shelves?
When choosing what to use on floating shelves in the kitchen, think of functionality first.
In my home, we have plenty of storage space in our kitchen cabinetry. So I don't need our open shelving to be a storage solution.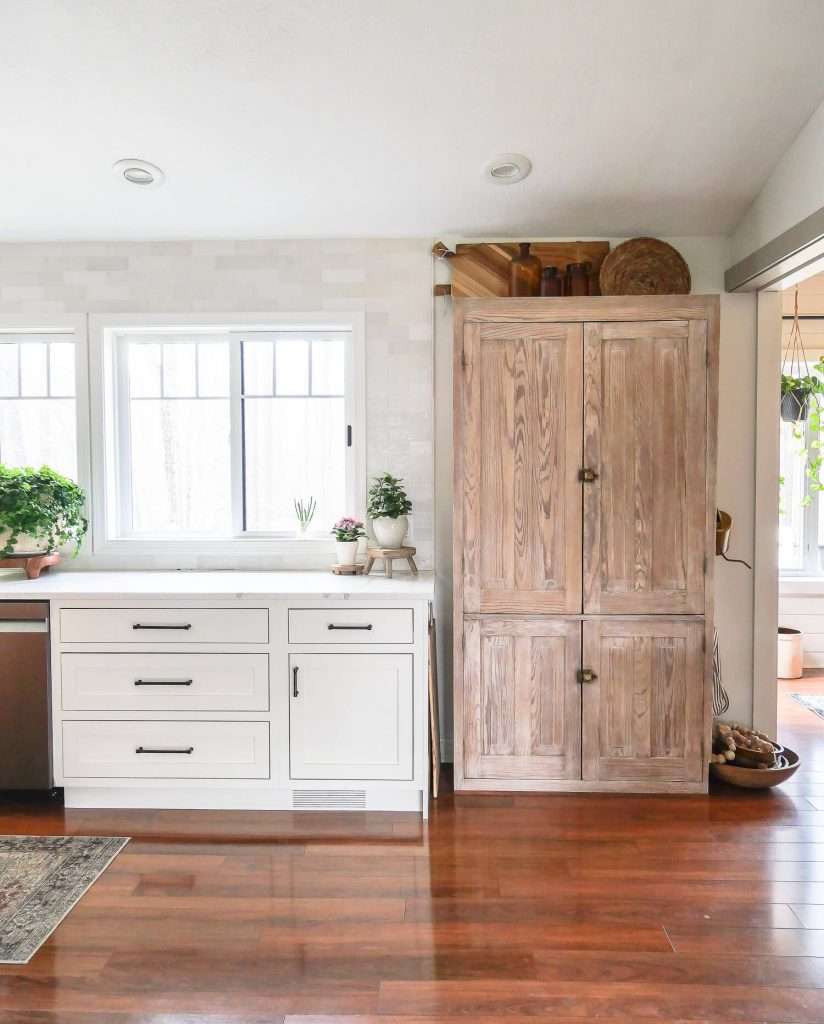 In spite of that, I still like to use it for our daily dishes because they are easily accessible and out in the open.
However, many people do need floating shelves to function as storage in a kitchen! Here are some ideas for what you can use to decorate floating shelves. These are some pretty storage solutions that are functional and decorative.
Pantry staples in glass canisters: flour, sugar, rice, bread crumbs, pasta
Daily dishes (Choose matching options that coordinate with your overall decor style. Want to know how to figure out your decor style? Watch this video.)
Cutting boards: look for unique shapes to add visual interest
Serving or mixing bowls
Baking tools (Choose glass, metal or ceramic options rather than plastic for functional display.)
Matching spice jars
Lidded ceramic canisters (not clear glass) for cereals or oats, grains, or other shelf-stable breakfast items that you want to be hidden.
Daily mugs or glasses
Cookbooks
Baskets
Mortar and pestles
Pretty linens or towels folded neatly in a stack
Plants
Non-traditional kitchen decor like artwork, lamps, favorite collections
Shop Containers & Canisters

---
Shop Mixing and Serving Bowls

---
Shop Alternative Kitchen Shelf Decor

---
5 Ways to Sensibly Decorate Floating Shelves for Spring
Now that we've covered some creative ways to decorate floating shelves in a kitchen, let's take a look at 5 ways I've styled mine!
Each of these options is very simple.
They combine some decor, since that is how I prefer to use my kitchen shelving. However, they also contain everyday items we use frequently.
When styling kitchen shelves, think of your countertop as the bottom shelf. That way, you can create a cohesive look from top to bottom.
Look 1: Mostly Decorative, Spring Kitchen Shelf
The first look is mostly decorative. This beautiful artwork makes a statement as a backdrop to fill the height of the space. (You can use code GRACEINMYSPACE for 15% off signs at Joyfully Said.)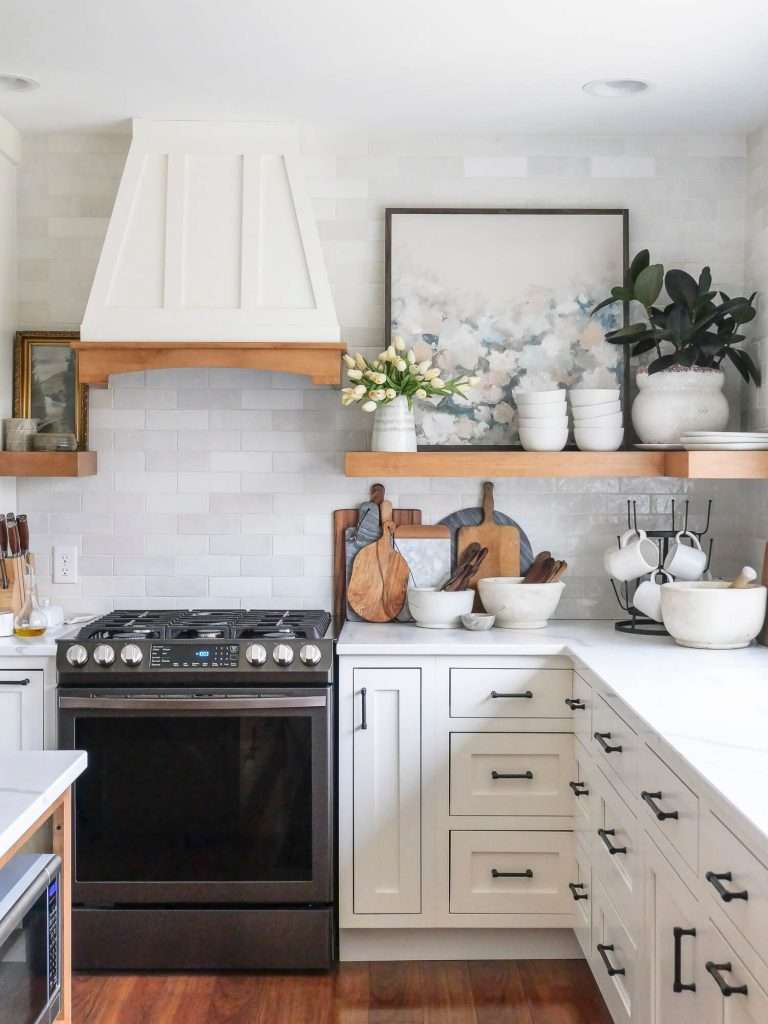 Our daily dishes remain accessible, but the rest of the space is geared towards spring decor. My favorite spring decor in the kitchen is these real touch tulips. I've had them for years and they always look pristine!
Look 2: Decorative, but simplified
The next look is similar, but we've removed the artwork. This option allows more space for daily dishes.
When styling shelving, make sure to vary the height of your objects. Since most of the pieces I used in this look were the same height, I added a small pedestal to the tulips to elevate them.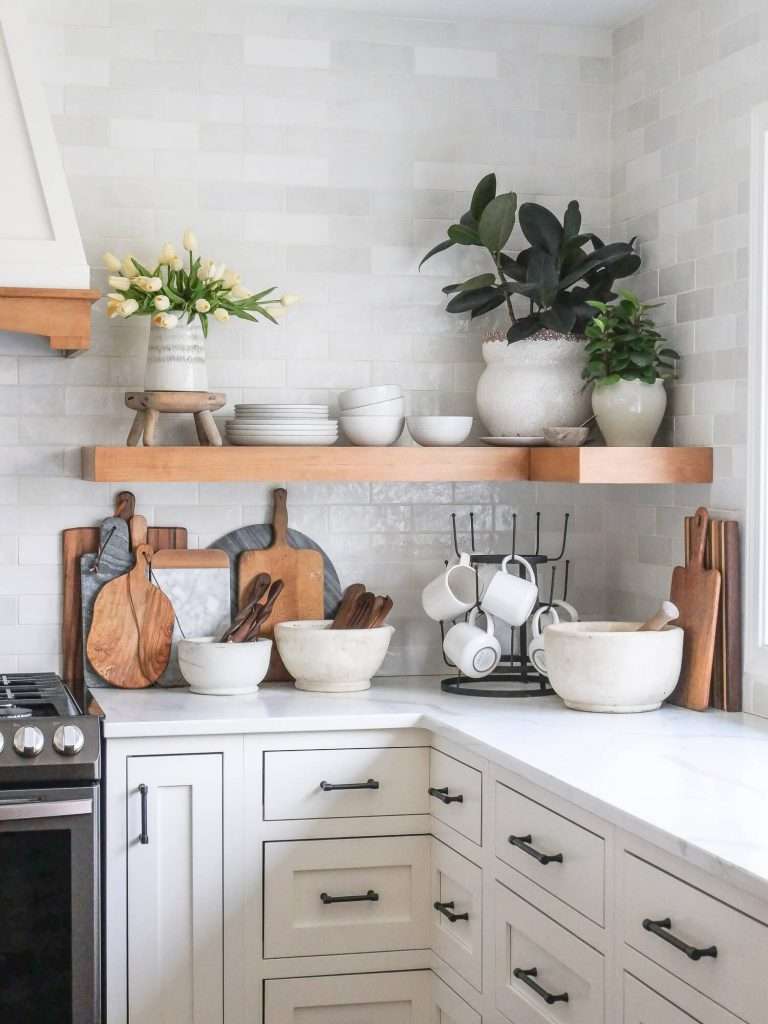 Look 3: For the Cook
The next look is much more utilitarian. Keeping utilitarian items on hand, like mortar and pestles and cutting boards, is a great way to utilize floating shelves.
My mortar and pestle collection is antique, but make sure to check out the options I found for you below! These are some beautiful options that are decorative as well as functional.
Shop Mortar and Pestles

---
I also love keeping ingredients I use daily out and on hand. Putting oils and salts into pretty containers goes a long way for functionality and form. I love this oil dispenser bottle for my olive oil.
Look 4: Collection/Theme Based
The next look combines form and function with a collection. Perhaps your collection is mixing bowls, cutting boards, pretty dishes, or something not related to kitchens at all!
When you group like items together it immediately creates a uniform and intentional look. Pop a plant next to it and you are done!
This plant is a creeping fig. You can see how much it's grown over the years by taking a look at it in this post where I share all kinds of tips and tricks for indoor plant care!
Look 5: All of the above
This look is a combination of all of it!
Artwork. Plants. Daily dishes. Collections. Pops of spring decor. The gang's all here.
Since I only have one shelf in my kitchen, it limits how much I can display. But if you have two or more shelves, use them to their full potential! Just keep these styling tips in mind so it feels cohesive and decorative at the same time.
What I'm Trying Next: Decorating Open Shelves with Linens and Books
We have some upcoming kitchen changes that are happening in our home! The next time I style these I'm going to try out adding cookbooks and linen storage for a whole new look.
For now, I'm enjoying the simplicity of this spring kitchen decor.
If you're looking for additional details on my kitchen, make sure to check out the FAQ posts below!
I hope that you've found this post on decorating floating shelves in the kitchen helpful! Make sure to Pin it for later and share with your friends.
Subscribe to my newsletter to get weekly updates. You can also follow along daily on Instagram and weekly on YouTube for real time content!
Head next to enjoy the beautiful spring kitchens from my friends linked below!
Today some of my friends are sharing their Spring home decor ideas for their Kitchens. Be sure to visit their posts by using the links below the images.