Design an Organic Modern Living Room in 7 Steps
I love organic modern design. The earthy tones, the natural textures, and the organic feel of nature brought indoors puts me at ease. This design style is becoming more well known, so I want to help you understand what it takes to achieve the look. Let's make designing an organic modern living room easy! Here are 7 simple steps to get the modern organic look in your main living space.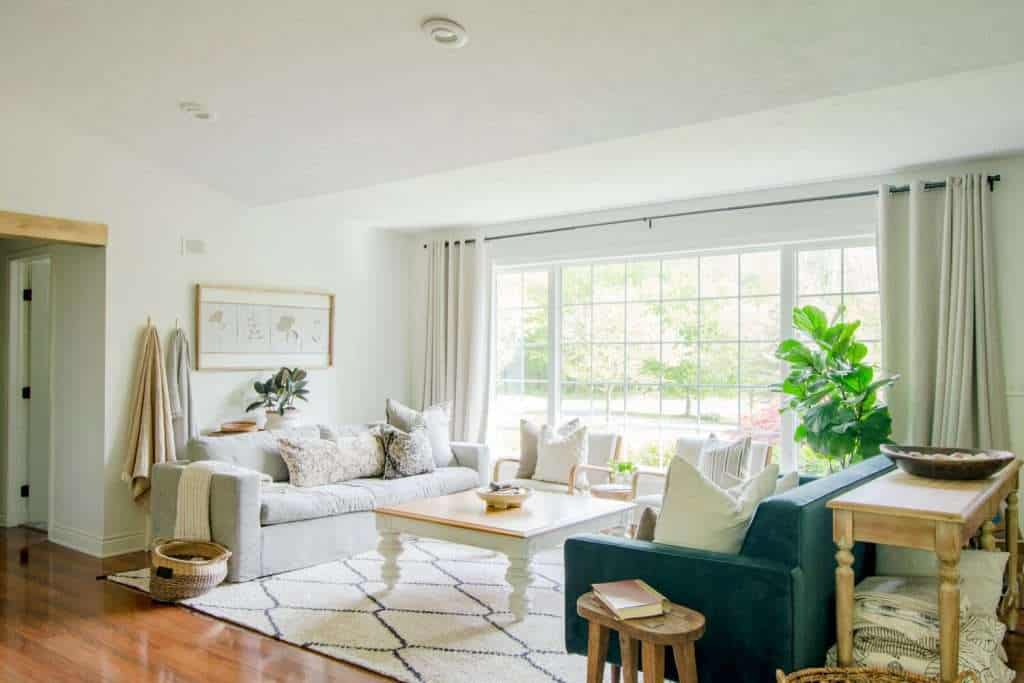 This post may contain affiliate links where I earn a small commission on your purchases at no additional cost to you.
What is organic modern style?
Recently, I wrote a post about the main elements of the organic modern design style. This is a great starting point to learn more about the design style. In summary, organic modern style intentionally brings the natural world into your home. However, it isn't all about plants, as some may assume. While adding live houseplants is part of the beauty of this design, it isn't the main focal point.
Let's dive into more details!
How do you decorate Organic Style with a builder grade home?
My home is a 90s home with little original character. Often, when we think of organic modern homes we envision thick wood beams, floor to ceiling windows, and rustic wood floors. However, not all homes have to have that much original character to achieve the organic modern style.
In order to give an example of how to decorate with an organic style in a builder grade home, let's take a look at my living space. Today we are going to break down how to decorate an organic modern living room in 7 steps.
Design an Organic Modern Living Room in 7 Steps
As with any design style, I like to make the disclaimer that it isn't imperative to dive headlong into buying new decor or furnishings to get a certain look. While designers are able to design a room from scratch, most of us have to incorporate a style into our current home.
That means that we have certain pieces of furniture or decor that don't "match" the style we are heading towards. That's ok! A design transition doesn't have to be immediate. Often, I find that slow transitions to a new style are best because it forces creativity in using what we already have.
It also slows us down to make intentional purchases. Rather than buying just to "fill a space" we can work slowly towards an end goal that will create a home we actually love.
If you'd like to learn more about how I teach intentional design, make sure to sign up for my free e-course! This will help you gear your design mindset towards creating a haven rather than just decorating your home.
With that said, let's talk about 7 steps to moving in the direction of an organic modern living room.
1. Organic modern furniture
The first and most obvious option for transitioning your style is to invest in organic modern furniture. Of course, this is also the most expensive option.
Let's take a moment and define what organic modern furniture is. First of all, organic and modern are two different styles. It is the combination of them that creates an organic modern space.
My green velvet sofa is a mid-century modern style. On the opposite side of my living room, I have a more organic feeling slip cover sofa.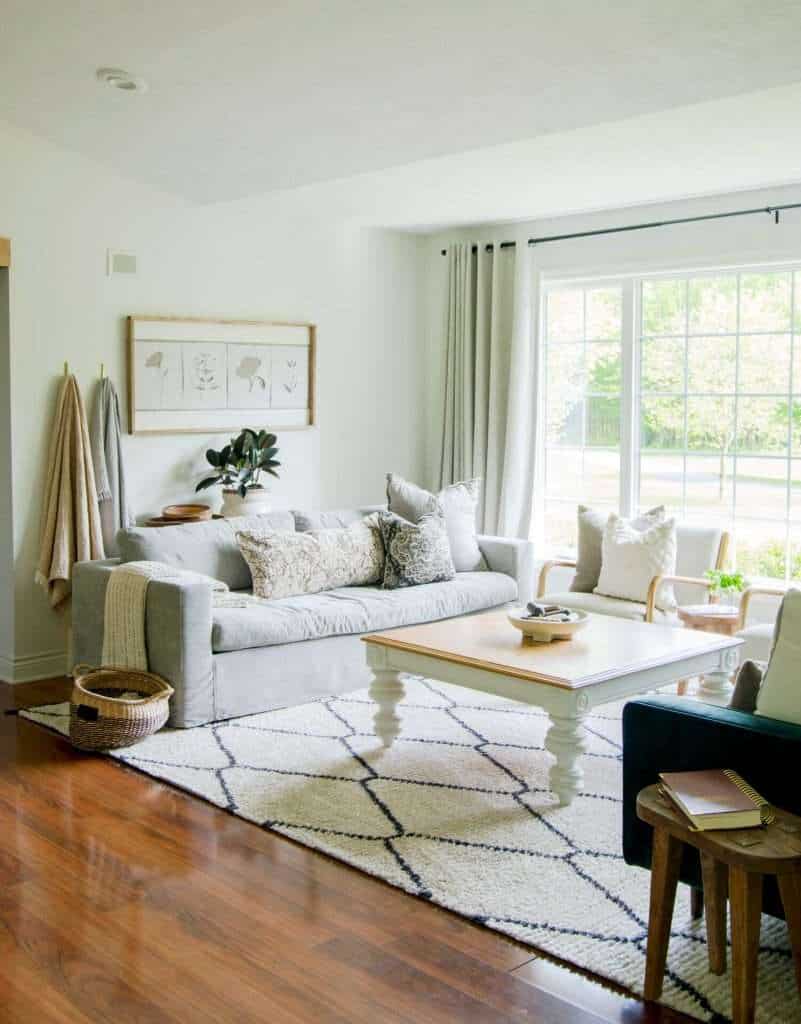 These two larger furniture pieces anchor the room in this style. The relaxed slipcover sofa tones down the more structured and polished modern sofa. If I took one away, it would change the feel of the entire space.
These larger furniture pieces help to lay a foundation for an organic modern living room. Once the larger pieces are established, it is fairly easy and inexpensive to layer in the remaining elements.
2. Vintage Furnishings
The next biggest (in relation to size) element to invest in are vintage furnishings. Or, vintage-looking, furnishings. Adding in an antique or vintage furniture piece, like my coffee table, adds some old world charm to the space. It is even better if it has natural wood elements preserved.
When I purchased my vintage coffee table second-hand, I refinished (tutorial here) it to let the beauty of the natural wood shine on top.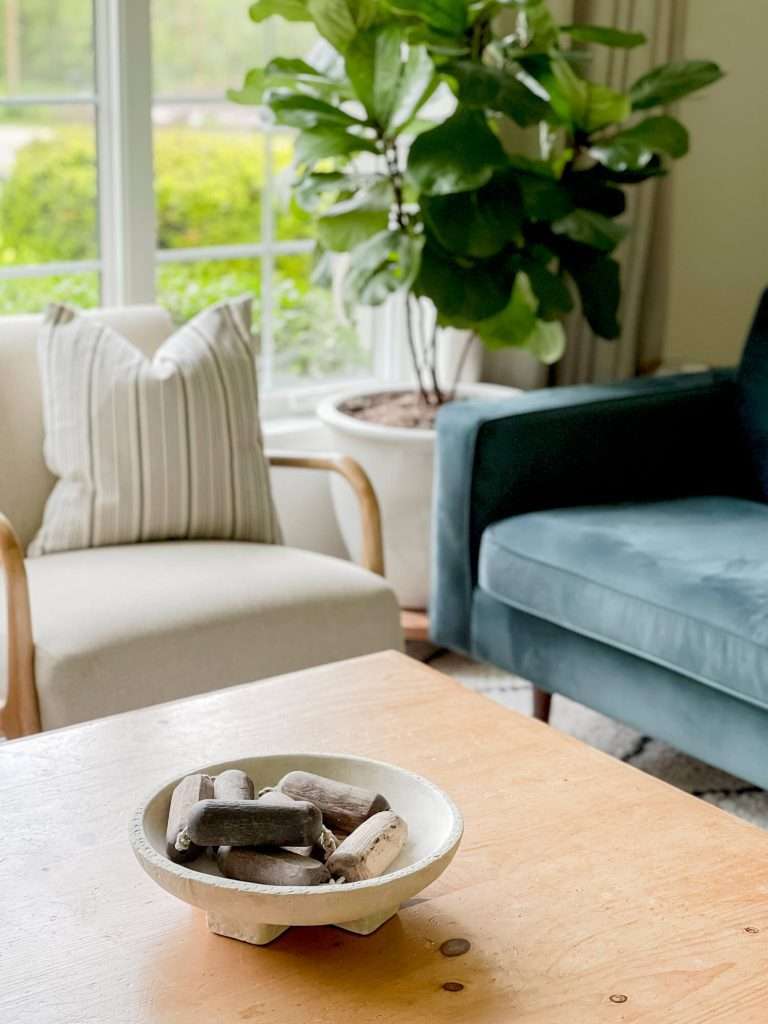 It has tons of nicks, dings and scratches that I chose not to sand out. Keeping some of those rustic elements creates more of an organic vibe than a fully refinished piece.
You can also add vintage look-a-likes. My stools are both new but are made to look old. I love the rustic touch they add to the space to keep it feeling casual and unpretentious.
3. Wood Accents in an Organic Modern living Room
The next element to consider adding is wood accents. You can see wood accents scattered across my organic modern living room. Everything from the accent chair arms, to the console tables, to the vintage wood bowls and floats on my coffee table.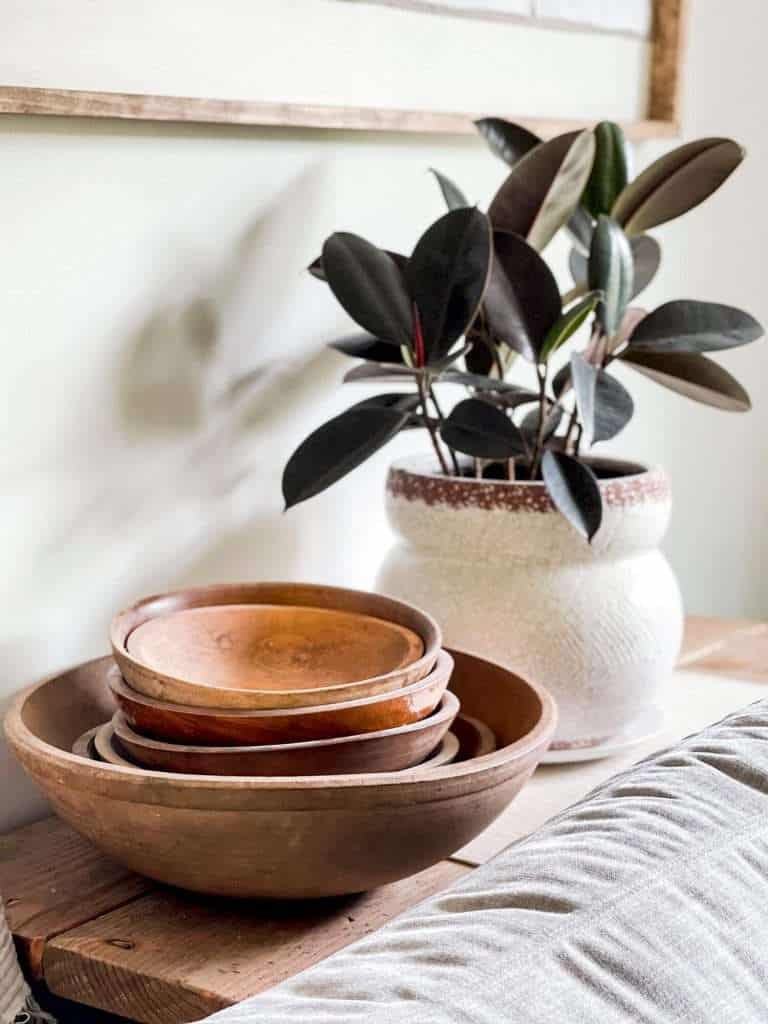 Wood is one of the more natural elements you can easily incorporate into your home. Raw woods are especially organic feeling as they are how they exist in nature.
It is also extremely easy to find accents that will work with any style you are transitioning from. While I prefer raw wood for a most organic feel, woods that have been stained and lacquered are still beautiful additions and lean more towards the modern side.
4. Natural Textiles
The next element that is easily incorporated into an organic modern living room is natural textiles. I like to consider my fabrics when choosing furniture, but also with the smaller items. Pillows, blankets, and rugs are all decor accents that will have an immediate impact on the way a room looks.
You can see that, not only do I choose linen and cotton for my lightweight blankets, but I've also incorporated linen textiles into my wall decor. I made this DIY textile art very easily and fairly cheaply to heighten the organic textiles in the room from basic comfort to high-end artwork.
Then, I add in pillows in varying cottons, wool and linen. Some chenille and velvets make their way in here and there, but the beauty of this style is that it is laid back enough to work well with other styles.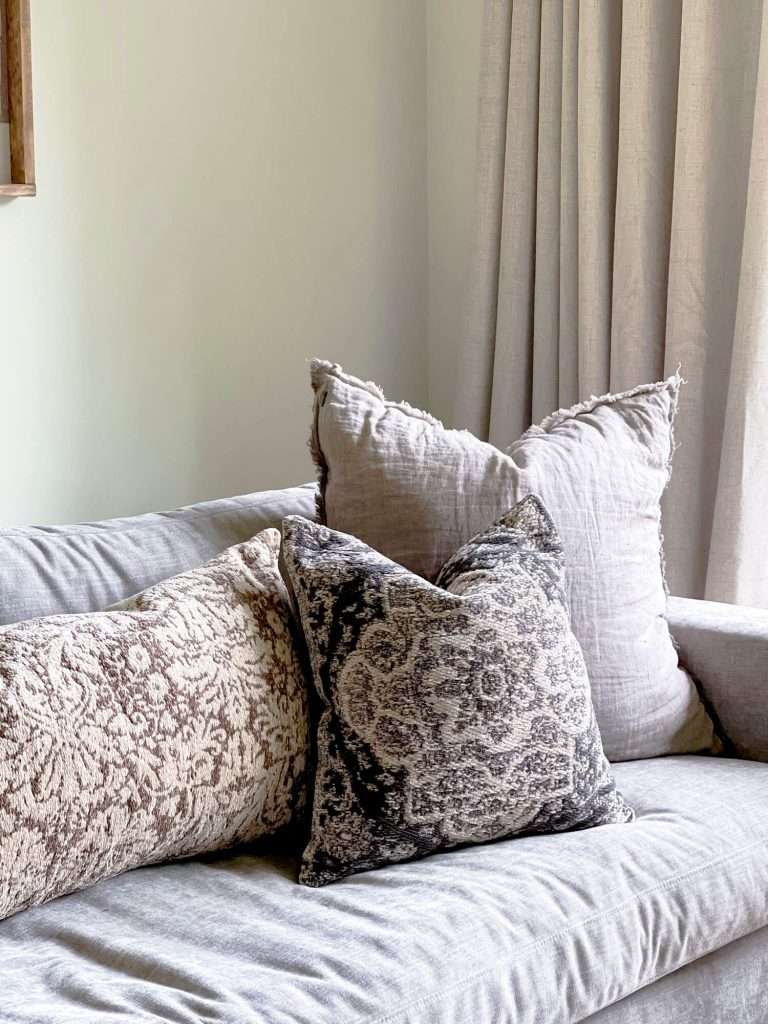 You can shop my pillows and blankets via the affiliate images below.

---
5. Pottery and earthy elements
Another easy to include decor staple for an organic modern living room is earthy elements like pottery and natural stones.
I've filled my favorite thrifted china cabinet that I refinished (tutorial here) with some of my favorite pottery finds. Natural clays, terra cotta, and stone all bring in earthy elements to elevate the organic feel of a room.
6. Woven Textures in an Organic Modern Living Room
Another way to bring in organic elements is with woven textures. You can find lots of woven textures through textiles and baskets. And, there are so many styles now that you can find ones with modern flare to join organic and modern styles into one piece.
7. Lighting and living plants
Even though, like I said above, it isn't 100% necessary to bring in houseplants to get this look, it is a beautiful design element! You can find many tips and tricks for indoor plant care below. Or, you can just use faux plants!
Whether or not you choose to add plants to your home, natural lighting is an important element to consider. If you don't have a lot of natural light, look for ways to amplify what you do have and compensate for what you don't. You can find some tips for using lighting in interior design in this post.
Another element to consider when thinking of lighting is choosing a paint color. White and other lighter colors bounce light around a room. Darker colors absorb light, making a space feel cozier.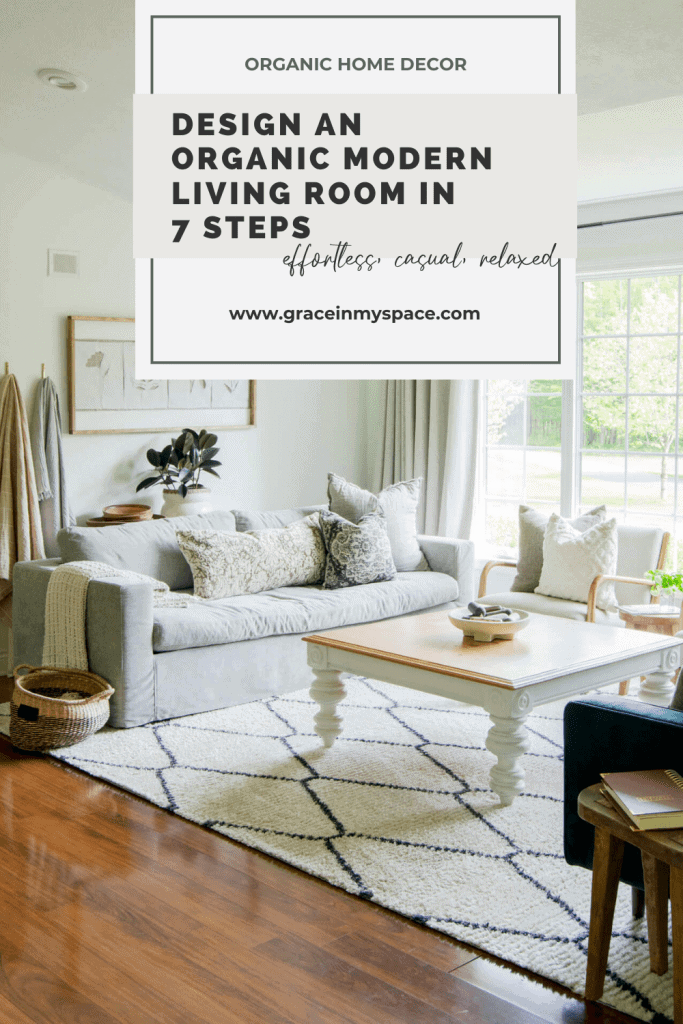 So, consider the natural light that you have in your home, and decide if you want to brighten a room or create a cozy vibe. Your paint color choice, and how it interacts with your natural lighting, will go a long way in designing the feel of a space.
Stay Connected
Thanks so much for stopping by the blog today to chat about organic modern living room design! I love adding these elements to my home. Part of the fun of this design is that many of the pieces are "collected or found" so it lends to having a ton of character in your space.
What is one of your favorite organic modern design elements?
Make sure to stay connected by subscribing to the blog or following along daily on Instagram!