Tomato Cucumber Quinoa Salad, Served 3 Ways
This tomato cucumber quinoa salad is sweet, zesty, and fresh all at the same time. Adding a healthy quinoa salad to your regular recipe rotation is a great way to enjoy a flavorful side or turn it into a full-fledged dinner. Enjoy this refreshing quinoa salad with cucumber and tomato for breakfast, lunch or dinner!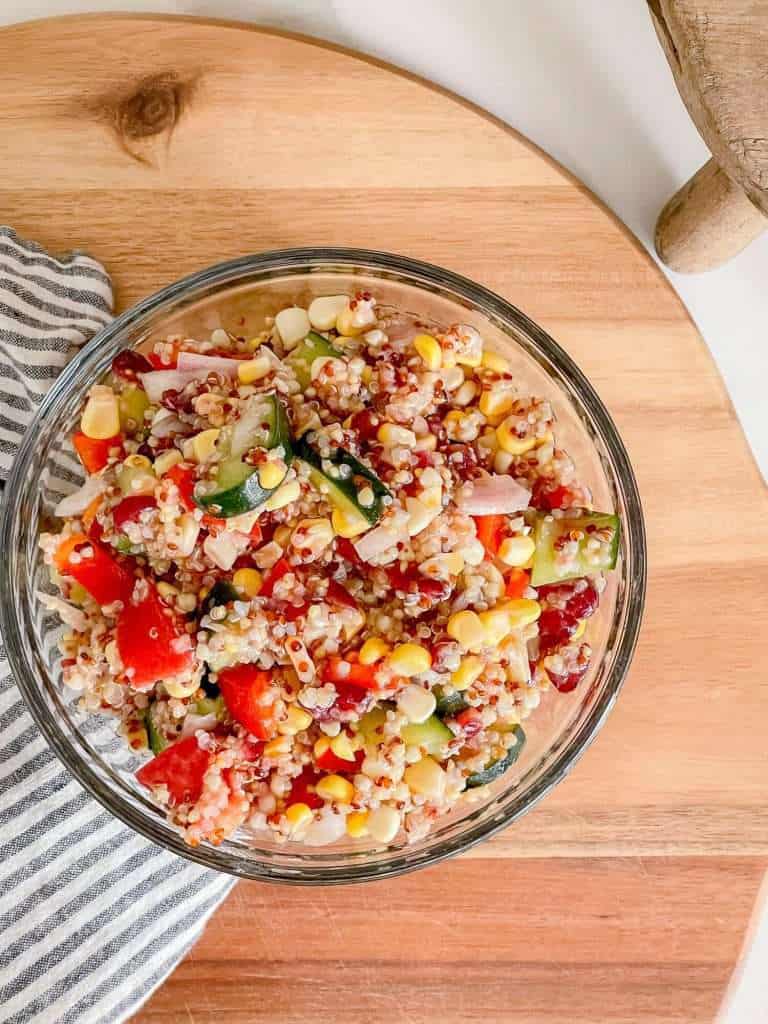 This post may contain affiliate links for your convenience.
Refreshing Quinoa Salad
I really love a no lettuce salad. I've been known to walk into a salad bar and ask for a salad without lettuce.
What can I say? The toppings are where it's at! So this type of salad is perfect for me and I trust you'll enjoy it too. (Though I do give an option for lettuce-lovers.)
Is a Quinoa Salad Good for You?
A healthy quinoa salad is an excellent addition to your recipe book. Quinoa is rich in minerals, fiber and protein. It acts as a naturally gluten free whole grain with a slightly nutty flavor.
For this tomato cucumber quinoa salad, I used a combination of all three common types of quinoa: white, red and black.
You can substitute this recipe with just one type of quinoa, or use the combination. I would recommend red quinoa if you choose to only use one.
There are three easy ways to serve quinoa salad with cucumber and tomato that I'll be sharing today. It is an excellent recipe for a energy boosting breakfast, light lunch, or healthy dinner!
Tomato Cucumber Quinoa Salad, Served 3 Ways
First, let's start with the basic Tomato Cucumber Quinoa Salad recipe. (Full printable recipe can be found at the end of this article.)
This sweet, yet zesty, quinoa salad recipe is very simple and quick to put together.
How Do you Make Quinoa Cucumber Salad?
There are so many different ingredients that can be combined for slightly different flavor variations in a quinoa salad. This recipe favors sweet notes balanced nicely with a touch of tang.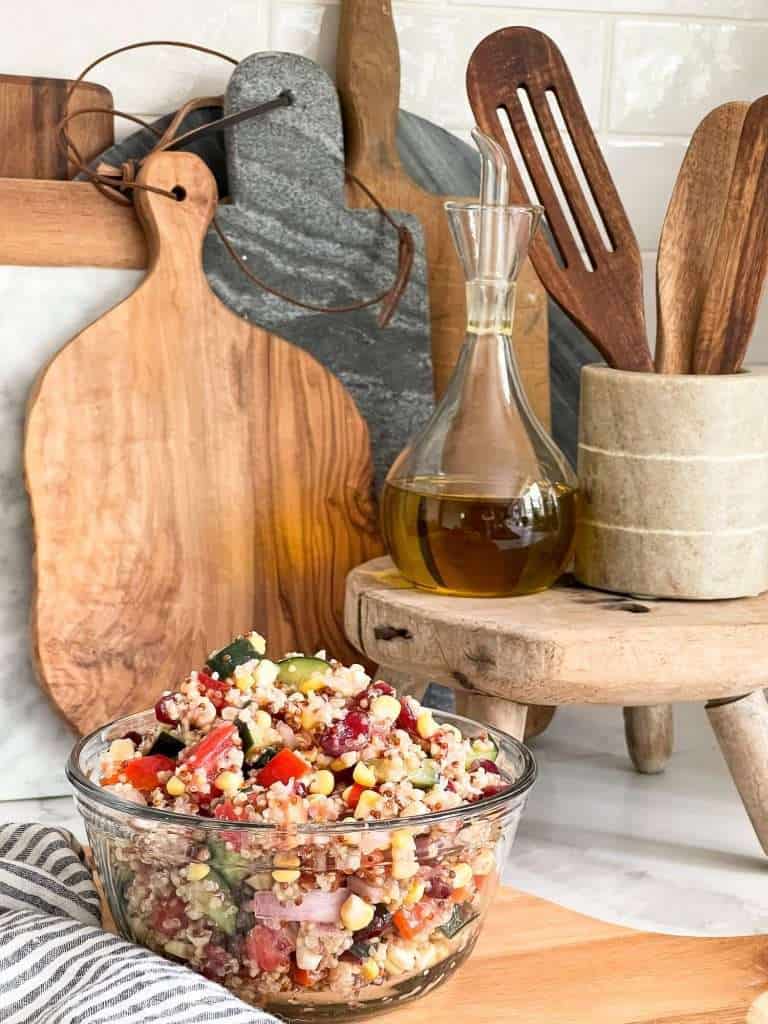 1. Cook Your Quinoa
Start by cooking your quinoa. Depending on what type of quinoa you use, it can take anywhere from 10-45 minutes to cook.
Cook your quinoa according to package directions. Then, set aside and let cool fully.
If you place hot or warm quinoa into the rest of the ingredients, it can cause the quinoa to get mushy and the vegetables to lose their crispness.
2. Chop, Chop!
The next step is to chop all the vegetables that make up this delicious tomato cucumber quinoa salad.
I wanted my salad to have a bit of sweet crunch that isn't often found in other recipes. So I added fresh sweet corn and it amplifies the flavor experience immensely!
Another sweet touch to include is dried cranberries and then a touch of honey in the dressing. We will get to that in a minute.
Quickly dice up:
Roma tomato
Cucumber
Red onion
Bell pepper (I prefer red or orange)
Fresh corn off the cob
Then, add in dried cranberries and squeeze fresh lemon juice over the mixture.
Stir to combine well. Set aside.
What Dressing Do You Put on Quinoa Salad?
3. Make The Dressing
Next, create an amazing light dressing that you will use forevermore on all of your salads!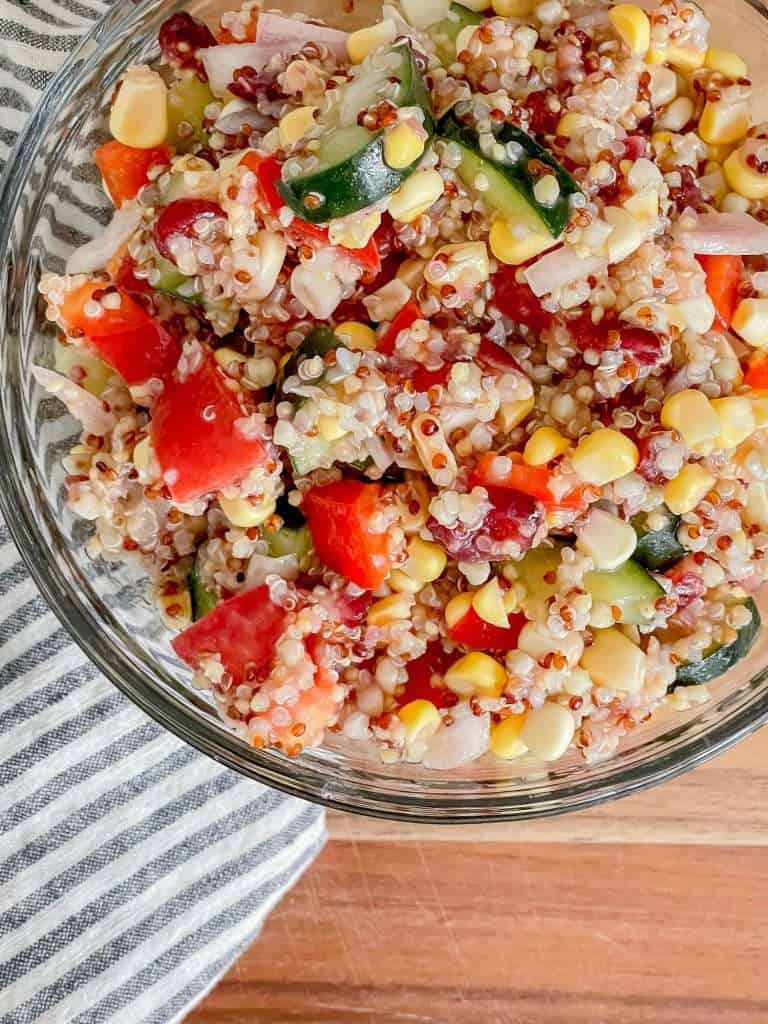 In a salad dressing shaker, combine:
olive oil
freshly squeezed lemon juice
salt & pepper
apple cider vinegar (can substitute red wine vinegar for more tang)
honey
freshly minced garlic
Set the dressing aside.
4. Combine all Ingredients
Once your quinoa has fully cooled, combine all ingredients in a large bowl. I love to use glass bowls when I'm serving a dish as pretty and colorful as this!
These bowls double as both serving dish and storage with lids at an amazing price for the set.
Mix your quinoa salad well to fully combine the dressing into the mixture. I love the touch of lemon in this recipe to balance out the sweetness.
If you want a bit more of a tangy flavor, you can also add lemon juice to your quinoa before combining. Creating this lemon quinoa first will bring out bolder and fresh flavors.
3 Different Serving Options for This Tomato Cucumber Quinoa Salad
What I love about this recipe is that it can be served three basic ways.
Serve the quinoa salad on it's own for a energy boosting breakfast. Or, it can be served as a meal-time side.
Top spinach, arugula or lettuce with this tomato cucumber quinoa salad for a light lunch.
Add chicken or another protein to your salad for a healthy dinner.
You can see how all three options come together in this quick recipe video!
I'm always on the hunt for quinoa recipes with chicken because I like to make a meal out of it. Topping your salad with chicken is a perfect pairing for this flavor combination.
I like to get a lemon pepper rotisserie chicken from the store (or make my own) so the flavor complements the salad. You can also use grilled lime chicken or BBQ chicken for extra tang!
What Goes Well With Quinoa Salad?
Quinoa salad is extremely versatile. This specific recipe is an excellent side to these main dishes:
BBQ, lime or lemon chicken
Crab cakes
Fish tacos
I also love to bring it to potlucks and barbecues because it contains no dairy and can more safely be out of refrigeration.
How Long Does Quinoa Salad Last in the Fridge?
If, by chance, you happen to have leftovers (a rare occasion), you can simply store your salad in the fridge. Either cover tightly or place in an air tight container.
This tomato cucumber quinoa salad will last 3-5 days if stored properly in the fridge. This makes it a great option to make ahead for grab-n-go lunches!
Printable Sweet & Refreshing Tomato Cucumber Quinoa Salad Recipe
Whether you have a recipe box, or you like to keep your recipes digital, here is the full recipe for your convenience!
Bookmark this post or save to Pinterest for easy access on the go.
Tomato Cucumber Quinoa Salad With Dressing Recipe
This tomato cucumber quinoa salad is sweet, zesty, and fresh all at the same time. Adding a healthy quinoa salad to your regular recipe rotation is a great way to enjoy a flavorful side or turn it into a full-fledged dinner. Enjoy this refreshing quinoa salad with cucumber and tomato for breakfast, lunch or dinner!
Ingredients
Quinoa Salad Ingredients
1 cup dry quinoa (cooked)
2-3 roma tomatoes (diced)
1 bell pepper (diced)
2 ears of fresh corn (off the cob)
1/2 cup red onion (diced)
1 cucumber (diced)
1/2 cup dried cranberries
1/2 lemon (freshly squeezed)
Dressing Ingredients
1/4 cup olive oil
1/2 lemon (freshly squeezed)
1 Tbs. apple cider vinegar
1 Tbs. honey
Salt & Pepper (to taste)
2 cloves garlic (minced)
Instructions
Cook quinoa according to package instructions. Let cool fully.
Chop vegetables and combine all other ingredients in a bowl.
Prepare the dressing by combining all ingredients and mixing well.
Combine cooked quinoa, vegetables, and dressing in a bowl and mix well.
Let rest, covered, in the refrigerator so flavors can combine 10-15 minutes.

Serve Cold.
Can be used as a side dish, topping for a salad, or add chicken to make it a meal!
Notes
Refrigerate, tightly covered, 3-5 days. Stir well before serving.
Red wine vinegar can be substituted for apple cider vinegar for a tangier flavor.
Nutrition Information:
Yield:

8
Serving Size:

1 cup
Amount Per Serving:
Calories:

190
You Might Also Enjoy…
I hope you enjoy this recipe! I'd love to know what you think.
There are a lot of ways you can change this up as well. Next time, I might try adding black beans, avocado and cilantro for more of a southwestern flare. The dressing can be changed to have more tang and less sweetness by omitting the honey and swapping apple cider vinegar for red wine vinegar.
Play around and let me know what flavor combinations you come up with!
If you are looking for some easy weeknight dinners, head next to these recipes.
Thanks so much for stopping by the blog today. Make sure to subscribe to access my free printable library and follow along daily on Instagram and weekly on YouTube!
~Sarah