10 Best Granites That Look Like Soapstone | Soapstone Alternative
Granite that looks like soapstone is an amazing soapstone alternative to get the look without the cons of soapstone. In my research during our kitchen remodel, I extensively searched for an affordable granite that would get me the soapstone look. Here are the top 10 options!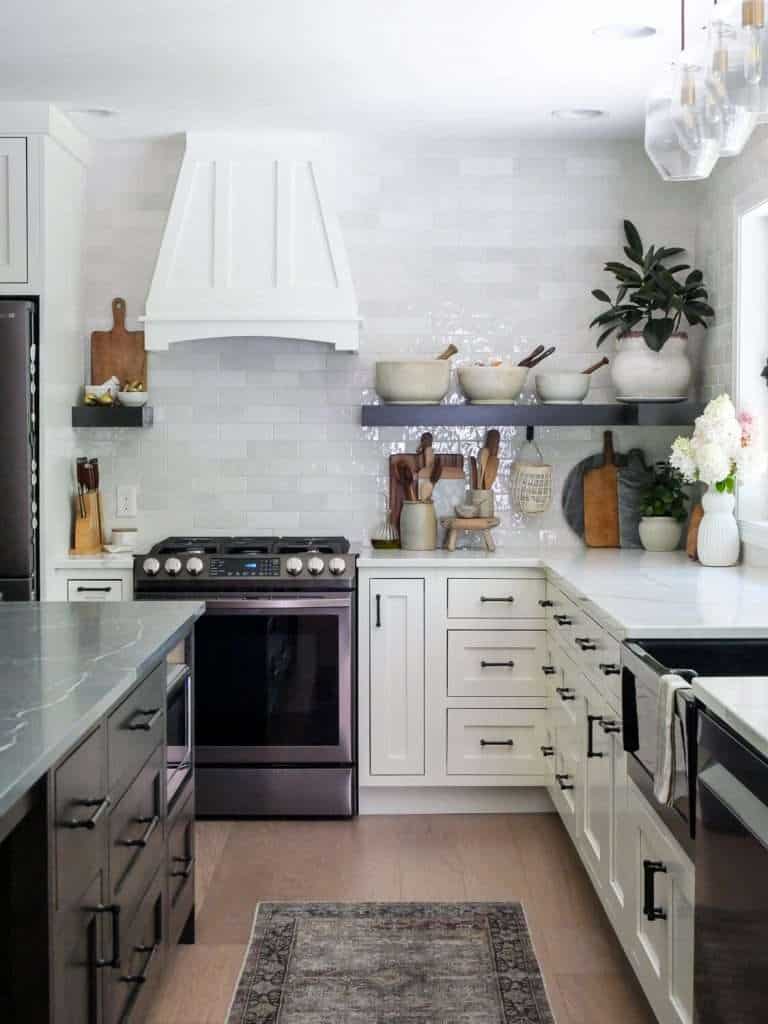 Post may contain affiliate links for your convenience.
Granite v. Soapstone
Granite and soapstone are both natural stones found across the world.
These natural stones have been used for centuries for a variety of purposes, including kitchen countertops and work surfaces.
Soapstone
I've long loved the look of soapstone. It can take on many different appearances depending on where it is found and its cut.
As an example, here are four different soapstone slabs. Each has its own appearance and character with different color tones and veining.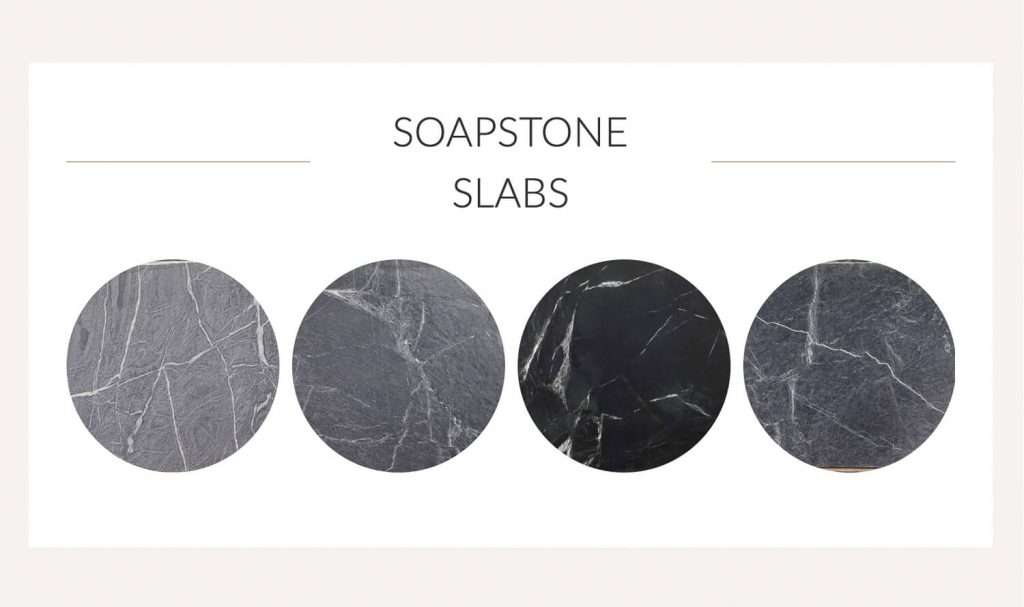 Soapstone is most widely known for its creamy veining. It can take on green and blue hues in addition to its standard grey/black tone.
Soapstone pros & Cons
An obvious pro of soapstone is that it has unparalleled character and charm.
The natural veining tells a story with each slab's unique personality. It is a sought-after stone for its beauty.
It is also non-porous, heat and stain resistant.
However, soapstone is highly susceptible to staining from oily substances. Most homeowners apply mineral oil to darken the appearance of the entire slab to avoid showing any dark spots from mishaps.
The main con of soapstone is that it scratches and dents very easily. It's finish can also dull over time, making it difficult to keep the tone you first fell in love with.
It is also on the more expensive end of natural stones, costing anywhere from $85-$150 sq. ft. installed.
Granite
Granite countertops are an extremely popular kitchen countertop stone.
It comes in a huge variety of colors, patterns, textures and price ranges. It is easily the most varied natural stone available as far as selection goes.
We installed granite in our last home, though it was a very different style than a soapstone look.
Since we had experience with granite, I wanted to investigate granite options for our current home as a soapstone alternative.
Granite pros & Cons
Granite has long been touted as a high maintenance natural stone.
However, it is highly durable, extremely heat and scratch resistant, and varies in affordability. It is resistant to chemicals and very easy to maintain.
The main con of granite is that it does require sealing. If wet substances are left too long, it can absorb into the granite causing a dark spot.
However, if it is simply water, then the dark spot should evaporate over time. If this happens, you know it's time to seal.
Sealing granite sounds complicated, expensive and intimidating. However, it is as easy as spraying sealer on the surface and wiping down. The same process you likely use to wash your countertops daily is used for sealing!
While most granites come sealed from the stone yard, homeowners will need to apply sealer every 6 months to a year on their own.
The cost involved in yearly maintenance is less than $30.
Granite that looks like soapstone
Like I said above, our recent mini kitchen remodel caused me to investigate affordable granite that looks like soapstone.
We weren't planning to do a second, smaller remodel to our kitchen after our first full-gut remodel in 2019.
However, installing new flooring on our entire main level gave me the opportunity to fix three specific design regrets from our first remodel.
Island size
Island Color
Leg Room
Since all of these fixes necessitated a new countertop, I used the opportunity to change the look of our island countertop to a more old-world European style.
Why I chose Granite Over Soapstone
While I absolutely love the natural charm of soapstone, I don't like high maintenance countertops.
We chose quartz that looks like marble for the perimeter of our kitchen specifically to avoid high maintenance counters.
Knowing that soapstone has a reputation for scratches and dents, I felt that the practicality of granite outweighed the desire for soapstone.
Plus, there were so many granite options that mimic the look of soapstone at a more affordable price, it felt like a win-win!
I first started looking for black granite that looks like soapstone. However, I quickly changed my island color to a more deep charcoal brown and felt a lighter grey granite would coordinate best.
So, let's dive in to my findings for the 10 best granites that look like soapstone!
Top 10 Granite that Looks like soapstone
First, let me start by stating that every slab of granite has its own unique appearance.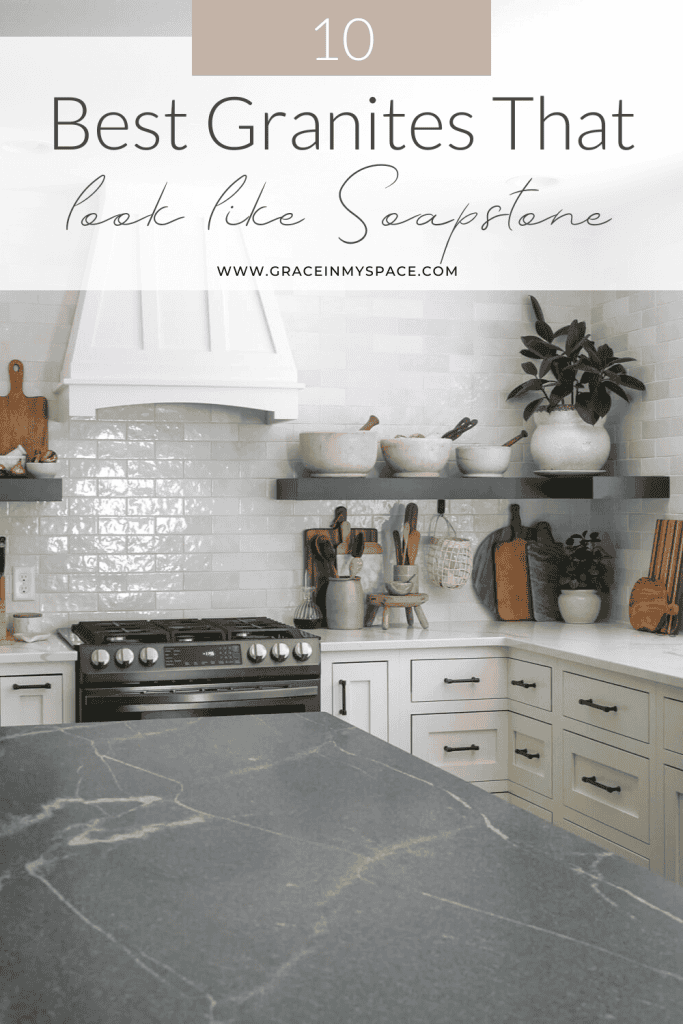 If you see a granite slab via these images that you love, know that when you go to your stone yard it may look different.
These are natural stones quarried straight from the earth. Every slab cut will be special and unique. When choosing your granite countertop, visit a local manufacturer to select a specific slab to your liking.
Silver Grey Honed Granite | My soapstone alternative
As an example, let's start with the granite that I chose for my kitchen: Silver Grey Honed Granite.
I purchased my granite through Lakeside Surfaces, who I've been a long time partner with. We also used Lakeside Surfaces for our kitchen quartz and bathroom quartz countertops and have been so happy with the level of customer service and quality of stone.
As you can see above, each slab is considered silver grey honed granite. Yet each is widely different.
The size and wispiness of the veining is all dramatically different. The tone of some slabs are slightly darker or lighter than others. The patterning varies greatly. And even the texture of the surface can ebb and flow.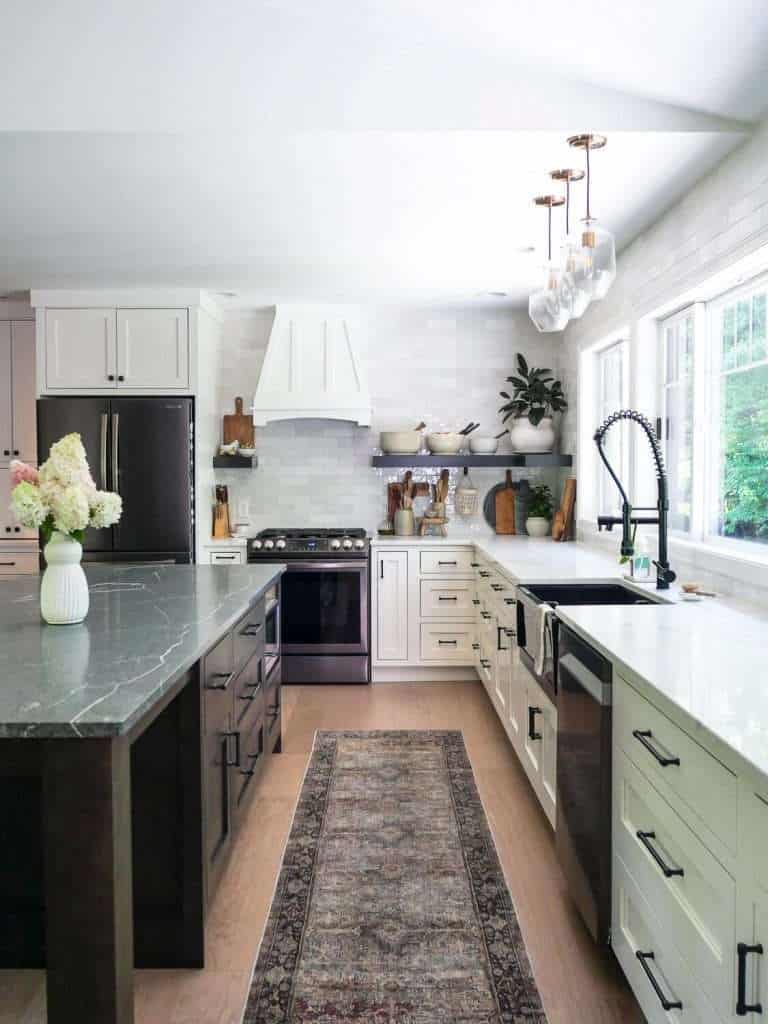 When walking through the showroom, I was immediately drawn to the whimsical veining of this grey granite countertop. It has a slightly different textured appearance than traditional soapstone, however it is an extremely close match.
9 Additional soapstone alternatives
The second front runner I considered after seeing it in person was Galactic Black Honed Granite.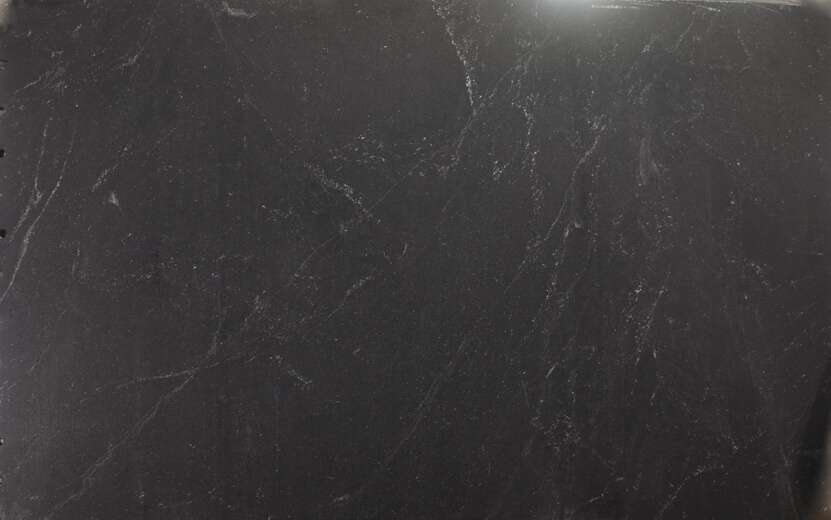 This was a beautiful slab, however ended up being slightly darker than I wanted with my dark kitchen island.
My third runner up was Pietra Del Cardosa. I adore the look of this stone. It is not granite; however, it acts like granite in its upkeep and durability. The ridging in its texture is stunning.
Here are four additional granites that look like soapstone that you should consider. If you prefer soapstones with a green hue, you should highly consider Green Ocean granite.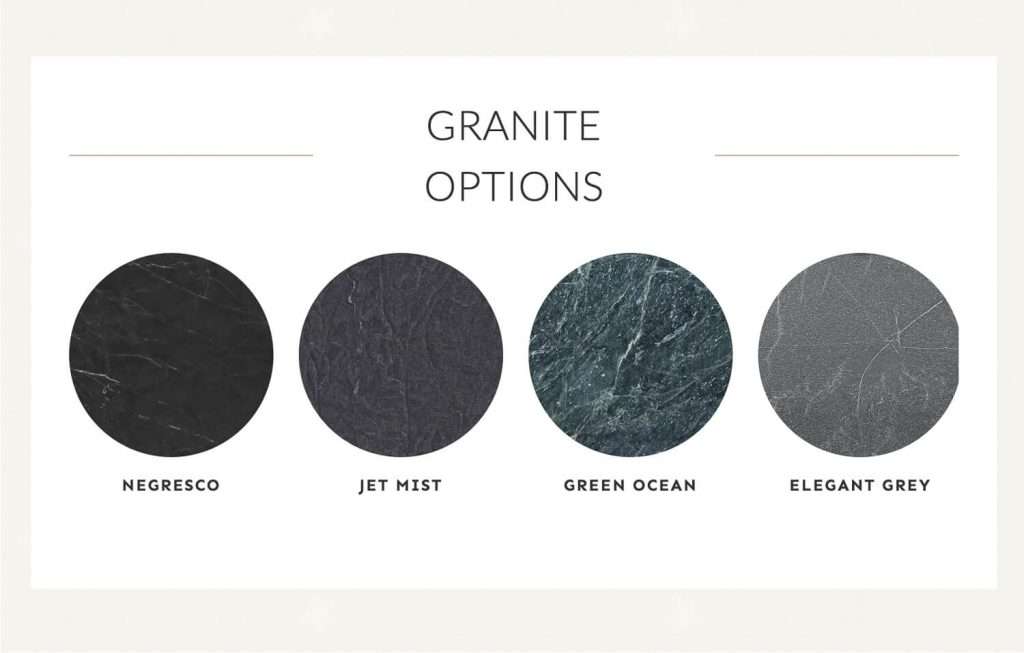 Additionally, Nero Mist and Virginia Mist granites are often included as a soapstone look-a-like. However, I am not partial to the lack of veining and solid design. If you are looking for something more subtle, feel free to browse those options!
Quartz options that have a soapstone look
Just in case you are wanting quartz instead of granite, you can also check out these two quartz options.
Charcoal Soapstone by Silestone
Nero Soapstone by Corian
While they have much less veining and movement than true soapstone, they are great look-a-likes if you want zero maintenance countertops with a soapstone look.
Honed vs leathered granite countertops
One of the decisions you'll need to make is what type of finish to choose for your granite, which will give you the closest look to soapstone.
Soapstone is traditionally matte and rarely shiny. Therefore, polished granite is not the best option.
There are a few other options you can choose. First of all, leathered granite is sometimes called brushed granite.
Leathered granite is slightly more durable against staining and smudges. It has a slightly pitted finish from diamond-tipped brushes running along the surface. This texture helps protect against staining, however can be more difficult to keep clean.
On the other hand, a honed finish is a smooth surface, but without a polished reflection.
We chose a honed finish for our granite because I enjoy the matte surface. It is soft and mirrors soapstone beautifully.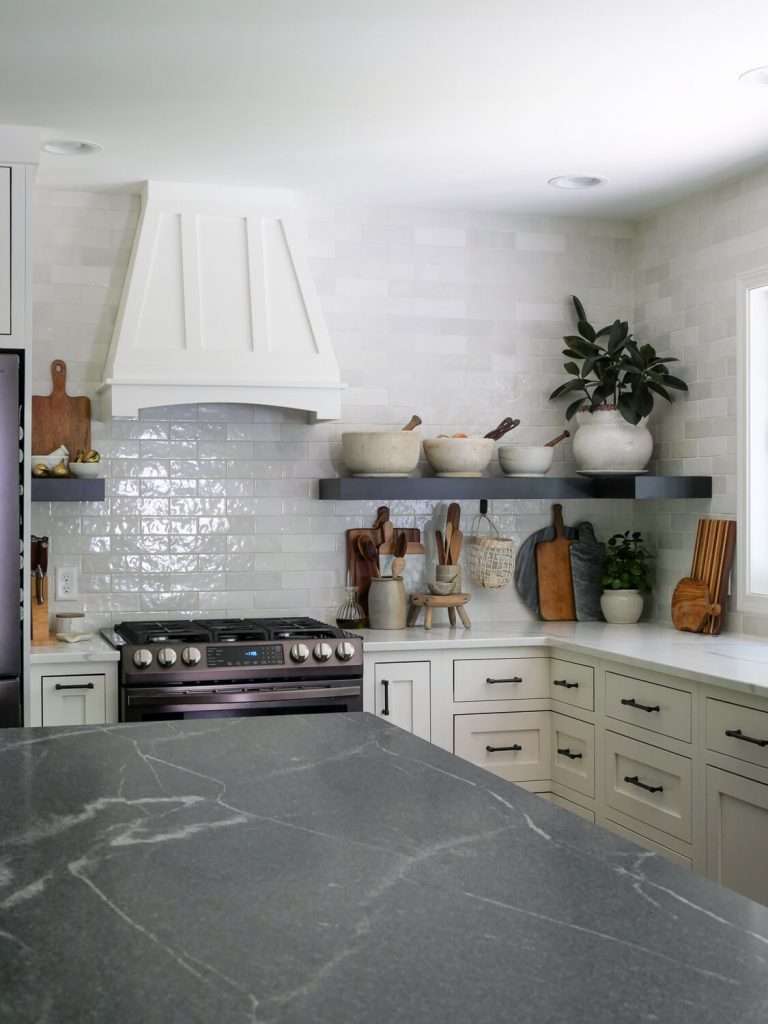 You Might Also Enjoy…
I hope that this article has been helpful as you seek out granite that looks like soapstone!
These 10 options are beautiful soapstone alternatives. I'd love to see what you choose for your own kitchen remodel!
If you're looking for additional resources, make sure to check out these articles.
Thanks so much for stopping by Grace In My Space today! Make sure to subscribe to Grace Notes access all my free guides. Plus, you can follow along with me daily on Instagram and weekly on YouTube!
~Sarah