1 Minute Fall Coffee Table Styling Ideas
Did you know, fall coffee table styling can be accomplished in 1 minute? There is nothing I love more than fast and easy decorating ideas that pack a punch. Here are 5 ways to style your coffee table for fall in 60 seconds flat!
This post may contain affiliate links for your convenience.
Decorating a Coffee Table
Decorating a coffee table for fall is one of the simplest ways to add fall decor to your living spaces. However, sometimes coffee table styling can be intimidating.
You want it to be pretty, yet practical. It should communicate, "I tried, but I didn't try too hard."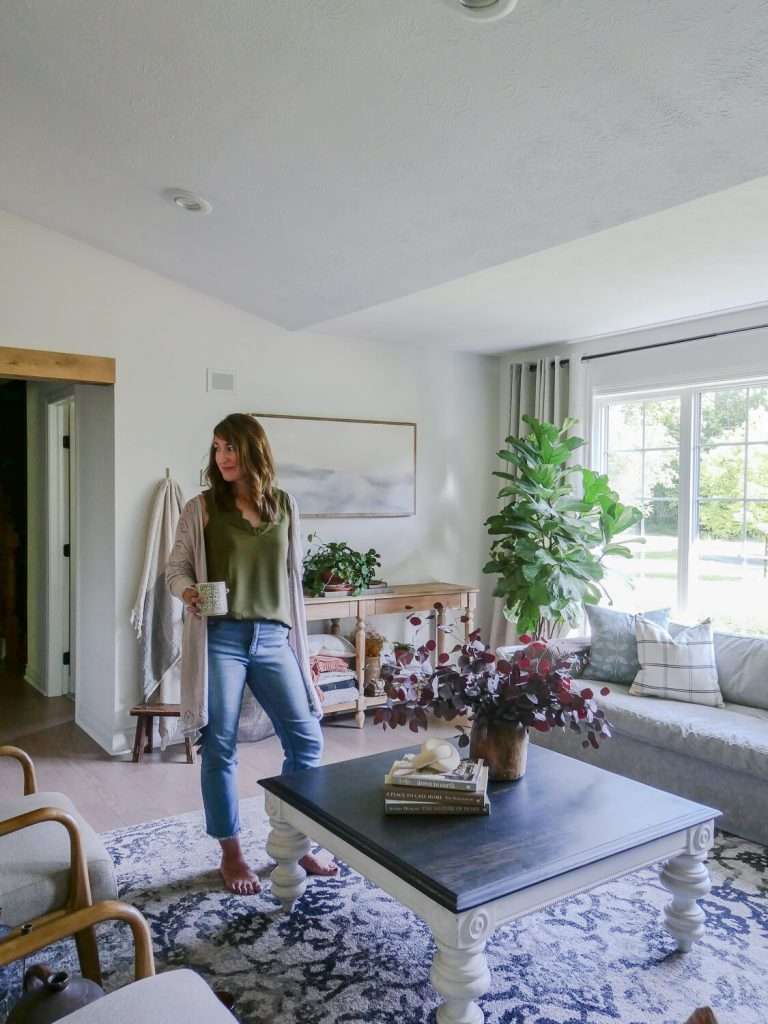 So today, I am going to give you 5 different methods to style a coffee table.
These methods can be used for any season, however, today I'm focusing my decor on fall coffee table styling specifically.
1 Minute Fall Coffee Table Styling Ideas
Remember, these overarching "rules" of coffee table styling can be applied to any season.
Styling a coffee table is best done when you have two things in mind:
Practicality: leaving space around the edges for coffee cups and dishes when entertaining
Focused stylized elements: choose 1-2 interesting items to include that create a styled look
When you focus on practicality, there is less pressure to add a lot of fall decor. Instead, keep your decor centrally located to keep the edges open for use.
Additionally, when you choose just 1-2 interesting items to include, the rest of the decor can be standard and used all year long. 1-2 interesting items are all it takes to dress up your living room center table decor.
Let's dive in to all 5 ways to create a coffee table centerpiece you will enjoy all autumn long!
1. Tray: How do you decorate a coffee table tray for the fall?
The first fall coffee table styling method we will look at is the use of a tray.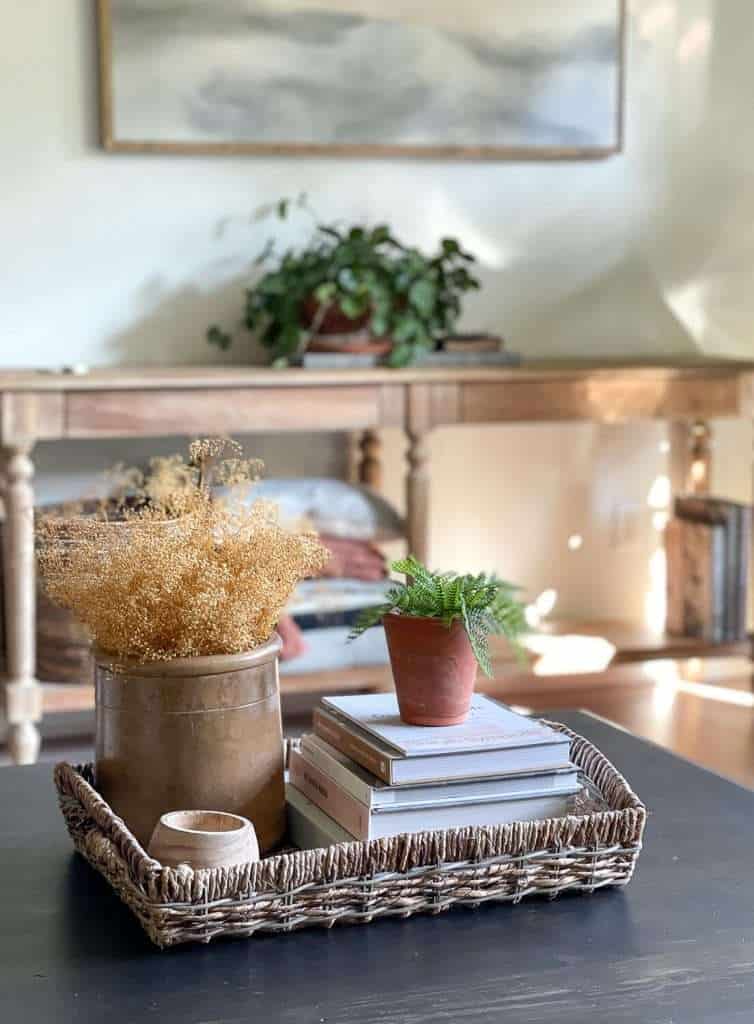 A tray is the perfect way to style a coffee table without the pressure. It gives you a containment zone, which helps to keep it simple.
For this example, I've simply added coffee table books, a faux fern, and dried baby's breath.
The mustard hue of the baby's breath and pottery are a nod to fall, without it feeling overtly like fall has taken over. This is a great option to transition into fall decor in late summer.
What I love about using a tray is that you can literally just pick the entire coffee table centerpiece up and move it off the table.
This is especially useful if your family uses your coffee table daily for things like homework, a craft table, puzzle table, or you entertain heavily.
Our coffee table is always covered in drawing and craft supplies, so I personally use the tray method the most as it meets our family's needs.
2. Linen Foundation: How do you elegantly decorate a coffee table?
While there are many coffee table styling ideas that are suited for everyday, sometimes you need to kick it up a notch.
But how do you elegantly decorate a coffee table in 1 minute? The answer?
A linen foundation.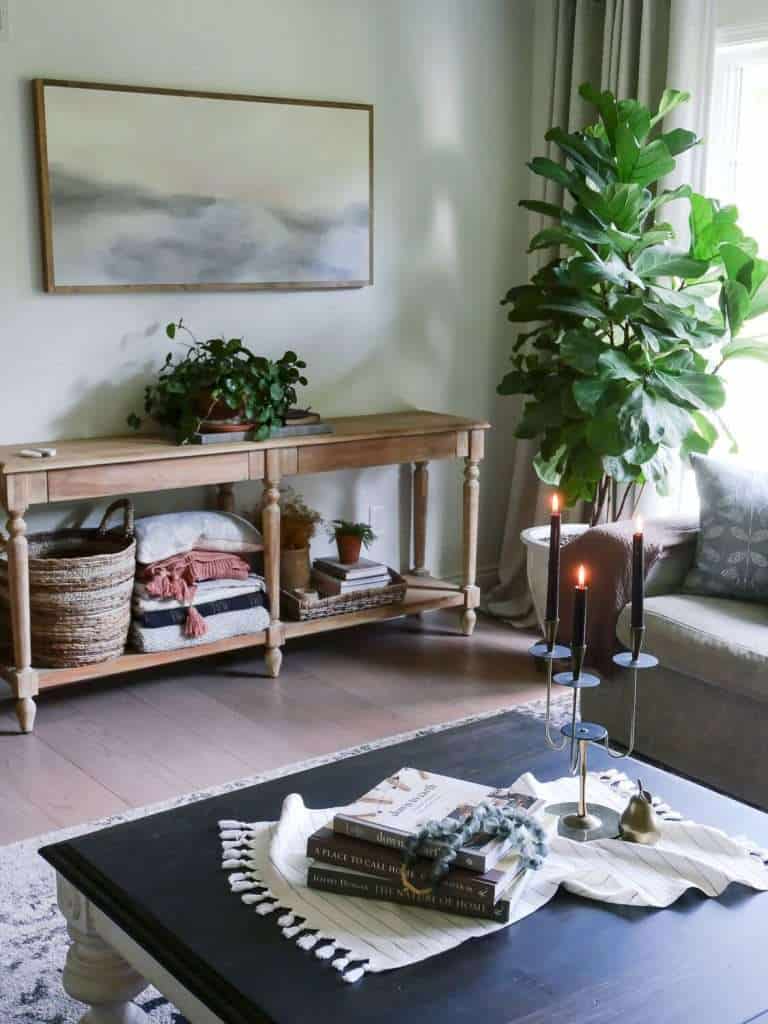 Adding linens as the foundation of your table decor sets the tone for a more elegant look.
To really create that romantic atmosphere, add candles as well.
For the above example, I've included four main decor accents that create an elegant atmosphere:
Linen
Glass
Brass
Candles
The linen softens the entire look while making it feel dressed up. The glass beads add a romantic element as glass feels more high end and fancy.

Then, I warmed up this particular coffee table setting with a brass pear that is an interesting and unexpected item. Finally, I finished the look with a romantic candelabra with black candlesticks.
As you can see, there is nothing complicated about this look.
A stack of books. A layered bead accent. One pear, and a candelabra. 60 seconds to an elegant vibe.
3. Groupings: How Do You Arrange Things on a Coffee Table?
The third fall coffee table styling idea is all about arrangement.
TIp
Notice how changing out the candles to cream and changing the brass candelabra to wood holders transformed the look? Make candles more casual with lighter tones.
The way you arrange items on a coffee table is just as important as the items you choose to display.
Grouping like items in odd numbers is satisfying to the eye and makes an impact. Multiple similar items, like my amber bottles, ground the space as the focal point. A grouping of three at multiple heights moves the eye around the space instead of remaining static.
Additionally, vary the heights of the other items you include. A taller and shorter candlestick grouping separates them from the bottles and helps them stand out.
4. Traditional: What Kind of Things Do You Put on a Coffee Table?
The fourth example of fall coffee table styling is a more traditional option.
When thinking through what kind of things to put on your coffee table, it's easiest to go back to the basics.
Coffee table books
A simple floral arrangement
One interesting piece
This particular coffee table styling idea is my favorite.
It is simple, inviting, interesting and cozy.
My stack of coffee table books is an open invitation to myself, my family, and my guests to sit down and rest. To enjoy a look through some inspiring books.
It communicates, "You are welcome to just be."
No fuss. Nothing overly fancy. Nothing cluttered. Just simple and straightforward.

Layering a limestone knot on top of my favorite coffee table books is just enough to keep the look interesting without feeling over-styled.
5. Fall Coffee Table Styling With pumpkins
Of course, I'd be remiss to not include pumpkins in my fall decorating!
While I do have an entire post and YouTube video on how to decorate for fall without pumpkins, I am pretty partial to including them here and there.
For this look, I am using the tray method, but with a basket.
Since I only have two items in this grouping, I needed a third to keep with the rule of odds.
Without the basket, the pumpkin and vase fall flat. They look out of place and lackluster.

Simply adding the basket gives them boundaries and purpose. It also adds texture and warms up the centerpiece.
You Might Also Enjoy…
I hope that this article on fall coffee table styling ideas you an accomplish in one minute was helpful to you!
Which is your favorite look?
I'm so excited to kick off fall decorating with this article. Stay tuned for many more fall decorating ideas to come. In the meantime, make sure to browse my fall decorating archives!
You might also enjoy these posts:
I'd love for you to subscribe to my Grace Notes newsletter to receive my weekly updates, coupon codes and freebies to your inbox! You can also follow along with me daily on Instagram and weekly on YouTube.
~Sarah