15 Unexpected Tips to Create a Cozy Outdoor Space
Creating a cozy outdoor space for the colder months is super simple with these 15 unexpected tips. Sometimes we just need to think outside the box when creating outdoor spaces that we can enjoy year round! I hope you enjoy this autumn outdoor home tour and are inspired to cozy-up your outdoor spaces this fall.
This post may contain affiliate links where I earn a small commission on your purchases at no additional cost to you.
Seasonal Simplicity Outdoor Home Tour
Joining me this week are some talented bloggers each sharing their own cozy outdoor spaces! Hosted by Krista from The Happy Housie, you'll find loads of inspiring home styling tips for your home exterior from these bloggers! Check out their tours below.
How do you make a cozy outdoor space?
Creating a cozy outdoor space year round is all about designing for enjoyment. Stop and think: What brings you pleasure when you're outdoors? Typically, most people will respond with answers that all center around these five overarching themes:
Beauty
Comfort
Peace
Enjoyment
Ease
We want to enjoy what we see. Perhaps that is with a well-kept yard, beautiful flower garden, or polished home exterior.
Next, we want to be comfortable in our environment. This includes outdoor furniture that we actually want to sit in, shaded areas to cool off and access to things like pillows and blankets.
Then, we want to have a moment of peace. Being outdoors in nature brings so much peace when we have eliminated distractions. So perhaps that means adding a privacy fence!
Of course, enjoyment is high on the list. For some that will look like a huge garden to tend as a hobby, but for others, that will look like a landscape that requires no maintenance at all! Enjoyment is such a personalized theme since we are all so different. Keep outdoor games on hand for some extra fun!
And lastly, ease. Creating a cozy outdoor space usually includes creating a space where we aren't toiling. That might mean that you have to accomplish a lot of work ahead of time to create an environment of ease, but it will be worth it!
If you're looking for more tips on how to design outdoor spaces, make sure to check out my post for 20 low-cost ideas for backyard living.
If you'd like to decorate with me, make sure to check out my YouTube video where I pull all these spaces together in real time!
How can I make an outdoor space inviting?
The main goal in designing outdoor spaces is for them to beckon you to use them. There is nothing more useless than an outdoor space that is not inviting, because then it simply won't get used!
Inviting outdoor spaces embody those five elements above: beauty, comfort, peace, enjoyment, and ease.
Depending on the season, each of these elements will look different.
Beauty
Beauty ebbs and flows with the seasons, so plan your flower garden or landscaping to bloom from spring to fall. Adding in plants strategically to always have something blooming requires some prep work, but it's worth it!
If you're new to gardening, you can learn loads of tips on how to start a garden from scratch in this post.
In my midwest zone, here are some of my favorite perennials to add for a full seasonal display:
Spring:

Tulips
Lilacs
Snowball bush
Geum
Trillium
Baptisia varieties
Bleeding heart
Iris
Creeping phlox
Quince
Peony
Annual baskets and ferns

Summer:

Hydrangeas
Coneflowers
Cosmos
Boxwood (evergreen)
Catmint
Sedum
Phlox
Lavender
Daisy
Salvia
Hostas

Fall:

Hardy Mum
Coneflower
Dried hydrangea arrangements
Ornamental grasses
Sage
Stonecrop
Sedum
Of course there are dozens more options, just for my zone, no less for the variety of climates nation wide!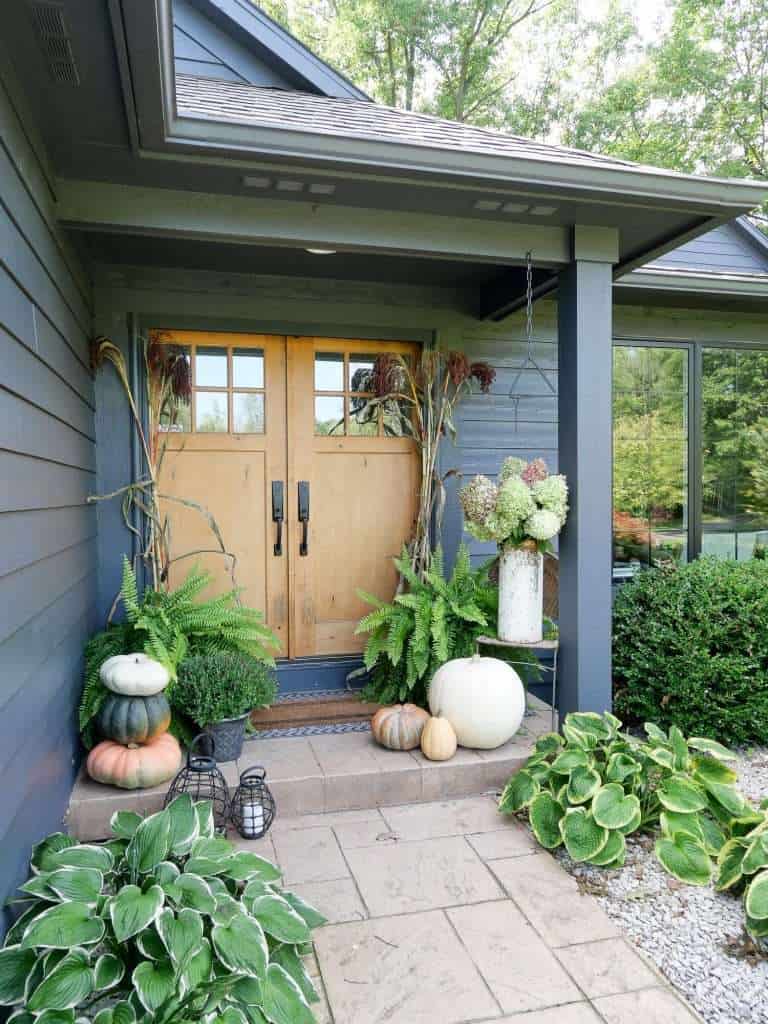 Comfort, Peace, Ease
The next three tend to go hand-in-hand. Inviting outdoor spaces are ones in which you can go outside, everything is ready for you, and you can rest in comfort.
Typically, these spaces have comfortable furnishings that are low-maintenance. One of the additions we added to our back deck this year are these egg chairs. They are so comfortable, and we keep them clean and ready to use with these covers.
We also have privacy so that it is a peaceful environment, but if you need to add privacy it's relatively easy to do so. Privacy fences or privacy shrubs are both a great addition to a cozy outdoor space that are a great investment.
Enjoyment
Of course, the main reason to create an outdoor space is for enjoyment and recreation. Having outdoor games on hand is a simple way to create an intentional option for enjoyment. Games like corn hole, badminton, and croquet are classics to offer an enjoyable atmosphere.
How do you decorate a back porch?
Now let's get into some specifics! Decorating a back porch seasonally can be so simple. Fall is inherently patio season and deck season so creating a cozy outdoor space is perfect for the cooler weather.
Creating a cozy outdoor space for winter or fall is super simple on a back deck or covered patio.
Add seasonal elements like pumpkins, mums and candles for fall.
Incorporate seasonal colors in your textiles by adding cozy throws or pillows.
Create an atmosphere with ambient lighting.
Have a comfortable seating area with table space for serving and drinks.
15Unexpected Tips to Create a Cozy Outdoor Space
With those ideas in mind, let's chat about some unexpected tips to cozy up your outdoor space for fall! They all center around the 5 ideas we've discussed so far: beauty,comfort, peace, enjoyment, and ease.
Adding in just a few of these ideas will create an atmosphere you will want to take advantage of to enjoy in a cozy outdoor space. Here's the quick list, and then we will break it down more by category.
hot cocoa or cider bar
cozy blankets
pillows for comfort
camp fire
s'more station
ambient lighting
loads of candles
comfortable seating
decorate with pumpkins and mums
bar cart for entertaining
statement unexpected centerpiece
create zones with outdoor rugs
sweatshirt/coat station
outdoor games
favorite fall foods
Fall Outdoor Beauty
Decorate with pumpkins and mums. There is nothing that says fall like pumpkins and mums in your outdoor spaces. I love to add them to my front porch especially.
Style a statement centerpiece as that one unexpected decor item that is striking for guests to see. Usually we don't decorate outdoor spaces in the same way we do indoor spaces. So why not put a special touch outdoors with a beautiful, but simple, centerpiece.
If you have multiple outdoor entertaining spaces, use outdoor rugs to create zones. Outdoor rugs are perfect to define a space for dining v. a relaxing seating area.
Fall Outdoor Comfort & Peace
Offer cozy blankets that are easily washable. For an extra special touch, include options for electric blankets like this beautiful double sided blanket.
Add in cozy pillows for extra comfort. Remember, they don't have to be outdoor pillows. Simply bring them out of the house for the time they are needed and then bring them back in when you're done!
Always add ambient lighting. I love using patio light strings to create a cozy atmosphere.
Burning candles always adds some ambiance to your outdoor space. For a romantic atmosphere, add in loads of candles (safely). Extra bonus if you're burning citronella candles for fall mosquitoes.
Offer a sweatshirt/coat station for guests. Sometimes good friends linger and if you have an assortment of sizes of cozy tops to offer, you will all enjoy the evening much longer.
Be intentional to offer comfortable seating. Whether you want seating with cushions, like these egg chairs, or low maintenance options, like these Adirondack chairs, comfortable options will draw you outside.
Fall Outdoor Enjoyment & Ease
Create a hot cocoa or cider bar to create a special touch for a chilly evening outside. Add in "extras" like cinnamon sticks, chocolate shavings, whipped cream, and hot caramel sauce.
Build a camp fire. Even if you don't have a large fire pit, you can create a spot to warm up with these smaller fire pits perfect for a patio or deck.
Set up a S'more station. Using a small side table or outdoor cart, like this one, lay out all the s'more ingredients for easy access. For extra flavor options, offer peanut butter cups, butterfinger or other candy bar options.
Like I mentioned above, invest in a bar cart for entertaining. It makes it so much easier to have drink stations, s'more stations, a spot for appetizers and more!
For those who want to be active, offer outdoor games to get you up and moving. I have a great list of outdoor games for you in this post.
But really, it's all about the food. Whether you are entertaining or just enjoying the outdoors with your family, easy finger foods are the perfect addition to any space. Check out some of my favorite recipes in my recipe archive.
Here are some easy shoppable items to spruce up your outdoor space with just a few new additions!

---
More Outdoor Living Ideas
I hope you've gotten some ideas for enjoying your outdoor spaces this fall (and year round!). Make sure to check out my friends' articles below!
And if you're looking for some low-cost ways to create an outdoor living environment, here are a few to get you started.
Create zones for outdoor living spaces.
Add bug control so you actually want to be outdoors!
Read the rest here!
Stay Connected
Thanks so much for stopping by today! Make sure to subscribe for more tips and freebies below. You can sign up for my free e-course as well to help you create your haven.
Follow along with me daily on Instagram and weekly on YouTube as well for behind the scenes tips and tricks!

Today I'm joining some of my talented blogging friends for the Fall Seasonal Simplicity Series: Outdoor Spaces hop. Be sure to check out all of the beautiful inspiration by visiting their posts. All the links are just below the images.