15 Farmhouse Kitchen Ideas on a Budget (2023)
Today I'm sharing 15 farmhouse kitchen ideas on a budget! Farmhouse kitchens have become extremely popular over the last several years. I love the warmth, charm and character of a farmhouse kitchen. But what do you do if you're on a small budget? Thankfully, it is fairly easy to get the farmhouse look on a budget! Enjoy these easy tips that you can incorporate into your home today!
This post may contain affiliate links where I earn a small commission on your purchases at no additional cost to you.
What is farmhouse style kitchen?
Before we get too far, let's define what is a farmhouse style kitchen.
A farmhouse style kitchen focuses on natural materials. It is very unpretentious, and even celebrates imperfections and pieces with "character". The farmhouse sink, also called apron front, plays a big role in the design and accommodates large dishes.
Because, presumably, if you have a farmhouse kitchen then you are cooking big meals. 😉
Farmhouse style kitchens mix new and old seamlessly and traditionally incorporate lots of wood and neutral colors.
My kitchen leans towards modern farmhouse, and if you'd like to learn more about that style, make sure to check out my post on the best modern farmhouse kitchen style elements!
How do I get a farmhouse look?
When planning your farmhouse kitchen design, consider a few key elements.
Incorporate wood tones.
Painted furniture/cabinets are always in style.
Mix old and new elements.
Display utilitarian items as decor (like cutting boards).
Lighting choices impact the design heavily.
Focus on mostly neutral paint colors and add in pops of color sparingly.
Add in vintage or antique items for charm and character.
Open shelving is a great addition to a farmhouse kitchen, though not 100% necessary.
If you want to see how my fall kitchen came together, come decorate with me on YouTube!
And if you enjoyed the video, make sure to check out my friends' fall decor ideas below!
15 Farmhouse Kitchen Ideas on a Budget
Now, let's get into the main topic of this post! How can I decorate my kitchen for cheap?
Farmhouse kitchen ideas on a budget are plentiful! If you ask 5 people this same question, you'll get 5 answers with varying ideas. Some will overlap because most farmhouse kitchen ideas are universal.
However, each designer or decorator has their own spin on things and different creativity levels!
For me, these farmhouse kitchen ideas on a budget are my go-to suggestions to get the farmhouse look without breaking the bank.
Here's a quick synopsis of my15 farmhouse kitchen ideas on a budget and then I'll elaborate below!
Use thrifted cabinetry
Dried hydrangeas or other florals
Simple sign wall decor
Single faux stems
Antique thrifted bottles
Cutting board collection
Plants
Everyday dishes as decor
Statement runner
Affordable farmhouse lighting
Elevated design for utilitarian items
Simple countertop displays
Easy island centerpieces
DIY open shelving
Paint (walls, cupboards, hardware…the list is endless!)
DIYFarmhouse Kitchen Ideas on a Budget
If you've followed along with me for any length of time, then you know that DIY (do-it-yourself) is my first inclination for affordable home updates.
It is no different in the kitchen! In fact, when we first moved into our current home I completely redid our entire kitchen on an $800 budget. Check out those posts here to see how I transformed it!
Since then, we remodeled our kitchen fully. But that doesn't mean that I don't still DIY pieces for it!
Let's break down some of the DIY suggestions from above.
Paint
DIY open shelving
Use thrifted cabinetry
First of all, paint is your friend. You can paint almost anything! I've painted backsplash tile, hardware, cabinetry, furniture, doors and more! (Tutorials linked for how to paint each of those items.)
Painting existing items to bring them more in line with your style is the most budget friendly way to get the farmhouse look in your kitchen.
Next, consider adding open shelving.
Open shelving tends to be a big debate for people. I've shared 15 pros and cons for open shelving in this post if you are considering it.
Obviously, I'm a fan! Open shelving lets in more light, makes a space feel more open and offers an easy spot to display items you love.
I use mine for everyday dishes AND decor. It doesn't have to be one or the other! You can learn how to make your own DIY open shelving with this tutorial.
And finally, you can add your own cabinetry to your kitchen on a budget.
When I was in need of more pantry space, I found this antique cabinet on facebook marketplace. After some DIY adventuring (and it was QUITE the adventure shared here), I was able to make it work!
Now I have 1/3 more pantry space because of this cupboard and it only cost me $200 total.
Totally Free Kitchen Decor Ideas
Once you've laid the foundation for a budget friendly farmhouse kitchen with some DIYs, how about adding in some free decor?
Everyday dishes as decor
Simple countertop displays
Easy island centerpieces
Dried hydrangeas or other florals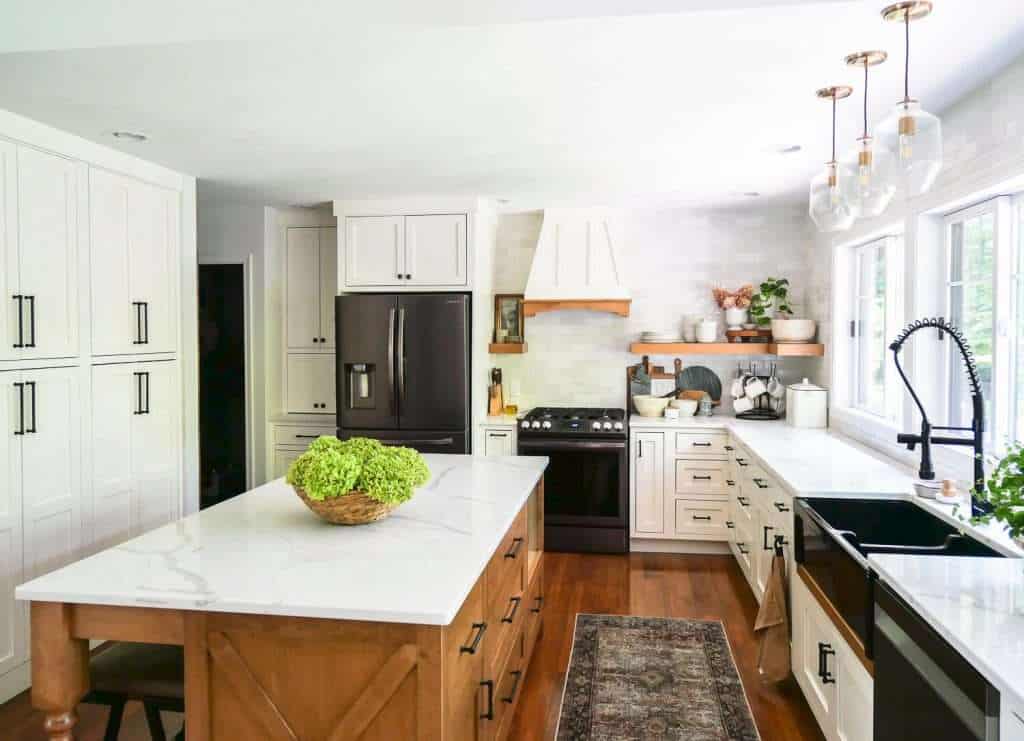 One free idea I always love to use is dried hydrangeas or dried florals. If you haven't caught it by now, my kitchen is currently decorated for fall. And in the fall, dried florals are plentiful!
Simply cut some stems from your garden, dry a bouquet of fresh flowers from the store, or snip a branch from a tree and bring it in. This simple addition of nature makes a huge farmhouse statement and can be done for free!
Next, let's chat about simple countertop displays. Remember that farmhouse style kitchens are unpretentious. That means that displaying your normal everyday dishes as decor, or using everyday items like coffee mugs as a counter display, is a great idea!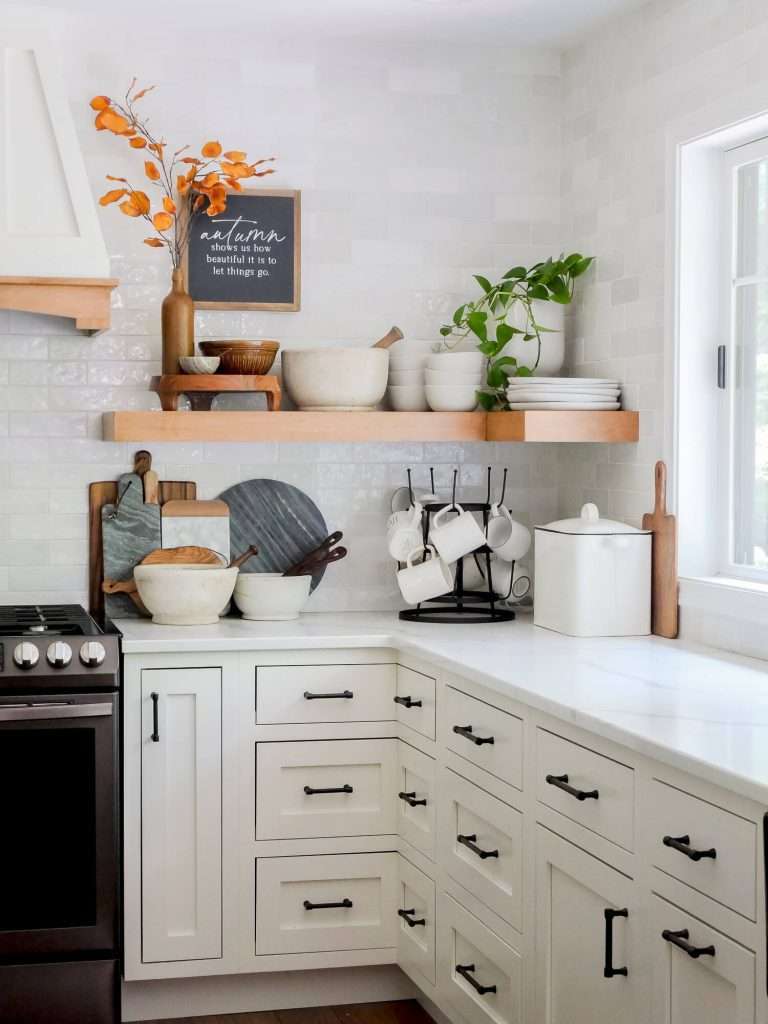 And lastly, in the free category, create very simple island centerpieces from existing decor.
The key to this is to give your island decor boundaries. I like to do this with either a tray, plate or something like this vintage lazy susan I refinished. By corralling some of your existing decor into a small group, you create a cozy farmhouse vignette while keeping the space clutter free and accessible.
Affordable Farmhouse Style Decor
Next, let's get into items that you can just purchase and decorate with, but on a budget!
Some of these items are more affordable than others. However, if there is one element I'd say it's worth spending more money on, it's lighting.
Lighting makes a huge statement in a farmhouse kitchen. My lighting pulls my kitchen towards a more modern farmhouse look. Other types of lighting will keep it in the farmhouse realm!
Beyond that, the below items are great additions to a farmhouse kitchen on a budget.
Simple sign wall decor. My favorite sign maker is Joyfully Said and you can use code GRACEINMYSPACE for 15% off their signs!
Single faux stems, like this orange stem on my kitchen shelves.
Antique thrifted bottles or other collections are great additions on a budget.
Cutting board collection. You can thrift cutting boards very easily, or buy new with affordable options (a variety is linked here).
Plants. Houseplants are extremely affordable and bring life to a space!
Statement runner. My kitchen runner adds great farmhouse charm.
Affordable farmhouse lighting. My lighting is linked here.
Elevated design for utilitarian items like this watering can that is extra pretty!
Shop Kitchen Decor & More Kitchen Inspiration
I hope that this post has been helpful as you design your farmhouse kitchen on a budget.
You can shop my favorite affordable kitchen decor directly from my Shop page here.
If you're looking for more details on kitchen design and decor, check out these posts next!
Thanks for joining me on the blog today! Make sure to sign up for my free e-course where I share how to create a haven!
And join me daily on Instagram and weekly on YouTube in real time for behind the scenes projects, tips and country living!