Get the Look: Vintage Modern Fall Decorating Guide
Vintage modern decor is a stunning mix of classic, charming and modernized decor. I love mixing vintage and modern pieces and this year's fall decor is no exception. Today I'm sharing how to get the look with this vintage modern fall decorating guide!
This post contains affiliate links where I earn a small commission on your purchases at no additional cost to you.
Seasonal Simplicity Fall Home Tour
Today I'm excited to be joining dozens of talented bloggers, each sharing their fall home tours with you. Krista from The Happy Housie is kind enough to host this wonderful tour, so make sure to check her out as well as each of the bloggers linked at the end of this post.
If you're joining me from Jen at Rambling Renovators, thanks for stopping by! Isn't her fall home tour beautiful!? When you're done with my tour, make sure to head next to Nina Hendrick for her beautiful subtle fall decorations.
If you missed my first fall home tour, you can see 10 tips for affordably decorating with fall neutrals here.
What is Vintage Modern Design?
First, let's start with answering the basic question: what is vintage modern design?
Vintage modern design is easy to accomplish because it is such a broad design style. It is (quite obviously) a combination of vintage and modern decor. Since the time span is so far-reaching, it is a very easy style to accomplish.
There are a few ways to accomplish this design:
Adding vintage pieces to a modern home.
Incorporating modern pieces to an older, more storied, home.
Combining large furniture pieces that are in a contrasting style to smaller accents.
Mix and matching architectural elements in the two styles (ex: rustic barn beams with a clean lined staircase design).
Get the Look: Vintage Modern Fall Decorating Guide
Now that we have laid the groundwork for what this design style can look like, let's add in a fall decorating guide!
In my opinion, this design style is extremely versatile. Fall is also one of the easiest seasons to decorate for.
Vintage Modern Fall Decorating Guide | Step 1: Edit
The first step to achieving this look is to get your room in tact with this style.
Edit out the items that don't work with a modern vintage vibe.
Remove non-fall seasonal decor.
Strip the space down to only what is needed or loved dearly to have a clean slate to work with.
By removing first, you then create space to add in new fall decor without it feeling overwhelming or cluttered.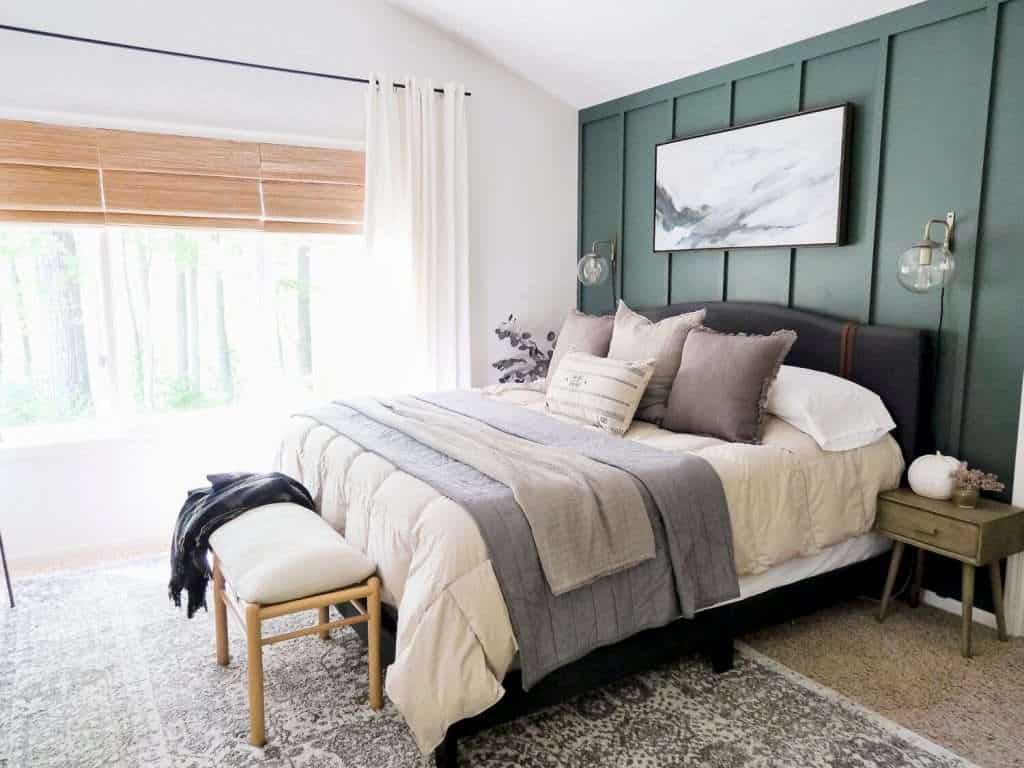 For example, in my bedroom I removed a spring-feeling art print from above my bed. Next, I took out the light pink and green blankets I was using for summer-weight bedding. This allowed me to swap in heavier bedding for the season and switch up the color scheme at the same time.
In this room, I create a vintage vibe with a vintage-style rug, highly textured linen and cotton blankets, and leather accents on my DIY headboard.
The modern elements in my bedroom are easily spotted with a mid-century modern style nightstand and lighting, and a modern bench.
Step 2: Consider Your Color Scheme
Next, decide what color scheme you want to use for your fall decorating.
I usually prefer neutrals with pops of earth tones for my seasonal decorating. This year, I'm sticking to mustard, plum, browns, greys and taupe.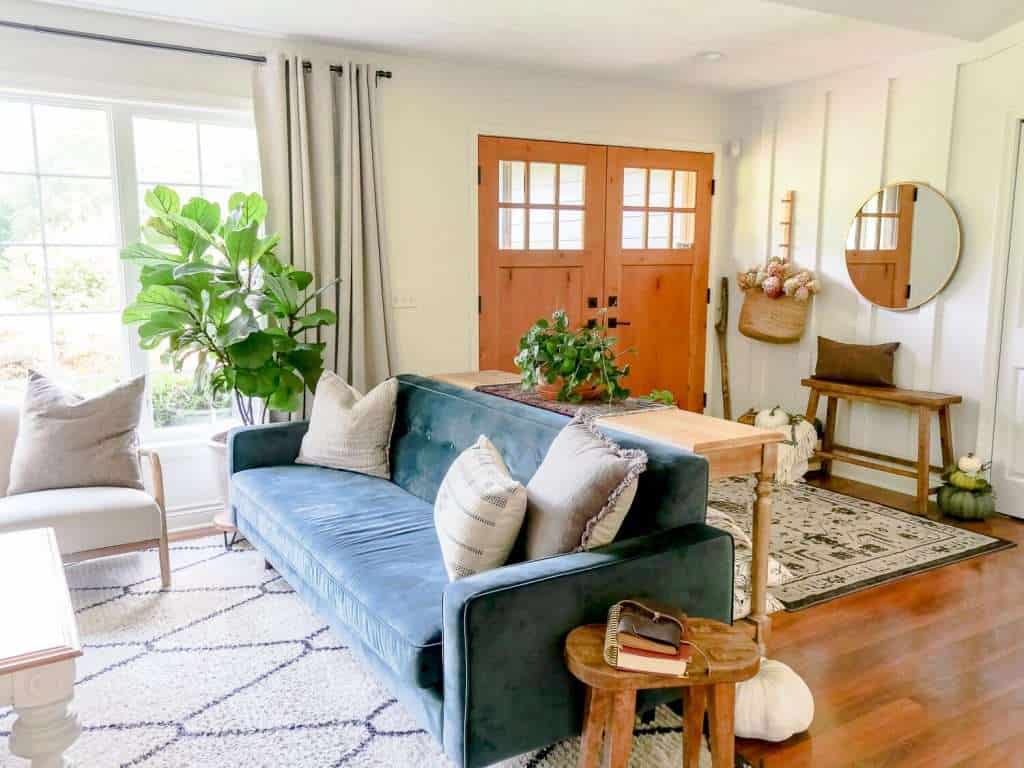 It isn't overtly fall. And that's what I love about it! It gives me the freedom to continue using my neutral decor year round while popping in seasonal colors here and there.
Vintage color schemes usually include lots of earth tones. It is heavy on raw woods, browns, and creams. Modern color schemes usually are more clean with lots of white and black. When you combine the two, it creates a beautiful juxtaposition of stark and cozy.
You end up with a happy medium that isn't too harsh or too soft.
Step 3: Add in Seasonal Elements
The last step is to add in fall decor elements. This can be whatever you love, but I prefer simple pumpkins and dried florals or leaves.
In my entryway, I have a vintage look-a-like bench mixed with a modern mirror for my everyday furnishings.
Adding in a pile of pumpkins and some dried hydrangeas is an extremely easy way to create a fall entryway without a lot of fuss. You can see more details about my fall entryway in this post.
In the past, I've gone much more dramatic with a cascading fall leaf display. I love both! Sometimes I crave simplicity and sometimes I crave drama. The cool thing about seasonal decorating is that you get to experiment with different options each year.
Fall Decorating Guide
Once you've edited your home of items that are outside the decor style you're trying to achieve, or not the correct season, have fun playing around with adding fall decor elements!
Fall Kitchen Decor
On my kitchen shelving, I added a simple sign and one fall stem and that was it! But those easy additions make enough of a statement that it feels like autumn in this space.
You can shop my favorite sign maker here and use code GRACEINMYSPACE for 15% off their signs, like this one in my kitchen!
In other areas, I just added some dried hydrangeas and a few pumpkins and called it good!
By the way, did you catch this cupboard DIY? You won't believe what it looked like before, and what I went through to get it looking like this!
Ironically, my kitchen is one of my favorite spots to decorate for seasonally, and holds the least amount of decor!
Since my kitchen design is mostly modern farmhouse, I added in a vintage-looking rug to cozy it up and add some charm. I also incorporate vintage pieces like my antique mortar and pestle collection to add in some character.
Vintage Modern Fall Living Spaces
In other areas of my home, I've added seasonal decor sparingly.
One pumpkin here. Dried florals there. Nothing too over the top.
This year, I've just really honed in on color and texture. You can learn all about the strategy behind that mentality in this post on how to decorate for fall without pumpkins.
Want More Fall Decorating Ideas?
I hope you enjoyed this simple guide on how to get the vintage modern look with fall decor! If you're looking for more ideas for fall decorating, check out my posts below. Then, make sure to visit my friends and see their beautiful fall home tours! If you're following the blog hop, head next to visit Jo-Anna from A Pretty Life Blog!
Shop My Home
If you are looking for home decor sources, I've linked up the available items for you below! Remember, many of my pieces are vintage so they aren't linkable. But I always like to provide a resource for you for the items that are.
Simply click the image to shop.


---
Stay Connected
Thanks so much for stopping by the blog today! Make sure and subscribe below to get my free e-course on how to design your haven!
And you can follow along with me on Instagram daily and weekly on YouTube for real-time tips and projects.
Enjoy 28 More Fall Home Tours

This week I'm joining some of my talented blogging friends for the Fall Seasonal Simplicity Series. All week long we are sharing our homes decorated for Fall. Be sure to check out all of the beautiful inspiration by visiting today's tours, and pop by again during the week to visit everyone else who is sharing!
Sharing with me today…
Tuesday
And sharing the rest of this week…
Monday
Wednesday
Thursday
Friday