Rustic Farmhouse Fall Decor With A Modern Twist
Rustic farmhouse decor is one of my favorite styles for its combination of charm, character and warmth. I love how versatile it is with such a broad range of decor that works together. Today, I'll be sharing how to use the rustic farmhouse style for fall decor with a modern twist!
Post contains affiliate links where I earn a commission on your purchases at no additional cost to you. This post is sponsored with thanks to Walmart!
What is Rustic Farmhouse Style?
Let's start with a quick definition of what rustic farmhouse style consists of.
This style is centered around all natural elements and rough hewn woods. Think barn beams, antique hand-crafted benches, natural textures like jute and sisal, and loads of wood elements.
It is "rustic", in that it heavily focuses on unfinished woods and natural fibers. However, it isn't necessarily log-cabin style. It holds a bit more polish and sophistication to it.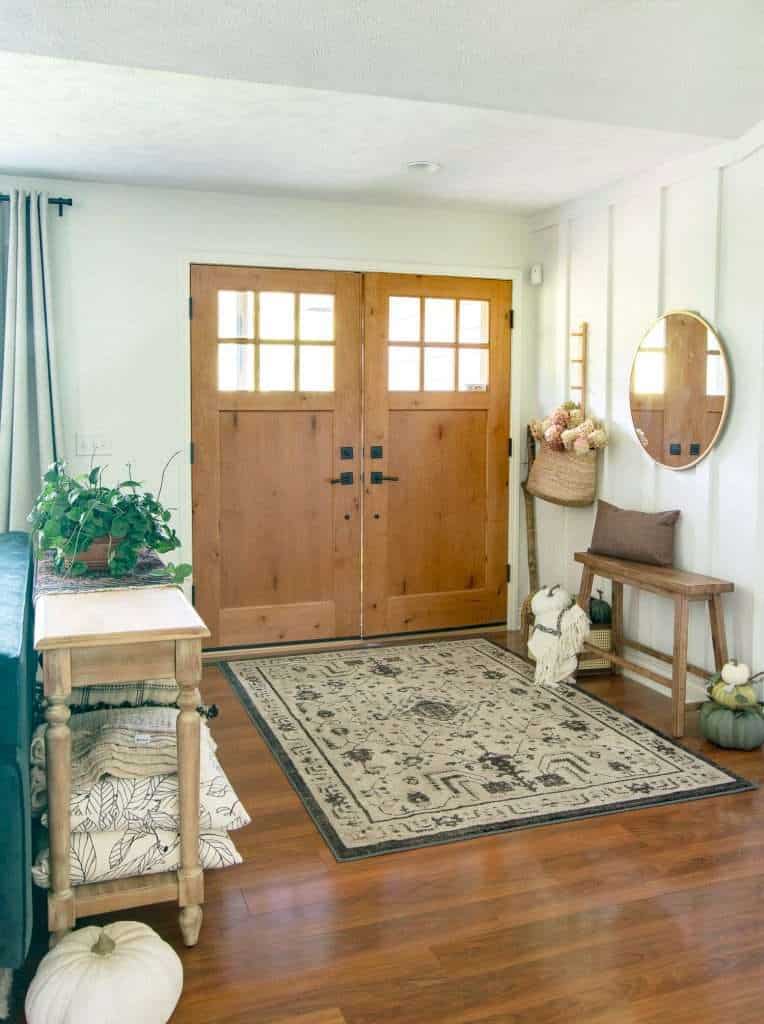 In my home, I like to take a modern twist on this style by incorporating some clean lines and organic elements.
Let's hop in to my entryway decked out for fall as a prime example!
Fall Entryway Decor
I'm always thrilled to partner with Walmart to showcase affordable decor in my home styling. Today, I'm showcasing portions of their Walmart Home Fall Lookbook! Walmart offers such an incredible selection of seasonal decor and I snagged some great pieces to decorate my entryway.
You can shop the Fall Home Lookbook at Walmart here!
How to Add in Rustic Farmhouse Style Decor
My main goal in any room in my home is to style it with classic elements that are not seasonal, first. I lay the foundation with pieces that can be used year round, like this stunning vintage look-a-like bench. Then, I layer in seasonal elements sparingly.
A little goes a long way!
I use this method throughout my home. In my living room, I've been eyeing these leather chairs to update the space. I love how much character they have with the up-turned arms, streamlined legs and cozy leather. I think it would pair so nicely with my existing style.

---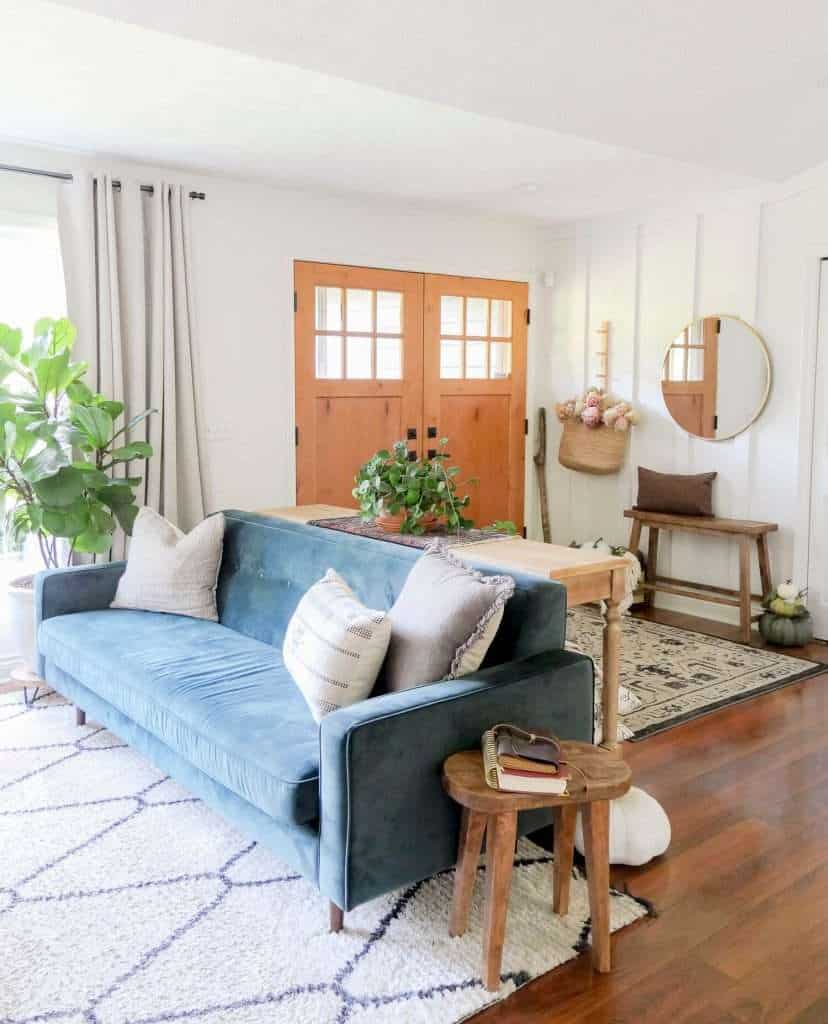 Beyond larger pieces of furniture, I also tend to stick to small accents that can be used year round.
For instance, simple pillows can be intermixed with seasonal pillows to create a fall look. I tend to gravitate towards fall colors for my pillows, like this brown lumbar, so that I can still use it year-round in addition to season-specific pillow covers. Here are a few options that go well together!

---
Once the main pieces are added, I layer in inexpensive farmhouse decor specifically for fall.
I loved this simple pumpkin stack for the variety of colors it offers.
Next, I added a grouping of lose faux pumpkins to this super cute caned crate. And the finishing touch was a beautiful basket full of dried hydrangeas straight from my garden!
That is all it took to create a fall look in my entryway.
A Modern Twist on Rustic Farmhouse Fall Decor
Now, I love to keep my home a smidge more on the modern side.
I think that the caned crate is such a polished piece. Even though it leans rustic, it seamlessly integrates into a modern style because of the caning and clean lines.
For the really modern touch in my entryway, I added a simple brass mirror.
The polished look of this mirror instantly elevates my otherwise rustic farmhouse decor. It adds in sophistication and contrast so that the space doesn't feel overly traditional.
I love the fact that, if I removed the faux pumpkins, all the rest of this decor still works year round!
With that in mind, I've rounded up some of my favorites from Walmart for you. With this list, you can focus on the larger pieces that work all year long. Then, layer in some fall decor elements as needed! Shop the products by clicking the images below.

---
Looking for More Fall Decor Ideas?
Thanks so much for stopping by the blog today! I hope this post was helpful to showcase how you can add in rustic farmhouse fall decor with a modern twist!
Make sure to subscribe below to access my free design e-course! And you can follow along with me daily on Instagram and weekly on YouTube for more fun styling tips, DIYs and projects.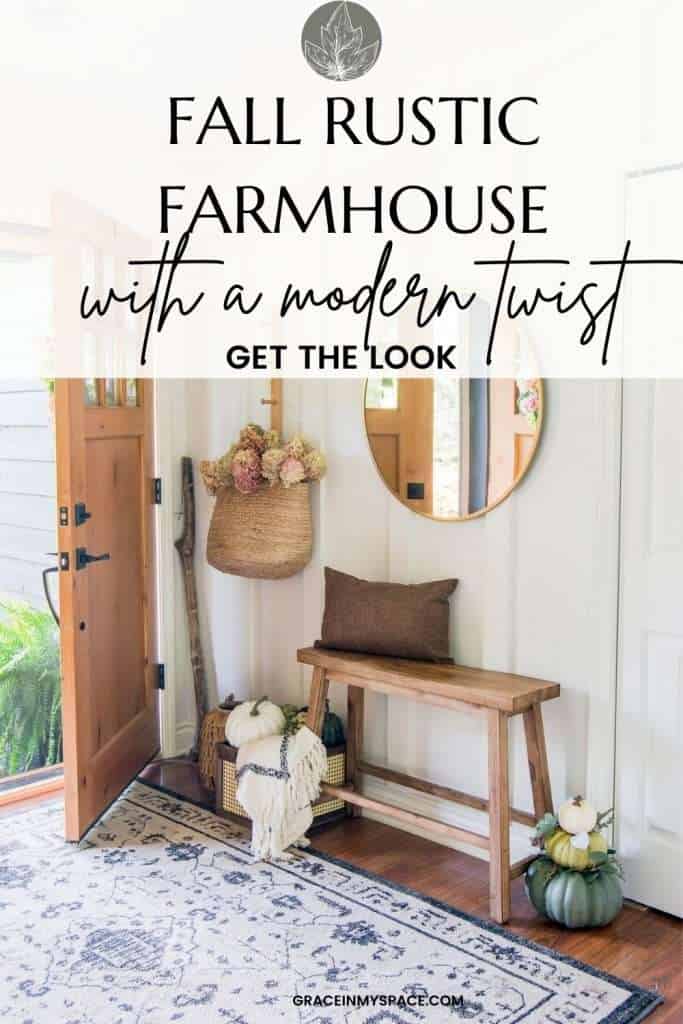 For more fall decorating ideas, check out these posts!