How to Decorate for Fall Without Pumpkins (2023)
Fall decorating without pumpkins is an easy and elegant way to transition the seasons! I'm excited to share how to decorate for fall without pumpkins with these tips to create an effortless fall home. We'll focus on colors, textures, textiles and florals with an earthy and organic vibe. Let's decorate for fall!
Post may contain affiliate links where I earn a small commission on your purchases at no additional cost to you.
What is the Easiest Way To Decorate for Fall?
Sometimes decorating our homes is all about taking time to create a curated look. Other times, it's just about getting seasonal decor up and moving on to soccer-mom status.
I love a balance of both in my decorating.
Curating pieces that work well as fall decor can take time. So I like to keep seasonal decorating in mind all year long as I scour flea markets and antique stores. Then, when the season arrives, I can simply walk into my storage room and snag a few pieces that feel right.
Preparing ahead of time makes fall decorating easy. Keep reading for the rest of my super simple tips for easy fall decorating ideas!
When to Decorate for Fall
So, when should you put up fall decorations? This is, oddly, something that people get very passionate about.
I, on the other hand, find that it has very little lasting impact on my life if I decorate for fall on August 1, September 1, or October 1.
Traditionally, September 1 is considered the line that shouldn't be crossed in decorating for fall too early. But really? What does it matter?
Decorate for fall when the mood strikes! When you are inspired to switch things up. And, when you actually want to. That is just my two cents.
Neutral Fall Decor
Neutral fall decor has been my personal preference for years. I love soothing color palettes. For me, traditional fall decor can feel jarring with bright oranges and reds.
So, instead of using those more vibrant tones, I like to tone it down with earthy home decor. This tactic still uses orange, red, and brown; however, it is more muted with burnt orange, dusty reds and light browns.
Using neutral fall decor as a I decorate for fall without pumpkins is an easy way to bring in an autumn color palette with elegance and subtlety.
I've rounded up some favorite fall home accents for you in my storefront. Just ignore the pumpkins…those will come out later.
Side note: If you have ever felt lost in how to decorate your home, make sure to sign up for my free e-course below! This simple course will help you learn the basics of home styling with goals and strategies that you can use the rest of your life to create your haven!
Now, let's get to my simple tips for how to decorate for fall without pumpkins!
How to Decorate for Fall Without Pumpkins
There are three basic elements for fall decor styling that do not include pumpkins or other kitschy decor.
Color palette
Textiles & textures
Florals/foliage
These three categories will guide you as you decorate for fall this season. They lay the groundwork for cohesive feeling seasonal styling.
Plus, if you are ever ready to add pumpkins or other traditional fall decor to your home, it will seamlessly integrate into what you've already done following these tips.
Decorate With Me!
If you are a visual learner, make sure to check out my YouTube video to see how I style these spaces in real time!
Using Color Palettes to Decorate for Fall
First, let's start with something we've already quickly touched on: a fall color palette.
You should choose autumn colors for your fall color palette that speak to you! If you enjoy vibrant colors, then embrace it! If you prefer neutral fall color palettes like I do, then embrace that too!
Decorating is such a personal display of creativity that you shouldn't let trends dictate what you put in your home.
The only important point is that you actually establish a color palette.
In the image above, I used a vintage oil painting to direct my autumn color palette.
It has dusty mauves, plum, various greens, brown tones, golden tones and a hint of blue in it.
With one piece of artwork, I've established what my color palette will be! Using things like art, rugs, or textiles to guide your color palette is a great way to create a cohesive feeling home.
Once you've established 4-5 colors that you want to use in your fall styling, you will be able to decorate faster and easier. When you shop for new decor, or look through your existing stash, key in on that color palette and leave the rest for another year.
In the image above, I included an arrangement with bright orange and burgundy dried eucalyptus. As you can see, it doesn't fit with the color palette I've used throughout the rest of the room. It stands out because it is the only item that includes those colors.
This is a great example of why sticking to a color palette that you can sprinkle throughout a room, or your whole home, is important!
You can shop my living room furnishings via the images below.

---

How do I make my house feel cozy for the fall?
If you are looking for ways to make your house feel cozy for fall, color is a huge component.
Fall decor should feel cozy as the temperatures drop and we spend more time indoors. Using warmer colors, like I mentioned above, will play a huge role in your home feeling like a cozy hug.
Another big element in creating a cozy home is layering. You can certainly use textiles to create layers (see below). However, you can also create layers by layering home accents.
Coffee Table Layers: Start with a tray, add a few books, a plant, and a sculptural piece. The tray creates cohesiveness and boundaries while the accents serve to stylize pieces you reach for everyday.
Artwork Layers: Lean a large piece of art against the wall/fireplace and then stack smaller pieces in front. Layering artwork adds interest to a space without taking up too much space.
Using Textiles as Fall Decor Anchors
Once you've established your color palette, find some textiles that can serve as your anchor fall decor.
Adding blankets, pillows, table linens, or (sometimes) rugs, will go a long way in creating a autumn vibe in your home.
I like to hang my blankets on the wall with these hooks for very easy storage, accessibility, and also wall decor!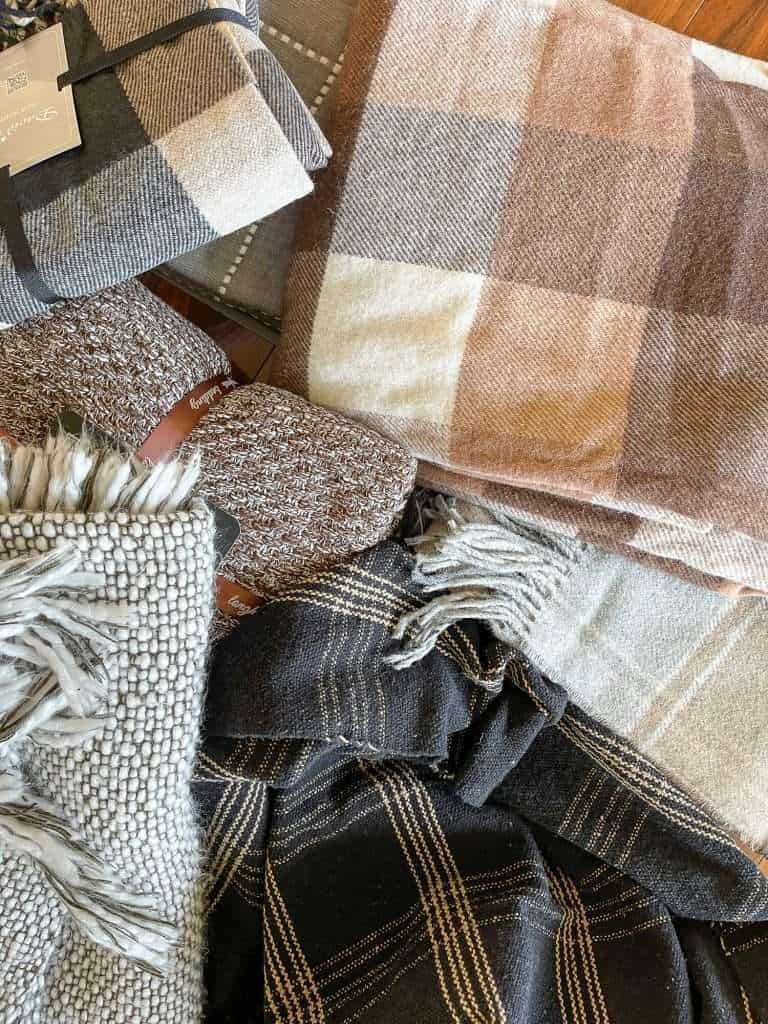 If you're looking for some nice weight and quality fall blankets, I've rounded up some faves from this year for you here! You can shop via the images below.

---
In addition to fall blankets, fall pillows are another awesome way to decorate for fall without pumpkins.
You can style autumn pillows from one extreme to the other: obviously fall pillow covers with pumpkins or fall sayings on them — to simple pillows in your fall color palette.
I have done both! In late summer and early fall, I tend to stick to pillows in my fall color palette. Then, as October rolls around I'll add in more overtly fall pillows. You can shop some of my favorites below!

---
Here are some pillows from my favorite pillow maker, With Lavender and Grace! You can use my coupon code, GRACE15 as well to shop her pillows with 15% off!

---
Next, consider linens, drapes and rugs. Typically, I would say to keep these items more neutral so that you don't have to swap them out seasonally. However, if you're looking to make a seasonal statement, then these are great ways to add in a pop of autumn!
You can shop my dining room decor here.
Accenting Autumn Decor with Florals
The last foundational element to decorating for fall without pumpkins is adding in fall florals or foliage.
I like to primarily use dried florals. I usually use hydrangeas that I've dried straight from my garden.
In addition, I add in some pretty options that you can shop online.
I prefer dried plum eucalyptus, which I usually find in-store at Hobby Lobby, as my statement making fall foliage.
For some of my other favorite dried foliage, you can shop via the images below.

---
The key, once again, is to use dried or faux florals/foliage that complement your chosen fall colors. I stuck to mustard, plum, mauve and tans.
More Fall Decorating Ideas
I hope that these tips have been helpful as you seek to decorate for fall without pumpkins! As I mentioned before, the best part about using these tips is that if you decide to add pumpkins later to create a more festive fall look, it is easy to layer them in!
If you are looking for more fall decorating ideas, make sure to check out my posts below from years past. And, I'll be sharing many more looks this year soon, so subscribe below to be notified!
Stay Connected
Thanks so much for stopping by the blog today! Make sure to follow along with me daily on Instagram and weekly on YouTube for behind-the-scenes of DIYs, and styling tips and tricks!
Happy decorating!