Three Easy Thanksgiving Centerpiece Ideas
Are you looking for easy and inexpensive Thanksgiving centerpiece ideas? Here are 3 ways to use your existing fall decor as a centerpiece this Thanksgiving.
This post may contain affiliate links where I earn a small commission on your purchases.
Thanksgiving Centerpiece | 3 Ways
I have never been big on buying themed decor for any holiday besides Christmas. The thought of storing one more thing that only gets used once a year makes me cringe!
So this year I wanted to find a way to decorate my Thanksgiving table using items from my vast array of fall decor. Turns out, it was super simple!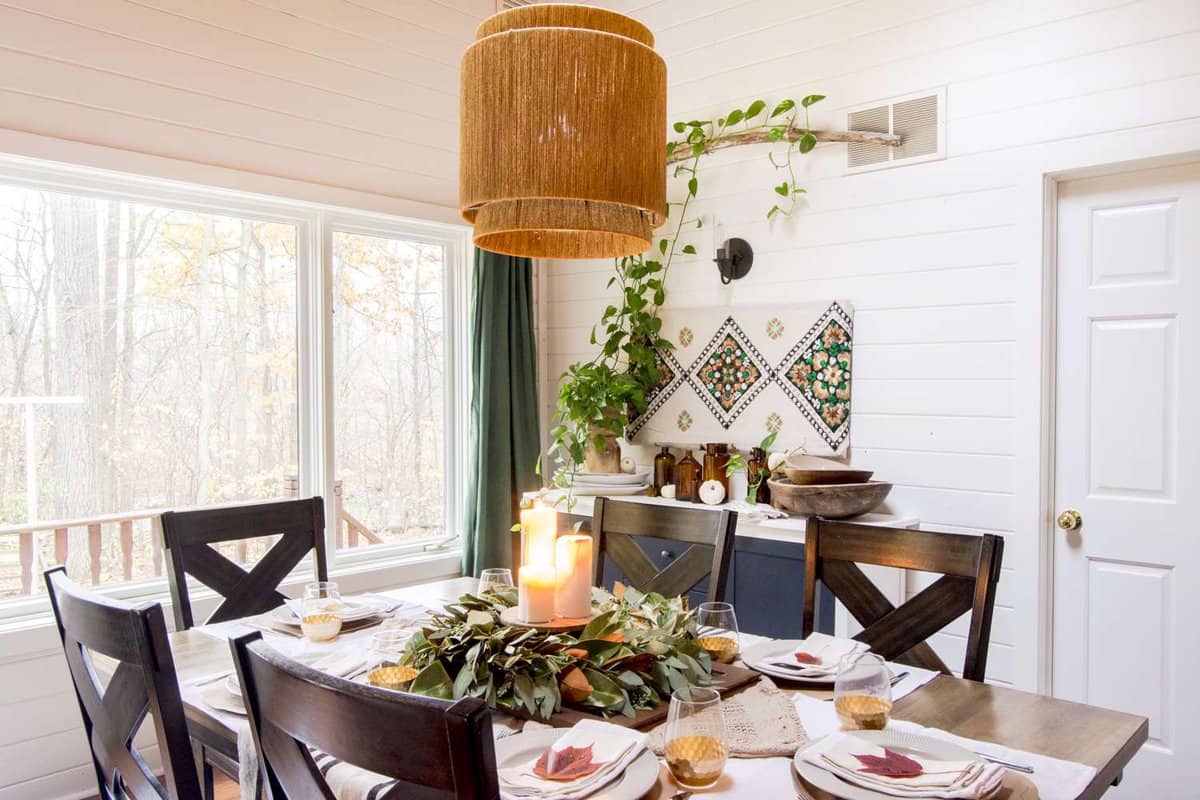 Simple enough that I actually came up with three ways to share with you!
Use a Fall Wreath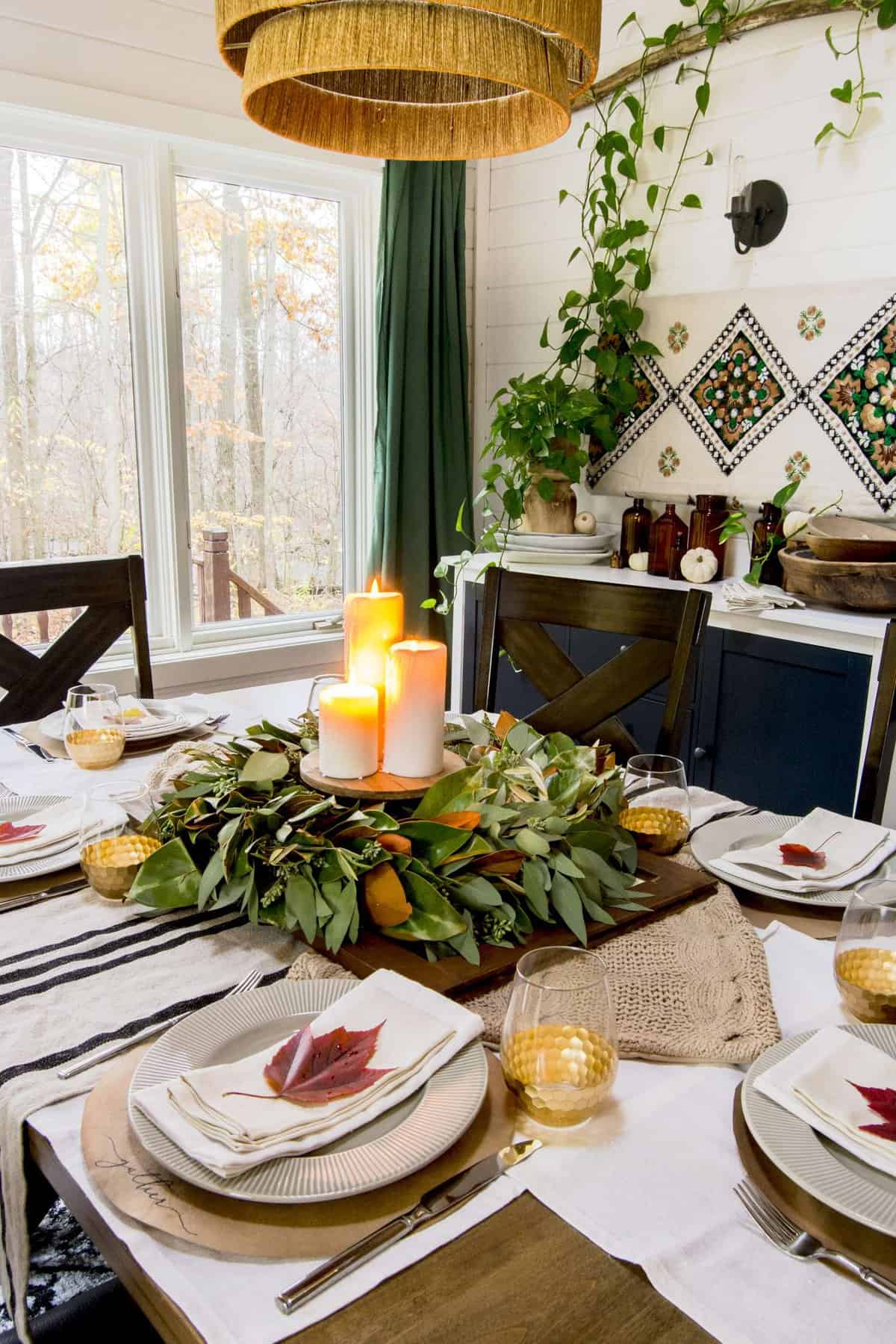 My first, and favorite, way to style a simple Thanksgiving centerpiece is to anchor the entire table with a fall wreath as the centerpiece. This beautiful fresh magnolia and eucalyptus wreath was actually purchased for a different area.
However, once I saw it, I knew it would be stunning layered with pillar candles.
Any wreath would be an extremely simple way to add lush greenery without the fuss of using garland or single stems. Simply choose a beautiful wreath that matches your style, and use it to anchor your fall table setting!
I layered my wreath on top of a mirror as the base. This adds a touch of glamour to the space. Then, I simply added a wooden cake stand to the center and topped it with cheap pillar candles.
And for my Thanksgiving table runner, I made one up!
Rather than buying a themed runner or Thanksgiving tablecloth, I layered one linen napkin at each table setting, then topped those with two cozy pillow covers and a season-less striped runner down the center.
Recreate This Look

---
This allows me to create a cozy and refined table setting without purchasing new linens! When dinner is over, everything can easily go through the wash and then returned to its original purpose.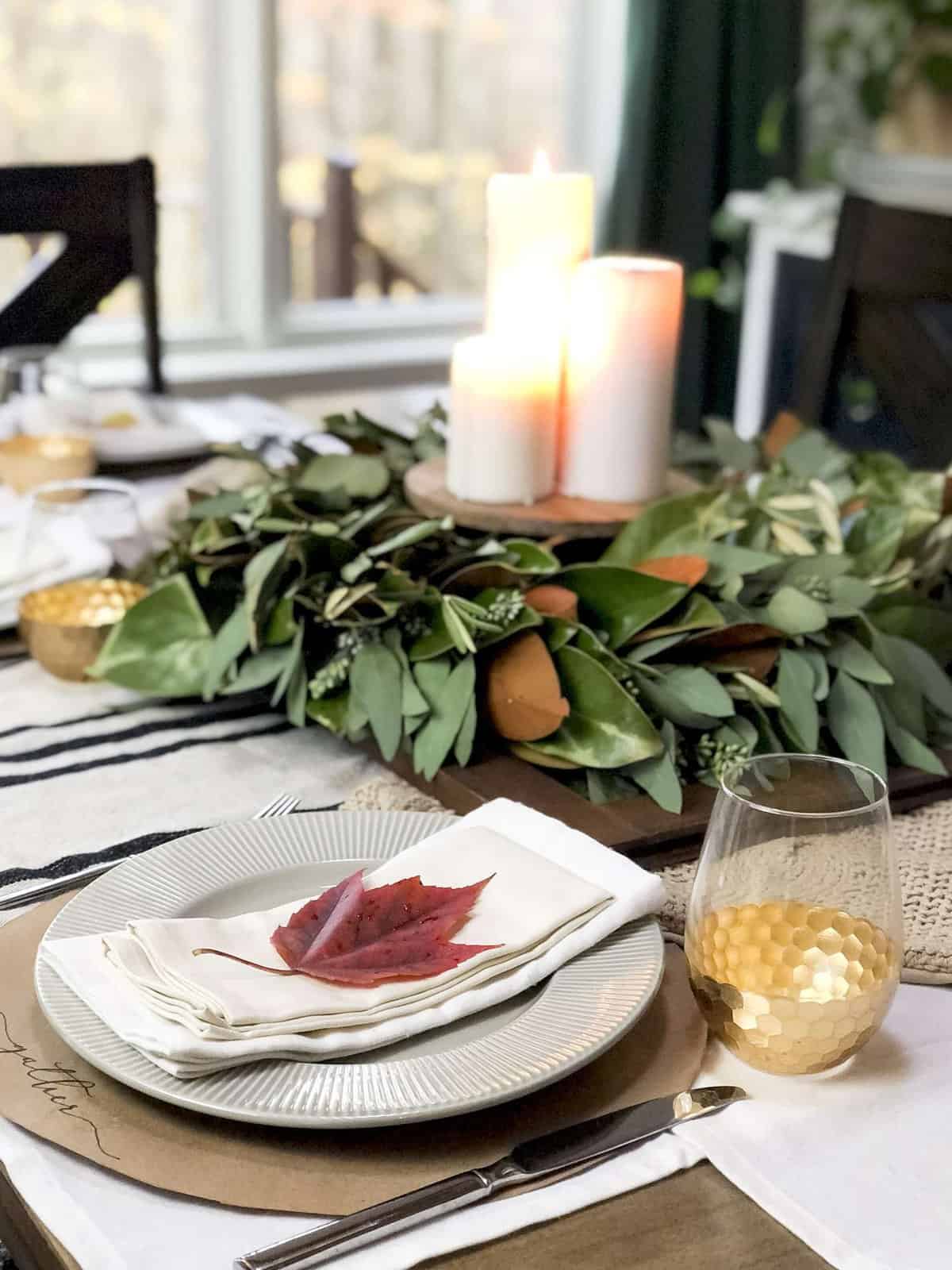 Simple DIY Chargers
Did you notice the "gather" chargers? Those are one of my favorite DIYs from a couple of Thanksgiving's ago. My blog subscribers have access to the free printable to recreate these in minutes!
You can make as many chargers as you need for $4 or less! The full tutorial can be found in this article!
Top your place setting off with a fresh leave straight from your yard and you are good to go!
As I'm sure you can tell, the magnolia wreath was my favorite Thanksgiving centerpiece option. However, I have two more to share with you!
Platter Layered with Glass
If you're looking for a way to add more glam to your space, create a Thanksgiving centerpiece of glass pieces. You can see above this same grouping used in my fireplace inset.
My green vintage bottles are one of my favorite glass collections. You can also see my amber bottle collection on the buffet. Both of these beautiful colors are perfect for a fall table.
They mimic nature, add a beautiful glow, and can be topped off with simple fall foliage or pumpkins.
Copper Candelabra
The third Thanksgiving centerpiece idea I have is my DIY copper candelabra. I shared how to create this beautiful centerpiece on my YouTube channel as well.
If you don't have the ability to create your own candelabra, simply purchase a simple one and layer it with real or faux gourds and pumpkins. Touches of greenery or garland are always beautiful additions as well.
Stay Connected
I hope that these three simple Thanksgiving centerpiece ideas were helpful to you! Thank you for joining me on the blog today. You can follow along with me daily on Instagram as well for live tutorials and community connections!
More Thanksgiving Centerpiece Ideas
Joining me today are talented bloggers sharing their own Thanksgiving centerpiece ideas! Visit their blogs via the links below and enjoy your Thanksgiving!

Thanksgiving Table Setting // Easy Thanksgiving Centerpiece // How To Decorate a Thanksgiving Table // A Foraged Centerpiece // Thanksgiving Table, Warm Fall Colors

Natural Thanksgiving Centerpiece // Dried Hydrangeas Fall Centerpiece // Fall Centerpiece // Live Pumpkin Floral Centerpiece // Fall Centerpiece

Thanksgiving Centerpiece // Friendsgiving Ideas // Thanksgiving Dinner Outdoors // Cozy and Intimate Thanksgiving Table // Thanksgiving Centerpiece Ideas

Thanksgiving Centerpiece with Fresh Fruit // 5 Step Easy Thanksgiving Centerpiece // Thanksgiving Centerpiece Ideas // Thanksgiving Table Settings // DIY Floral Centerpiece