Candle Centerpiece Idea | DIY Candelabra Tutorial
Are you looking for a beautiful, elegant and cozy candle centerpiece idea? Try creating your own DIY candelabra with this simple tutorial, with video!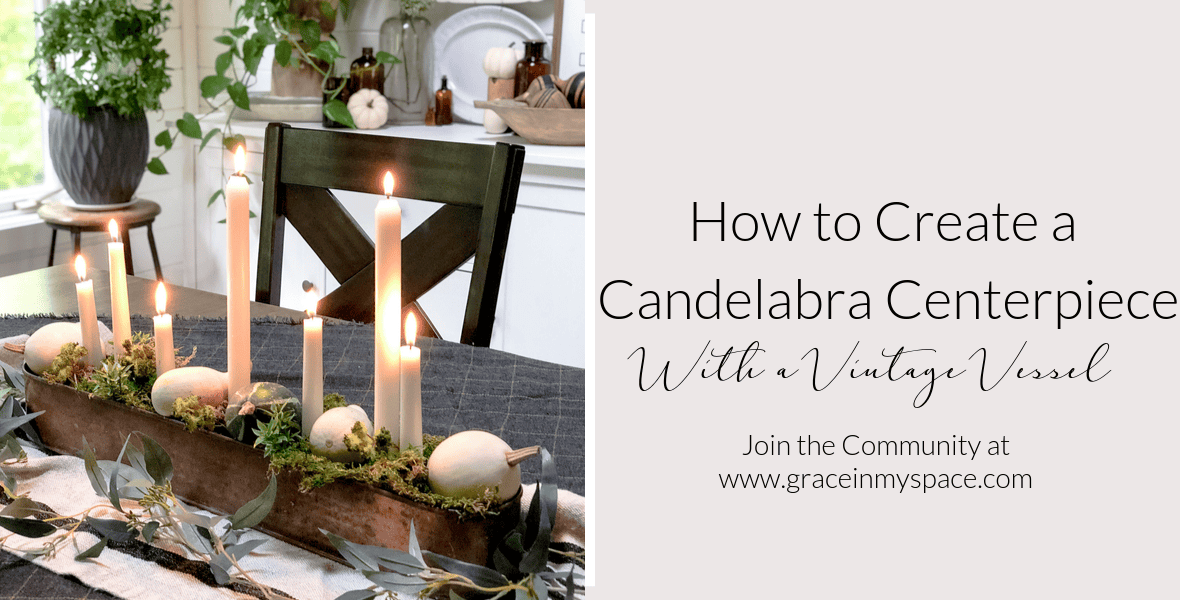 This post may contain affiliate links where I earn a small commission on your purchases.
How to Create Your Own Candle Centerpiece
One of the things I love most about DIY decor is that it spurs creativity! I've had this vintage copper piece for while now and wasn't quite sure what I wanted to do with it. Then, I decided it was the perfect width and length to build my own DIY candelabra.
DIY candle holders seems to be a specialty of mine. I have built them out of many things, including antique lamp bases! However, this time I wanted to mimic a candelabra without the fancy arms and glitz and glamour that one usually thinks of.
Cozy Casual Candelabra
I'm just a simple gal. I don't do super elegant decor. Instead, I prefer casual and cozy. Thankfully, I think this candle centerpiece accomplishes both of those goals!
The copper decor is perfect for fall because of those rich tones. The candles offer the perfect cozy environment. And the natural elements I added keep it feeling casual and slightly unkempt.
Even with the candles unlit, this centerpiece still provides a cozy accent to the dining room. I love how it turned out and it was so simple to create.
DIY Candelabra Video Tutorial
I hope this quick tutorial is so helpful to you as you consider what kind of elements you can use to create your own candle centerpiece. I chose to use very natural elements that are readily available. You can find my sources via the links below.

---
Create You Own
Now it is your turn! You can use any vessel that has a flat bottom to create this candle centerpiece so don't limit yourself to only what I had on hand! I hope you enjoy creating a DIY candelabra to add some cozy to your home this fall and throughout the seasons.
I'd love for you to share your creations with me! The easiest way to do that is to tag me on social media. You can follow along with me on Instagram or Facebook and tag me in your own post.
I'm so grateful you stopped by the blog today and hope this tutorial was helpful. Join the community of haven makers by subscribing to the blog and learn more about how to create a haven with my book, Designing a Life: From House to Haven!
It is a quick read and full of step by step instructions (and workbook) to help you transform your home into a refuge. Enjoy!