10 Neutral Fall Decor Ideas That Won't Break the Bank
It's time for some beautiful autumn home decor! Today, I'm excited to kick off my fall home tours with 10 neutral fall decor ideas that won't break the bank. Affordable seasonal decor is especially important to me since it is used for such a short time. So I hope that these 10 ideas can inspire you to decorate for fall on a budget!
Joining me today are some extremely talented bloggers all sharing their fall home tours as well. Marty from A Stroll Thru Life always hosts the best home tours, so make sure to check out all of the fall decorating inspiration at the bottom of this post.
If you're joining me from Noting Grace, thanks for stopping by! Aren't her color choices stunning this fall?! Once you're done with my tour, make sure to head next to see Remodelando la Casa for her early fall tour.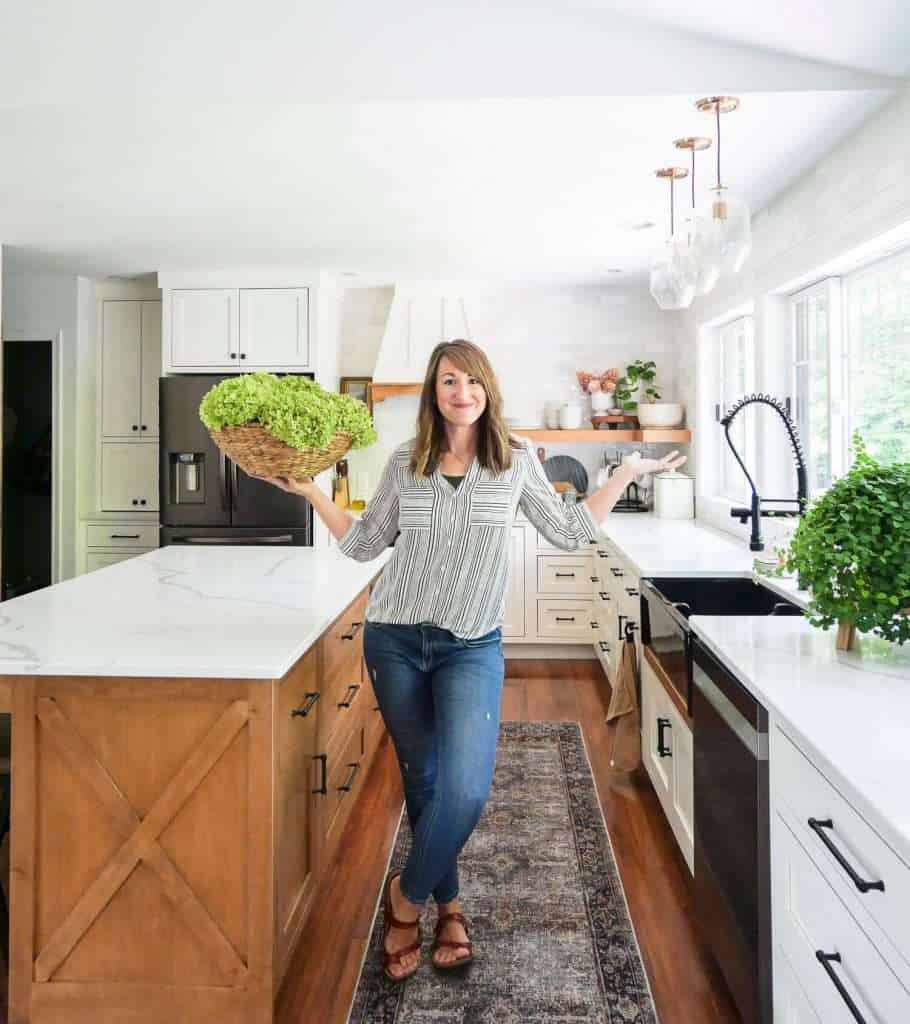 This post may contain affiliate links where I earn a small commission on your purchases at no additional cost to you.
When to Decorate For Fall
I cannot tell you how many people have asked the question, "when should you decorate for fall?"
My answer: whenever you want to.
Personally, I like to slowly roll out my fall decorating in stages. Typically, I start to change things up with color and textures in late August or early September. You can see how I decorate for fall without pumpkins in this post.
Then, later in September I start adding in more seasonal touches like fall signs, pumpkins, leaves and other natural elements. By October, I'm in full autumn decor mode and it lasts through Thanksgiving.
What I love about this approach is that it is a progression and allows me to enjoy each stage of the season. It also gives me time to get a game plan together, see if I want to purchase any new decor that's coming out, or if I want to stick with what I have.
10 Neutral Fall Decor Ideas
Now, let's get to my top 10 neutral fall decor ideas that you can implement on a budget.
Personally, I love neutral fall decor. It is subtle, soft, cozy and easy to add into most spaces.
However, neutral fall decor doesn't mean everything has to be white.
If I'm going to add color, then I like to stick to earth tones in my fall decor. Browns, mustard, burnt orange, taupe, plum, greys and black are my standard colors for the colder seasons.
Since those are natural colors, I think they pair well in small doses with neutral decor. Here are my top 10 ways to add neutral fall decor ideas to your home.
1. Muted Dried Florals
My favorite affordable way to add fall decor to my home is through dried florals. First, if you have a garden then these arrangements could be completely free. Most of my dried florals come from my garden.
However, if you need to purchase them you can make a big statement with a bundle or two for $25 or less.
My favorite places to get dried florals are:
2. Green Plants as a Neutral
The next way I create a neutral feeling fall home is by using green as a neutral. Green is a color of nature and goes with just about everything.
So I use my plants heavily as part of my fall decor. Remember, neutral doesn't mean white. It simply means that it coordinates well with the pieces around it and doesn't stick out drastically.
Plants are a great addition to seasonal decor because they bring a vibrancy and life to the space. Plus, they are perfect year round so you aren't buying new each season.
You can snag my plant care guide for free below if you're new to keeping indoor plants!
3. White Pumpkins
It had to be said. It's obvious, but yes, white pumpkins are the way to go. I popped a white pumpkin into my otherwise fairly unseasonal bedroom decor and voilá, a fall bedroom!
Truly, adding white, creamy, light orange or blue pumpkins to any room instantly creates a fall decor vibe.
There are many affordable options, or you can go to a local vendor and snag some real ones! Below are some of my favorite faux pumpkins.

---
4. Cozy Bedding for Neutral Fall Decor Ideas
While we are taking a sneak peek at my fall bedroom, let's talk about cozy bedding as a neutral fall decor idea!
I love that I can switch out my bedding to accommodate colder months, and it will last me through winter.
Not only is bedding a necessity, but with luxurious textiles, you can create that layered look that is so inviting and seasonally minded.
Below are my favorites for the season:

---
5. Black and White Photos
Recently I created a DIY gallery wall with black and white and sepia prints. I took a vintage art book and cut out my favorite images.
Then, tacked them to the wall with masking tape.
It's so easy to play around with the layout since they are adhered with removable masking tape. They could also be framed, but I was going for the affordable route.
I love how using neutral artwork as fall decor can be an intentional statement without being overtly fall.
6. Earth Tones To Complement Neutral Fall Decor Ideas
Since we are looking at browns, taupes and creams in the images above, let's revisit earth tones.
In my vintage DIY cabinet, I have loads of neutral decor that has no fall sentiments. However, once I added in a few earth tones here and there, it instantly felt more like autumn decor.
A pop of plum, a touch of mustard, various shades of brown. These are all earth tones that are subtle and soft enough to fit seamlessly with your neutral fall decor ideas, without taking over.
7. Cozy Textures Instead of Overtly Fall Decor
Next, let's talk about texture. It is so easy to add in textiles that have a fall vibe without having to use lots of color.
So often we tend to think that our fall decor needs to be overtly fall: pumpkins, leaves, cornucopias, hay, corn stalks…etc.
However, with the addition of a new plaid blanket, an earth tone pillow, or a textural oil painting, you can bring in fall decor while remaining fairly subtle and neutral in your decorating.
Here are some favorite textiles you could try!

---
8. Food for Entertaining | An Out of the Box Neutral Fall Decor Idea
Most of the time I wouldn't call food decor. However, why not make it part of your entertaining decor!
Grab a load of fresh pears from the market, display your week's worth of apples, make a hot cider or cocoa bar. Or, load up your countertops with fresh pies to serve your guests and display them in a visually appealing way.
Think outside the box for decorating your home for fall and make the most of displaying your food as you welcome guests into your home.
If you're looking for a new recipe to add to your fall baking, make sure to check out my signature pear pie recipe.
9. DIY Affordable Artwork
If you're looking to add artwork to your neutral fall decor, try making your own!
I had this print printed at Nations Photo Lab, then hung it with these simple magnetic poster hangers. It was a 5 minute DIY after I received the print in the mail!
10. Nature from Your Yard
The last affordable neutral fall decor idea is to just use nature from your yard! The above image of my fireplace shows a single dried branch from our pear tree.
Shop My Kitchen Decor

---
I have a whole bundle currently drying in the garage to add to a large arrangement. Stay tuned to see how it turns out!
More Overt Fall Decor Ideas
Of course, some of my favorite fall decor ideas aren't subtle and they aren't neutral. Adding in small doses of overtly fall decor can go a long way.
I always love to add in fall signs from my favorite sign maker. You can use code GRACEINMYSPACE for 15% off all signs at Joyfully Said! I love this new addition to my fall kitchen decor.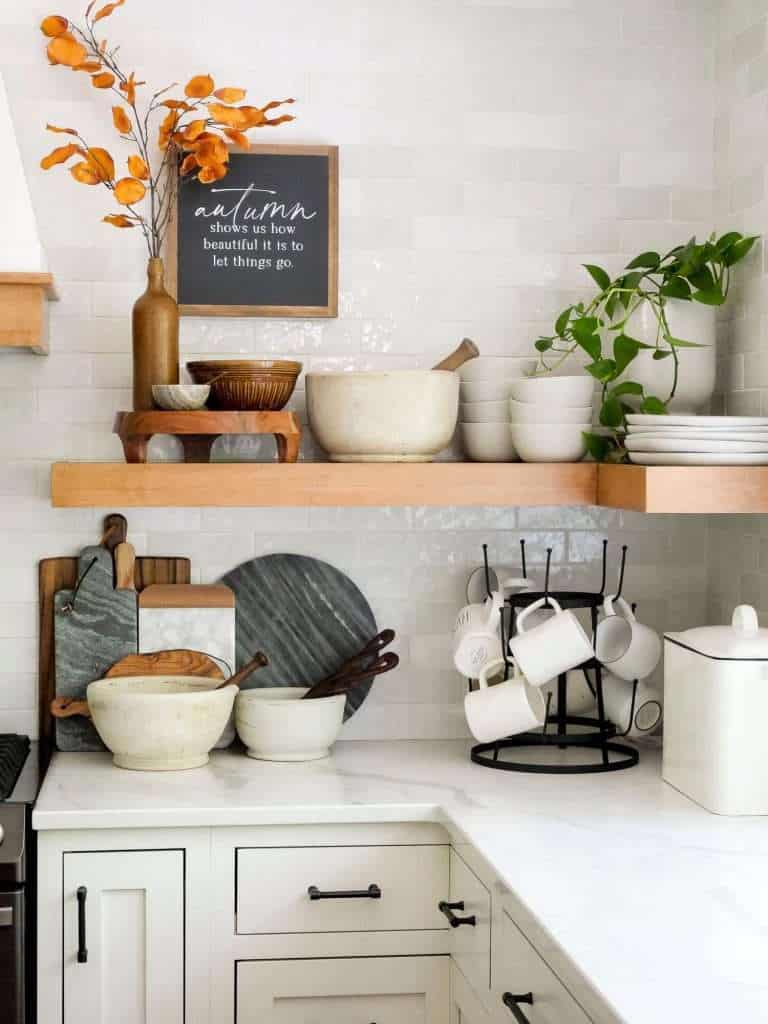 Stay Connected
Thanks so much for stopping by the blog today! Make sure to subscribe for more fall decor ideas to come!
You can also join me daily on Instagram and weekly on YouTube for loads of home and DIY inspiration.
Make sure to browse the below Fall Home Tours as well! Enjoy!
A Stroll Thru Life – Inspiration for Moms – Worthing Court
Pink Peppermint Design – Clean and Scentsible – LeCultivateur
Southern State of Mind – This is Our Bliss – Cuckoo4Design
11 Magnolia Lane – Decor to Adore – Noting Grace
Grace In My Space – Remodelando la Casa – Whispering Pines Homestead
Up To Date Interiors – The Stonybrook House – Thrifty and Chic
CitrineLiving – Our Southern Home – Southern Hospitality
Hymns and Verses – A Pretty Life in the Suburbs – DIY Beautify
Golden Boys & Me – StoneGable – Quarters One
The Woodgrain Cottage – White Arrows Home – Chalking Up Success