Friendsgiving Table Setting | 3 Easy Tablescape Ideas
Do you enjoy celebrating Friendsgiving? It's a favorite for me. Aaron and I look forward to it every year. Today, I'm sharing 3 easy Friendsgiving table setting ideas! Whether you host with one special family or many, these table settings are easy ways to dress up your table to celebrate with loved ones.
This post may contain affiliate links where I earn a small commission on your purchases at no additional cost to you.
What happens at a Friendsgiving?
If you've never heard of Friendsgiving, it is a modern day mashup of friends and Thanksgiving. While most people traditionally celebrate Thanksgiving with family, this is like a sub-holiday to celebrate with friends.
It can be for those who don't have family nearby, so you celebrate with friends on Thanksgiving.
Or, it can be a quick excuse to get together with your favorite friends to celebrate the family we choose.
A few years back, one of our good friends started hosting Friendsgiving at her home. Each year it is an evening that we look forward to full of food, minute-to-win-it type games, and tons of laughter.
Our closest friends just celebrate being together and our friendship and it's always a blast.
I've never hosted it personally, but I thought it would be fun to pull together some Friendsgiving table setting ideas for those who may want to!
For these three simple tablescape ideas, I went with a fall theme over a traditional Thanksgiving theme. These are very easy to pull off to share a beautiful table with your closest friends!
What do you serve at Friendsgiving?
While this article is more about the decor for beautiful Friendsgiving table settings, I still wanted to answer a few quick questions about Friendsgiving in general.
This is such an informal holiday that was literally made up in recent years. SO, do whatever YOU want!
Serve a full Thanksgiving dinner.
Serve only appetizers.
Host a pot-luck to take the stress off.
Make it a dessert buffet.
BBQ.
Sky's the limit!
Serve foods that you can make into your own tradition specifically for Friendsgiving. But most of all, just have fun!
3 Easy Friendsgiving Table Setting Ideas
Now, let's decorate! These Friendsgiving table setting ideas can be used throughout the autumn season as well for any get-together.
I've done three main table setting ideas, with a bonus fourth. I'll share them from most elaborate to simplest for all skill levels.
Though, in reality, anyone can do any of these Friendsgiving table settings! It's all about the layering.
1. Organic Modern Friendsgiving Table Setting
First, let's take a look at a modern organic option.
If you are unfamiliar with the different decorating styles, make sure to check out my YouTube video below where I share and define 12 popular decorating styles.
This Friendsgiving table setting is modern in that it has bolder colors with a simplistic foundation.
And it is organic because of all of the natural elements involved.
Dried florals
Foliage
Paper mâché
Wood
This table setting feels more elaborate because of the repeating elements. Three paper mâché bowls filled with different fall florals make a beautiful statement.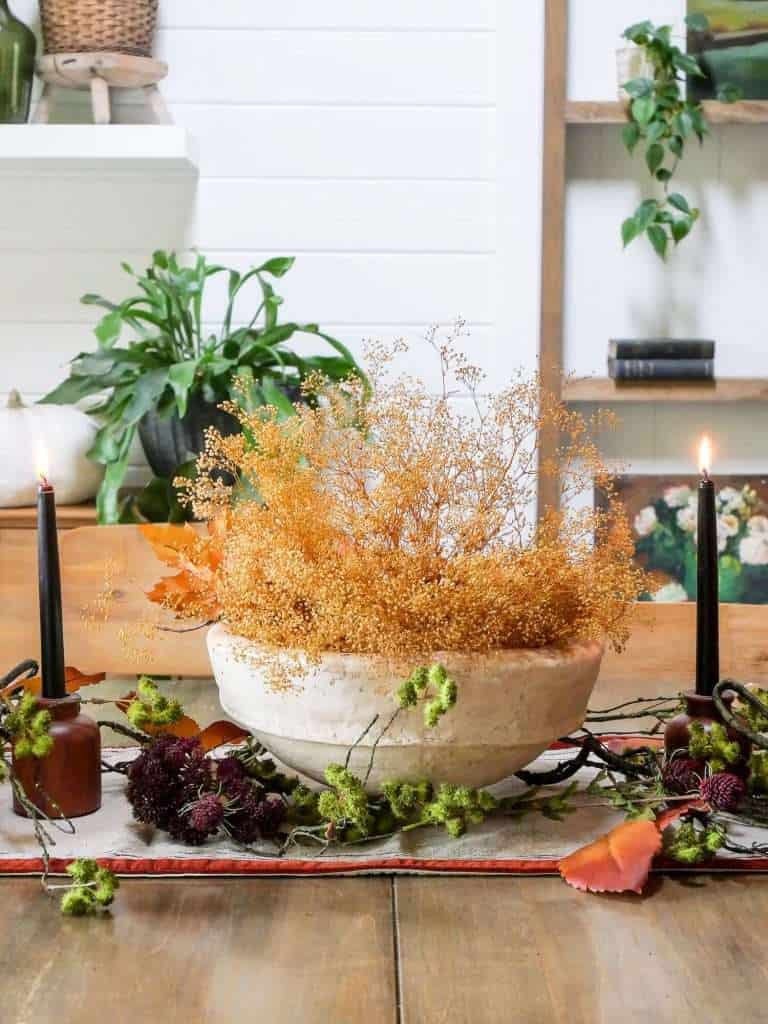 Layered on top of a basic runner, these green stems create a whimsical vibe that is fun and unique at the same time. Unfortunately, they are no longer sold. But below you can find some whimsy alternatives!

---
Repeating a few simple pieces of foliage and florals keeps this looking polished, yet interesting. I love the way the colors come together for a bit more of a modern look mixed with vintage items.
These paper mâché bowls are vintage finds, but you can find some shoppable items below to recreate the look!

2. Rustic Friendsgiving Table Setting
The next option is very similar with the foliage and layout to the first option. It's very easy to swap out the main focal points of a Friendsgiving table setting to drastically change the theme.
This option follows the same layering as option 1.
Basic table runner
Greenery
Leaf accents
Purple stem picks
Candlesticks
However, instead of using the bowls, which are bulkier and more overt, I swapped them for these vintage amber bottles.
This creates a slightly more rustic look, while simplifying the space. You could use bottles to hold greenery or flowers, but I decided to use them as untraditional candle holders!
Amber bottles are very easy to find when thrifting or antiquing. They are typically not too expensive.
New shopping options are linked in the images below as well!

3. Simple DIY Centerpiece
The third option is a simple DIY centerpiece that all skill levels can create!
To recreate this simple centerpiece, simply drill holes into a piece of wood the same size as your taper candles. I used a piece of leftover 4×4 wood and drilled seven 1″ holes into it.
I love the drippy candle look as it creates a bit of a romantic vibe.
For this centerpiece, I also layered a simple magnolia leaf garland and some dried eucalyptus and hydrangeas over a plain runner.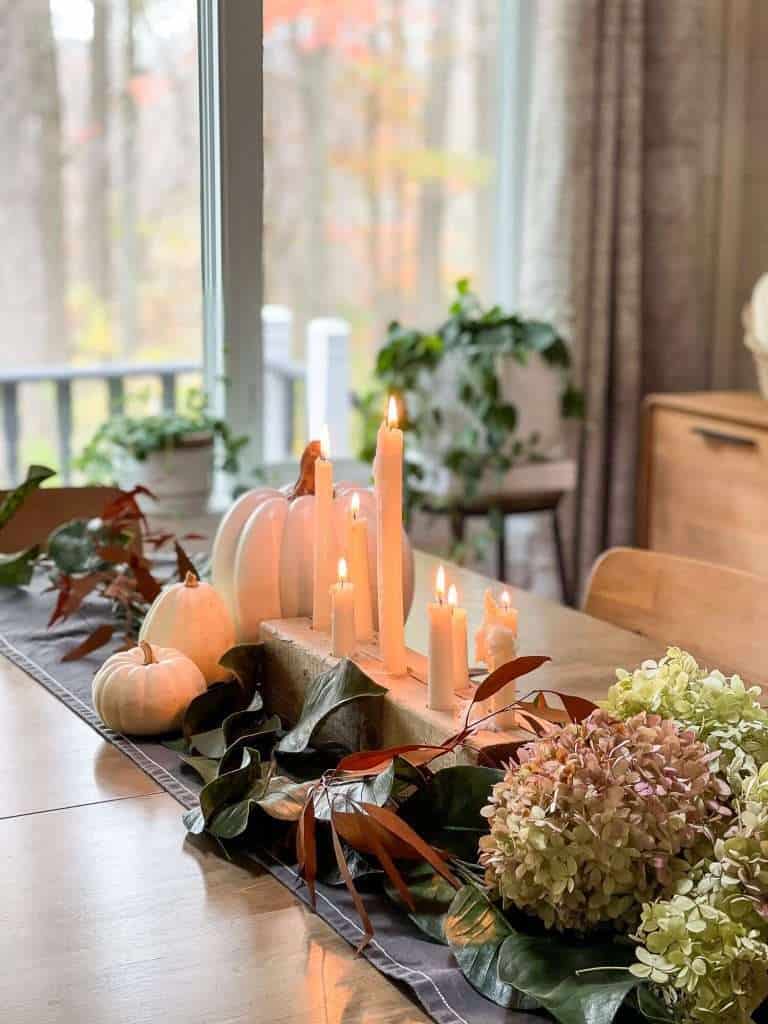 For a final touch, add a pumpkin or two!
4. The easiest centerpiece option ever!
And for a bonus fourth Friendsgiving table setting option, use a wreath!
I've used wreaths in multiple table settings since it takes all the guess work out of it. Simply add your wreath on top of your table linens, then place something in the center. It creates a look like you've styled the centerpiece yourself, when in actuality the wreath does all the work for you!
You can see some other table settings I've done with wreaths in the posts below!
And one more fun wreath display: a vintage wreath wall.
Stay Connected
Thanks so much for stopping by the blog today! I hope this post has given you some fun ideas for how to decorate your table or island for a Friendsgiving (or fall) celebration.
Which look is your favorite? Will you be hosting a Friendsgiving gathering this year?
You can also see how all of these looks came together in person on YouTube below! Make sure to subscribe while you're there!
Stay connected with the Grace In My Space community by subscribing to my newsletter and following along daily on Instagram as well!