Elegant & Easy Christmas Dining Room Decor Ideas
Do you decorate each room in your home for Christmas? Or do you focus on the main living areas? I tend to stick to the main open concept spaces and today I'm sharing my Christmas dining room with you!
Design elegant and easy Christmas dining room decor with these simple tips! Plus, learn how to create dinner table decorations for Christmas with this easy layering method.
This post may contain affiliate links where I earn a small commission on your purchases at no additional cost to you.
How to Achieve an Elegant Christmas Dining Room
First things first, one of the easiest tips for creating an elegant environment is to use metallic colors in your Christmas decorating.
Gold
Rose Gold
Silver
Copper
Brass
Bronze
Pewter
Using metallic colors immediately creates a heightened and elegant look because metals look expensive, high end, and quality.
Additionally, metallic colors reflect light.
When using metallic colors, design your space so that they are close to various sources of light.
Lamps
Candles
Sconces
Lanterns
Battery operated string lights
By doing this, your strategic placement of lighting and metallic items will create a cozy and peaceful glow that is reflected easily.
Similarly, items with glitter will reflect the light around them to create that elegant glow we all enjoy so much.
In my Christmas dining room this year, I used mostly gold and silver with some white and glittery accents. Additionally, I incorporated some pewter, which pairs well with both gold and silver.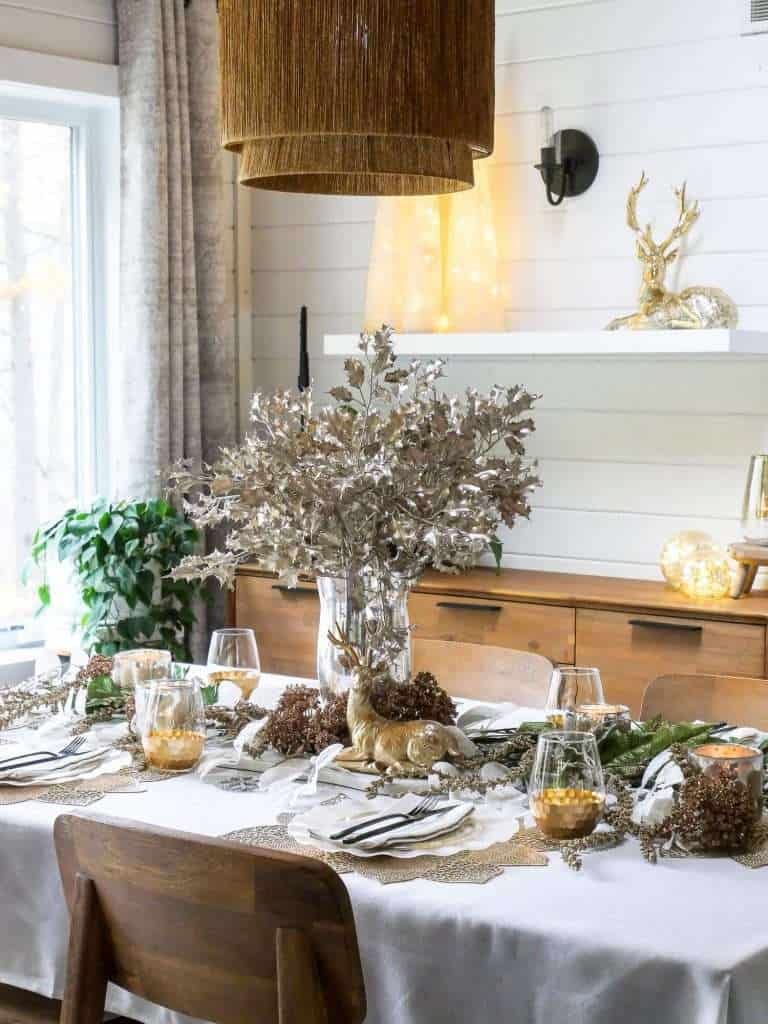 How to Decorate a Christmas Dining Room
Now, let's focus on christmas dining room decor!
In my dining room this year I was excited to decorate my new built in shelves for Christmas.
If you missed that project, you can head to this article to see how I built custom shelving in an existing doorway.
I wanted to close off an entrance from the dining room to the main bedroom, and this was the perfect way to do it and add decorating space to my dining room!
I added some vintage winter artwork and a few reindeer figurines and love the subtle Christmas touches it adds to the space.
Next, I simply displayed some battery operated elements to enhance a cozy glow throughout the room.
Battery operated Christmas trees, globe lights, and a lantern all displayed on my buffet create a magical space with very simple Christmas decor. Additionally, I added a beautiful gold reindeer that complements the smaller version in my tablescape.
Dinner Table Decorations for Christmas
The perimeter of the room is decorated very simply so that the Christmas dinner table decorations can steal the show!
I used mostly gold Christmas table decor with white and pewter accents. I love how elegant all of the various metals look together.
Easy Layering Tips for Creating an Elegant Tablescape
Next, I'm sharing my easy layering tips for creating an elegant tablescape in the dining room.
Often, people shy away from creating tablescapes because they look complex and overwhelming. However, it is a very simple process!
Use this step by step layering technique to achieve a similar look using like items.
Lay a single garland that runs most of the length of the table down the center.
Add faux floral stems on either side symmetrically.
Incorporate a statement centerpiece in the middle.
Place candles on either side of the centerpiece (the same number on both sides).
Layer in an unusual garland down the center of the table for some pizzazz (ex: snowflake garland).
Insert picks in a contrasting color strategically around the centerpiece and candles.
Optional: Add an accent like my reindeer to the centerpiece.
Add in table settings.
If you are more of a visual learner, you can see how this tablescape comes together in this YouTube video. Make sure to subscribe to my channel for weekly videos as well. I hope you enjoy it!
This Christmas dining room table setting took less than 15 minutes to complete since it uses larger items like garland and bushes. By using items like this, it is easier to decorate than using many single stems. The larger elements basically guide you in placement because they span the length of the table.
When using a long garland as the base layer, I like to splay out each stem off the center garland as far as possible so it covers more ground. Then, I layer in the other elements close to the center to cover any gaps.
All of the items I used to decorate my Christmas dining room table were purchased from At Home. You'll find shoppable links to other items below!
More shopping links below.

---
Christmas Table Place Settings
I don't know about you, but if I'm hosting a holiday get together then I am already buried in dishes. So, I like to use disposable plates with nice linen napkins to cut down on the dinner dishes.
To help keep the look elegant, I intersperse high end accents with these disposable dishes.
Linen napkins are easy to throw in the wash.
Fancy goblets replace traditional dinner cups.
Metallic placemats lay the foundation for an elegant look.
Disposable plates, bowls and small plates with simple details like a fluted edge make it look like they are real!
Stay Connected
I hope that this example for how to use Christmas dining room decor has been helpful to you!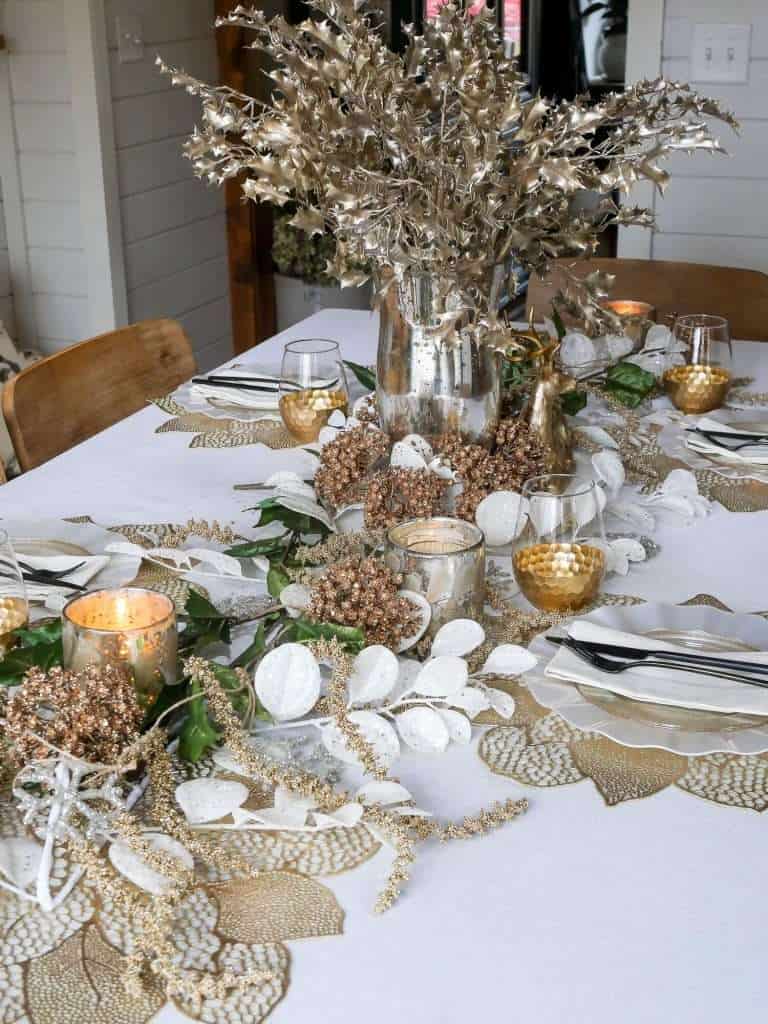 Thanks so much for stopping by the blog today. Make sure to subscribe to my newsletter for loads of free printables, as well as a free e-course that teaches you how to design your haven!
More Christmas Decor Inspiration
If you're looking for more Christmas decor inspiration, make sure to check out these popular posts next!