7 Tips for Organized Christmas Decoration Storage
I'm excited to share these easy tips with you today! Learn 7 tips for how to get organized Christmas decoration storage so that next year is a cinch to decorate! Christmas storage ideas, made easy.
This post may contain affiliate links where I earn a small commission on your purchases.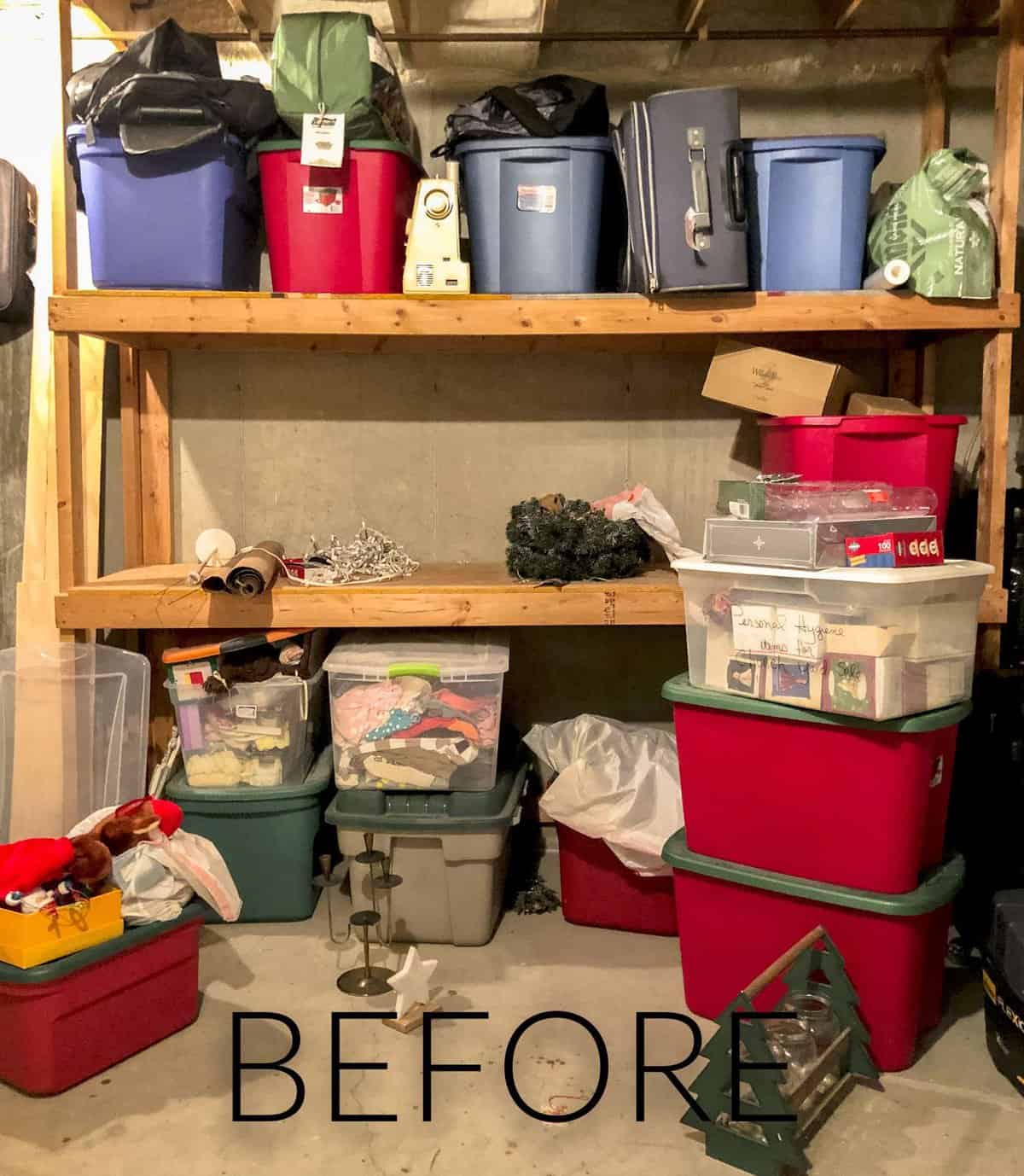 How to Store Christmas Decor So Next Year is a Cinch
We've all been there. The magic of Christmas is slowly fading and we are ready for life in our homes to get back to normal. It is so tempting to rip down all of our Christmas decorations and toss them in totes to deal with next year.
However, these 7 simple tips for Christmas decoration storage will help keep you sane when you pull out your decorations next year!
No special organizational products required, no fancy tricks; just good old fashioned organizational strategies, a little common sense, and some mean decor tetris skills.
Let's get started, shall we?
The Basics: Large Clear or Red-Green Totes
Let's start with the basics. What will you use to store your Christmas decor?
Tip 1: I prefer large totes over any other organizational product. They are roomy and sturdy, they can be sealed and they are stackable.
The easiest way to spot your Christmas decorations in the attic or storage closet is to have them in well marked totes. Red-Green are classic Christmas colors and easy to identify.
However, as my totes break or if I need more, I plan to buy clear totes from here on out. It is so easy to see inside of them to immediately know what I'll find inside.
This 66 qt. set of clear storage totes is a great bargain. These 105 qt totes are my favorite size because they are extra long.
Tip 2: The trick is to buy oversized totes, if you have the space.
This allows you to store medium sized signs, long bottle brush trees, and otherwise awkwardly shaped decor safely inside a tote.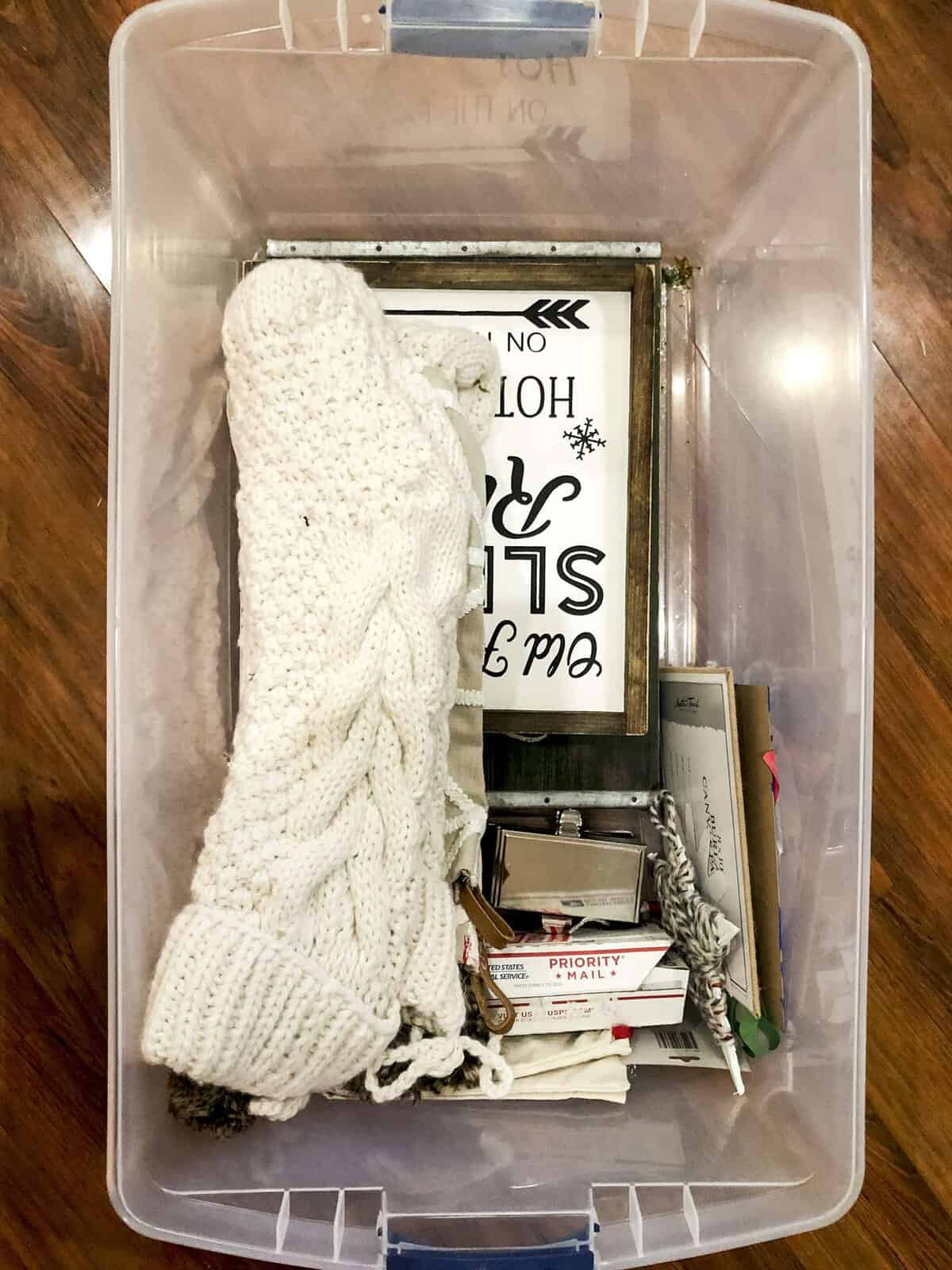 Sort By Christmas or Winter as You Undecorate
Tip 3: Sort your decor as you take it down.
If you saw my recent post, I shared how to use Christmas decor throughout the winter months as well. This allows you to put your purchases to good use and get more longevity out of them.
So, as you undecorate, separate your decor into clearly "Christmas related" and then items that you can reuse for winter.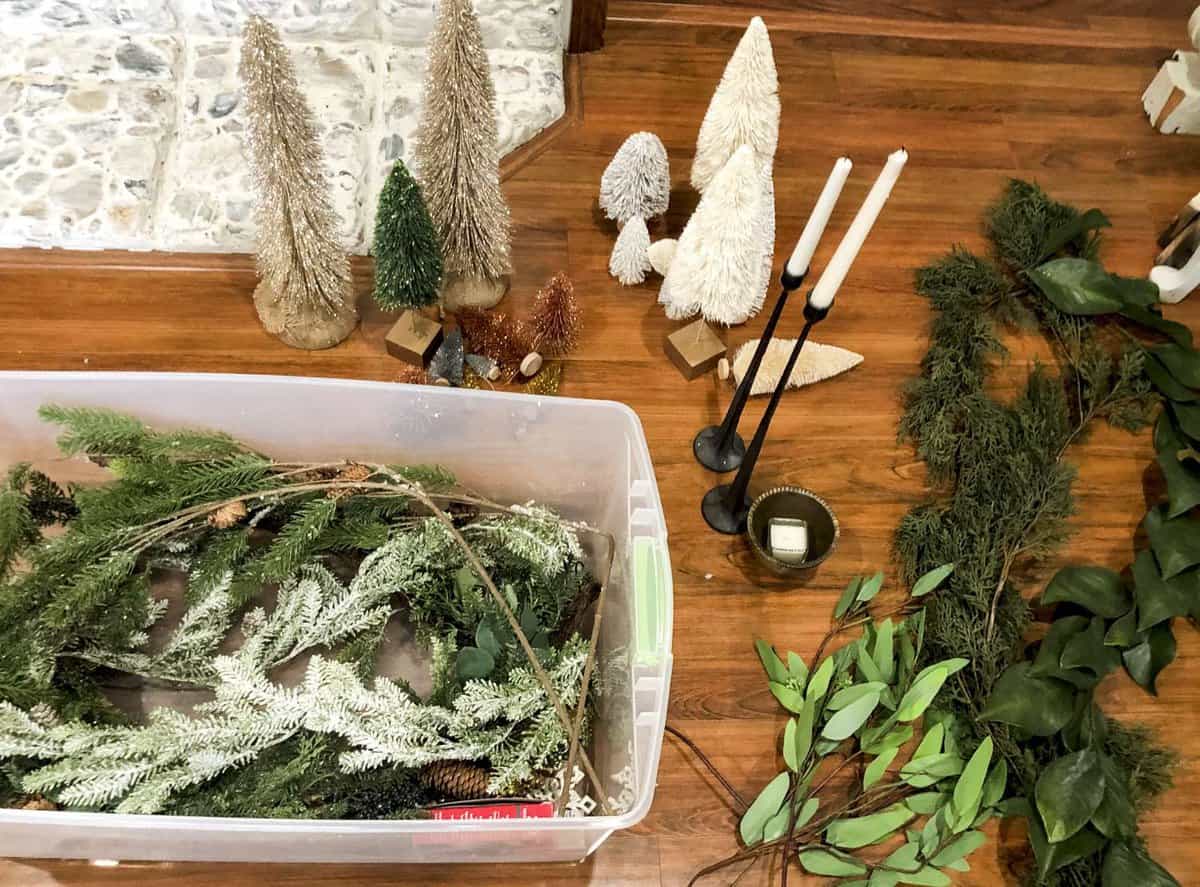 My own personal categorizer is glitter. Glitter trees and garland = Christmas. Non-glitter trees and garland can be used for winter.
As you can see above, the white bottle brush trees and greens on the floor will be a part of my winter decor and the rest gets stored right away.
Yours will be different as different decor has different meaning for others!
Group Like Items
Tip 4: Group like items in the same tote.
Since I'm using oversized totes, I can fit all my garlands, wreaths and trees in one clear tote. Next year, I'll know exactly where all my greens are with one glance.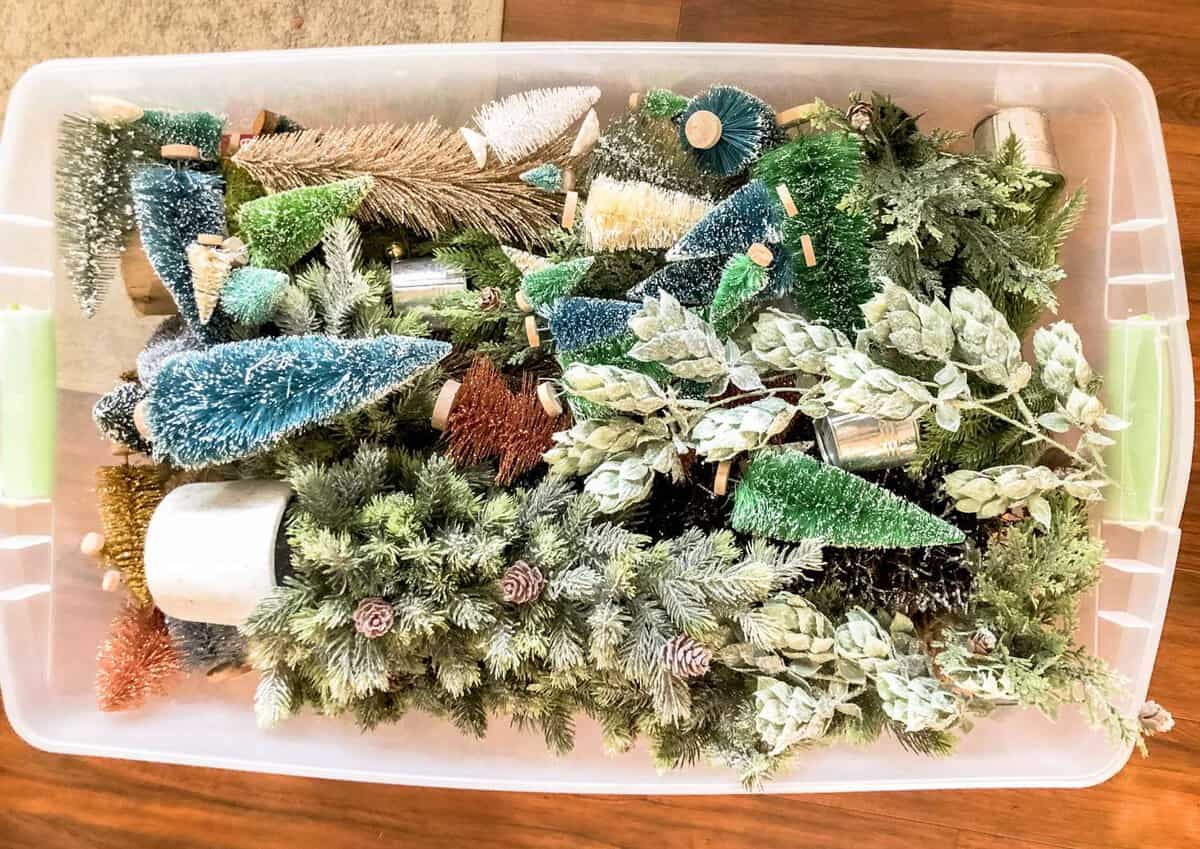 Reuse Original Packaging
I know there are dozens of products available to help you organize your Christmas decor.
Tip 5: However, I've found that the best storage is a product's original packaging if there are multiple pieces. As often as I'm able, I reuse ornament packaging and foam molds for breakables.
This packaging is already custom made to protect your Christmas decorations, so why not keep using it!?
Christmas Light Storage
Speaking of storing Christmas lights, this has been my tried and true method for over a decade.
Rather than open up a tangled mess of 20 strands of lights next year, I want this part of the Christmas decorating process to be seamless.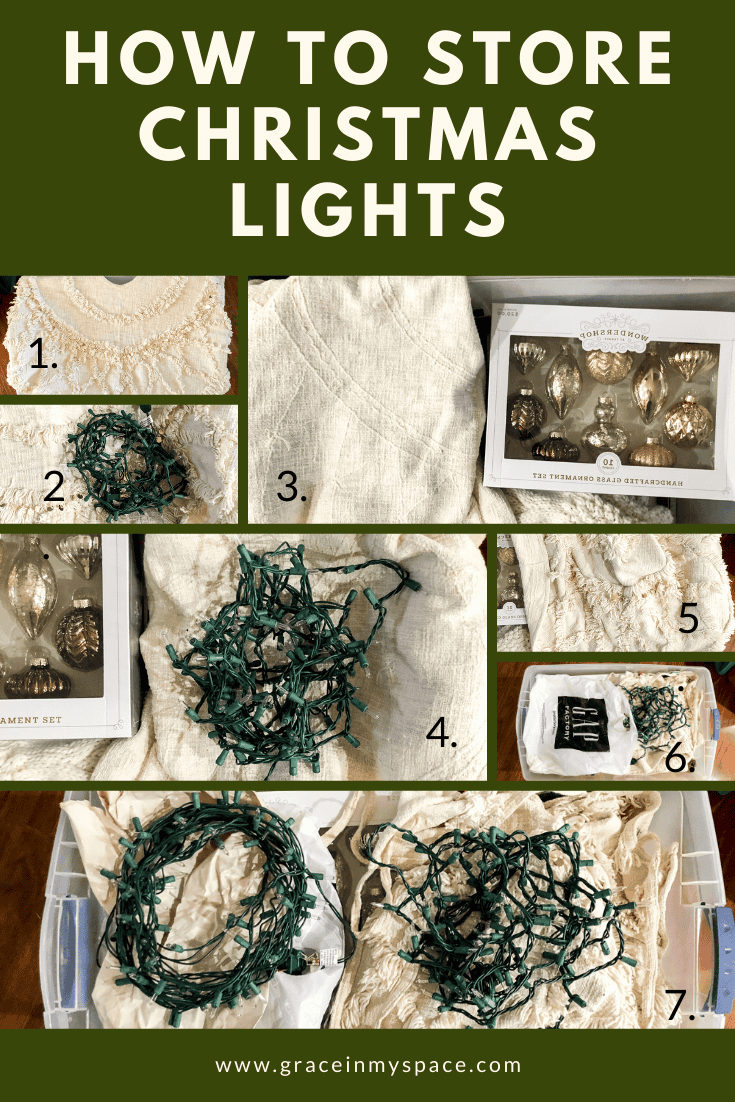 Tip 6: So, I use the layering method to store Christmas tree lights.
Grab your tree skirt or another large piece of fabric (perhaps a Christmas tablecloth), and lay it out flat (step 1).
Next, wrap each strand of lights individually like you would an extension cord. Place your first strand on one side of your tree skirt (step 2).
Then, fold over your tree skirt, and place another strand on top (step 3-4).
Continue folding your tree skirt and layering one strand of lights between each layer of fabric. If you run out of fabric, a simple shopping bag (step 6.) serves well as your boundary layer.
This allows you to keep all of your strands neatly in their own wound bundle without touching each other to potentially get tangled.
Next year, simple take them out of the tote one strand at a time!
Get Really Good at Decor Tetris
Tip 7: Learn the art of decor Tetris.
This is a thing. A thing of beauty. Perhaps it is the organizational nerd in me, the type A personality, or I'm just an odd duck.
But it gives me great pleasure to squeeze every last bit of space out of these totes.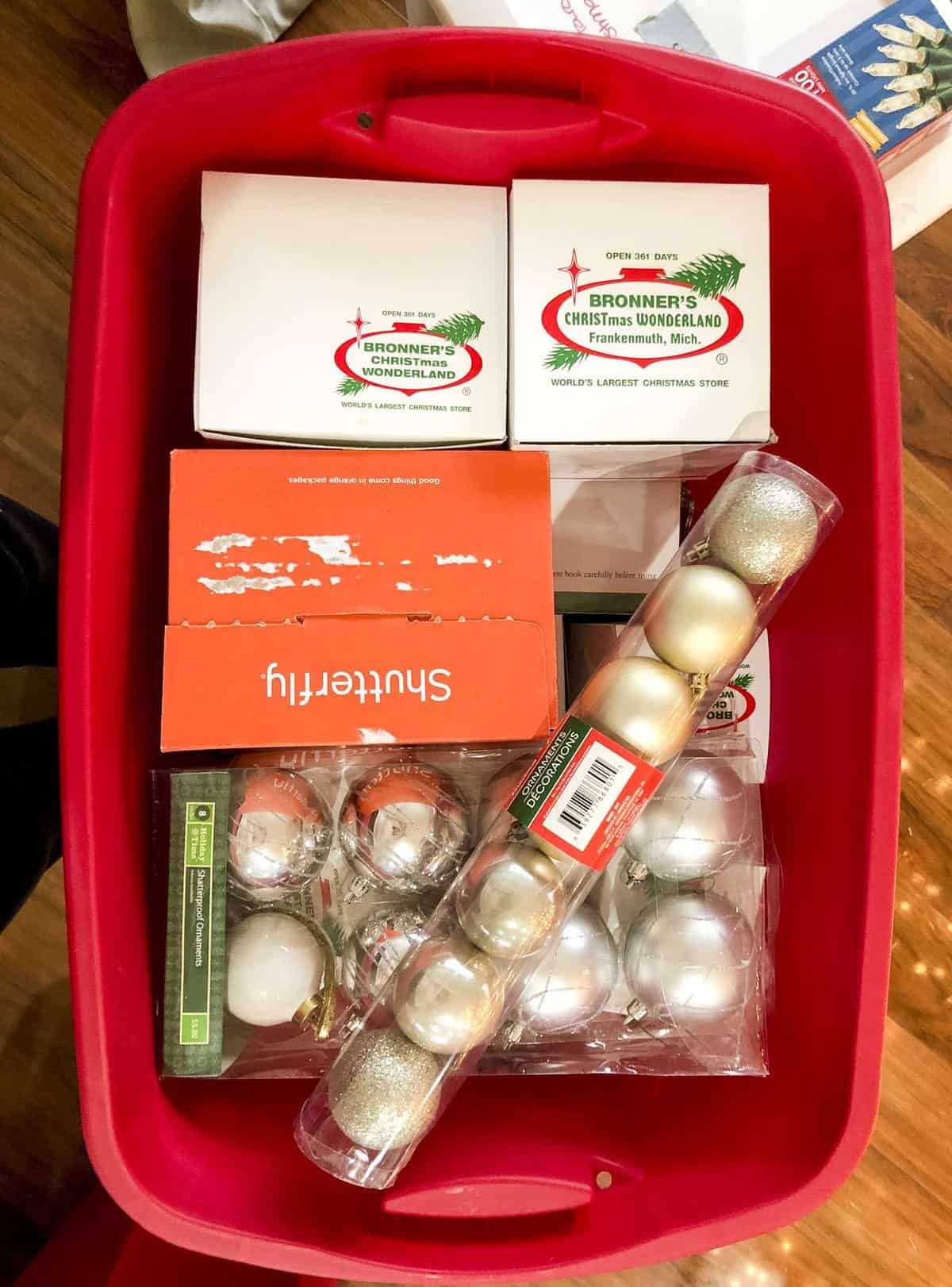 Christmas Decoration Storage Tools
I've added a new Christmas decoration storage and organizational tool to my arsenal each year. It started with tree bags after my tree boxes broke in half.
Then, I added a couple of Christmas ornament storage boxes. I haven't yet ventured into Christmas wreath storage bags, but the dust may break me down this year.
I've found a few of these items to be especially helpful, so I thought I'd share my favorites here! Shop the best Christmas decor storage in my storefront.
Bonus Organizational Tip
Perhaps the biggest culprit for disorganized Christmas storage is that we store more than we use.
If you haven't purged your Christmas decorations in more than 2 years, it is time! Keeping Christmas decorations that you no longer love isn't doing you any good.
Part of what I teach in my book includes how to part with or reuse items that you've grown tired of. Christmas decor definitely isn't exempt from this!
As you put away your Christmas decor, have out two additional containers.
A tote to place items you want to donate.
A bag for trash.
Donate the items that you no longer love to clear out space for next year. Then, toss all the unwanted trash or broken Christmas decor that accumulates somehow each year. Ha!
Stack Them Up
Breath a sigh of relief! You're done! Stack your totes as neatly as possible and call it good.
Blank Slate for Winter
Now, you've created a blank slate for your winter decor. Reuse the items from Christmas that just feel wintery and enjoy coming up with new ideas to create a cozy haven this winter!
Here are some tips for winter decorating already on the blog!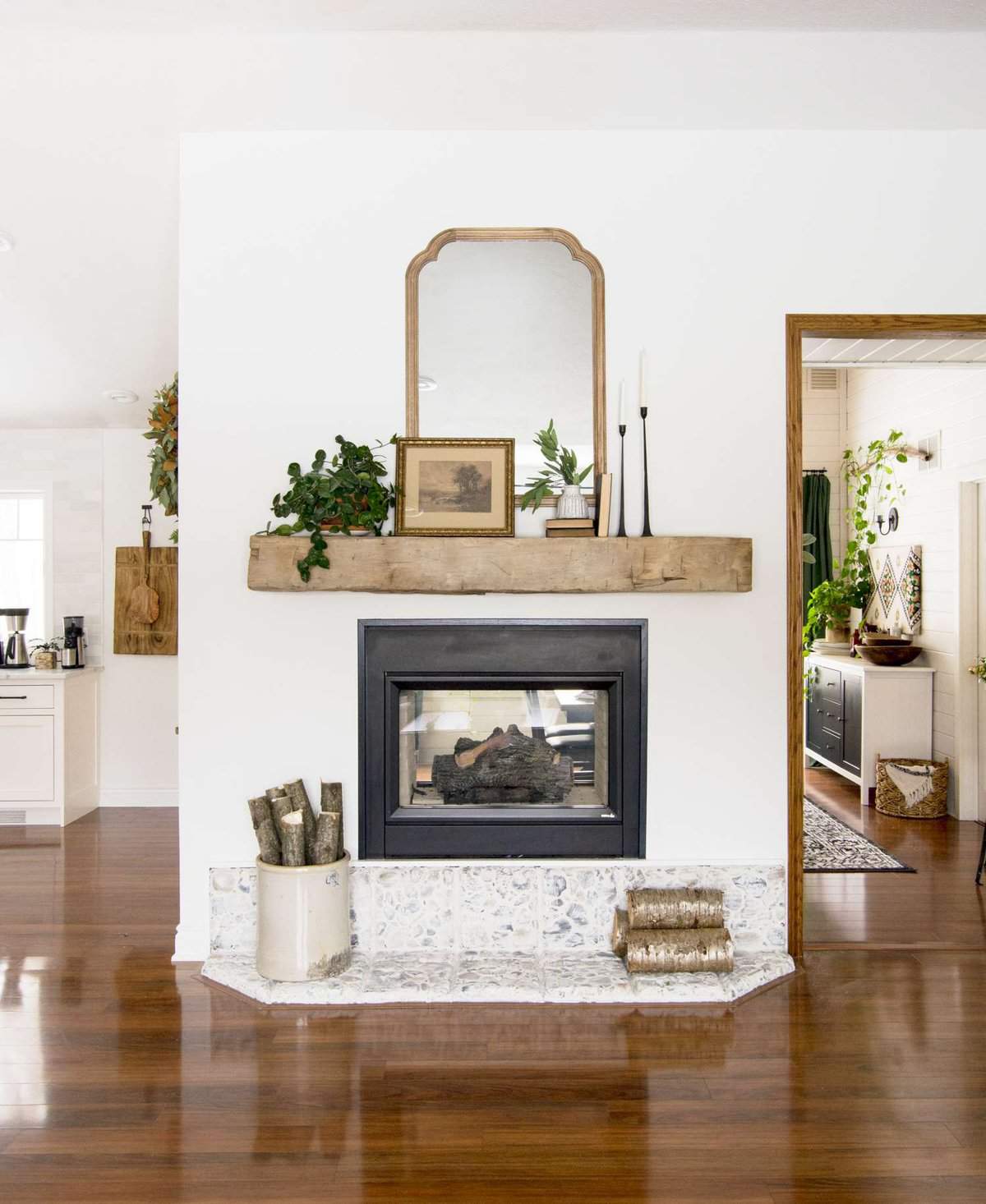 Stay Connected
Thanks so much for stopping by the blog today to learn more about how to organize Christmas decoration storage!
Make sure to subscribe to get my Grace Notes directly to your inbox and to access all my insider perks. You can also follow along daily on Instagram and weekly on YouTube!
~Sarah