Transitional Decor | Christmas Decor That Transitions into the Winter Season
As much as I love Christmas decor, I also love the cozy and comfy vibes that the winter season brings. Today I'm talking about transitional decor and how you can extend your Christmas decor into the winter season.
Post may contain affiliate links where I earn a small commission on your purchases at no additional cost to you.
The Christmas Season
Decorating for Christmas brings me so much joy. I love the festivity, the glowing lights, the cozy undertones, and the promise of Christ's birth. However, I also love to incorporate transitional decor into my plans for the season. This is specific pieces of decor which will span the seasons. They are appropriate for everyday use as much as they are for holiday decorating.
So today I'm sharing all the cozy details with you of how I planned my living room decor for Christmas and into winter! Before we get into all of my favorite transitional decor, make sure you check out my Christmas – specific posts! Above is a little preview if you've missed my Christmas decor this year.
Transitional Decor | Spanning the Seasons
Last year I learned all about the hygge movement. (The intentional pursuit of creating the feeling of warm and cozy.) It struck a cord with me and has influenced how I decorate my living areas. Intentionally adding cozy elements is the perfect way to make transitional decor work for you for the colder seasons.
Throw Pillows
You might say this is a no-brainer. Throw pillows are a common accent that 99% families use on a daily basis. However, have you considered the color, texture, and size of your pillows prior to purchasing? I like to use pillows as my number one type of transitional decor because they are never out of place.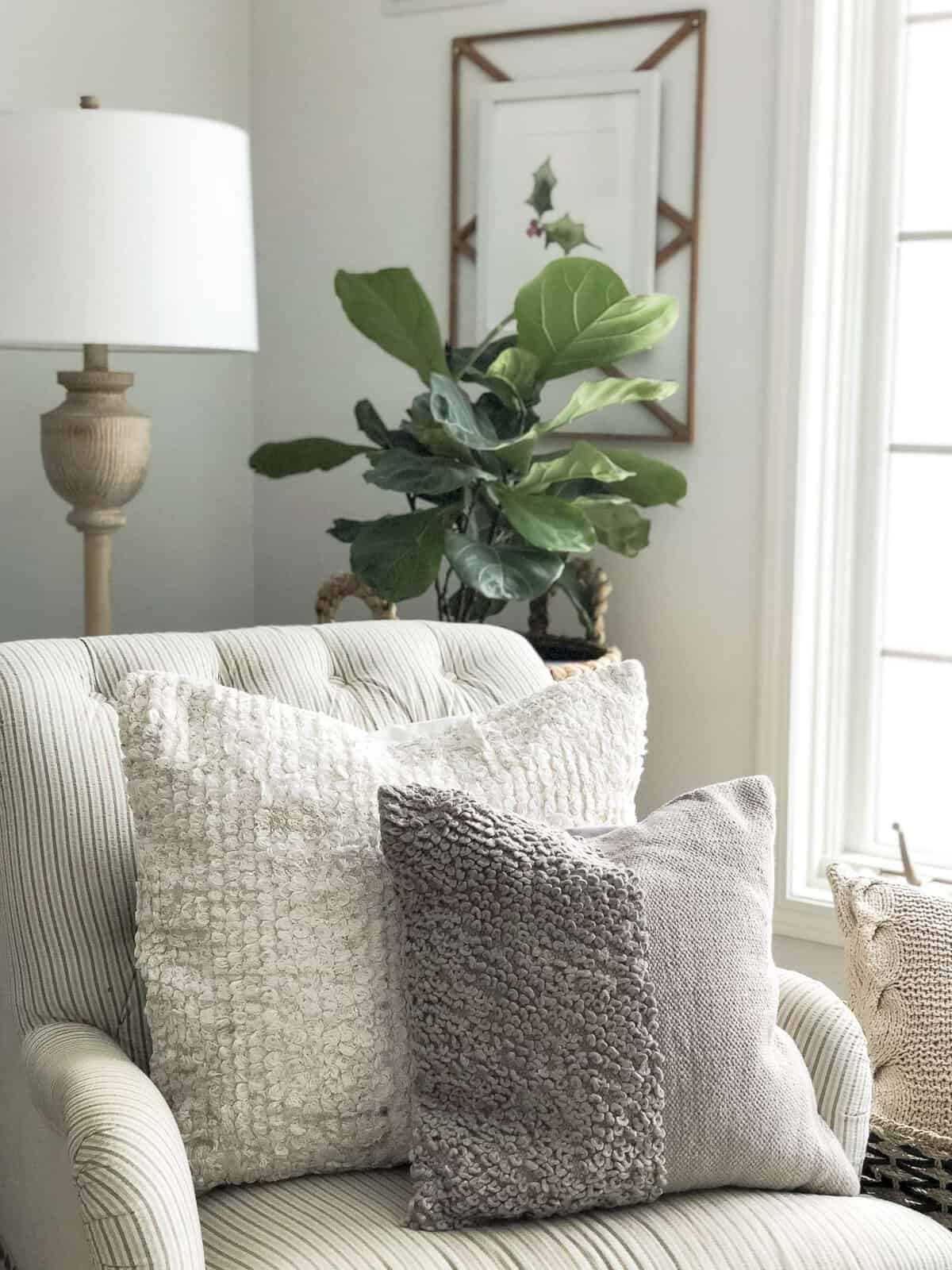 Intentionally purchasing pillows that are neutral, highly textured, and coordinated allows me to use them from November-February without them feeling themed or holiday oriented. Nubby textures, cozy velvets, warm wools. These all add to the cozy feeling I want to enjoy in my home during the winter season.
Warm Wood Tones
Another way to transition your decor in the winter season is to add warm wood tones when appropriate. The simple addition of these wood bowls, and a few select pieces of wall decor, warm up my otherwise neutral color palette.
Blankets and Baskets
Of course, blankets are essential to winter living. Anytime I can incorporate blankets into my decor I will! They communicate, "Stay awhile" to me and that is exactly how I hope people feel when they come into my home. Additionally, they are practical and pretty!
And of course, if you've followed me for any length of time, then you know I have a thing for baskets. It's all about color and texture. Any interesting patterns I can add with a practical basket is a bonus as I use them in my transitional decor for every season.
Plants & Greenery
My final tip for using transitional decor to help you extend the length of your seasonal design plans, is to add plants! Whether you are a black thumb or a master gardener, houseplants (real or faux) transition the seasons beautifully and add sparks of life to your space.
I like to intersperse single faux stems here and there alongside my real houseplants. This helps create the illusion that I'm a plant lady 😉 without actually having to keep them all alive! Thankfully, Fay the Fiddle Leaf Fig has taken quite nicely to my bay window.
Blending the Seasons
As you can see, I can simply remove the overtly Christmas decor from this space and I will be left with cozy, comfy and inviting pieces that will last throughout the winter.
I always love to stretch my decor dollars and using some of these simple techniques for planning my transitional decor is such a huge help on the holiday budget. Plus, many of these items, like plants and wood accents, can be used all year long!
Shop This Look

What do you think? Have you ever considered how to use transitional decor in your seasonal design plans? I hope that this sparks some ideas for you as you head into the winter season! Make sure to follow along with me daily on Instagram and join the community of Haven Makers here on the blog for more detailed tips, DIYs and tutorials!