3 Easy Ways to Style Christmas Kitchen Decor
Kitchens often get overlooked when decorating for Christmas. However, it is one of the most often used gathering spots when entertaining for the holidays. So today I've put together 3 easy ways to style Christmas kitchen decor for the season!
This post may contain affiliate links where I earn a small commission on your purchases.
Holiday Decorating in the Kitchen
Do you usually decorate the kitchen for the holidays? Personally, I like to keep my Christmas kitchen decor very simple. There is enough clutter in the space from every day items already, so I focus on decorating my floating kitchen shelves the most.
If you want to browse more kitchen Christmas decor, make sure to check out how I've styled my kitchen for the holidays in years past!
Christmas Kitchen Decor Styled 3 Ways
I recently did a Christmas photo shoot for a brand. As I styled the space for the shoot, I kept tweaking and adding until it felt cheery enough.
But along the way, each style was still cozy and warm, so I thought I would share them all! I love that these Christmas decorations also work as winter decor to get more life out of them.
Here are three ways I styled my kitchen shelves for Christmas. Plus, a few accents added in here and there.
Simple & Neutral with Warm Wood Tones
Kitchen decorating ideas are a dime a dozen. New trends constantly pop up, but my go-to has always been simplicity and cozy accents.
I started decorating our floating shelves with a simple garland, bottle brush trees, and my favorite antique mirror.
Adding in a pedestal with a few pillar candles amps up the cozy factor instantly.
You can find some of my favorite Christmas decor accents organized for you in my Amazon storefront!
If you want to add a little more festivity to this look, layer in some color!
The simple addition of this beautiful minimalistic tree sign makes this corner pop! This sign is customizable to three colors and multiple sizes and frame colors.
Make sure to check out all their beautiful Christmas signs this season and use the code GRACEINMYSPACE for 15% off! I'll be sharing another one of their signs as you keep reading!
Tree Forest Christmas Decor Ideas
You'll notice that bottle brushes and trees have always been one of my staples for Christmas decorations.
There is just something so cozy about creating a little mini forest as winter sets in. You can see how I did a full display in my dining room last year in this post.
You can either do all the same kind of trees, like a grouping of bottle brush trees, or mix and match!
Personally, I prefer to add in different kinds of trees, like this moss tree, to create interest.
I also swapped out another beautiful sign as a reminder of what we celebrate each Christmas! This Joy to the World sign is also customizable with three sizes and three colors.
Don't forget to use code GRACEINMYSPACE for 15% off!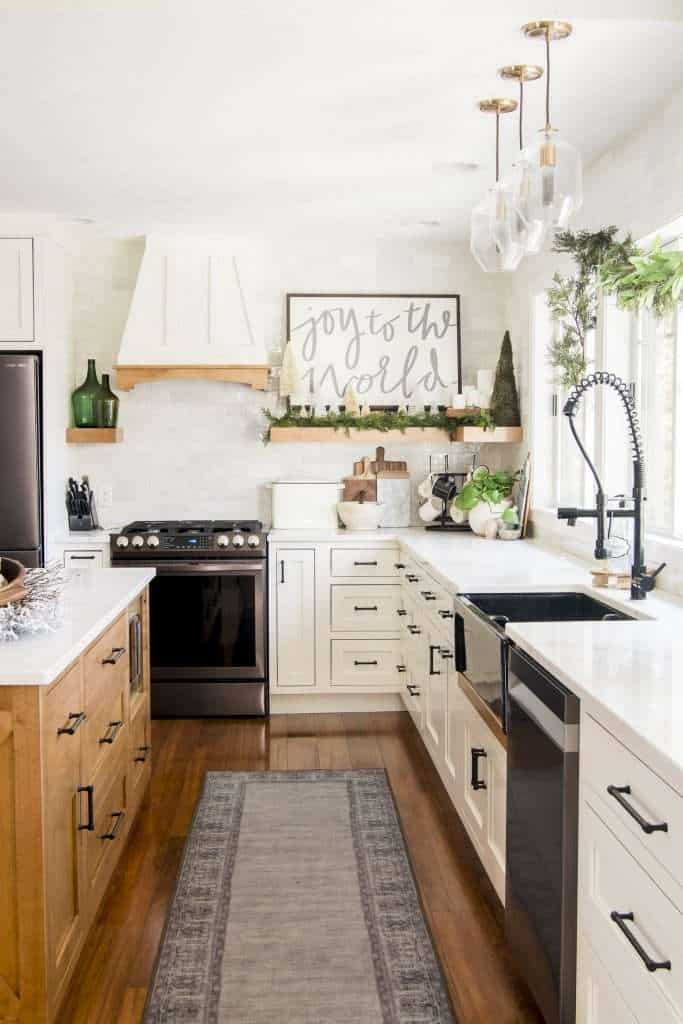 Kitchen Source Book

---
Kitchen FAQs (Countertops, backsplash, sink, faucet, hardware, colors. It's all here!)
Add in Wreaths and Garland
If you want a more robust look for your Christmas kitchen decor, then add in more greenery! Wreaths and garlands are a simple addition that makes a statement. Even better if you add twinkle lights for those cozy winter evenings!
I haven't typically added garland across my window in the past. Instead I opted for wreaths. But I'm not sure which I like more now that I've tried both!
I am waiting for a shipment to come in of new garland because when I redecorate for Christmas in November I want this to be more lush and full.
To create this look, I used two of my favorite realistic cypress garlands to span the window. Then, I added in this beautiful eucalyptus garland.
I'd like to add one more with some pine to make it more full. And, I bought this beautiful gold leaf garland that will add so much sparkle to it as well.
Then, I added some simple flocked greenery with a flocked Christmas tree and flocked wreath on the island! My wreath is old, but it would be so easy to recreate with this twig wreath and a can of flocking spray!
You'll have to make sure to stay in touch so you can see how it all comes together again next month. You can subscribed to receive my weekly newsletters for all the details!
Stay Connected
I hope you've enjoyed a few ideas to spark your Christmas decoration planning!