12 Cozy Home Ideas to Create Your Haven
Teaching others how to create a haven is a passion of mine. After all, I did write an entire book about it! Since I believe that haven making is more than just home decor, I give 10 steps in my book to truly create a refuge for your family. But, sometimes people just want help with the basics. So I've rounded up 12 cozy home ideas to help you create your haven with ease! Take these 12 ideas and use them to craft a home you love.
12 Cozy Home Ideas to Spark Your Creativity
Feeling cozy in our homes is a true blessing. Cozy homes feel safe, calm and peaceful. However, so many struggle to think beyond blankets and PJs when crafting their cozy homes. While comfort certainly plays a part in coziness, it isn't the only thing that evokes that feeling.
Here are 12 cozy home ideas to help you think outside the box when amping up the cozy factor in your own home.
Cozy Home Ideas Start with the Atmosphere You Create
If you take nothing else away from this article, I hope you walk away knowing that your attitude towards your home and those in it, is the determining factor in how cozy your home is.
When we create welcoming atmospheres in our homes, it is instantly cozy! Focus on the people first. Feed them, laugh with them, love on them, and it won't even matter what your home looks like.
Once you have that mentality, the rest is just icing on the cake with small additions you can make to increase the cozy factor.
1. Curtains, Drapes and Blinds
One of the most often overlooked elements of a cozy home is layering window coverings.
Most people use curtains for decoration and blinds for privacy. But have you ever thought of them as a way to create a cozy atmosphere? I particularly enjoy layering woven shades and drapes for an extra cozy environment. Here are some of my favorite sources.
Some of my favorite sources for affordable blinds and drapes are Amazon, Walmart, and World Market. If you need custom sizes I highly recommend working with a designer at Blinds.com!
2. Cozy Books For Inspiration
Books are a timeless addition to any home. There is nothing cozier than curling up with a good book, soft blanket and a hot cup of your favorite drink. The majority of my favorite books below are home and design related; however, search for books with topics that spark something in you personally!
The books with an * are books I actually own and love. The others are on my wishlist!
3. Baskets with High Texture
I have a few items that I'm always drawn to in stores. Wood bowls, unique pottery, plants and baskets. Baskets are practical for storage and add a pretty element to your home. This combination makes it an easy addition to my list of cozy home ideas!
When I search for baskets, I look for unique shapes, high texture and warm tones to amp up the cozy factor. Use them to store blankets, toys, books, corral supplies, serving bowls or to hold plants.
Think beyond the traditional basket as well! Woven textures can be found in wall decor, side tables and much more. Here are some faves.
My top favorite sources for woven accents are Amazon, Walmart and World Market!
4. Family Photos
Is there anything cozier than seeing family memories everyday?
I like to intersperse family photos throughout our home. A few here and there are fun reminders in each room of the house, or you can create a large focal point with a gallery wall of family photos.
Whether you choose to use frames, canvas, or metal prints, it's important to make sure the photo is what stands out.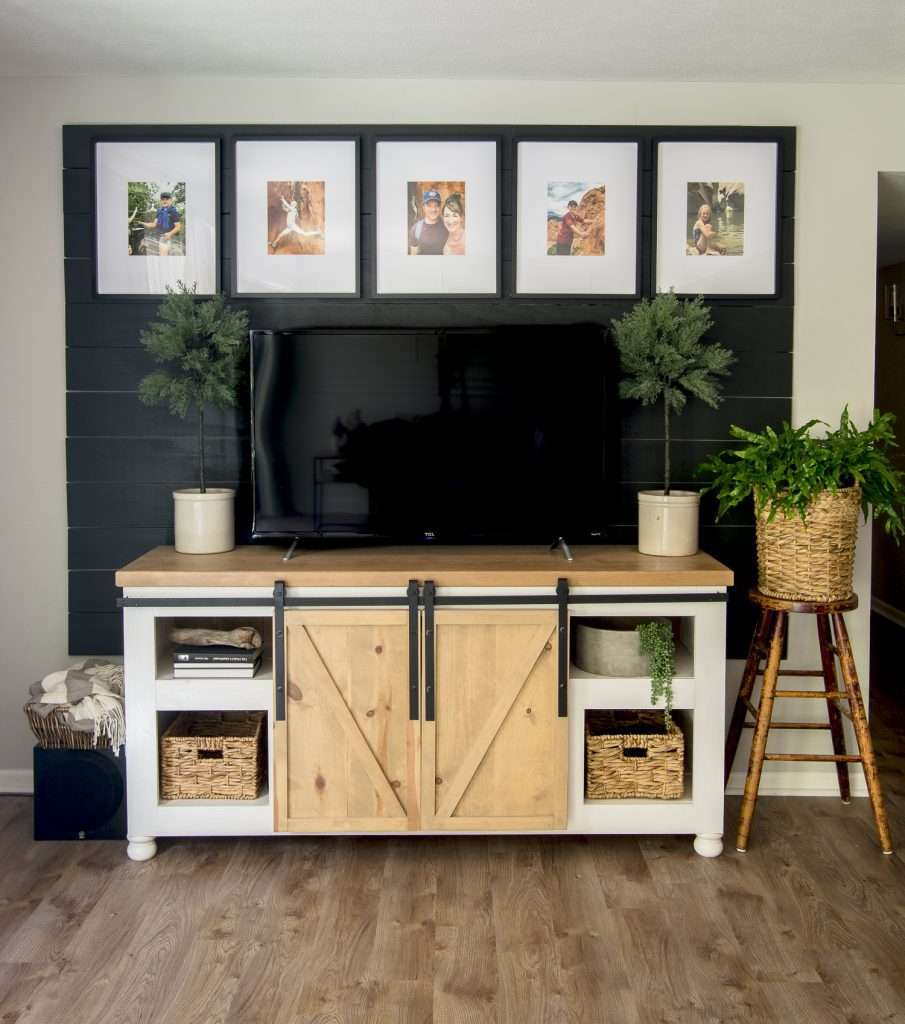 Here are some of my favorite affordable frame options.

---
5. Live Plants | The Unexpected Cozy Home Idea
Typically, living plants wouldn't make it on a cozy home ideas list. However, I find live plants to be exactly what a room needs to add some life and vitality to it.
There isn't a room in our home (besides the windowless laundry room) that doesn't have a live plant in it. They also bring the benefit of cleaner air to your home!
You can see my favorite plants in these posts:
6. Cozy Home Ideas with Layers
Layering is my favorite way to help foster a cozy home. As you can see in Addie's room above, adding a simple tassel garland to her wall sign creates layers that feel lived in and cozy.
(Use code GRACEINMYSPACE for 15% off at Joyfully Said Signs.)
And, as you can see in my bedroom, I've layered our window coverings, artwork, and plush accents. Simple layering helps a home feel lived in rather than designed. And there is nothing cozier than that!
7. Area Rugs
Area rugs provide a foundational layer of coziness. I even layer rugs on top of my bedroom carpet to add a fun design element!
The area rugs in my home are all sourced for you in this post, along with a coupon code to my favorite rug shop!
What I love about area rugs is that they not only add coziness underfoot, but they also amp up the design in a home and create living zones.
My living room and entryway are one space, so I use rugs to create definition within the area.
You can find some of my favorite area rugs rounded up for you on my Amazon Storefront as well!
8. Decorative Lighting and Ambiance
Lighting is so important in a home. Without proper lighting your home can feel dark, dungeon-like, and cold. However, with proper lighting you can create a cozy ambiance that draws you in.
Most people only consider overhead lighting with bright bulbs. On the other hand, lamps, wall sconces and even candles can help create a cozy atmosphere.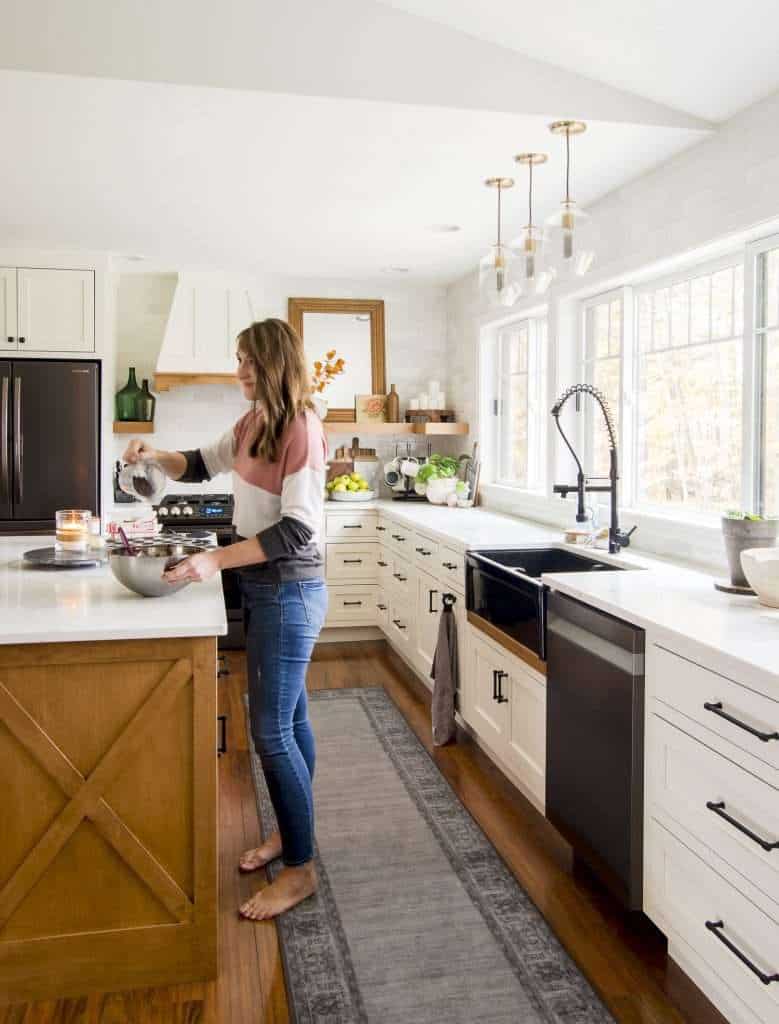 You can find all of the lighting in my home sourced for you in this post. Plus, I rounded up dozens of affordable lighting solutions for ceiling, walls and ambient lighting!
9. Wood & Natural Elements
Adding wood tones and natural earthy elements is important to me. Warm wood tones can add coziness to a space just with the color and texture it provides.
The key is to be able to balance the wood tones with other color palettes so it is not overwhelming.
When I refinished this antique coffee table, I wanted to leave those gorgeous wood grains exposed. It is just enough to warm up the more modern black rim and legs.
One very large lesson in balance is our guest house remodel. Our entire guest house was filled with wall to wall knotty pine. While that can create a cozy environment and a cabin-like feeling, it isn't for everyone.
So I chose to add in wood beams, refinish the stain color of the existing wood elements, and paint the walls. I didn't want to strip the room of wood because it would have left it feeling stark. But balancing how much wood and natural textures are in a room is just as important!
10. Food & Drink
This cozy home idea circles back to my first tip: creating a cozy environment for those in it!
What better way to help someone feel welcome than to feed them?
It doesn't have to be an elaborate dinner party! In fact, I often find that the coziest environments are relaxed outdoor potlucks or spur of the moment get togethers. Don't overlook the power of gathering over good food with good people.
You can find some of my favorite easy (and fast) recipes in my Recipe archives!
11. Textiles
You knew I was going to get here eventually, right? Is there anything truly cozier than grabbing a soft blanket and cuddling up for an evening?!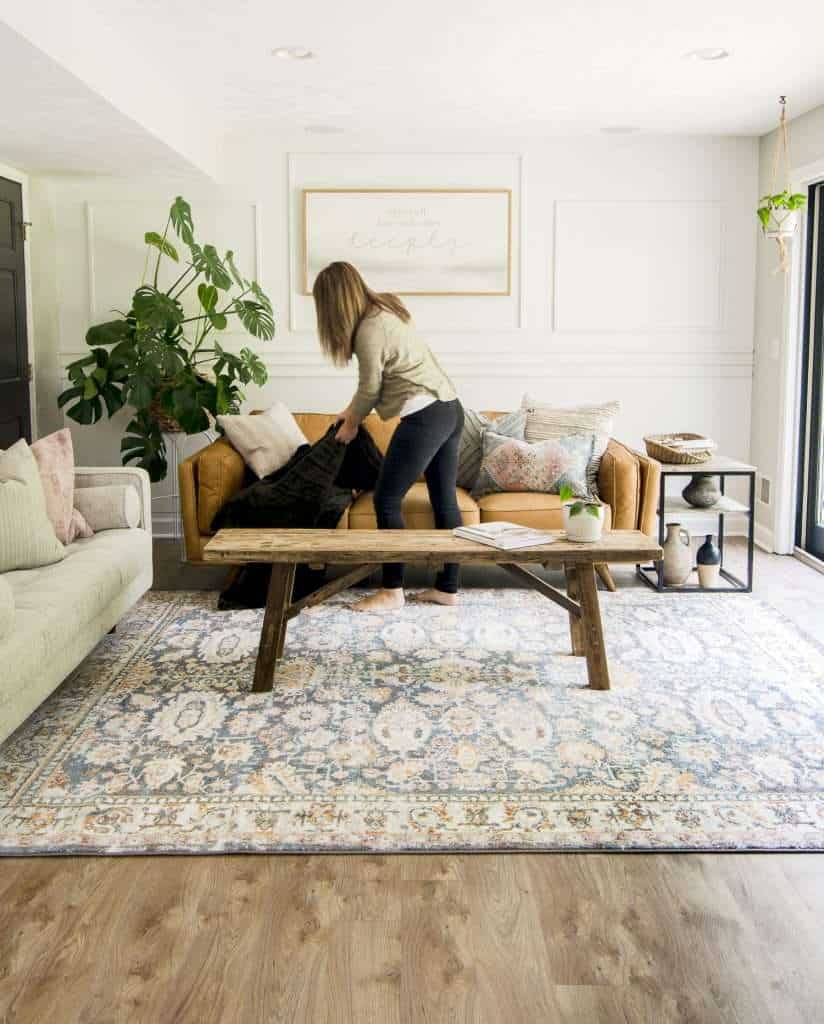 Blankets, pillows and other comfort items instantly create cozy personal bubbles. 😉 The softer the texture, the more cozy it is!
I've rounded up some of my favorite cozy textiles for you in my Amazon Storefront!
12. Your Personal Cozy Home Idea
I can give you ideas all day long for what makes a cozy home. However, you are the one living in your home and creating your haven!
Stop and consider what you believe makes a cozy home. It is always good to get ideas from others, but ultimately you already know what you gravitate to in order to feel cozy.
Perhaps it's comfortable clothes, cuddling with family or pets, and a cup of hot coffee.
Take the time to dwell on what makes Your home feel cozy and put it into practice more often.
Stay Connected
Thanks so much for stopping by the blog today! I hope these 12 cozy home ideas have sparked some creativity in you to continue to create a haven that is comfortable and cozy!