21 Ways to Design a Home Office You Want to Use
Do you need to design a home office? Today we are going to spruce up my own home office! Plus, I'm sharing 21 ways to decorate an office on a budget. No more sofa, kitchen island or dining table offices. Let's create a beautiful and functional home office setup that you will actually want to be in.
This post is sponsored with thanks to Walmart. Post contains affiliate links for your convenience.
Organic Modern Home Office
When we first moved into this home, I redid the existing sunroom to use as a home office. The WFH setup I arranged back then was mainly focused on a simple desk area. Since then, I've learned better how to decorate an office so that I actually want to be in this space.
My office design color palette was based off of a hand made tile I purchased in Portugal a couple of years ago (seen on the bottom shelf of my office storage cabinet).
It has green, navy, a creamy white and cognac colors in the design. So I used that same color palette to pull together the items I'm using in this makeover!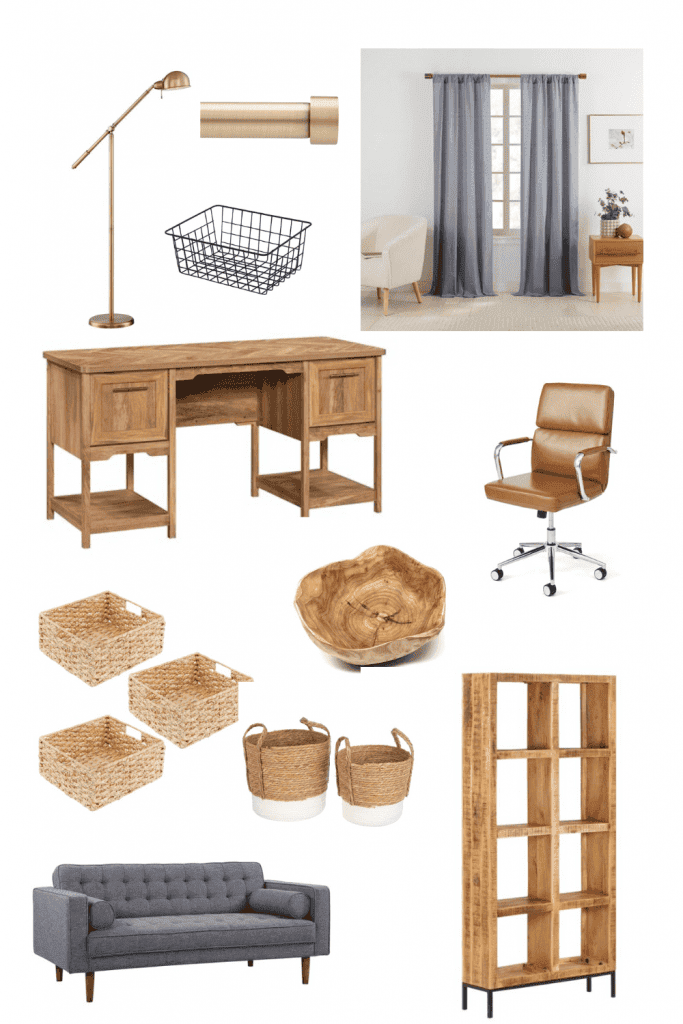 I put together this mood board with items from Walmart Home to begin. I wanted to be able to keep modern elements while mixing in organic items. This keeps the style of my home in mind as I transition from mid century modern office decor to a more organic feel.
It was so easy to create this design with the large selection of decor from Walmart. I was able to find mid century furniture like this beautiful sofa and office chair, as well as more earthy and organic items like this wood bowl catch-all.
I used my desk and office chair as the main cognac accent, then incorporated darker more dramatic colors with these super affordable charcoal curtains. They pull slightly navy in the right light.
How to Design a Home Office
When designing a home office, I like to keep these things in mind.
Design for functionality first
Decorate with the style of your home, or adjoining rooms, in mind
Organize the space for proper flow during a workday
Get creative with storage solutions
Invest in a quality office chair and ergonomics for your work station
Design for Functional Work Spaces
First of all, function should be top of mind when you design a home office.
Do you have enough desk space?
Is your organization system set up for workflow?
Do you have enough storage?
Is your work station set up ergonomically?
Do you need multiple work stations or zones?
All of these questions are good to consider as you design your home office because if they are done properly, then being in your office space will be comfortable and improve work efficiency.
On the other hand, if your office is scattered, unorganized, too small or uncomfortable, then you will simply not want to use the space. Designing with functionality first creates an environment where you can perform your best.
Creating Home Office Zones
In my office, I have a desk zone, a storage zone and a seating zone. Not all home offices will be large enough to accommodate all of those spaces. However, with more and more people working from home, converting an extra bedroom or bonus room into a home office is a great option.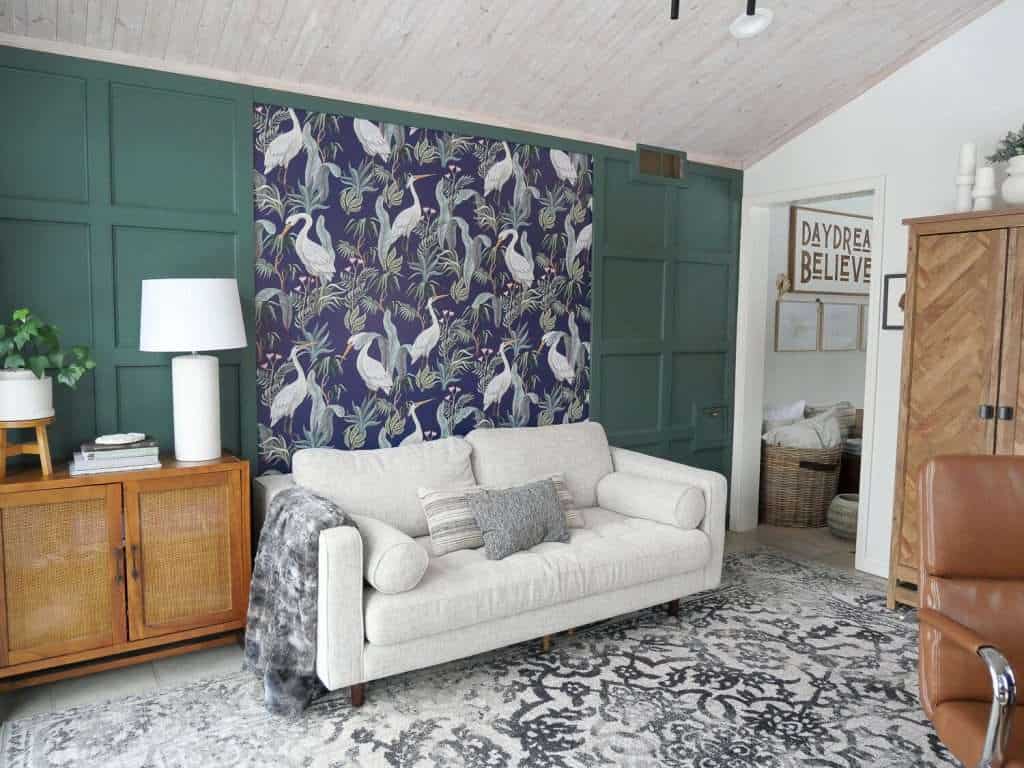 Opposite my desk, I built this accent wall to add a custom design to my office. You can see how I built this wainscoting in this article.
To get more creative with storage solutions, I used a small cabinet to double as a side table. Inside this cabinet is a charging station for all our family's devices, which is perfect with the caned front to allow for ventilation. This beautiful cabinet offers a similar solution from Walmart!
Then, I created a "built in" look by adding two storage cabinets side by side on the adjacent wall. I love the look of a cabinet that combines open shelving with hidden storage.
You can get the look with these beautiful items from Walmart!

---
And, of course, I also have my desk area. I've found the biggest game changer for wanting to use this space is a comfortable office chair and a second screen for my laptop. It adds so much efficiency!
How to Decorate an Office on a Budget
Now that we've covered functionality and layout, let's cover some home office decorating ideas.
The first thing to keep in mind, like we discussed above, is that your office is essentially an extension of your home. If you want it to flow, then keep the style of the adjoining rooms in mind. My home has an organic modern design style, and so I continued that into my office.
Start with a color palette that coordinates. I chose the colors in my tile, which coordinate with my wainscoting and wallpaper.
From there, you can choose your decor accents.
How to Decorate Office Walls
Most people struggle with how to decorate office walls specifically. Wall decor for home offices can feel tricky because you want it to potentially have personal meaning without it feeling unprofessional.
That's why I chose to create the wainscoting design as the main statement on my office wall. It is high design that doesn't require anything additional on top! However, it does hold personal meaning as herons have a story in our family.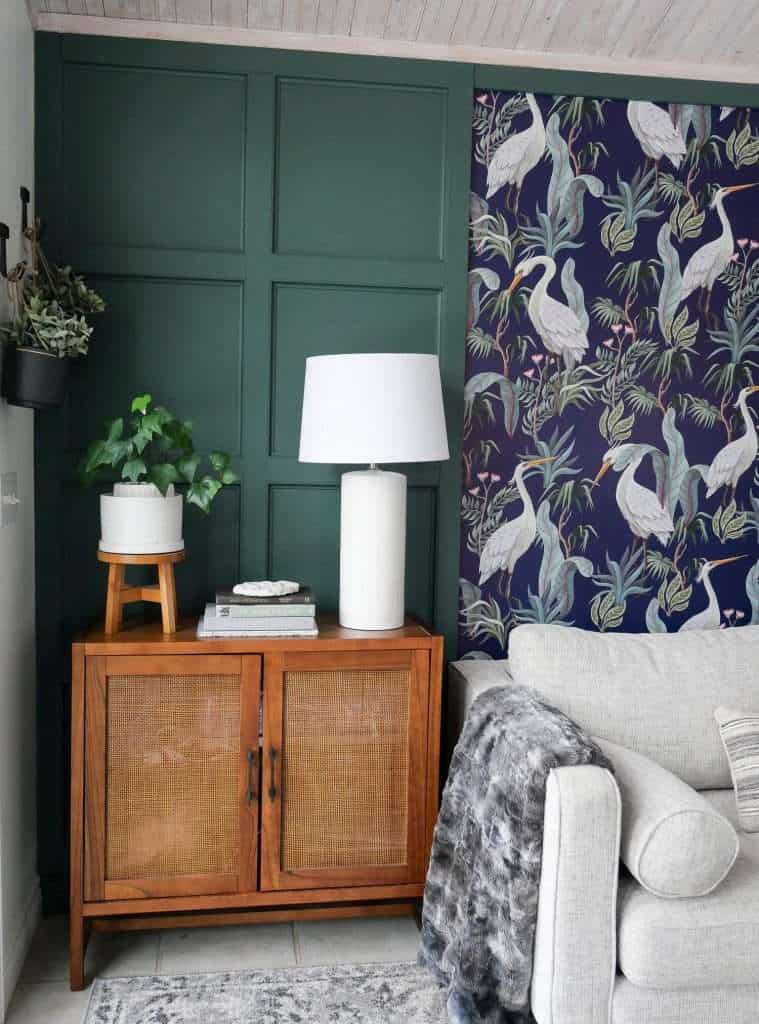 Alternatively, you can choose affordable artwork like this simple line art that is classic and timeless, yet modern and current.
Adding in Small Decor Accents to your Home Office
The next step is layering in smaller items.
Once you've chosen your biggest pieces, like furniture, art, and area rugs, then you can begin to layer in smaller items like lamps, baskets, organizational tools, and decor accents.
Walmart Home has an amazing assortment of art, rugs, curtains and decor accents that are perfect for an inviting and well designed home office.
As you can see, plants play a large part in my home office design as well. If you have natural light, live plants add vibrancy and life to the space.
21 Ways to Design a Home Office You Actually Want to Use
In addition to the above, here are 21 things to consider incorporating as you design your home office!
Organization that works for you
Planning tools like whiteboards, story boards or simply a large work surface
Ample Storage
Live plants as decor
Proper monitor set up for good ergonomics
Comfortable desk chair
Desk sized according to needs and storage
Comfortable seating in a separate zone for meetings or simple brain breaks
Adequate lighting
Decor accents that are timeless
Decorative window treatments
Create an inviting environment with candles
Add comfort with pillows or blankets in chilly months
Design the walls, beyond decor, with wall treatments or wallpaper
Incorporate a primp space with a mirror for that last minute check before a zoom call
Cozy area rugs underfoot ground the space
Use functional desk decor like a beautiful wood bowl for paper clips or sticky notes
Display pieces with meaning (awards, family photos, etc…)
Stack books by color (for a design statement) or topic (for accessibility)
Incorporate encouraging/inspirational words that motivate you
Design an inspiration, brainstorming, design mood board space to pin items in a grouping
Shop My Office
If you're looking for a decor source from my office design, you can click the affiliate links below to shop directly.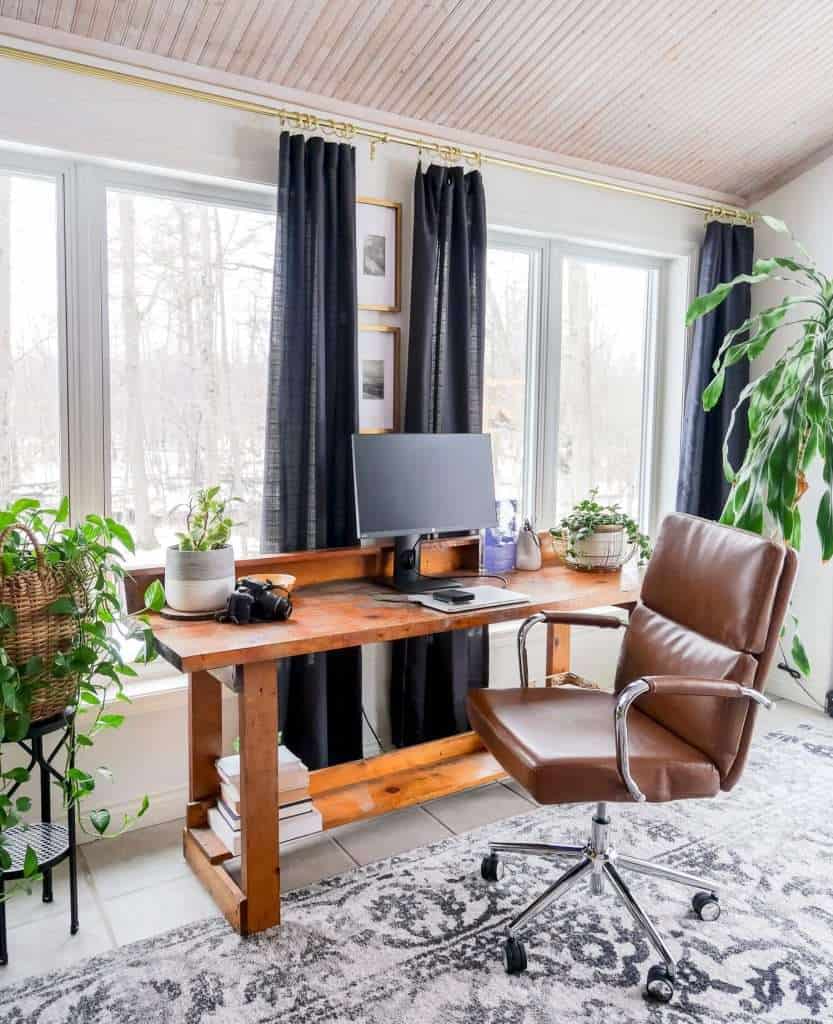 You can get the look on the additional items in my office by clicking the affiliate images below as well!
Get the Look: Similar Sofas

Similar Desk Decor

Similar Area Rugs

Stay Connected
Thanks so much for stopping by the blog today! Make sure to become a subscriber to my newsletters to get access to freebies, DIY tutorials and more. You can also follow along in real time with me daily on Instagram and weekly on YouTube!