15 Basement Family Room Ideas on a Budget + My Curated Collection
Do you want to create a cozy basement family room? When we moved into our home the basement had lots of potential, but needed a makeover. Three years later, we have created a cozy modern living room. Here are 15 basement family room ideas on a budget to get your wheels turning for your own cozy family room!
This post highlights the Grace In My Space curated collection in partnership with Joyfully Said.
Post contains affiliate links for your convenience.
Basement Family Room Ideas | A Cozy Family Room Makeover
Everyone loves a good before and after. Here is our basement family room when we first moved in.
It had loads of potential and a good size space. However, it wasn't my style.
Plus, the carpet was 20 years old and heavily stained and the windows and doors needed to be replaced.
Over the last three years, we've updated the room entirely. We took it one budget-friendly project at a time, until its completion!
I documented my modern farmhouse family room ideas in this interim update a couple of years ago. But let's take a full look at all of the projects I've completed to get it to the point it's at today!
Budget-Friendly Updates
First, let's talk about the most impactful budget friendly ideas for a basement family room.
Paint & Wall Moulding
If you can do nothing else, at least update with paint. Even if you are painting cinderblock walls, paint is the most budget-friendly basement update you can complete!
Since basements usually have less natural light, a light paint color can help brighten a dungeon-like basement. Conversely, you can create a very cozy and moody basement with darker paint colors. It all depends on the look and atmosphere you're trying to achieve.
Next, add loads of character and customization with wall moulding. There are a ton of different options for wall moulding designs and most are extremely budget friendly.
I chose to go with a modern wall moulding design that I made up myself using simple pieces of trim.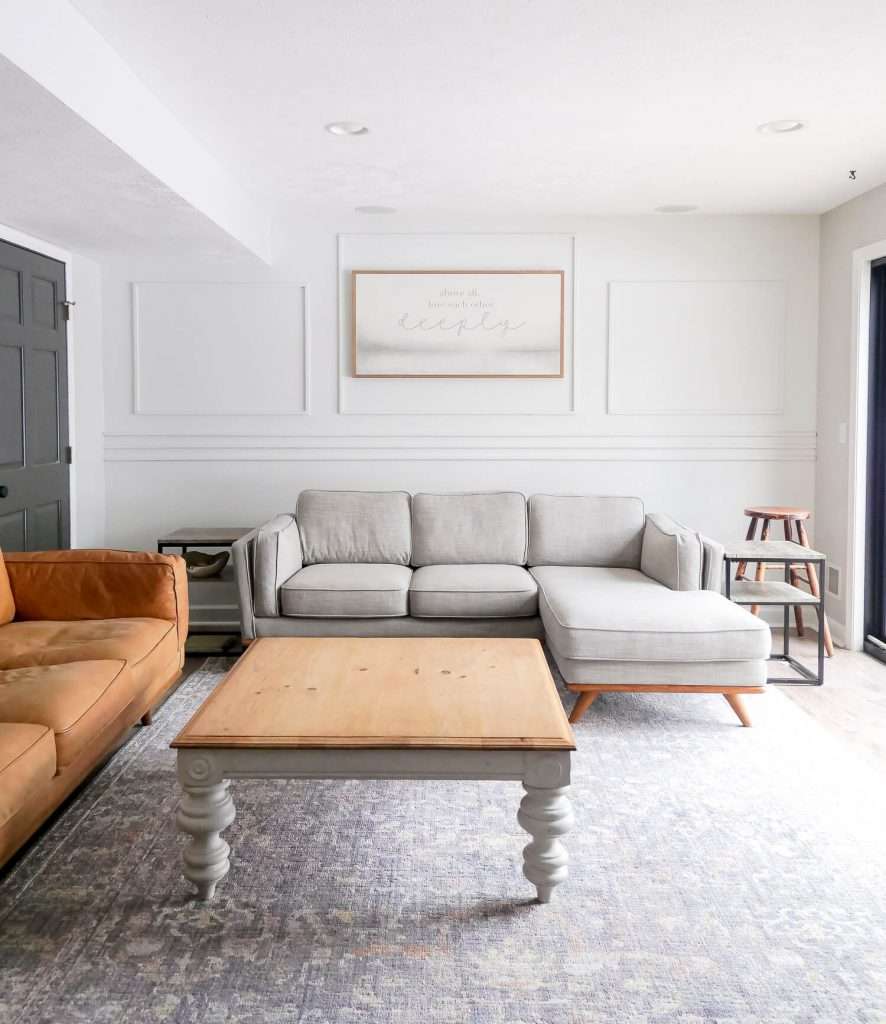 I designed it so the center moulding would highlight a piece of artwork while adding interest to the rest of the wall without needing additional art. This helps keep decor costs down by taking up a full wall with moulding that is the design focal point.
Proper Layout & Lighting
After the walls are complete, your next budget friendly idea is to ensure that you have a proper furniture layout for the space. You may need to invest in some new pieces that fit your room size, but overall, most basements can accommodate standard size furnishings.
Ensure that the layout works well for flow, accessibility, and positioning towards the focal point of a room (ex: fireplace or TV for a family room). Playing with the layout of your furniture is the easiest way to change a space without actually spending any money.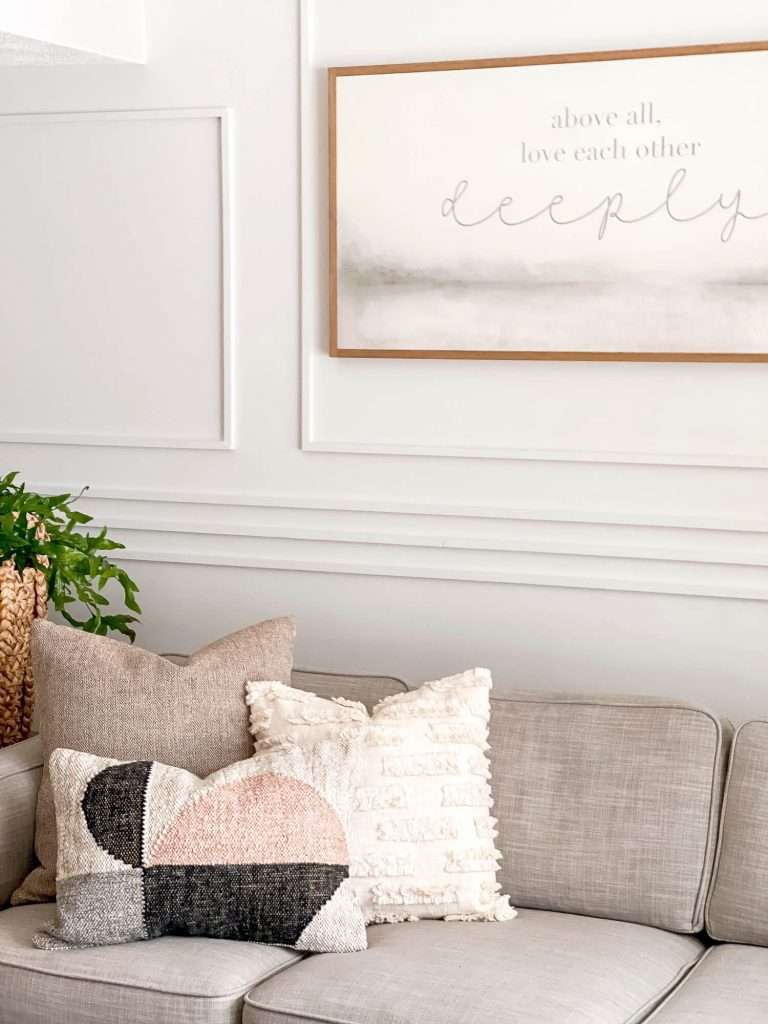 And finally, you can make a big statement in a basement family room with proper lighting. Just like paint can lighten a space with low natural light, so can various light sources. If your overhead lighting doesn't cut it, add wall sconces, task lighting or lamps to brighten the space to your liking.
A properly lit basement will be more inviting and get more use!
15 Basement Family Room Ideas on a Budget
Here are the top 15 things to consider when styling a family room in a basement!
Paint color
Wall moulding
Statement artwork
Proper furniture layout for functionality
Simple coffee table styling
Cozy pillows and throw blankets
Cute storage
Ambiance with candles
Proper lighting
Fresh florals
Live plants (learn beginner tips for caring for houseplants in this post)
Practical furnishings
Durable flooring made for the kind of use your basement will receive. Our flooring details can be found in this post.
Cozy rug or carpet
How I Created our Cozy Modern Living Room with My Curated Collection
And that leads me to our family room decor!
It was so fun to announce this new curated collection with Joyfully Said to my blog subscribers this weekend. Make sure to subscribe above to be the first to know about these opportunities!
I've loved working with Joyfully Said for years. If you missed our first collaboration, you can learn all about how I designed this sign with them in this post.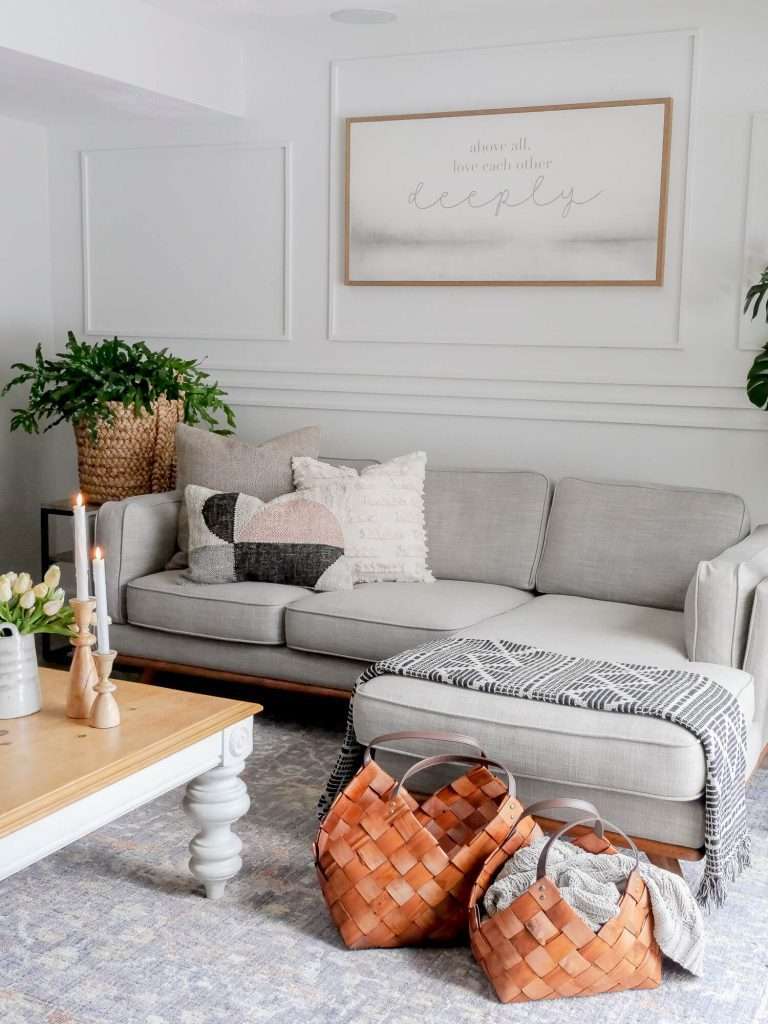 And now, we've taken it a step further and I've curated my own selection of home decor with Joyfully Said! I'm excited to share it all with you, but make sure to use my coupon code SHOPGIMS for 10% off the home decor from my curated line.
This is a perfect opportunity to share how to decorate a basement family room with affordable decor.
Basement Family Room Decor Staples
In my basement, I've added the following decor staples from my collection with Joyfully Said.
Woven Seagrass Baskets (3 sizes)
Mango Wood Candlesticks (2 sizes)
Lera Vase
Elena Pillow
Otto Fringe Throw Blanket
Macy Lumbar Pillow
Silas Wool Pillow
Grace In My Space "Above All Love Each Other Deeply" sign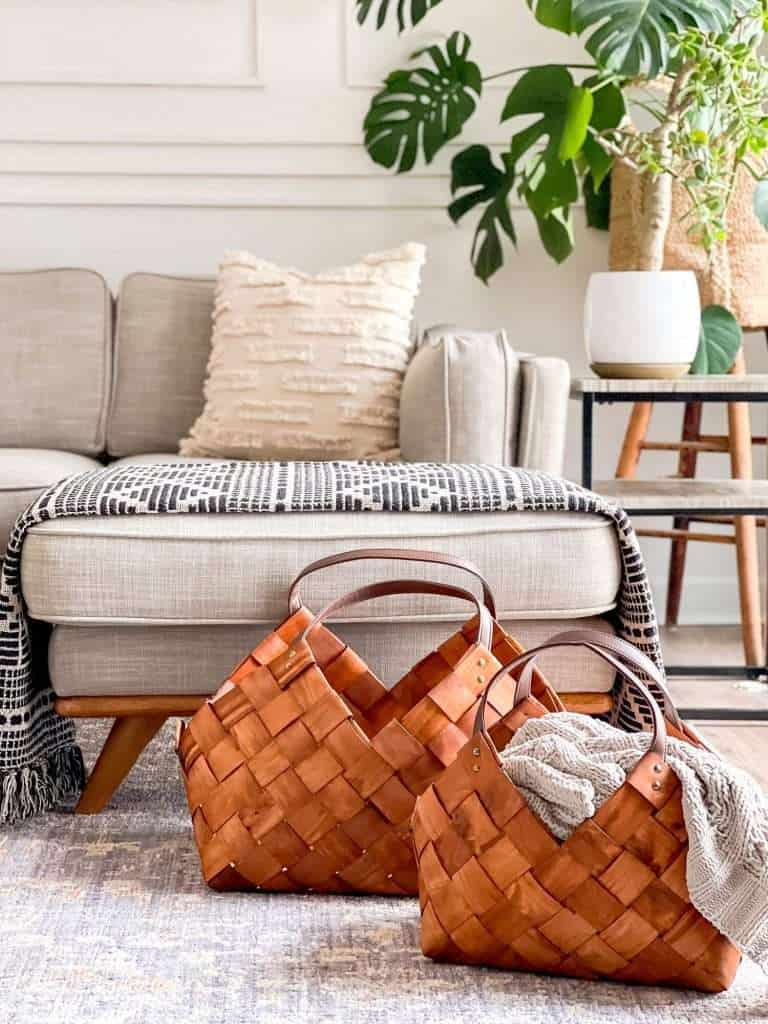 First, let's look at these seagrass baskets. There are three sizes. The largest is perfect for toy storage and organization. The middle size is great for blankets and the smallest size nicely holds books. It would also be a beautiful casing for flowers in a vase.
Next, let's take a look at the coffee table decor I chose. The Lera Vase has a beautiful handmade quality and character. It would be beautiful styled on a shelf, or like I have it with my favorite realistic faux tulips.
The mango candlesticks are a beautiful versatile wood tone that will go with any style decor. I paired them with my favorite battery operated taper candles for coffee table decor that can be "lit" anytime.
Make sure to check out how I made these candles even more realistic with this YouTube tutorial!
Now, let's transition to comfort items. These three throw pillows work perfectly together. They aren't matchy-matchy, but they coordinate so well to create an intentionally styled look.
Plus, the color scheme works great for many different style homes. The black and white throw blanket will pair with just about any color palette too!
I curated this selection of home decor from Joyfully Said with intentionality. These are all extremely versatile pieces that would blend with multiple decor styles. They can work individually, or as a beautiful collection in your home.
More Details and Sources on Our Basement Makeover
I hope you've gleaned some basement family room ideas on a budget from this post! If you're looking for additional resources, check out the links below.
Sofas are both from Article
Thanks so much for stopping by the blog today! Make sure to follow along with me on the blog as well as Instagram and YouTube for real-time projects, decorating tips, DIYs and more!