Summer Mantel Decorating Ideas, Anyone Can Do
Summer mantel decorating ideas should be quick, simple and stunning. This year, I am excited to get to decorate our new stone fireplace for the first time in each new season! Today I'm sharing how I pull together simple summer mantel decor that anyone can do.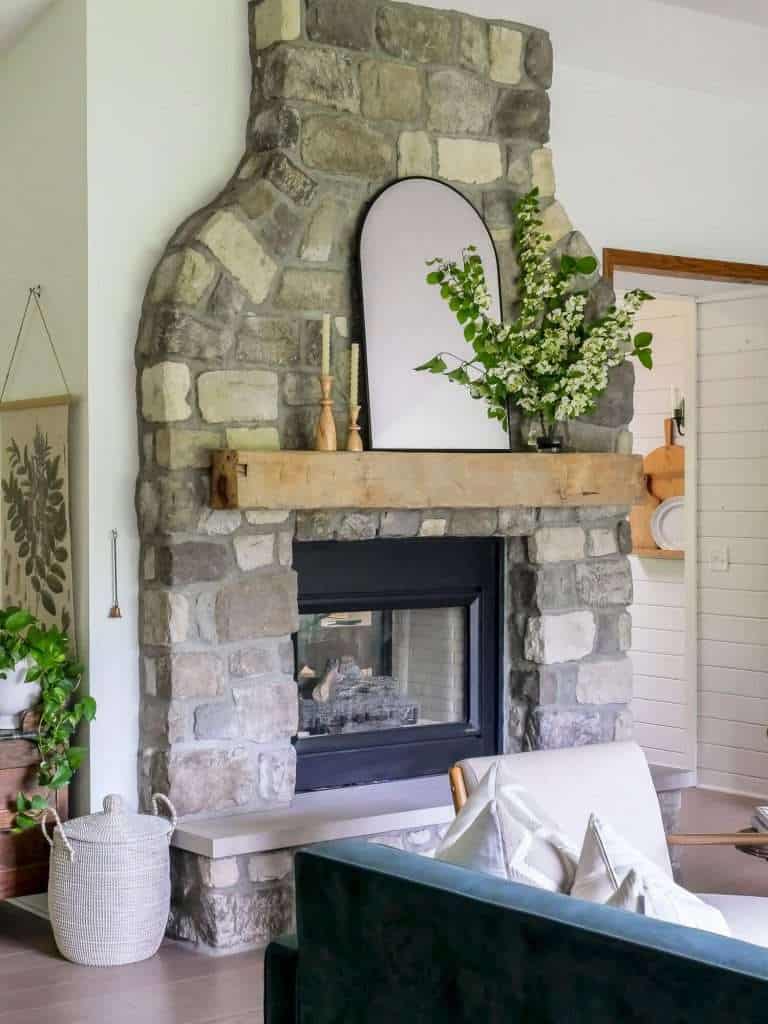 This post may contain affiliate links for your convenience.
10 Summer Mantel Decorating Ideas
This summer I'm joining 10 talented bloggers who are also sharing their own summer mantel decorating ideas! Make sure to browse all the beautiful mantels via the links at the bottom of this post.
A big thanks to Krista from The Happy Housie for hosting this beautiful tour!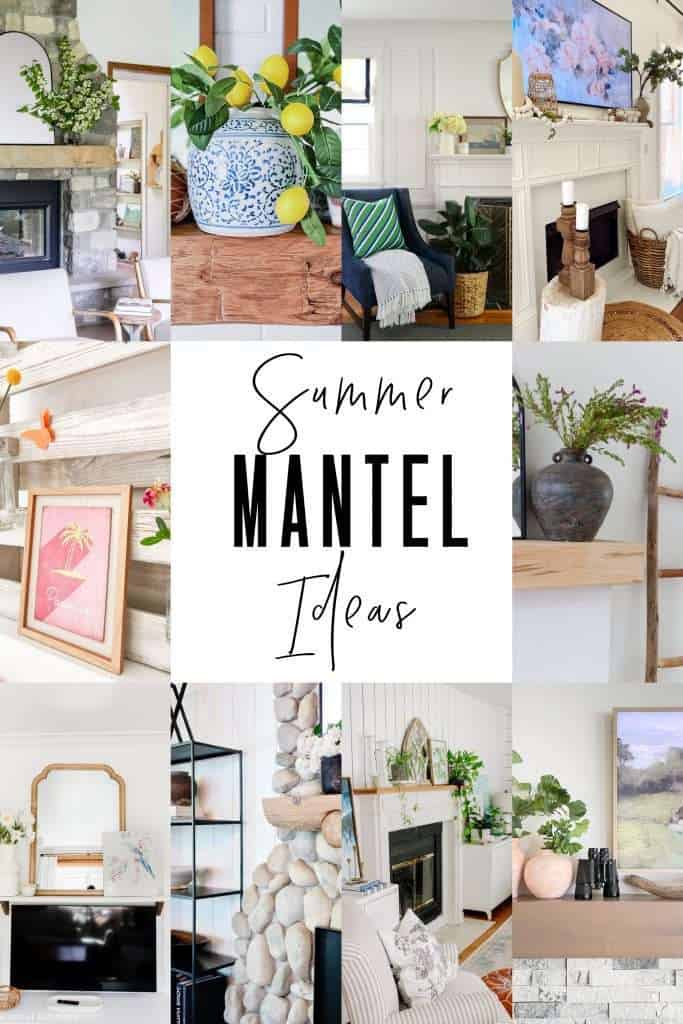 Stone Fireplace Mantel Decorating Ideas
In the past, my summer mantel ideas have varied. I always tried my best to make the most of our plain fireplace, since it often felt out of place in our home. You can see how our fireplace looked before our recent addition in this post sharing how we built our stone fireplace.
However, this year, I've had to rethink how I decorate my mantel for summer. I drew on my tried-and-true mantel decorating tips, which you can download for yourself below!
Decorating a stone fireplace mantel was quite different than our old drywall backdrop and I LOVE it. It adds so much character and charm to the whole space.
But, since I had to reframe my thinking with this new design, I thought I would share some very simple tips for summer mantel decor that anyone can do.
No matter the style of fireplace you have, this will work for you!
Summer Fireplace Mantel Decor Options
My summer fireplace decor is extremely simple. I did three different variations before I settled on the one I liked the most.
1. Plain and Simple
The first option is extremely simple.
One mirror. One plant.
Shop the Look

I really love the simplicity of this.
It is still lively and fresh with a live plant. Yet, it leans more modern with this sleek mirror.
Alternately, you can use a different style mirror that fits with your personal design style. Just swap it out and call it good!
You can see how just changing the mirror style transforms the whole look by seeing a few different mirrors in these posts:
2. Statement Bouquet of Fresh Flowers
The next look is just as simple.
Add an oversized floral bouquet to your mantel for a stunning arrangement.
For this look, I just went to my yard and cut my Dogwood branches while it was flowering. However, you could do this with any plant, tree, or faux florals.
3. The Rule of Three
The final look is a very simple combination.
Beautiful mirror, statement bouquet and one more item (or grouping).
Have you ever heard of the design rule of three?
Odd numbers are visually appealing. On a fireplace mantel, it works well to group three items of varying heights.
For this equation, the two differently sized candles count as one group.
Mixing the shapes and sizes is an interesting way to decorate your mantel for summer, without it feeling cluttered and heavy.
Even though I love the simplicity of a statement floral arrangement alone, I like the layered look even better.
I've tried to be a minimalist in years past and always found that it felt too bland for me. So I decided to embrace the layers, with simplicity, and I think it's a great balance.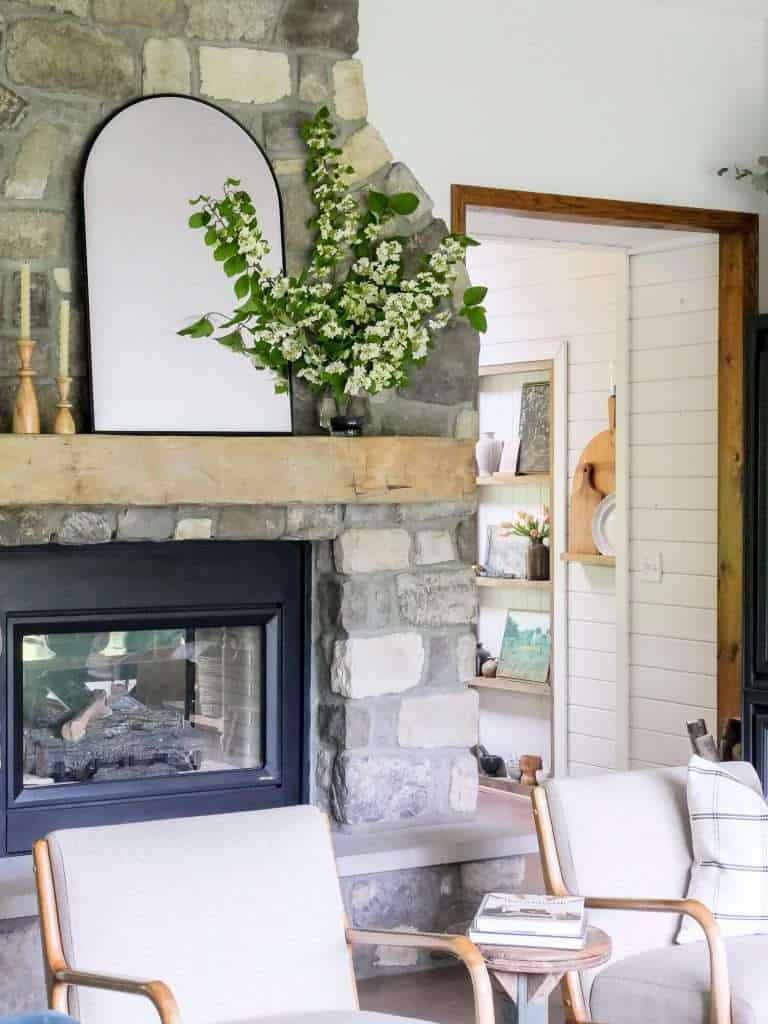 You Might Also Enjoy…
Thanks so much for stopping by the blog today! I said that these were looks that anyone could do, and I meant it!
It just goes to show that summer mantel decorating ideas don't have to be overcomplicated. Stick with the basics for a classic look that will span the season without any effort.
You might also enjoy seeing my whole summer home tour! You can view more of my summer home decor in this summer home tour. Then, make sure to visit my friends' homes below!
I hope you enjoyed these summer mantel decorating ideas. Make sure to subscribe to the blog to download your free mantel guide. And, you can also follow along with me in real time daily on Instagram and weekly on YouTube!
~Sarah
Today kicks off the Seasonal Simplicity Summer Series! For the next several weeks we will all be sharing some fun summer DIY and decor ideas with you. You can visit all of these great summer Mantel decorating ideas by clicking on the links below the images.
My Sweet Savannah