21 Design Ideas for Landscaping a Large Yard
Landscaping a large yard can feel overwhelming. When you start with a large blank space, it can be difficult to envision how to make the space usable and enjoyable. So, let's break it down with these 21 design ideas to bring your yard to life!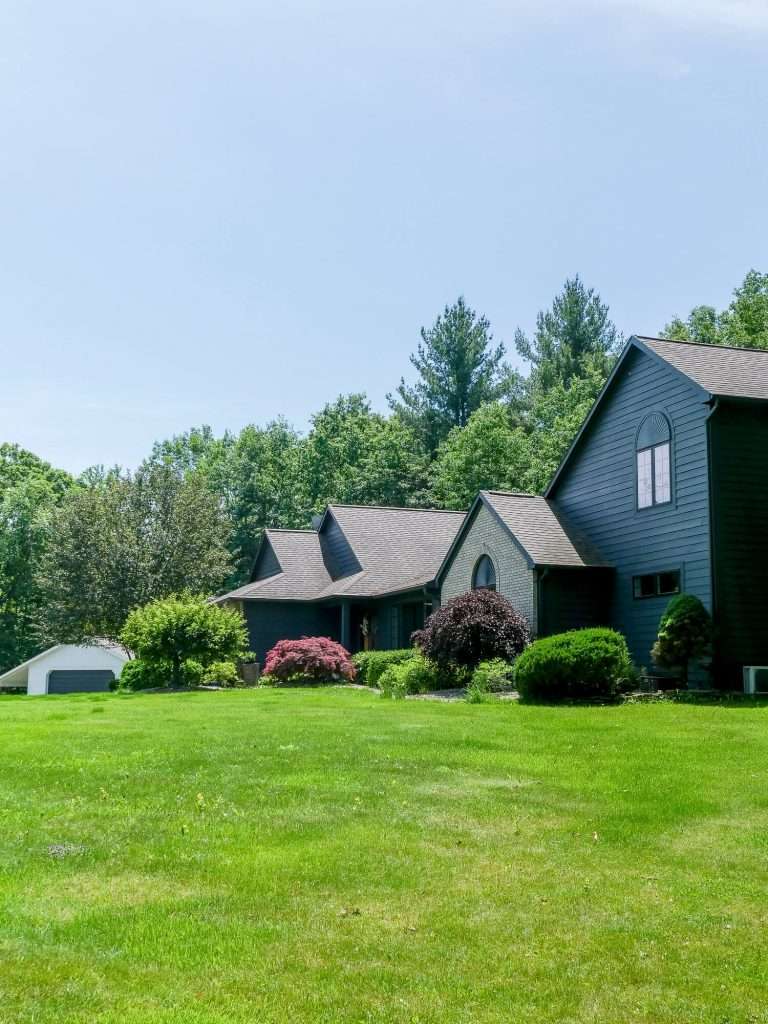 This post may contain affiliate links for your convenience.
Beautiful Outdoor Spaces To Explore
Today I'm excited to be joining several other talented bloggers all sharing ideas for creating beautiful outdoor spaces! Thank you to Krista from The Happy Housie for hosting this blog hop. Make sure to visit all of their beautiful outdoor areas via the links at the end of the article!
How Do You Landscape a Big Backyard?
Outdoor living is at it's finest when you have lots of room to roam. However, a large backyard can also feel like a black hole of landscaping ideas, outdoor entertaining spaces and a high maintenance lawn.
When we moved into our home, the previous owners had done much of the legwork to create beautiful outdoor spaces. We've made adjustments to fit our family's lifestyle.
We've also made additions to fill in spaces that were previously unusable.
It has been fun to create a place where backyard living is beautiful and enjoyable! With 38 acres, we had a lot to work with. Thankfully, only around 7 acres of our property is not wooded. The other 31 is a mix of beautiful woods with trails and unusable swampy areas.
So we are working with around 7 acres of outdoor living spaces. I'm excited to give you some ideas on how to use a large yard and property to its fullest!
How to Design a Large Yard
We've created some rustic outdoor living spaces with woods surrounding us with many of these 21 design ideas for landscaping a large yard. Of course, some of them are ideas that I'd love to implement to.
I've focused on the established areas, but we aren't too perfect around here. You'll still see landscape boarders that need edging, lawn patches, tall grass, weeds, and unkempt shrubs.
This is a big property to maintain and we show ourselves grace daily. I encourage you to do the same in your own home and simply enjoy what you're creating along the way.
I hope you enjoy these ideas for creating beautiful country outdoor living spaces.
1. Create Designated Zones
The first step in landscaping a large yard is to create designated zones.
Creating zones gives definition to your yard. It also simplifies each area into its own space, which makes it easier to envision a finished product.
In our yard, we have these designated zones:
Lower back patio (main entertaining area)
Two-tier back deck (comfort/relaxing area)
Fire pit
Vegetable garden
Pond patio
House landscaping flower beds
Open field
Shaded backyard
Each of these spaces serve a different purpose.
Entertainment
Aesthetics
Practical purposes (ex: growing food)
Relaxation
Recreation
Start by determining what you would like to do in your large yard, and then plan your zones as needed.
2. Design a Flower Garden
One of the best uses for landscaping a large yard is to add a flower garden.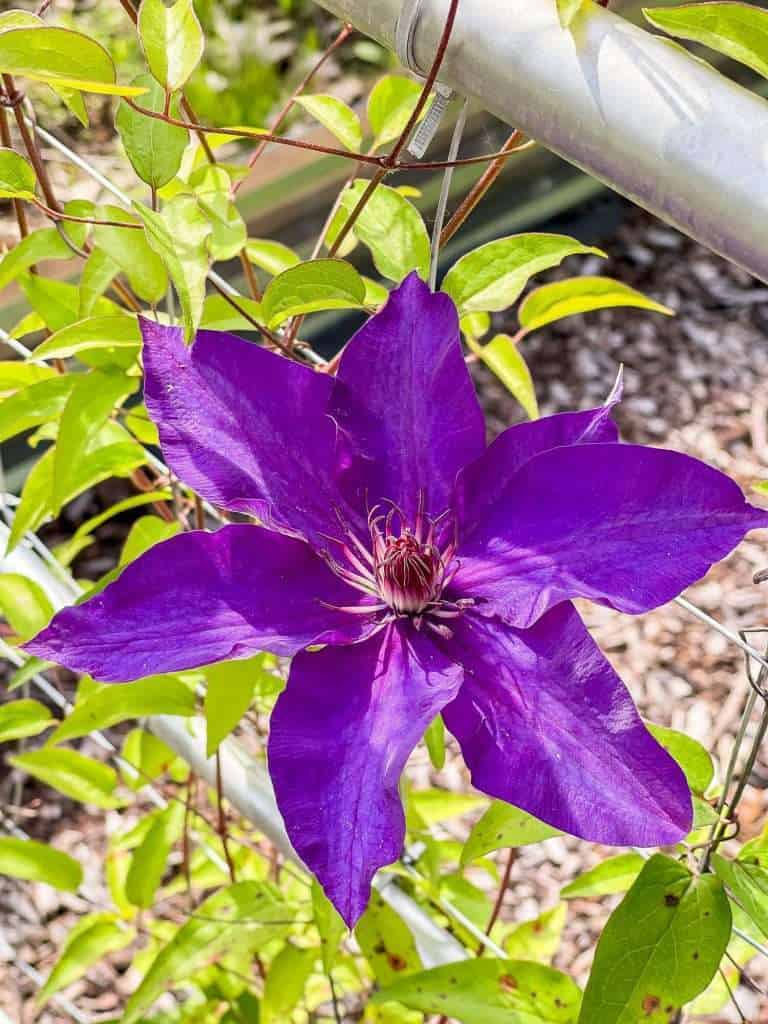 Not only is it attractive as it adds curb appeal; but it also is a great hobby! I love adding to my garden each year with new perennials.
You can browse these posts to see how our very large flower garden has slowly come together!
(Learn all about how to care for peony plants in this post.)
3. Establish a Vegetable Garden
If you want to take it a step further, start a vegetable garden!
As a very beginner gardener, I learned a lot of things my first year. If you're a new gardener, learn from these 5 mistakes.
You can see more of my garden in this outdoor tour!
This year I am growing:
Squash
Tomatoes
Peppers
Lettuce
Radish
Green Beans
Asparagus
Herbs
We only grow what we will eat in abundance. I haven't ventured into the more complicated veggies, but we love our fresh foods straight from the garden!
4. Plant an Orchard
If you have an extra large yard or large country property, consider planting an orchard.
We have a small orchard of apple, mulberry and pear trees.
The pears are just starting to come in!
We love having these fresh fruits to pick and I'd love to add to it someday. Not only is it wonderful for producing your own food, it is also a beautiful way to add definition to your landscape.
Add fruit trees that will grow well in your zone. I'd love to add an orange grove, but our climate isn't conducive to it. I may try to add cherries or peaches in the future!
5. Install low-maintenance landscaping around the house
Low-maintenance landscaping around the house is 100% the way to go if you have a large yard.
You can take a deep dive into 15 low-maintenance landscaping ideas for the mid-west for future reading!
6. Add a Fire Pit
A fire pit is an amazing way to add hardscaping to your yard.
It can be as simple as a ring fire pit plopped in a space. Or, as elaborate as a full fire pit structure with surrounding patio and more.
Our fire pit is stamped concrete and works so well for large gatherings.
You can see our fire pit area here.
7. Consider Outbuildings
If you have a large property, then it's likely that you will have a need for outbuildings.
We have a large barn on our property that serves as storage, workshop, tractor garage and more. You can see my favorite white exterior paint colors in this article!
When you are planning how to design a large yard, consider where your outbuildings will be. Use pathways to connect them to the other areas in your yard. This makes it feel like the entire outdoor space is cohesive and integrated.
You should also consider how you will landscape your outbuildings. It always ups the curb appeal to add simple flower beds or flower boxes to outbuildings. Or, you can do what I do (next)!
8. Plant Perennials in Pots
Around our barn (and many of our patios), I plant perennials in pots.
I do this for two reasons:
Hardy, drought-tolerant perennials survive my poor watering schedule.
I can transplant them to the ground in the fall, increasing my perennial garden!
This saves money as well because I'm not wasting money buying annuals that get thrown out each fall.
9. Create a Shade Garden By Landscaping a Large Yard
While you're planning your garden, incorporate a shade garden!
Shade loving perennials add so much interest and require less frequent watering than full sun. Some of my favorite shade loving plants are:
Hostas
Bleeding hearts
Hellebores
Astilbe
Primrose
Ferns
Grasses
Foxglove
10. Lay a Small Patio by a Focal Point
One of the ways to create designated zones in a large yard is by laying a small patio by a focal point.
Many times, homeowners only consider adding a patio off of the house. However, creating small patios that are by a focal point is a great way to add another zone.
Our small patio is overlooking our pond and waterfall area for a peaceful setting. We love these Adirondack chairs because they aren't as low as most chairs of this style. They are extremely comfortable and not flimsy at all.
11. Invest in a Pool or Dig a Pond
Speaking of ponds, this is another great option for landscaping a large yard!
If you have the space, add a pool or dig a pond. Either way, adding a water feature is a great long-term investment.
Our pond was dug by the previous owners to use the dirt to elevate the house as they were building it. While they were pulling dirt, they ended up hitting an artesian well and it started filling in! Now the pond flows into a creek that runs through our property and is a great feature.
12. Use Stamped Concrete for a Budget Friendly Patio
If you want an upscale look on a budget, stamped concrete is a great option.
You can certainly invest in bluestone pavers, or other more expensive options. However, stamped concrete looks beautiful for a fraction of the cost.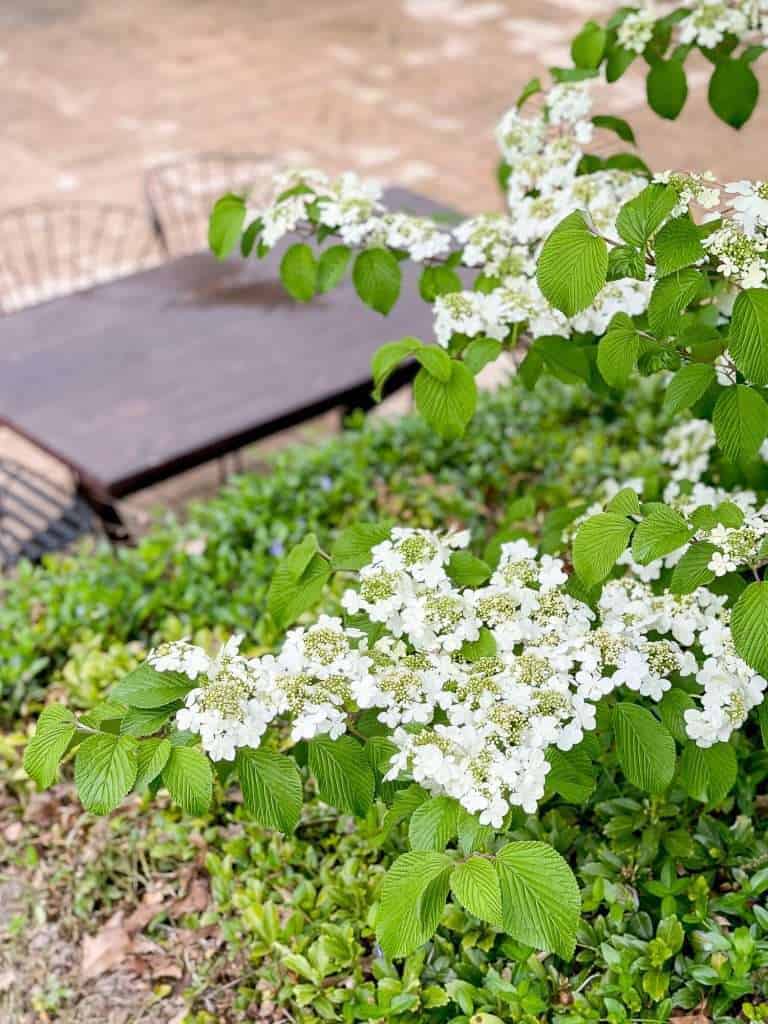 Our entire property has stamped concrete in the fire pit, back patio, walkways, pond patio, and front entrance.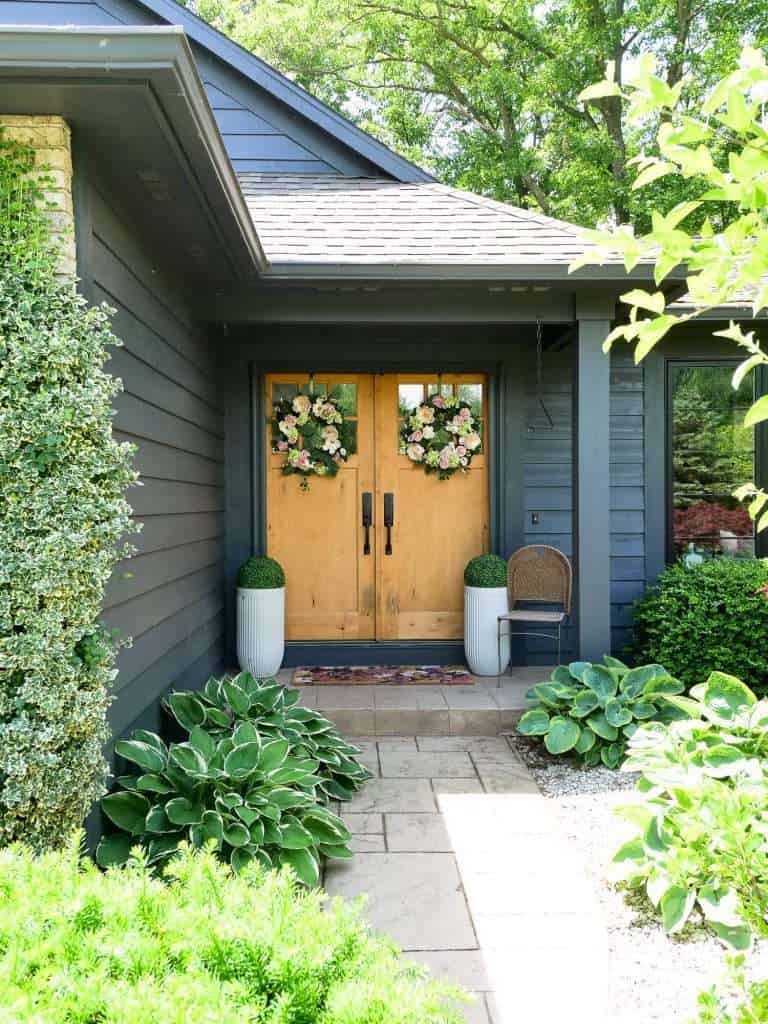 13. Design Elevated Walkways
Just like our stamped concrete walkways, I like to suggest creating beautiful walkways throughout the property.
In our garden, we've created another kind of walkway with flagstone. Adding these stepping stones elevated the look of the garden and created definition.
You can learn how to lay a flagstone pathway in this article.
14. Build a Multi-Level Deck
Our back deck is two-tiered. It adds a lot of charm to the space and creates two zones on it's own.
It also allows for a potential covered space to be created underneath the top deck. That is one of our goals long-term! We'd love to enclose the area under the top deck to use on those mosquito filled nights.
You can see our deck transformation in this post on how to paint a deck.
15. Allow for Wide Open Spaces
If you have a very large yard, consider leaving a large open space.
Our front field is about 1.5 acres of wide open space. It gets used for everything recreation based.
Soccer games
Trampoline space
Swing set
Baseball games
Frisbee
Bocce Ball
Volleyball
And much more!
16. Plant for Privacy When Landscaping a Large Yard
The next design idea is to plant border trees or shrubs for privacy.
Even if you have a large yard, it is still nice to enclose your home with nature.
Using fast-growing evergreens is a great way to "put up a fence" without actually putting up a fence. Bonus: it's pretty!
17. Choose Flowering Trees for Spring Interest
As you plan your plants, consider all the seasons!
Different plants bloom at different times, so perennial planning is a must for year-round interest.
However, I specifically love flowering trees for the spring. We have 2 varieties of crabapple (shown above), dogwood, quince and various fruit trees. They put on quite a show each spring.
18. Use Evergreens Heavily
If you want low maintenance landscaping ideas, rely on evergreens.
Boxwood are my favorite as they can be pruned in a polished way, or left more whimsical. We have boxwood around our entire house, and in our garden.
Make sure to look for evergreens that grow best in your zone.
19. Use Various Materials for Hardscape
One of the best ways to design a large yard is by using multiple materials.
Mixing wood decking, stone walkways, interesting retaining walls, and stamped concrete patios, makes for an interesting design.
Rather than sticking to only one material, try incorporating 2-3 main materials to remain cohesive, but not boring.
20. Choose Artificial Turf
If you're looking for extremely low maintenance, try artificial turf!
We mow about 5 acres of grass and it isn't for the faint of heart. I prefer the real thing, but artificial turf has come a long way in realistic appearance. It may be worth investigating to create a pristine look without the hassle.
21. Create a Secret Garden
When I was in college, my parents had a 40 acre farm.
One of my favorite areas was a secret garden that wasn't visible without walking through arching evergreen shrubs. You walked into a beautiful design with multiple pathways and a fountain in the middle.
It was a literal secret garden and it was such a special space. If you have the room, adding something charming like this is a treasure!
21 Design Ideas for Landscaping a Large Yard
Here's a quick summary of what we've discussed for landscaping a large yard.
Create designated zones
Design a flower garden
Establish a vegetable garden
Plant an orchard
Install low-maintenance landscaping around the house
Add a fire pit
Consider out buildings
Plant low-maintenance perennials in pots
Set aside a shade garden
Lay a small patio by a focal point
Invest in a pool or dig a pond
Use stamped concrete patio for an upscale look on a budget
Design walkways
Build a two-tier deck
Allow for wide open spaces
Plant border trees and shrubs for privacy
Choose flowering trees for extra spring interest
Use evergreens heavily
Install multiple entertaining areas with various materials
Choose artificial turf
Create a secret garden
I hope that these outdoor design ideas have been helpful to you as you plan your own outdoor spaces.
You Might Also Enjoy…
Thanks so much for stopping by the blog today! Make sure to subscribe to the blog to receive my weekly Grace Notes and gain access to all my freebies and tutorials!
You can also follow along in real time daily on Instagram and weekly on YouTube.
Head next to read more about 20 low-cost backyard living ideas for outdoor entertaining!
~Sarah
Today some of my friends have joined me to share their summer outdoor spaces with you.
You can visit their full article by clicking on the links below the images.